An interview with softball legend Ken Scobee
Ken Scobee
Who are you playing with in 2012 and what teams have you played for in the past?
Just play some league and a few festival tournaments. I have a women's team (Straight Shot/Mizuno) here in Texas, that I coach and is sponsored by Mizuno. They keep me busy in the summer, along with any promotions that I do for Mizuno.
Past teams:
South Texas Lighting
Williams Stars
Williams/Finke
Williams/Thompson
Williams/Worth
Steele's Sunbelt
JWM/Herbs/TPS
AJA/TPS
BEP/TPS
Why do you like the game of softball?
I have the best wife in the world (Amy) because of this game.
The other things I like the most, are the ability to fuel that competitive fire that you have, the lifelong friendships that I've made, the ability to travel all over the country and see parts of the country that I probably would have never seen.
Softball is also an "every man's and woman's" game. Everybody can play this game at some kind of level, recreational or competitive. You can work your tail off to get to the Major level, or you can hang with buddies and play in a recreational league.
Softball also brings people together that may have never met, if it weren't for softball. You can have a guy that digs ditches during the week, playing with a CEO of a major corporation, and they are all the same people when you get on the field.
I've met some of my best friends and teammates playing softball. Some of my best business contacts I have, I've met through this game.
Who was the best player in the 1980's that you remember?
Hope you don't mind, but I'd like to name a few:
Best hitter: Bill Blake and Joe Young. Didn't matter who you were playing and the situation, they were were going to get a hit.
Best pitcher: Buddy Slater. He did things that no other pitchers did back then. He also exposed me for the 22yr old snot nosed kid that I was.
Best shortstop: Greg Whitlock. The Ozzie Smith of softball. He caught the ball and got rid of it so fast, that it seemed like he threw you out while
you were still in the batters box.
Best outfielder: Richard Wilborn. Ran around out there like he was Bo Jackson. Made absolutely circus-like catches look normal.
Bast all around players: Charles Wright and Doug Roberson. Could play on the field anywhere, and play it well. Hit for average and power. Complete athletes.
Best homerun hitter: Mike Macenko. Pure leader! I was a sponge around this guy. Listened to everything he told me, and probably some things he shouldn't have told me.
Who was the best player in the 1990's that you remember?
Best hitter: Dirk Androff. Was just so hard to get him out. Power and average. Would hit one a mile to lead off the game, then hit one down the 1st baseline next at bat.
Best pitchers: Paul Drilling, Teddy Larsen and Jim "Birdy" Burbrink. They controlled the game. Never gave in to the hitter, and had the ability to stay consistent in the strike zone, that the umpire would eventually give them strikes that might not have been strikes.
Best Shortstop: Todd Martin, John Mello and Todd Joerling. ALL three were complete players. UNBELIEVABE!!!
Best outfielder: Britt Hightower, Brad Stiles and Doug Kissane. Britt could could do it all. Brad made the 3 man outfield look easy. It was unbelievable how fast he was and how much ground he covered. Doug was 6' 5" 240lb, could run, had a cannon and was very accurate. And some would say "not a bad hitter" either.
Best all-around player: Todd Martin. Was the best at playing ANY position. Power, average, speed, defense, great arm, clutch hitter. Total package.
Best homerun hitter: Carl Rose. Nobody even close to the consistency that he hit homeruns in his time.
Best clutch hitter: John Grissom. They will all tell you that there wasn't a 7th inning that John didn't hit a homerun in.
A guy that I enjoyed playing with and loved to watch is Dennis Rulli. He gets the absolute most out of his body and his teammates.
There was also a couple of guys that were coming up right behind me that I thought were going to be pretty good hitters: Jeff Wallace and Brett Helmer. I don't know what ever happened to them, but I hope they eventually made it to the "Big Time".
Last time I saw them, we got kicked out of an all you can eat buffet, because Helmer had a salad and a Diet Coke, and then brought the whole ice cream machine to our table.
Where do you call home?
Spring, Texas
What do you do for a living?
I'm partners in Hallmark Renovations, a construction/restoration company.
I also look for real estate investments for a business partner of mine to invest in.
I also own Texas Sports. A sporting goods company that sells Mizuno product.
Baseball, fastpitch, slopitch and volleyball.
Anything that keeps me from being behind a desk.
Did you play sports in High School / College / Pro?
Football, baseball and soccer in high school. I was also known to be pretty good with a pool cue and a pair of dice back then.
How did you get your start in softball and how did you get to the upper level?
I started playing in the summer time when I was 15. I would play with my dads local bar team every summer. They would challenge other bars in the area to play for a keg of beer, winner gets the keg. We just happen to play against a guy that was on one of the best "D" teams in Texas. They asked me to come play a weekend with them.
I played my first tournament the weekend I turned 18. I played with the Lowlifes (The best sponsor I ever played for, and am now playing league with his sons, Lowlifes II) for a couple of years, when Jamie Wisham asked me to play for a team that he was playing with, South Texas Lighting. They had just won a "B" world the previous year and were playing "A" the next year. After playing with them and beating Clarence Williams (Williams Stars) a few times, Clarence asked me to play. I was 22 yrs old and playing against the best in the country. (I was lucky enough to be in the right place at the right time). After playing with the Williams teams for four years, Dave Neale asked me to come to Steele's camp in '93. I made the team, and spent the next few years playing with the likes of Macenko, Elliott, Virkus, Kortokrax, Hall, Martin, Tucker, just to name a few. I also spent a LOT of time getting cussed out. It was worth every cussing I got.

What position do you play?
I played mostly 3rd, but played every position on the field (except LF) for Steele's. Dave was always trying to find a position for me that I couldn't kill him with an errant throw.
What batting grip do you use?
Pinky off the knob and top pinky over lap.
What is the best hitting tip you could give to an up and coming player?
Find the best players in your area and ask them if you can shag balls, pitch for them, and hit with them. Take their advice and HIT, HIT, HIT!!
Use BP to get your work in. Work on getting better at what you're good at, and then work harder on your weaknesses. You can drink beer with the fellas after BP. Don't be afraid to fail to try what you've worked on in BP. You'll get better the more you try it. Keep trying to move up. Don't be happy with being the "big fish in the little pond".
I used to hit with Jim Fuller and John Grissom. I started out shagging and pitching. You'll get a lot more respect if you show them that you are willing to put the work in. Grissom and I would go hit in the morning before work, and then go hit again in the evening with Fuller.
Always be respectful to your sponsors. There are fewer and fewer every year. Always play hard. (you never know who's watching)
Was softball better in the aluminum or composite era?
I like the aluminum era, but it's so hard to compare the two. Guys were so much bigger and stronger back then. You had to be, to swing the heavy bats that were swung. The game was so homerun oriented back then. Today's game is more basehitting and defense oriented. Guys are smaller, quicker and teams are geared more towards defense at ALL positions. We could afford to hide our better hitters at C, AH, 1st, 2nd and RF, because they were such good hitters, that they were NEVER going to let in more runs than they were going to drive in. We also just need them to make routine plays. Don't misunderstand me, we had some real athletic big guys back then. The majority of guys I played with had college and professional backgrounds, in BASKETBALL and FOOTBALL. You don't play those sports at those levels without being athletic. A lot of guys have baseball backgrounds now days.
I guess it's a personal preference for people. Do you like to see big guys hit a lot of humeruns, or smaller guys hit it around and make some unbelievable plays on defense. You're not wrong, which ever you pick.
Myself, I was always amazed at watching Virkus (6'6" 305lbs) run them down in the outfield.
Mike Macenko (6'3" 290lbs) turn a single into a double.
Crusher (6'6" 300lbs) Hit it farther than anybody, then catch everything hit at him.
Dirk Androff (6'7" 295lbs) could hit it out anytime he wanted, but would hit one backside and stroll into 2nd base. And was a great 1st baseman.
Charles Wright (6'5" 250lbs) play 3rd. If you hit it near him, you were out.
Todd Joerling (6'3" 250lbs) play shortstop.
Randall Boone (6'4" 240lbs) making it look easy out there.
There were so many more……
What is your favorite sports team?
I like to watch just about any team from Texas.
What is your favorite sport other than softball?
The Lingerie Football League. I think they should ask me to coach one of those teams.
What was your favorite softball complex to play at?
The main diamond at the Smoky, the Dudley and the PIF (before they moved it). If playing ball in front of that many people didn't get your juices flowing, you were in a coma.
Do you have any superstitions and if so, what are they?
I always hit all balls on the same side of my bats til they flattened out, then turn it over and hit the other side.
I would also send Tequila and hookers to other teams pitchers. I needed them to cooperate with me and throw'em right where I was swinging.
What are your most memorable softball moments?
First time I played against Smythe Sox and Howard's Furniture in '87, and realizing right then, that this is where I wanted to play. Watching Jim Fuller hit everything that was pitched to him, out of the park. Watching Crusher hit a ball 400' into a stiff wind. Crush was 6'6' 300lbs and was pretty damn good at 3rd base. Playing my first Smoky, Dudley and PIF. Thinking that this was insane, this many people to watch softball. Playing for Dave Neale and Steele's. Just about anything Dave said or did was memorable.
My second year with Steele's, the old man decides that he wants me to lead off. Our second tournament (Flag City Shootout) I lead off. The wind is blowing out 20mph. You just touch it and it goes a mile. This guy throws a knuckle ball (into that stiff wind) for a strike, that makes me dizzy. He throws it again. I wind up to hit it, (and whiff) swing and a miss. I'm looking for a place to throw my bat and a hole to crawl into. I get back to the dugout, and the old man gives me "what the f**k was that"? I tell him that it was there when I swung and then it wasn't. Then our equipment guy (Mickey Bozoti) comes up laughing his a$$ off. He tells me that "you missed that thing by a foot and a half". So Dave chuckles and tells me a story about Craig Elliott: he says that Elliott has hit something like 28 homeruns for this tournament. In the championship game Cranker strikes out swinging. The old man gives him the "what the F**k was that"? Cranker tells him that he would never believe him if he told him. The old man says "try me", to which Cranker tells him "temporary blindness". I couldn't stay too mad after that.
Playing an exibition game in the Metrodome, we played right after a Twins/Orioles game and we were allowed to take 5-6 swings just to get loose before the exibition game. I pop my first swing straight up, it lands right beside me in the batters box. I get boo'd and called every name in the book by 30,000 people. One of my better memories, along with getting your beans zipped up in your zipper.
Watching Macenko hit a ball completely out of Detroit Tigers Stadium. Having Jeff Wallace hit a ball at me so hard (in Lancaster,CA) that it broke every lace in the heel of my glove, and took my glove 20' into the outfield.
What is the best improvement upper level softball could make?
I would start off by moving "every" level up one, and start the AA level again, then let the weakest of the weak move back down a level. Every team complains about being bumped, saying that it's not fair, we don't have a chance to win at this level. Is it fair for the teams at the lower level, that you were killing before? Why are they more entitled to win than the teams they were beating at the lower level? Plus, Everybody wants more homeruns and says that they can't afford to travel to compete at a higher level.
Two problems solved. They get more homeruns and they are still playing the same teams, and they don't have to travel to do it. This also eliminates the huge gaps between the letters. You have to keep pushing these successful teams up the ladder. Now days they keep letting teams drop lower and lower, and the gap keeps widening. I give MAJOR credit to the guys that are trying to get better and move up. But there is too much complaining about it needs to be "fair" We need to make it more fair. It wasn't "fair" for EVERY player that is playing on those Major teams now, and has NEVER been "fair", and hopefully NEVER will be fair. They came up getting their brains beat in, until they wound up on teams that were giving the beatings. We came up getting killed by Smythe Sox, Howards, Superior Apollo, Bell Corp, and Ritches Superior and Steele's. You keep playing them, until you beat'em or join'em.
What happens when the "B" teams start complaining that it's not fair for "A" teams to have so many "A" players on their team, and then the "C" teams start complaining about the "B" teams, and so on….That's what it's getting to.
This isn't FFPS (FUN FAIR POSITIVE SOFTBALL). Not everybody gets to hit every inning, both teams don't get to score 5 runs per inning, and everybody doesn't get to play an inning.
The question I want to ask is this: Do teams complain and say we should make this fair when they are playing a lower level team and beating their brains in?
Would players and sponsors complain about it being fair, if they were playing WITH or sponsoring Resmondo or Helmer's teams?
You are playing in a MAJOR tournament. It's a Major tournament for a reason. Plus, where do you think all the guys playing with those teams were playing before they started playing for those teams? The only way you will ever play on those teams, is to play (and play well) against them.
The next thing they can do, is start getting rid of guys that get caught with altered bats. Suspend their a$$es and then tell the sponsor that they are on probation. If it ever happens to anybody else on your team, your whole team is suspended. Make them sign waivers stating that they and their players will follow the rules. The teams will start policing themselves.
What is/was your favorite non-World tournament?
The Billy Bowlegs in Ft. Walton Beach was always fun. And Schulenburg Festival in Texas is always good.
What is the funniest thing you have ever seen on a softball field?
We were playing the Busch in Little Rock in 'the late 80's. We were playing in 6 inches of mud and water. Bobby Gilbert walks up behind one of our coaches before a game and pulls his shorts down to the mud. He then steps back and puts his foot on the shorts so the coach couldn't pull them back up. He was 400lbs and trying to reach down to pull his shorts up, reaching behind him to get to Bobby, but he was too far behind him. Bobby stood there until the umpire told us it was game time. Bobby finally let him have his shorts, and he had to coach the whole game with mud running down his legs. Looked like he took a massive dump in his shorts. Damn funny!!
What is the best prank you have ever witnessed during your Major softball playing days?
In '93 we played a couple of exibition games in Fairbault, Min, just before the Dudley. I somehow wrecked my rental car. The right front wheel was in bad shape from hitting a curb. We had to drive from Fairbault to Minneapolis with the tire basically riding on the outside side wall. The bottom of the tire was bent under the car. Virkus is yelling at me that we are going to die. I call the rent car company and tell them that we had a accident and needed a new car. We get to Minneapolis and the cords are exposed and sticking out of the sidewall. The rent car company says they will deliver new car to the hotel. When we get to the hotel, there is a new car waiting for us. I leave the keys at the front desk and tell the hotel where the rental company can pick up the wrecked car, they tell us that they already picked up the car. We never did find out whose car they took. I walk outside and my new rent car HAS FOUR F***ING FLAT TIRES. Macenko let the air out of all the tires on our new car. We drove on four flat tires to get air, and basically ruined all of those tires. Not a good weekend for rent cars.
Wallace, Helmer, Rulli, Kendo, JMac, Andy and Howie…….. keep hittin'em for the old guys!!!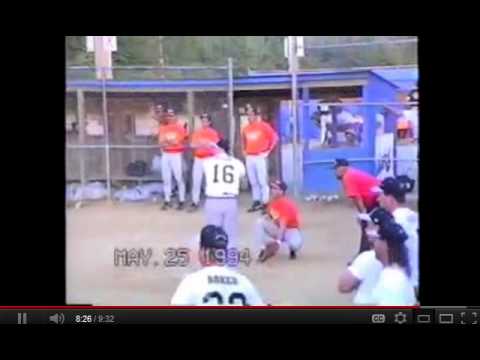 Scobee crushing a homer in the Steele's vs Charlies Championship game in Cleveland in 1994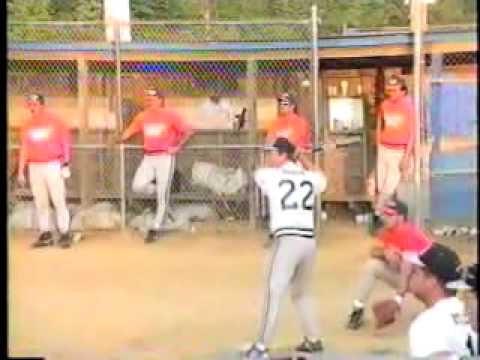 Some of the Steele's vs Charlies Championship game in Cleveland in 1994
May 19, 1994 – article by Jerome Earnest – Softball USA Vol. 5, No. 4
Scobee provides power and spirit for the Hit Men
Kenny Scobee said he was "a short, fat kid" when he started high school in Houston. "I went from 5'4, 212 to 5'10, 195. I grew 6 inches in 3 months," he said. "By my senior year, I was 6'1, 230." He played nose guard on the football team and catcher and outfield on the baseball team. He also played on the soccer team. Now he's a 6'2, 245 pounder with home run power for the Steele's/Sunbelt Hit Men softball team.
He's second on the team's home run totem pole…with 13 in the early going. He has compiled a .621 average. He has plans to improve on those numbers. Plus, he brings a gung-ho spirit to the Brook Park, Ohio based team. He always has something to say…to help keep his teammates loose.
Dave Neale, manager of the Hit Men, has this to say about the 27 year old Scobee, who is in his second season with the Steele's/Sunbelt squad: "Kenny can hit the ball about as far as anybody. He has worked at it…to make himself a strong hitter and a player with his attitude is a plus for the team."
Scobee said he went on a weight training program "when Dave started telling me I could play for him if I would lose the baby fat. I've always wanted to play for Steele's, since they had their road team."
Scobee drove from Houston to Cocoa, FL, to try out for Neale's team three years ago. He didn't make the team. But he was back at another Neale tryout camp in Warner Robins, GA, in 1993. He made it this time.
Neale became a believer in Scobee, despite the fact that his throwing error from the third bas position (not his first) cost the Hit Men a game against Williams/Worth of Spring, Texas, in the USSSA World Series.
When it came time to talk about players for 1994, co-sponsor Wayne Williamson did not want Scobee. But Neale talked Williamson into keeping the talkative Texan. Scobee has switched from third to first. He has turned in some nice plays, including several unassisted double plays. On the form that Neale asks his prospective players to fill out, Scobee penciled this into the "best position" category: "Third, second or anywhere you need somebody to catch a ball." But at the plate is where he has made his biggest contribution. He batted .636 with 89 homers for last year's Hit Men edition that placed runner-up in the ISA and NSA World Series.
Scobee has played on national championship teams in the lower divisions. NSA Class A in 1988 with a Houston area team called South Texas Lightning and NSA Class AA in 1990 with Premier/Century of St Louis.
He started his playing days with a team called the Low Life's in 1987. By 1990, he was playing with the nationally competitive Williams/Thompson team out of the Houston suburb of Spring. He played for Clarence Williams' team for 3 years, with the team going under the name of Williams/Finke in 1991 and Williams/Worth in 1992.
He earned second-team ASA Super National honors in 1992. Scobee batted an impressive .688 that season, hitting 52 homers.
"Clarence cut me for the last two tournaments in 1992 and Dave Neale was the only one who showed any interest in me for the 1993 season," Scobee said. "He gave me a chance."
Scobee says talking it up is the way "I get involved in the game…and that's the way I hope to get everybody in the game. That's why I like playing for Dave Neale. He has always been that way. He wants you to go out and play as hard as you can…and talk too."
Scobee says he will play for Neale "as long as he wants me. It's not about money for me."
The Steele's/Sunbelt team has dropped from 4th to 7th in the Softball USA rankings, but Scobee says don't count out the Hit Men yet. "Once we get everybody swinging the bat, we will be able to hang," he said. "We've got a good defensive team. I like our chances on big parks."
Scobee added: "Some guys have been trying too hard to pick up the slack. We've just got to relax and play our game. Everybody has to find out that winning is not that hard."
Wonder if the players for Ritch's/Superior and Bell Corp agree with that last statement?
This site uses Akismet to reduce spam. Learn how your comment data is processed.