2015 Free Agent Johnny Bailey
Johnny Bailey
2014 Interview
2015 Free Agent baileyrock26@gmail
Why do you like the game of softball?
I like the game of softball for the competition!!!! I love a challenge . Going out and playing the best there is drives me and motivates me to be one of the best softball players/hitters there is. (Defense is over-rated…lol).
Who is the best softball player you have ever seen play?
I would have to say that Todd Martin. He's one of the guys that I would tell younger kids that is up and coming to model themselves after. He could hit for power, average, play any position on the infield and any position in the outfield. He plays the game hard and how it should be played. You can tell he didn't just go out in BP and see how he can hit it. Worked on his all around game.
Who is the best up and coming player in softball and why?
There are many GOOD up and coming ball players. Hard to just pick one. I would have to say for outfielders, Nick Robertson and Bryan Logan. Nick plays 100% every pitch (except league night). Every ball hit in the gap he goes hard at and has one of the strongest and accurate arms in the game today. Bryan Logan has to be the fastest centerfielder in the game right now. He has a great arm and once he learn more about the game, "The Sky" is the Limit for that kid. Teach him well BF…
What is your nickname in softball?
Everybody calls me JB. I've also been called, JBizZle, Passenger 57, JBeezy, Grey beard, and Old Man. (my wife calls me, "get your — over hear and take out the trash"…lol)
Where do you call home?
I live in sunny San Diego, Ca. with my wife Amber and my 2 daughters, Leila and soon to be Alexa
What's your favorite way to spend an off weekend?
I spend my off weekends with my family. With all the travelling I do during the year and with work, my free time is family time.
What do you do for a living?
I'm a General Foreman for a Gov't contractor
Did you play sports in High School / College / Pro?
I played high school baseball and basketball.
How did you get your start in softball and how did you get to the upper level?
When I was in the military and stationed at NAS North Island, I tried out for the base varsity softball team in 1993 and I met a guy name Bob Lizik. I played a couple of seasons and then got deployed to the Persian Gulf and when I came back in 1995 I got with him again and he worked the HELL out of me in BP. He introduced me to Chris Chaney and I played a couple of seasons with him in the C division and I moved up with him. Played B with Charlie Rose in 1998 and we took 2nd that year. Moved up to A/AA the following year and played in the Major World Series in Cocoa Beach. I was hooked after that. Played B for 6 years after that. Then got picked up to play A for KME in 2006 and 2007. Been playing there ever since.
What position do you play?
C/DH/1B…..I can actually play any position on the field. I might be old and not as fast as I use to be, but I won't hurt my team at any position they put. In one game I've played 5 different positions. (guess they can't hide me anywhere.) LOL
What batting grip do you use?
I use the pinky off the knob and 2 fingers overlap.
What ounce bat do you use?
I use a 27oz bat.
What do you do in the offseason to prepare for the next softball season?
The 1st month after the season is over, I do absolutely nothing. I don't pick up my batbag for at least a month. When I do start preparing for the season, I do strength training and BP. I hit once a week until March and then I start doing alot of cardio and hitting twice a week.
What was the best advice you were ever given?
The best advice I was given was, anybody can play softball, learn the game of softball.
What advice can you give a young player trying to break into the upper level?
To break into the upper level, I would say. Be a complete player and don't be one dimensional.
What is your favorite sports team?
My favorite sport teams are, The Braves, The Falcons, and The Hawks.
What is your favorite sport other than softball?
I love playing golf.
Do you have any superstitions and if so, what are they?
I have 1….I do the same thing before every at bat.
What is your most memorable softball moment?
I have 2 memorable moments. 1. Winning B worlds with Marnel/Mizuno in 2002. 2. Taking 2nd at the MAJOR WORLD SERIES as a 16th seed.
What was the attitude of Taylormade last year during the run to 2nd place at the Major World Series in 2011 after losing your first game and being the #16 seed?
First off, that was an amazing run we had that weekend especially how our year went. To be honest, the hole weekend we were loose. We didn't care if we won or lost. Everybody was happy just to be there. Nobody in the softball world gave us a chance anyway. If you was to listen to all the rumors, we weren't suppose to be there anyways so we played like that. Our motto that weekend was, we aren't suppose to be here. It didn't really hit us until the GTL game. If we win that game we are in the losers bracket finals. So we played hard every inning.
What would be your "at bat" music selection?
California Love by 2-Pac and Dre.
What is the best improvement upper level softball could make?
If you limit the number of major players per team. That way at worlds its not a 2 or 3 team race. 4 if you count Taylormade….lol. The B worlds and the A worlds is anyones tourney. Its who's hot that weekend. The major goes thru Ressy. Are they beatable? Yes! But not that weekend. Also, is all the money the guys are getting paid necessary. I'm not hating, but damn! I know you are away from your families and taking time off of your job 2 days out of the week, but hundreds and thousands of dollars a weekend, MUST BE NICE!!!
What is your favorite non-World tournament?
The Toys-for-Tots is THE BEST non-world tourney there is.
What is the best softball field you have played at and why?
Cracker Jack Stadium…..Well manicured and use hard balls. I love hitting on the stadium. Gaps are huge!!!!
Where is the best place to eat on the road after a game?
ROADHOUSE and BUFFALO WILD WINGS. If we ever have an event in San Diego, TILTED KILT. (The beer their is great.)
What is the funniest thing you have ever seen on a softball field?
Last year at the MLK tourney in Palm Springs Eli Aquilar hit Henry McBeth (pitcher) in the butt with the ball and knocked his keys and wallet out of his pocket. THE funniest thing I've ever seen on the softball field. I know I will probably get alot of crap for laughing at that but he wasn't trying and also the pitcher was laughing about it. You know how hard you have to get hit to knock your keys and wallet out of someones back pocket. They were finding change all over the infield for 3 innings.
---
---
---
---
---
---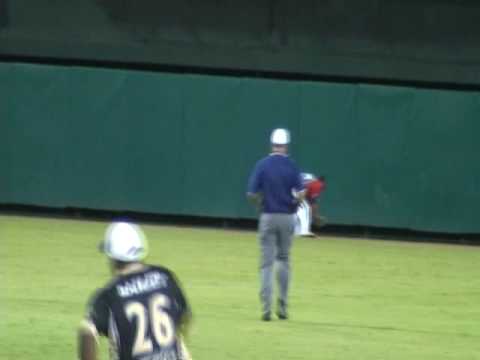 ---
8 responses to "2015 Free Agent Johnny Bailey"
This site uses Akismet to reduce spam. Learn how your comment data is processed.