2022 Free Agent Dan "Dirty" Sanchez!
Dan "Dirty" Sanchez
2022 Free Agent 863-450-0382
2016 Interview
What positions do you play and what is your best position?
Pitcher. Backup Pitcher to the best there is to play this game (Picasso) he paints beautiful masterpieces.
Who is the best softball player you have ever seen play?
Best…… There are so many to list my all time favorite though Hank Garris. He gave me so much knowledge in a short period of time…. Knowledge I keep tight in my memory bank.
Why do you like the game of softball?
I love the competition, the travel, the good people in the game, the summer of fun.
Who is the best up and coming player in softball and why?
I honestly don't pay attention to that. I know faces and swings more than names.
What is your nickname in softball and how did you get it?
Dirty. I've had that name Since high school. Always the dirtiest player on the field.
What is your height and weight?
6'1 240
Where do you call home?
Fresno. "The Valley"
What's your favorite way to spend an off weekend?
Spending time with family.
What do you do for a living?
Self employed.
Swimming pool service
Backflow tester
Handyman
Did you play sports in High School / College / Pro?
High school I played baseball, football, soccer, waterpolo
College baseball
How did you get your start in softball and how did you get to the upper level?
Mike Rodriguez hit one off my shin, and I said keep bringing it, I like that, played with K&C Drywall won B worlds (MVP) in 2004.
you stay up by always wanting to learn and get better. And now work your ass off in the offseason to be ready for a grueling season.
What was the most surprising difference between Conference play and non-Conference play when you made the jump?
I've been fortunate enough to play the conference since its first season. It is best thing for the upper level game.
Is there a player that you would compare your game to?
I hope one day to be compared to the great Andy Purcell, or Billy Messina.
What would you say is your career highlight to this point? Maybe one play or game that sticks out to you in particular?
Nothing was better than watching Andy, and junior, going into the 7th against smash it last year….. Andy basically took the game in his hands for our season….. It was chilling. I'll forever remember that feeling. And I was just a player watching it unfold. And I felt every bit a part of it.
In your career was there a single person (player/manager/coach) who had the most significant impact on your approach to the game? Why?
Hank Garris, Alex Lavorico, Mike Rodriguez, Dennis Turner, Bret Helmer
What advice can you give a young player trying to break into the upper level?
Don't take anything for granted. Thank your sponsors.
Talk with your game, respect the veteran players, that have paved the way for us
Workout!!!!! Don't get fat! Legday everyday! Deadlift everyday! Play the game with integrity
What type of batting grip do you use and what ounce bat?
27oz. And whatever feels right at the time. I've tried every grip possible.
What do you do in the offseason to prepare for the next softball season?
Before I cared about my health. Nothing. I used playing off season tourneys to stay under 300 lbs…. I rode my bike to 7-11 for midnight snacks.
Now. I workout religiously, fullbody everyday, cardio, plyometrics and anything else I think will help me stay in good shape. And I'm not finished yet!!!!
What is your favorite sports team and your favorite sport other than softball?
Any teams my kids are on….. But LA Rams coming back is nice… Dodgers, Lakers. I love to play indoor soccer
Do you have any superstitions and if so, what are they?
Uh yeah. I'm one superstitious mess. Ask Jobu
What would be your "at bat" music selection?
Well I had Wild thing last year…. Someone stole my idea ???? my music preference gets looks like what the fudge dirty???
What is the best improvement upper level softball could make?
I'll leave that to the guys that make those decisions. But if I had one suggestion. Conference umpires should equally rush batters to the box as they do pitchers to the mound. They should be ready to go, they have been waiting in the on deck circle, and the pitcher may have just finished a play.
What is your favorite non-World tournament and why?
Toys for Tots Palm Springs. That's where I first played big time competition but I love all tourneys. The Smoky, the Dudley.
What is the best softball field/complex you have played at and why?
Nothing beats Disney!!!! Especially your first time!!!!!
Where is the best place to eat on the road after a game?
Coldstone!!! And anywhere that my Roomie wants (Howie Krause). Which is usually involves Coldstone.
What is the funniest thing you have ever seen on a softball field?
I didn't see it but beating Collins in a race at toys this year has to be a classic, he will never outwork me?? love ya superman!!
Tell us something about you that most would never know about you?
I'm an open book. What you get is the real me.
What was your favorite sports related gift you have ever given or received?
Given…. The gift of knowledge I have to the younger players that want to get better and play at the highest level possible. I've given away my gloves to lefthanders in need that always feels good when they still have them
Received….. Junior Giving me a chance to be a part of the best team in the country. And notes from the kids I coach.
---

Oldscout interview questions:
Have you ever missed tournaments unannounced, team jumped, quit, etc?
Missed flights once or twice. Tough to fly from west coast sometimes
Name one mistake you've made in upper level softball and what did you do to correct/learn from it?
I left GTL to play for Aubreys…. After I committed to GTL, but getting calls from the likes of JC Phelps, Dennis Turner, Alex Lavorico, it was very hard to say no before the season started I thought that was ok. Also left K&C to play with Specialty Tank, but that was tough. But I don't know if I'd be where I am today if I didn't do that. Sorry Booty.
Are you willing to sacrifice your average for the betterment of the team?
Absolutely. I preach that, now it doesn't always work out that way, but I hate hitting bad homerruns
Do you read and/or post on theoldscout, why/why not?
Read occasionally post rarely. Too much negativity.
Are the anonymous bashers the reason why more upper level sponsors and players don't post on oldscout?
1000% why they don't. And it's a shame. All these guys are approachable. But people love to knock people down. And with how social media has changed Facebook Instagram who needs the oldscout if it's full of negativity.
What do you do after the tournament is over?
Relax, travel home. Usually takes a full day from east coast to west coast 10-14 hours.
Has softball interfered with your Job?
I try and not let it. It has before but priorities change as you get older and wiser
Has softball interfered with your family?
Never, when I was younger maybe a little. But softball is family to me, and my kids enjoy what I do and support it fully. I love that.
Have you knowingly used altered equipment?
Back in 05' or so I wondered how a guy who never hit homeruns back home in his life started hitting them further than me, so I did then, when you realize how bad it is, it's just not worth it. And I can say I haven't for a long time. It was brief and I would never want to risk my playing career over a bad bat.
What sort of unusual training methods have you used to improve your hitting?
Kettlebell swings, deadlift everyday, farmers walks, I don't know if that's unusual. Once hit BP before a game and took one swing and said I was good and 4-4 in that game. But we lost. 08'. Hahaha.
What kind of practice do you do to get better?
I workout everyday, some way or intensity. Hit when I can. And will be taking plenty of groundball work soon. Study hitting videos players post, watch at bats from guys I have no idea how to get out. Listen and watch while playing or sitting
Are you a good teammate?
I hope so… I'll let my teammates answer that.
Do you think Worlds should be rotated around the United States each year? Which state(s) would you like to see them be in?
Not at all.
What is 1 thing you would change about the game and 1 thing you would not change?
More sponsors in the game.
The sponsors in the game now.
How many divisions do you believe softball should have? (Currently M, AA, A, B, C, D, E)
I'm not smart enough to answer this one
Do you think worlds at all levels should go back to 32 – 48 teams only and teams should have to qualify?
Again no idea.
What do you plan on doing when your softball days are over?
Just keep doing what I'm doing now, just have more time to do it
Have you ever been cut by a team?
Yep. League teams back home…. Mudville, hahaha. Won A worlds that year….. lil smith team….. Won B worlds. Johnny blaze, (Mel is a great sponsor) the scene (I love tony) great sponsor.
Do you go on the old scout message and post without your name?
I have before, but aintnonegawttimeforthat
What other message boards do you read?
None
Do you consider yourself a "role model" when it comes to young softball players/kids that watch you play?
I try to be.
Where do you see softball/yourself in 10 years?
Hopefully still playing.
When do you feel you will hang 'em up?
Maybe when I physically can't play anymore. I love the competition.
Has softball opened any doors for you?
Absolutely. Opened the doors to many great friendships I cherish.
Do you prefer to play tournaments in baseball or softball fields?
Baseball
What is your philosophy/routine on hitting/bp sessions?
Take quality swings. Don't take 1 million swings. Swing with a purpose not to see how far it goes.
What's your feeling on bat testing?
It's great. Milky and I just chatted, 09 when I got hit, the game changed for the better. I'm happy for that. I'm sad my modeling career is over.
What do you want to be remembered as when you walk away from the game?
That I was a good teammate.
Have you ever made a YouTube video of yourself?
Not like went out of the way too, have posted some Instagram stuff. But not really. I should though. Dirtykc41 Instagram
Who is the one player who you enjoy competing against the most?
Andy Purcell. But not anymore. I just want to learn everything I can from him, and pass it down one day to anyone that deserves that knowledge. Junior, I asked him once how do I get you out, he told me and the first time I got him out it was funny, the few after that he probably regretted telling me. I keep throwing that same pitch til he hit a double and then I had to try something else. Brett Helmer, I caught one off him in Texas doing a cartwheel and he said "are you kidding me". Jc phelps, he used to get so mad and confused when I snuck one by him. Jeff Wallace….. He tried to undress everytime he wasn't hitting a HR. And I love that shit.
What are your goals for this year?
Be the best teammate possible, be ready to pitch at all times, be the best ball shagger, 3b coach, towel holder. And when I play and it's an honor to play for the best team in the country play my best oh and have fun, keep the team laughing, beat Collins in races. Is it April 1st yet?
Do you love to win or hate to lose?
I fucking hate to lose. But winning feels good
What do you find the most challenging in playing?
Staying hydrated, bad field conditions, rain delays.
What makes you nervous in a game?
Everything. And nothing if that makes sense
What is your favorite position in the field? Least favorite?
Least favorite. Catcher. Other than that I'll play anywhere. I love playing the field on a Friday night game more than pitching. When the real wars start, I'm just staying mentally ready at all times.
What are you concentrating on that will improve your batting?, fielding?, pitching?
Pitching arm speed ball rotation. Umpire zones
Fielding just react and fall or cartwheel
Hitting, hit for the situation.
If you were not playing slowpitch what would you be playing?
Fastpitch? Sunday league baseball? Indoor soccer
What is your number you wear on your uniform? is it special to you and why?
41. Couldn't get 14 one year so turned it around. This year it is 47.
Bottom of the seventh, down 1, two outs, no HR's left, runner on 2nd. Who do you want batting in that situation?
After Hank Garris…. Me. Any one of my teammates. We all believe in each other. And that is what makes us such a great team. Resmonturage chemistry
Who's the best sponsor you've ever played for?
Travis hands down. John Riccio. Coach Blackburn, Chris Stanich, Prime, Wags, Tony Albicooco, Jeff Davis
Who are the toughest pitcher(s) to hit against?
Andy. Billy Messina, Buddha from back home.
What's your favorite bat of all time?
Worth blue Est
---
---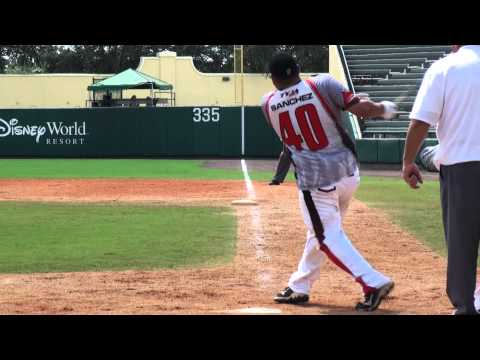 4 responses to "2022 Free Agent Dan "Dirty" Sanchez!"
This site uses Akismet to reduce spam. Learn how your comment data is processed.