2012 Conference USSSA Las Vegas Major Tournament Report
2012 "Sin City" Classic
Las Vegas, NV
March 30 – April 1
The Las Vegas Big League Dreams at Freedom Park had 6 miniature replica fields based on major league fields.
The Conference USSSA is now sponsored by Nationwide Insurance. The season began this past weekend in Las Vegas, NV at Big League Dreams Freedom Park with 31 teams including 13 from Conference USSSA. The double elimination tournament began Friday with perfect weather and almost no early upsets as Conference teams went 24-1 on the weekend vs non-conference opponents. The lone win was an incredible 25-10 Saturday morning run rule victory for non-conference Classic Glass over major classed Team Combat/Pacific Headwear. AZM, a 'B' team out of Arizona also pushed major team Laser Vision in the second round as they trailed the #2 ranked team in the country just 29-27 at the end of 5 innings. Laser Vision then turned it on and run ruled AZM.
Also on Saturday the wind kicked up and made for some treacherous outfield play. In the much anticipated 10:40 AM games, SBS Combat squeaked out a win over West Coast Doerflinger 18-17 and Down2EarthSports.com separated mid way and run ruled "4 The Fallen" 39-24. Team Demarini run ruled Line Drive 29-13 and Sonny's run ruled Baugh Ford 32-10.
In the round of 8 in the winner's bracket at 3 PM on Saturday SBS/Combat blew a 10 run lead in the 6th and a chance to comeback in the 7th against Laser Vision by making multiple defensive errors and lost 41-31. Sonny's trailed Team 454 17-4 early on but held 454 to just 4 runs the rest of the way and knocked them off 36-21 behind a 13 run 3rd inning and a 12 run 4th. Nordkap handled Demarini easily 30-15 and Down2Earth scored 12 runs in the top of the 7th and held Classic Glass scoreless in the bottom half to win 20-18.
In the final 4 Down2Earth folded shop against Nordkap in a 36-16 loss. Meanwhile Sonny's and Laser Vision were locked in a battle which would end up as the game of the tournament. Laser Vision the visiting team trailed Sonny's 6-0 after one inning with the sun pointed directly in the batters face. As the sun went down Laser Vision pulled out to a 20-12 lead and a 9 run top of the 7th on homers by Geno Buck and Rick Baker pushed their lead to 30-13. Sonny's came to bat in the bottom half needing 17 to tie. They scored 5 runs before back to back outs put them in a deep hole. Then they did the unheard of…they had 14 straight runner's reach base safely by hits, homer's, and walk's. The momentum and adrenaline kicked in and Sonny's won the game 31-30 on the strength of an 18 run 7th inning and sent the mighty Laser Vision to the loser's bracket. Details and video on the incredible comeback are laid out further on in this report.
In the winner's bracket championship game Nordkap broke a 9-9 tie after two innings with 23 runs over the next 3 innings and held off Sonny's who tried to make another great comeback in the 7th by a final of 37-29.
Late Saturday night, Demarini beat Down2EarthSports to make it to the loser's bracket championship on Sunday morning against Sonny's. In that game with the wind blowing Sonny's held off a Demarini team that would not give up. On the verge of a run rule for a couple of innings in a row, Demarini fought back to a tough 42-30 loss. Nordkap then beat Sonny's in the championship 27-19 with some good early offense and enough defense to keep Sonny's at bay for the entire game.
The tournament was full of great games and parity throughout with Major, A, and B teams playing on almost equal ground except for Nordkap who run ruled their first 4 opponents before Sonny's was able to take them the full 7 innings in their last two contests.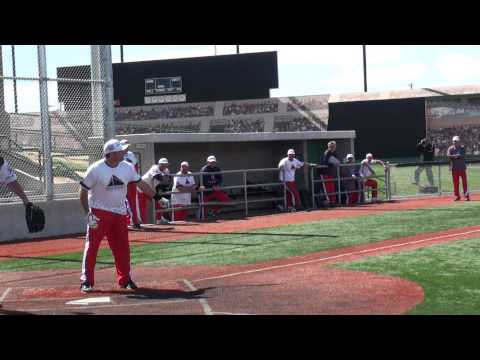 Nordkap/Desert Falls/Easton's offensive fireworks
One thing I will take away from this tournament is that none of the teams ever gave up. There were the great comebacks but there were also great shows of effort from Laser Vision, Demarini, Sonny's, and others as far as forcing their opponents to beat them for 7 innings and not giving in to a run rule.
"Wall Ball" – The games at night became high scoring affairs with the wall ball rule. The games during the day seemed to be much better, however I did not speak to anyone that wants to see the wall ball rule continue. I guess it's time to shelve it and let the teams complain about HRO's instead. 🙂
Sonny's Danny Lopez pitching to Nordkap in the Championship game at Yankee Stadium
Nordkap MVP Chad Munger pitching to Sonny's Charles Cunningham in the chip
"Wall Ball" was in effect. Meaning home runs had to clear the entire wall. The unanimous consensus was that "Wall Ball" should go away.
Friday night crowd
Down2Earth's Eric Byrum pitches to Nordkap in the semi-finals at the Angels field
The sun was nasty early on in the Sonny's vs Laser Vision semi-final game. D-Lo pitching to Ryan Thiede
Tournament director Elliot Clark and his staff tested all the bats before each teams first game and re-tested the bats for Sunday
Conference umpires were in mid season form, A+
---
A note on statistics. Most teams did not turn in stats. There were 60 games played. There were 120 of the triplicate carbonless copy scoresheets passed out. There were 28 sheets turned in which covered 26 games. So I have 26 games out of the 60 that were played. I'd like to thank West Coast, Baugh Ford, OC Swats, AZM, Sonny's, and SBS for participating correctly. I guess we can assume the other teams are planning on fudging their stats? I know a couple teams said they would send me them via email.
---
---
Video Highlites/Lowlites brought to you by: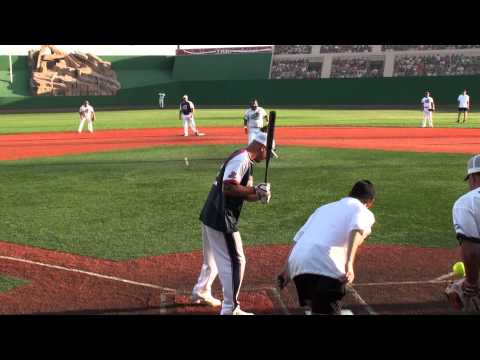 There were some lowlites due to the massive eye watering wind that played havoc with popups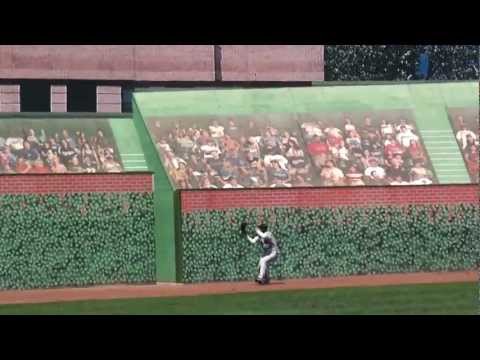 The WhipStrip.com HR/Wall Ball Highlites of the week
---
7th Inning Comeback of the week brought to you by: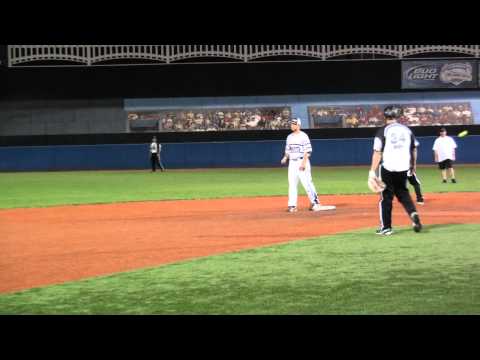 This is my video of the last couple of at bats where Sonny's finished off Laser Vision by scoring 18 runs in the bottom of the 7th. The last 12 runs were with 2 outs.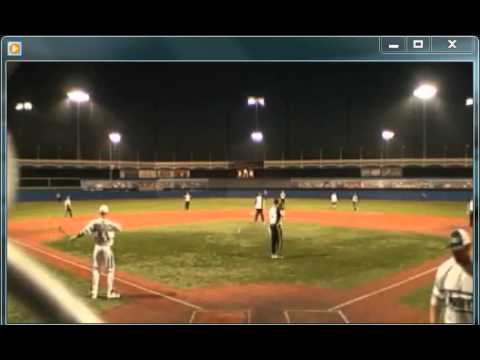 This is the game video of the entire bottom of the 7th inning comeback. One of the best comebacks in Conference USSSA history.
Sonny's 18 run 7th inning win:
Jeremy Davis walk
Nick Robertson single, rbi
Chris Greinert double
Manny Liriano double, 2 rbi
Kevin Ballard HR, 2 rbi
Westy Guill triple
Alex Ramirez out
Mike Noonan out
Sam Christensen single
Charles Cunningham pinch hit HR 2 rbi
Brian Faria single
Jeremy Davis HR, 2 rbi
Nick Robertson single
Chris Greinert walk
Manny Liriano HR, 3 rbi
Kevin Ballard single
Westy Guill double
Alex Ramirez inside the park homer 3 rbi
Jonathan Lenz pinch hit single
Sam Christesen single
Charles Cunningham intentional walk
Brian Faria game winning single, 2 rbi

---
---
The Mojo Masher of the week conference "newbie" is Dale Brungardt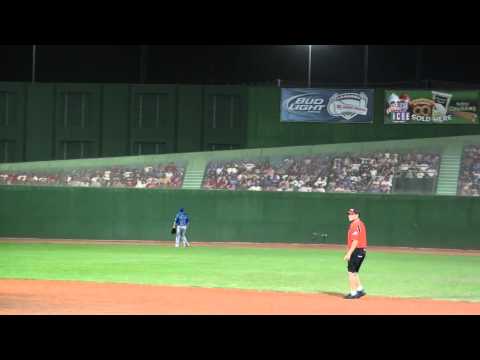 ---
---
Wounded Warriors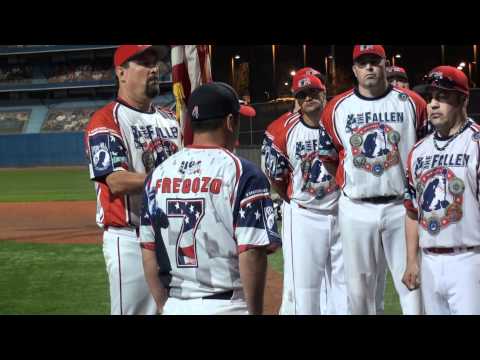 The Pentagon and Passing of the Flag Ceremony
The Wounded Veteran's info is:
Name: Jermaine Kindred
Rank: Tech SGT
Dates of service: Enlisted Aug 1999 – Currently Active Duty USAF EOD
Married with two kids (daughter and son).
Stationed at Nellis Air Force Base, Las Vegas, NV
Dates of Injury: 21 Sep 2010, received a Purple Heart for this injury
Location of Injury (Country): Strong Point Belanday, Kandahar, Afghanistan
He was blown up by an IED and turned down being medically retired to
stay in the AF supporting our Country.
---
---
"Sin City Classic" Tournament Awards and Final Standings:
| | | |
| --- | --- | --- |
| | | |
| | | Nordkap/Desert Falls/Easton |
| | | Sonny's / Louisville Slugger |
| | | Nordkap/Desert Falls/Easton |
| | | |
| | | Team DeMarini/FamousSports.com |
| | | Nordkap/Desert Falls/Easton |
| | | Nordkap/Desert Falls/Easton |
| | | Sonny's / Louisville Slugger |
| | | Sonny's / Louisville Slugger |
| | | Nordkap/Desert Falls/Easton |
| | | Nordkap/Desert Falls/Easton |
| | | Sonny's / Louisville Slugger |
| | | Team DeMarini/FamousSports.com |
| | | Team DeMarini/FamousSports.com |
| | | Sonny's / Louisville Slugger |
| | | Nordkap/Desert Falls/Easton |
Team
Class

Runs
Scored

Runs
Allow

Avg
Runs

Avg
Allow

Avg
Diff

Max
Runs
---
Team by team notes brought to you by:
---
1st Place Nordkap/Desert Falls/Easton GTGG
Conf 'M' from Riverton, UT 6-0 Record
Nordkap steam rolled through their first 4 games by the run rule which included Demarini 30-15 and D2E 36-16. Then they defeated Sonny's in both the winner's championship and championship with solid "start to finish" offense and defense. Nordkap wins their first Conference event in their first tournament in the league and do so in dominating fashion. A very impressive start to the season and this team may have moved into the #2 spot in my rankings if we just consider 300 foot softball fields. Now we have to see if they can out play Laser Vision on baseball fields AND at least compete with Resmondo on the big fields. This is a great start for a great team. They may be better than we think.
Lineup of a random game:
RF Mike Bowlin
SS Anthony Dress
3B JD Genter
EH Kevin Filby
LF Donovan Pokraka
2B Brett McCollum
C Travis Clark
1B Joey Formosa
P Chad Munger
MI Chris Hansen
CF Brian Zirkle
PH Tyson Steele
Offensive MVP Joey Formosa (24-28 with 10 HR, 30 RBI, 3 BB)
Nordkap RF Mike Bowlin does his best Zirkle "basket catch" impression
Munger gets "best helmet paint" award
---
2nd Place Sonny's / Louisville Slugger GTGG
Conf 'A' from Casper, WY 5-2 Record
After going all of 2011 without seeing what Sonny's was all about and playing well, I finally get to see them put it together. Last year I only was able to see them in Vegas, 'A' World, Conference Championships, and Major World. All of their worst tournaments of 2011.
This team has the speed, timely defensive play, and line drive hitting to win one of these Conference events and if they ever figure out how to play in Florida they could be a threat for the 'A' Worlds. Some of these guys are definitely prospect list material.
Sonny's Hell Bent in their opener and won 4 games against Conference opponents, only losing to Nordkap in the tournament. This team never gave up and besides their well documented come from behind win over #2 ranked Laser Vision, they also knocked off the defending 'A' World champs – Team 454.
This team had a great weekend and are a true threat on the 300 foot fields. Sonny's next tournament will be in Phoenix as they cannot make the time from work commitment to go to the Hall of Fame Dual in two weeks.
Lineup of a random game:
CF Jeremy Davis
2B Jonathan Lenz
C Chris Greinert
EH Manny Liriano
1B Kevin Ballard
LF Nick Robertson
SS/IF Alex Ramirez
SS/3B Michael Noonan
3B Sammy Christensen
P Danny Lopez
MI Brian Faria
Cunningham hit some, recovering from apendicitis.
Westy Guill also played.

Sonny's caps off an 18 run bottom of the 7th comeback to beat Laser Vision in the semi-finals

Sonny's center fielder Jeremy Davis heckled by Yankee fans (although their wearing Dodger and Angels gear?)
Sonny's picked up left hand reliever Carl Blank who shut down Team 454 (correction) for 4 innings
---
---
3rd Place Team Demarini/FamousSports.com GTGG
Conf 'A' from Santa Clarita, CA 6-2 Record
Demarini had a monster weekend and the only word I can think of to describe this team is "MASHERS". This team was built for the Big League Dreams wall ball with their ability to just T-OFF on the softball. Onbase speed demons like Bryce, Adam, and Kaeo setting the table for a murderers row of mashers Larsen, Stephens, Paschal, Brungardt and Flood. Throw in a veteran pitcher who knows how to hit like Newbill and its a successful weekend.
Demarini run ruled Cheba Hut in their opener and Line Drive in their second game. Then had the unfortunate draw of Nordkap where the bats went temporarily silent in a 30-15 loss. Then they discarded 4 straight conference teams in the loser's bracket including almost run ruling Laser Vision by 20 before settling for a 48-43 bash fest victory. A late night win over a hot D2E team gave them a 3rd place finish.
This team can score with the best. Infield range could be a little suspect but if they can pick it a little better they'll have a chance to score the needed points for a top 10 ranking and a decent seed for the World Series. A fun team to follow any way you look at it. I am hoping this team takes an instant liking to the stadium balls and can keep up the offensive power show on the baseball fields.
Lineup of a random game:
LF Bryce Oliviera
CF Adam Elliot
MI Chris Larsen
2B Seth Stephens
C Pat Paschal
3B Dale Brungardt
1B Billy Susdorf / Mitchell Johnson
SS Jeffrey Flood
P Brendt Newbill
RF Kaeo Rubin
Don Wilson played a lot of 2B

Demarini left fielder and leadoff man Bryce Oliviera showing off the gun
Pat Paschal shown here in the 4 hole behind Chris Larsen and backed by Dale Brumgardt…"MASHERS"
Third best uni's so far go to Demarini
Demarini pitcher Brendt Newbill was all tournament. Here he gets called for "5 seconds" but he claims "it was only 4"
---
4th Place Down2Earth.com/SBC/Worth GTGG
Conf 'B' from Baxley, GA 4-2 Record
Down2EarthSports.com won the big showdown of 'B' powers against 4 The Fallen when they separated mid way and run ruled them 39-24. Then they scored 12 runs in the top of the 7th to take a 2 run lead on Classic Glass and win 20-18, an incredible come back. After a subpar showing against Nordkap, D2E drops to the loser's bracket and hammers Team 454 32-16 before running out of gas at midnight Saturday against Demarini 30-15.
D2E never ceases to amaze and this time they did it against all odds. They found out at the airport that their was a problem with their plane tickets and they showed up with a minimum of players and just Drew running the show. But fear not, the team hit the ball well over all and have a great mix of speed, power, and line drive hitting. D2E is as good as they said they were and to finish 4th in a tournament like this was a great start to a season and they have the inside track now on one of those coveted World Series berths.
Drew take a picture of your scoresheets and email them to me, I don't have any of your games.
2B Shaun Bridger
LF Bruce Nail
1B Chivas Clark
CF Lee Payne
3B Sean Greer
SS Todd Hilton
C Geno Burdick / Jason M
RF Jason Gilfillan
MI Leslie Griffis
P Eric Byrum

D2E gets fired up for their semi-final game against Nordkap
D2E hitter Bruce Nails sporting the SoftballCenter sleeve logo… Note, a logo like that could always get you a picture in the report!
Shaun Bridger gets his picture in the report because he bought a bat off me. Who else wants to guarantee their picture? 🙂
Anyone else think Drew is having a hard time keeping stats and coaching third base? Congrats on a great weekend Drew!
D2E's Chivas Clark admires another linedrive homer
---
Tied for 5th Place Team 454/Emerald/Worth GTGG
Conf 'A' from Glen Allen, VA 4-2 Record
Team 454 breezed through their first two games before jumping out to a 17-4 lead over Sonny's in the quarter finals. Then the offense disapeared and Sonny's came back strong and beat them 36-21. In the loser's bracket they squeaked by Line Drive in a spirited battle 38-37 where a controversial call in their favor ended the game. They smoked SBS 40-10 then before dropping to D2E 32-16 at night when the ball was flying.
454 may have been a little over confident and come away without beating any 'A' or Major teams in Vegas. This team has the tools, the leadership, and the defense to compete and win any game they play. They just have to play a full 7 innings every game and take noone lightly.
Jeff Hall was not at the tournament, nor was Mitch Mabe. But this team does have great depth.
Lineup of a random game:
CF Jason Branch
3B Bill Rhew
1B Rusty Bumgardner
EH Kyle Moyer
C Phillip White
RF Brent Griffin
SS Kevin Bazat
2B Don Rogers
LF Jesse Harrison / Matt Bunn
MI Matt Pesso
P Kevin Johnson / Andy Vitcak


454's left side infield, 3B Bill Rhew, SS Kevin Bazat, MI Matt Pesso
454 shortstop Kevin Bazat has one of the best double play turns in the league
By the look on their faces it must have been a bomb!
---
Tied for 5th Place LaserVision/Annihilation/Supreme/D2E/Easton GTGG
Conf 'M' from Cicero, NY 2-2 Record
When you hand pick your players and put together the kind of lineup that Laser Vision has put together, you do not walk away saying that – oh it was just the first tournament and your players are just trying to gel and work out the rust like a lower level team would say after a poor opening tournament. Instead you expect from the first at bat that you are going to do what Nordkap did and take care of business each and every game. Some buzz around the park was that I should put up a poll asking how many roster moves Laser Vision would make before the Hall of Fame tournament. Ouch.
This team should have come out of the gate ready and dominating. For a team looking to unseat Resmondo for the #1 spot, they basically may as well have scored zero points because Vegas is now a throw away tournament for them.
From the outside I don't see that new team enthusiasm or energy. They did lead the tournament in scoring per game however.
Can the ship be righted? Absolutely. But a disapointing start to a long season where the only thing that will solve this teams problems is one word…"WINNING". Winning solves all problems in softball.
Laser Vision was on the ropes in just about every one of their games including games against 'B' teams like SBS and AZM. Maybe that is because they have a target on their backs and teams are stepping up their games against them. They did however show a lot of heart in coming back agains Demarini late on Saturday night and most any team would have lost to that adrenaline onslaught that Sonny's put on them.
Lineup of a random game:
MI Bryson Baker
RF Brian Wegman
EH Brett Helmer
P Geno Buck
1B Ryan Thiede
LF Brian Rainwater
2B Sam Lopez
CF Rick Baker
SS Kevin Kennington
3B Dal Beggs
C Jason Kendrick
Scott Kirby hit and played some catcher when I was watching

Laser Visions Dal Beggs at 3B and Bryson Baker up the middle
Helmer takes an HBP
Laser Vision SS Kevin Kennington. I pick Laser Visions Green uniforms as the 2nd best of the year so far.
---
---
Tied for 7th Place SBS/Combat GTGG
Conf 'B' from Santa Clara, CA 3-2 Record
SBS has a solid weekend. They knocked off West Coast Doerflinger 18-17 to advance to the final 8 where late errors opened up some huge innings to Laser Vision and the "big fish" got away 41-31. SBS had a 10 run lead in that game, late. Then in the loser's bracket they sent 4 The Fallen home 30-8 before dropping quickly to Team 454.
SBS won the games they were supposed to win and nearly had a career memory if they could have beaten Laser Vision. SBS is a contender in the 'B' division and can hang with 'A' teams. Look for them to play well in the west coast tournaments and make a run at the 'B' World from about a 5 seed.
Lineup of a random game:
OF Shawn Pederson
2B Cliff Williamson
1B Chris Hoshaw
3B Shannon Smith
Prentiss Knight
SS? Joe Yusko
C/P Brian Higginbotham
MI Brian Fong
P/C Josh Pack
OF Jon Gibbens
Brent Haugen – good to see you back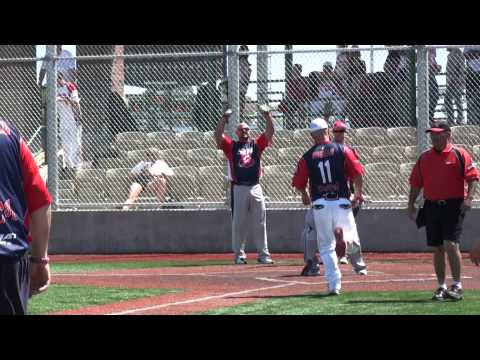 Game winning hit by Tim McCormac (I think?) over West Coast

Brian Higginbotham congratulated by SBS teammates
SBS middle infielder Brian Fong playing a little "wall ball"
SBS third baseman Shannon Smith
SBS pitcher Josh Pack, I remember from the BMA days?
SBS utility man Tim Pemberton is out with a torn ACL
---
Tied for 7th Place West Coast Doerflinger-Easton GTGG
Conf 'B' from Los Angeles, CA 4-2 Record

I pick Doerflinger's blue uniforms as the best of the season so far. I think Julio Salazar pictured here designed them?
The top of the West Coast lineup is deadly and scores a lot of runs. The team is a fun one to watch with their athletic middle infielder Aaron Martinez and defensive outfielder Brian Munson. With a number of conference veterans sprinkled throughout the team they are set for a 'B' World title run.
West Coast's offense went to sleep in their 18-17 loss to SBS/Combat. Then they knocked off a couple of lower level non-conf opponents including Classic Glass before dropping to Team Demarini 34-24.
No "signature" wins on the weekend but a few points nonetheless. This team is very good but I don't know if they can get better throughout the year like some of the other top 'B' teams. If that makes any sense.
Lineup of a random game:
1B Stuhey Lopez
EH Julio Salazar
RF Eli Aguilar
C Johnny Bailey
SS Rafael Robledo
LF Mario Granados
MI Aaron Martinez
CF Brian Munson
3B Rego Nieto
2B Johnny Gallegos
P Robert Sena
Jay Hill, Chuck Shimels, and Cal Ford pinch hit and played some.
Backup pitcher Jason Grissom had some extended action.

West Coast center fielder Brian Munson makes a spectacular catch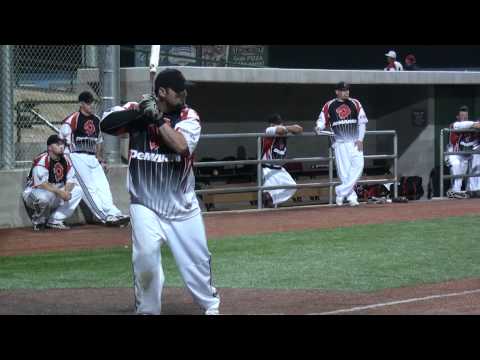 West Coast manager Strojan Kennison (tall guy on right) talks strategy with his assistant manager, when he gets tossed, Johnny Bailey (short guy on left)…
West Coast middle infielder Aaron Martinez sporting the pit bull logo
---
The Rest of the Conference Teams:
Tied 9th – 4 The Fallen/Easton/3N2 – Tyler Beuerlein, Jason Kreider, and Denny Crine pictured above are new members. Fallen had a big win over Team Combat but dropped their big 'B' game with D2E.
Tied 9th – Line Drive Sportz/sSs Softball – Ran into the Demarini buzz saw early in the tournament, knocked off some locals, then nearly pulled off a huge upset on Team 454 when they lost on the last play 38-37.
Tied 9th – Baugh Ford.com/Logo Express/Dvantage – Beat the non-confs, only beat OC Swats as far as conf opponents. Talented team needs to step up their game closer to home.
Tied 13th – Team Combat/Pacific Headwear – New guys to Conference still learning, veterans pressing a little trying to do too much maybe?
Tied 13th – OC Swats – Need to work on getting to 7 innings against conference opponents
---
Hot Links section brought to you by:
Link to all the photos from Las Vegas
Link to broadcast video of games from Las Vegas
Link to the SoftballCenter.com Youtube channel
HOF #1 Tournament Bracket when ready
HOF #2 Tournament Bracket when ready
2012 Conference USSSA Schedule
Link to the 2011 Las Vegas Tournament Report
As always send dw@softballcenter.com any errors you see in the report or links that do not work. Thanks.
---
---
Some more pictures for you:
Classic Glass was the top non-conference team
Combat scored 28 runs in their first inning of their first game then it was all downhill from there.
ABRA from Utah, played well to beat My Auto and scored 10 against Nordkap
OC Swats came up just a bit short this weekend in their first Conference event as a league member
Baugh Ford shortstop Kyle Pearson
Wrigley field – SBS in the field takes on West Coast
West Coasts Eli Aguilar fights the vines to rob a wall ball
Rome wasn't built in a day, Joey
"You read the presentation and I'll hold the flag. Deal?" Nice job with the ceremony Fallen.
Robert Sena doing his best Pit Bull impersonation
I can't remember this guys name, just thought it was a nice pic
4 The Fallen's Greg Zayas gets the GameTimeSupply.com "arm thingy of the week" award
I will give Baugh Ford the 4th best uniforms so far
Baughs Ricky Haymens is back in the conference
Diesel gets non-conference uniforms of the tournament
Axe handle. A new bat. Maybe they want to sponsor the old softballcenter?
Anytime Garage scored a tournament high 58 runs in the loser's bracket against Hellbent
Softball guy picture of the week
This site uses Akismet to reduce spam. Learn how your comment data is processed.