2012 Smoky Mountain Classic tournament report
2012 "44th Annual"
"Smoky Mountain Classic"
Maryville, TN
July 13-15
Cazziusa.com sponsored the live video broadcast of the Smoky all weekend!
Resmondo pitcher Andy Purcell and first baseman Jeff Hall playing in the championship
The 2012 Smoky Mountain Classic featured the return of the LONG BOMB as the top players from the top teams hit some big homers throughout the 3 day long tournament. The granddaddy of them all as far as regular season softball tournaments had some great games, plays, and finishes including an "if" game in the championship as Laservision/Annihilation/Supreme/D2E/Easton forced a second game in the championship after a Brian Rainwater walk off homer against Resmondo-Specialty Tank Worth. Resmondo responded in the final game though with an impressive 23 run 2nd inning and run ruled Laservision 33-8.
The tournament began on Friday night with a huge upset as Headhunters, a conference 'B' team out of Fayettville, Georgia not only upset #6 Sonny's but also knocked off #3 Nordkap/Desert Falls/Easton to make the final 8. Also Down2EarthSports.com from Baxley, Georgia knocked off CA Sports and Team Combat to make the final 8. In the Team Combat game, D2E "flip flopped" Combat and Combat came all the way back to within 2 runs before losing to D2E 30-26.
The rest of the favorites all advanced past the Friday night games to the Saturday final 8. The Smoky plays the final 8 of the winner's bracket on the show field on Saturday giving the fans the best matchup's possible game after game. In the first game at 9:15 AM, Shoppe put one on TYJA/Reebok and won easily 28-11. Resmondo then did the same to R&M Metals 36-16. This was followed by Laservisions 27-12 rout of D2E, and finally in the best game of the 3rd round, Team 454 used a couple of nice running/leaping catches by center fielder Jason Branch to beat Headhunters 24-22 although Headhunters had the bats in their hands at the end.
In the final 4, in two of the best games at the Smoky in a couple of years, Team 454 used a clutch walk off homer by Phil White just as a rain storm came rolling through to beat Laservision 35-33.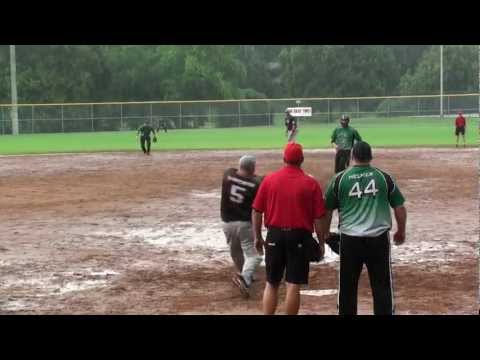 Then after a rain delay, fans were treated to the game of the year as Resmondo and Shoppe raged war for 7 innings. Resmondo would wind up winning the game 45-41 but Shoppe gave them everything they could handle. Check out the game, an instant classic here on SoftballCenter.com!
At the 2:24:00 mark of the game, if you fast forward to that spot. You can't really see the plays but you can feel the excitement as Shoppe makes two great plays to hold Resmondo down in the top of the 7th. Chente Granados inexplicably shifts from SS to right field in the middle of Striebels at bat and Striebel hits it right to him, Chente throws him out from his knees in short right field. Then Connell pops out in fair territory by the Resmondo designated bench area and Cocco takes off like a bull in a china shop and dives through the mud to make a great catch!
The winner's bracket final between Resmondo and Team 454 was anti-climactic as the game finished after 1 AM in the morning with Team 454 unable to continually come back from double figure deficit after double figure deficit and Resmondo won 35-18.
In the morning Laservision hammered Demarini/Dirty 28-7 in the losers bracket semi-final, then did the same to Team 454 29-9 in the loser's bracket championship. In the championship, Resmondo jumped out to a double digit lead and it looked like they would cruise to the title when Laservision mounted an impressive comeback and Resmondo scored just 4 runs down the stretch, and Laservisions Brian Rainwater was able to hit a walk off homer to force the "if" game where Resmondos 23 run 2nd sealed the deal.
Championship games
Laservision celebrates a Geno Buck homer during the finals
Sandy Springs #3 the "Show" field with some approximate home run distances marked
The Smoky is known for its crowds which started out being as large as they normally are until the rain. An impressive amount of the die hard softball fans stayed right through 4 rainstorms on Friday and Saturday!
Historic Smoky Mountain Classic Winning Teams List:
2012 Resmondo-Specialty Tank Worth, Winter Haven, FL
2011 Resmondo-Specialty Tank/Worth, Winter Haven, FL
2010 Resmondo Specialty Tank Phonemasters, Winter Haven, FL
2009 Resmondo/Specialty/Worth from Winter Haven, FL
2008 Resmondo/Specialty Tank/Worth from Winter Haven, FL
2007 Bell Corp/Belcher/TAI/Easton
2006 Resmondo/KME Softball – Winter Haven, Florida
2005 Bell Corp/Backman/Taylor/Easton – Tampa, Florida
2004 Resmondo/Hague/Taylor/Sunbelt
2003 Hague / Resmondo / Taylor Brothers
2002 Dan Smith / Backman / Menosse / Easton
2001 Long Haul / Taylor Bros. / Shen Corp. / TPS
2000 Team TPS/Louisville, KY
1999 Team TPS, Louisville, Kentucky
1998 Sierra/TPS, Reno, NV
1997 Ritch's/Superior/Tri Gems/Beloli/TPS, Windsor Locks, CT
1996 Sunbelt/Easton, Centerville, GA
1995 Ritch's/Superior/TPS, Windsor Locks, CT
1994 Ritch's/Superior/TPS, Windsor Locks, CT
1993 Ritch's/Superior, Windsor Locks, CT
1992 Bell Corp, Tampa, FL.
1991 Bell Corp, Tampa, FL.
1990 Steeles Silver Bullets, Grafton, OH
1989 Superior-Apollo, Windsor Locks, CT
1988 Starpath Systems, Monticello, KY
1987 Steeles Sports, Grafton, OH
1986 Steeles Sports, Grafton, OH
1985 Elite Coatings, Gordon, GA
1984 Elite Coatings, Gordon, GA
1983 Elite Coatings, Gordon, GA
1982 York/Ken Sanders, York, PA
1981 Howards Western Steer, Denver, NC
1980 Jerry's Caterers, Miami, FL.
1979 Campbell's Carpet, Concord, CA
1978 Dave Carroll Sports, Sherrills-Ford, NC
1977 Howards Furniture, Denver, NC
1976 Howards Furniture, Denver, NC
1975 Nelson Painting, Oklahoma City, OK
1974 Howards Furniture, Denver, NC
Headhunters upsetting Nordkap on the main field Friday night
The infamous field #4 net, fence is just 270 down the line
Little known 'B' team Headhunters/Cancooker/SHSSports.com played their entire tournament on the show field. Here, shortstop Chad Folsom hits against Team 454/Worth in the quarterfinals
Teams were asked to play in some tough conditions after 3 thunderstorms passed through on Saturday
Sam Lopez of Laservision gets our pick for the longest home run of the tournament which he hit on Friday night
All of the archived games can be found here for the Smoky
2012 Nationwide Insurance Conference Schedule
---
---
Remember to email pictures or scans of your stat sheets to dw@softballcenter.com for posting in a picture album and to be used to verify totals. Stats without pictures/scans of each score sheet will be removed from the USSSA site.
---
Video Highlites brought to you by: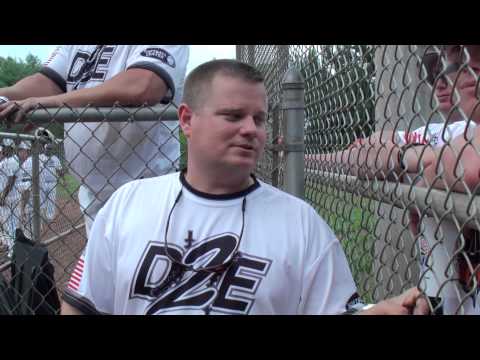 Random video highlites from the Smoky
---
The Mojo Masher of the week conference "newbie" is
The entire Headhunter/Cancooker/SHSSports.com/Baden team that put on a show for the fans on the main field with a great string of home runs and an upset over both Sonny's and Nordkap/Desert Falls
---
Smoky Tournament Awards and Final Standings:
Laservision/Anni/Supr/D2/Easton

Resmondo-Specialty Tank Worth

Laservision/Anni/Supr/D2/Easton

Laservision/Anni/Supr/D2/Easton

Resmondo-Specialty Tank Worth

Laservision/Anni/Supr/D2/Easton

Resmondo-Specialty Tank Worth

Laservision/Anni/Supr/D2/Easton

Resmondo-Specialty Tank Worth

Resmondo-Specialty Tank Worth

Resmondo-Specialty Tank Worth

Resmondo-Specialty Tank Worth
Team
Class

Runs
Scored

Runs
Allow

Avg
Runs

Avg
Allow

Avg
Diff

Max
Runs
Resmondo first baseman Jeff Hall was MVP
Resmondos Don Dedonatis Jr was selected defensive MVP
Bryson Baker was picked Offensive MVP for Laservision
---
Team by team notes brought to you by:
---
1st Place – Resmondo-Specialty Tank Worth Nolkjdsa;lkajsdlkgajaljnresmondo-specialty tank worthresmondo-specialty tank worth
Conf 'M' from Winter Haven, FL 5-1 Record
Resmondo wins their 5th Smoky in a row, an impressive feat. They did it with great defense from the left side with a less than 100% Jimmy Salas making all of the plays at third and Jr winning the defensive MVP. They did it with good pitching, and pure power, hitting 14 homers in the first two innings of the "if" game of the championship.
Resmondo is the favorite for the World Series and they proved it again playing the baseball field at the Smoky better than their opponents. A solid effort, the ability to turn it up a notch in the big games, and maybe a little break with that dropped popup in the Shoppe game help Resmondo continue their legacy.
An impromtu interview with Travis Resmondo during the Resmondo vs Team 454 game revealed that he would like to win 3 more major championships which would give him 10. He is always looking to make his team younger. He pays players by their years of service (loyalty), and if Dan Smith comes back to the game, Travis believes Dan will come back with Resmondo.
BJ Fulk had the longest left handed home run deep into the tennis courts in RF
Resmondo celebrates their 5th Smoky title in a row
Travis Resmondo and family with the tournament directors and sponsors
Greg Connell receives the home run championship. He hit his 18th homer on his last at bat to beat Adam Rockoff (17)
---
2nd Place – Laservision/Annihilation/Supreme/D2E/Easton
Conf 'M' from Cicero, NY 6-2 Record
The door was open as Laservision overcame a tough loss to Team 454 in the semi-finals and ran the table in the losers bracket, beating TYJA 45-41 late on Saturday night, and then 3 in a row on Sunday morning including Demarini/Dirty and Team 454 before forcing the "if" game against Resmondo with the walk off homer by Brian Rainwater.
It looked like they were out of gas and tried everything they could in the "if" game, using 3 pitchers in the 23 run – 14 homer inning that Resmondo put on them.
Laservision looked good at times as third baseman Sam Lopez made a rash of great diving line drive stabs and hit 3 or 4 of the top 10 longest homers of the tournament. Also a solid job by offensive MVP Bryson Baker who played shortstop and an overall impressive run through the loser's bracket by this team. Laservision is positioned as the #2 team on baseball fields with a shot at the Major later in the year.
Ryan Thiede was not playing as he recovers from the pulled muscle.
This at bat must have been a real nail biter
Wegs gets a picture because he trimmed the tree at Mid America for the live feed, oh and he was all tournament

Laservisions Kevin Kennington seemed to run the most bases and mixed in a few bombs as well
---
3rd Place – Team 454/Emerald/WorthGTGG
Conf 'A' from Glen Allen, 4-2 Record
Team 454 gets a nice 3rd place finish thanks to their impressive walk off win over Laservision in the semi-finals. Phil White hit the clutch homer as the rain started to pour down and after a lengthy delay by Laservision. 454 tried a couple times to come back against Resmondo in the winner's final but it wasn't meant to be.
454 continues to play like a Major team and not so much an 'A' team. They are still just 2-7 vs the 'A' division and 6-4 vs the Major division? Figure that one out.
Don Rogers continues to be out with a back injury.
454's Jason Branch was hitting "no doubters" even in the thick mud
454 pitcher Andy Vitcak and third baseman/sponsor Bill Rhew
---
4th Place – Demarini/Dirty/3n2/ATWLDesigns
Conf 'A' from Orlando, FL 6-2 Record
Dirty lost their second game 39-25 to TYJA/Reebok when TYJA kept putting up double figure innings on them and Demarini finally couldn't keep up. Then they ran the loser's bracket and sent home 3 Conference 'B' teams and finally Shoppe 35-19 late in the night on Saturday. On Sunday, Laservision put them away quickly.
A solid performance out of the #2 ranked team in the country. They may not be #2 after this weekend but they showed they can adapt to the Major game of unlimited homers and they are always fun and entertaining to watch. With the recent fold of the west coast Demarini/Famous team, one has to wonder if Dirty will be asked to take on some of the Demarini family talent?
Demarini/Dirty fought through the loser's bracket for a 4th place finish
Nick Santana, Adam Rockoff, Orlando Castillo
---
Tied 5th Place – TYJA-Suncoast Reebok
Conf ''A from Great Neck, NY 4-2 Record
TYJA beat Demarini/Dirty early in the tournament when they put up a huge 6th inning to finally separate from Dirty. Then Shoppe smoked them on the show field in the final 8. In the losers bracket TYJA knocked off two major teams Nordkap and Combat, before dropping a late Saturday slugfest to Laservision 45-41.
The TYJA/Reebok merger has been strained by some sort of argument during one of the games on Saturday night. I won't bug those parties about what happened but it isn't good for a team that had a breakout weekend with 3 huge wins. Can't we all just get along? Good luck to all involved.
TYJA/Reeboks Victor Cordova playing in the Elite 8
Mike Stephany batting against Shoppe
---
Tied 5th Place – Shoppe/Team TPS/Elite GTGG
Conf 'A' from McKenzie, TN 3-2 Record
Shoppe came out of the gate firing as they knocked off Pipe, Magic (barely), and TYJA impressively. Then in the semi-finals against Resmondo they played the game of the year but a dropped popup late in the game cost Shoppe some key runs and they came up short 45-41. A great effort but they lossed Robert "Robo" Blackburn who hurt himself trying to climb the fence for a home run rob, and has apparently broken his foot that he had broken back in 2010. Best wishes and recovery to Robo who was having an all conference season.
The injury hurts Shoppe who was taking a step forward as quite possibly the favorite for 'A' worlds with Sonny's dropping out of the picture and 454 playing like a Major team.
Lee Powers and Eric Thompson
Robert Blackburn and Cory Boothe
Tony Mack and Jeff Payton
---
Tied 7th Place – Team Combat/Pacific Headwear GTGG
Conf 'M' from Kent, WA 4-2 Record
Team Combat didn't have the weekend they wanted when D2E upset them 30-26 in the second round. But they did send home Sonny's and R&M. They didn't take a step forward, maybe a half step back. This team needs some fire and swagger.
They did get one of the leading hitters in the league back in Scott Brown from injury, and picked up Jon Oram to play middle infield.
Fulk' s brother – Scott Brown was back in action for Team Combat
---
Tied 7th Place – Down2EarthSports.com/SBC/Worth GTGG
Conf 'B' from Baxley, GA 3-2 Record
D2E is the highest finishing 'B' team. They did it with smoke and mirrors, as they beat Team Combat in the second round to advance to the Elite 8. When Laservision knocked themselves to the loser's bracket they wiped the mud off and sent Taylormade home 23-19 before losing a slop fest mud game to Demarini/Dirty 19-10.
D2E is an amazing 9th in the Conference points for the second year in a row with a lot of different guys, banged up players, and players playing out of position on a shoestring budget. I'm impressed.
They picked up Brandon Murray to help with the power and Justin Mucciarelli did a nice job against the big teams.
D2E picked up Brandon Murray. Good to see him back on the circuit
Helmer thought Lee Payne was Tim Howard
Justin "Mooch" Mucciarelli was back in action with his unique pitching style entertaining the fans
---
The Rest of the Conference Teams G
#9 VA taylormade/tm sports/mizuno 3-2 – Played a bunch of 'A' and 'B' teams in solid and fairly close games. Had to have felt like they did better than their finish maybe?
---
#9 UT nordkap/desert falls/easton 3-2 – Nordkap/Desert Falls was stunned by Headhunters in the second round Friday night and never recovered
---
#9 GA headhunter/cancooker/shssports.com 2-2 – A weekend to remember for Headhunters as they knock off Sonny's Friday night 20-19 then shock the world with a 36-19 run rule of Nordkap/Desert Falls to make the final 8. In the final 8 they put up good battles against Team 454 and Demarini/Dirty and overall put on a show for the fans with their 100+ runs in 4 games on the show field. A lot of power for a 'B' team.
---
#9 IA r&m metals/troupe/pipac/s&r/easton 2-2 – Beat The Scene and Taylormade before offensive outages against Resmondo and Team Combat
---
#13 WY sonny's / louisville slugger 2-2 – dropped 20-19 to Headhunters in their opener with the bats in their hands. Won two in the losers they should win before Team Combat sent them packing 33-29. An uphill battle to make the Major now.
---
---
#13 IN red's astros/tps/sports den 2-2 – Reds score some more points as they beat everyone but the two Major teams they played
---
---
#13 MA Magic/S&S/TYJA/Easton 2-2 – Beat 'B' rivals SBS and The Scene (in a comeback) and scored some runs against Shoppe and Demarini including a 34-33 loss to Shoppe, wow. Team may be moving in the right direction.
---
#13 NC B&B/Sears/N&N Finishing 2-2 – Solid showing, almost pulled off an upset of Taylormade. The more this team plays the better they will get
---
#17 FL Westshore pizza/tps 1-2 – Won a shootout with 3rd Street, competed with Team Combat
---
#17 AL baughford.com/advantagesports/worth 1-2 – Beat 3rd Street then dropped two straight
---
#17 CA SBS/CSC/Combat 1-2 – Scored some runs, didn't really beat anybody they weren't supposed to
---
#17 OH blitz/weller/watanabe/k&g/easton 1-2 – Beat a local, was hammered by Resmondo, and lost to B&B?
---
#17 NYD The Scene SPMensB 1-2 – This isn't Arkansas and they were missing their leader Justin Atwood at pitcher.
---
---
#17 GA Primetime/Easton 1-2 – beat a local, showed some heart staying in the game against Laservision for awhile then was knocked out by Sonnys
---
---
#25 WI wheelhouse/spiderz/game time supply 0-2 – lost two games by a combined 49-6
---
#25 TN CA SPORTS/MIKEN 0-2 – The new CA Sports scored just 15 runs in losses to two 'B' teams. Good news is the market is flooding with talent
---
#25 OH columbus pipe/dss bats/easton 0-2 – Pipe was hammered by Shoppe but fought to a hard 33-31 loss to SBS
---
#25 GA Team Adiktiv/Dynasty/D2E 0-2 – Two and out, scored 11 runs total, never got to see them play
---
More pictures below
---
Hot Links section brought to you by:
I would like to thank all of my sponsors for their support as well as USSSA, Joe Huff, and Chris Clark.
I will be at the Cincinnati Major July 21-22!
Send corrections to dw@softballcenter.com
Link to all the photos from the Smoky
Link to SoftballCenter.com broadcast archive 1
Link to SoftballCenter.com broadcast archive 2
(support the amateur broadcasts by paypal dale_weiser@yahoo.com or email for an address)
Link to the SoftballCenter.com Youtube channel
2012 Conference USSSA Schedule
Link to the 2012 Tournament Reports
As always send dw@softballcenter.com any errors you see in the report or links that do not work. Thanks.
---
---
Some more pictures for you:
Smoky all time records
Headhunters Chronicles "Bash Brothers" Jonathan and Jesse Scott
Headhunters added longtime Major player Scott King to the leadoff spot and third base
Geno runs funny
28 and 27 years in a row for these guys
Conference travels to Cincinnati for a big tournament this coming weekend July 20-22!
This site uses Akismet to reduce spam. Learn how your comment data is processed.