2010 USSSA 'A' World Recap
2010 USSSA 'A' World

Orlando, Florida

August 13-15
GTL Cartel/Worth is your 2010 USSSA Class 'A' Champions!
In the words of UFC announcer Mike Goldberg, "IT IS ALLLLLL OVER!". The much anticipated USSSA class 'A' World Series came to a dramatic conclusion with the highly favored GTL Cartel/Worth team from Seattle, Washington using a Jim Salas walk off homer in the bottom of the 7th to capture the coveted Championship 13-12. The homer came in the "if" game as Team Combat/Laser Vision forced the second game with a heart stopping bottom of the 7th comeback of their own where they plated 11? runs, capped by their own walk off homer by none other than "ESPN highlite" man and tournament offensive MVP Rusty Bumgardner to win 24-22.
Jimmy Salas hits the game winning homer for GTL in the bottom of the 7th to give them the 'A' World Title!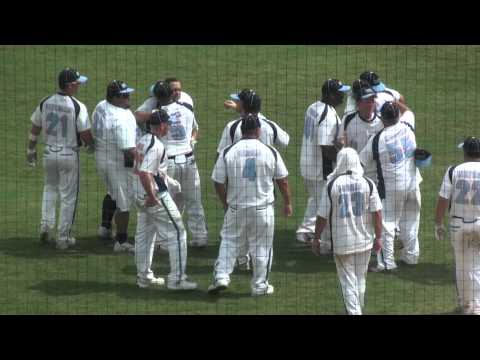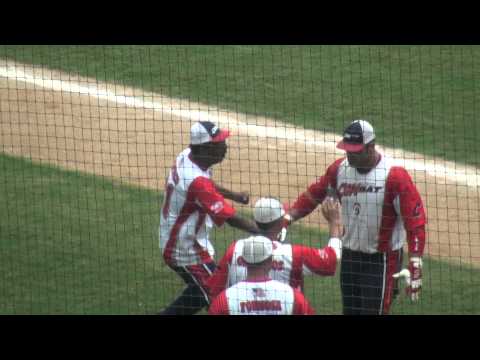 Combats Rusty Bumgardner hits a walk off two out homer to win game #1 of the Championship for Combat/Laser Vision
(I have no idea why this video went into slow motion. I will try to fix it soon)
The two teams used very different paths to get to the finals. GTL cruised through their first 4 opponents with lopsided wins, including knocking off Wood Law, Suncoast, and Aubreys. Team Combat on the other hand fought hard from the outset on Friday night when they battled Bestway Softball to a 26-20 victory. Then after 2 more wins, Team Combat lost an epic battle with Aubreys in the semi-finals Saturday night 32-29 to drop to the loser's bracket. In the loser's bracket they beat a hot Logo Express team late Saturday, and then Sunday morning starting at 8 am they methodically scored "crooked" number innings en route to victories over Suncoast 30-15 and Aubreys 21-14 to set up their battles with GTL in the finals.
GTL Tournament MVP Anthony Dress (far right) congratulated by teammates
I've always said the home team is worth 3 runs. The coin flip may have decided both games
Both GTL and Combat fought for every inch in the championship games
As a fan of the game you had to admire the heart shown by the entire Team Combat/Laser Vision team as they battled for over 6 and a half hours in extreme heat and humidity. There were no loser's in this years 'A' Championship finals.
Aubreys/Taylormade/Mizuno finishes 3rd after winning their first 3 games and Suncoast/Reebok finishes 4th with solid play throughout the tournament and great defense from shortstop Luis Reyna.
The hardware
Bestway takes on Team Combat on Friday night at the softball quadplex at Disney
ESPN's Champions Stadium was the show field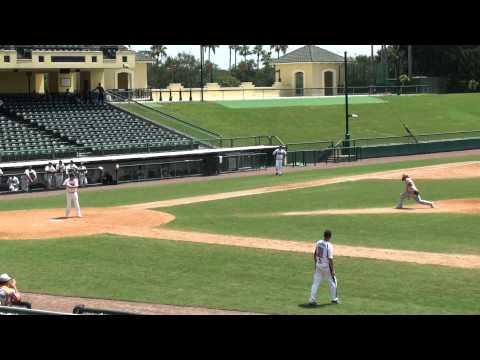 ESPN's Champions Stadium Wood Law vs GTL
"A World" Tournament Awards and Final Standings:
Team by team notes brought to you by:
---
1st GTL CARTEL/WORTH GT=
Conf 'A' from WA, 5-1 Record

GTL caps an incredible string of tournaments with one of the most sought after trophies in softball. Since the first of the dual tournaments in Seattle on July 4th weekend, GTL has had a 2nd place finish, and now 3 straight tournament Championships (Cincinnati, Denver, 'A' World) and a 21-3 record over that span!
Congratulations to the entire GTL team, the sponsors, and the managers for a great season. All of the hard work and "visionary" roster moves paid off big time. Enjoy this for a few weeks and then come out and show how good you can play on baseball fields at the Conference Championships and the Major World Series!
MVP – Shortstop Anthony Dress
GTL Lineup:
OF Mike Bowlin
OF Victor Cordova
2B Don Rogers or OF Donovan Pokraka (before hamstring injury)
1B Sam Lopez
3B Jimmy Salas
P Chad Munger
P/C LC Watson
OF Tyler Beuerlein
CF Bubba Mack
SS Anthony Dress
MI Matt Pessos
GTL pitcher/eh/c Loyd Watson had an MVP type tournament and picked up the win in game #2 of the finals
GTL two hitter Victor Cordova against veteran Billy Messina in the Championship game
GTL management was feeling good and playing loose on Saturday
GTL middle infielder Matt Pesso turns another DP
Late season pickup Bubba Mack came through with some big home runs and was defensive MVP
It looked like trouble for GTL when star player Donovan Pokraka came up lame with a pulled hamstring on Saturday
---
2nd GTGG Team Combat / Laser Vision
Conf 'A' from WA, 7-2 Record
Team Combat/Laser Vision is a team that overcame some major mistakes. They had runners thrown out at the plate, dropped flyballs, mishandles around the bases, and player ejections. Yet they were able to keep it together and fight through these hardships to gain wins over some great competition.
When the first Championship game began with GTL, and Team Combat went down 1, 2, 3 in the first inning after GTL scored, there were not many people around that thought the game would last more than 5 innings.
I was impressed by some long home runs by Joey Formosa, Rusty Bumgardner, and little Chente Granados in the heat.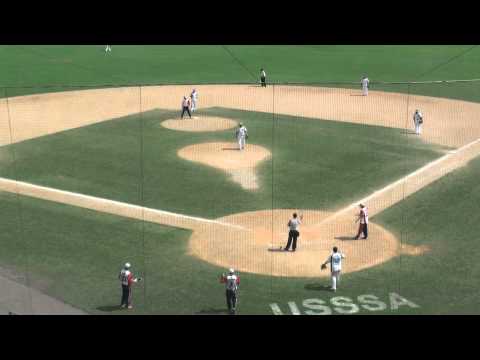 Combats Mario Granados gets a two out base hit to tie the Championship game #2
Team Combat Lineup: (something like this)
RF Jason Kendrick
LF John McCraw
C Vince Bisbee
3B Rusty Bumgardner
MI Joey Formosa
1B Seth Stephens
CF Mario Granados
2B Wade Casey
UT Robert Sena
SS Chente Granados
P Billy Messina
Combat SS Vincent Granados had a bit of a coming out party on both sides of the ball
Laser Vision sponsor Pierre Alfred
Sunday morning 8 AM, Team Combat takes on Suncoast
Combat 3B Robert Sena dives for a ball. Hope you are feeling better Robert!
---
3rd Aubrey's/Taylormade/Mizuno
Conf 'A' from VA, 3-2 Record
Aubreys came out of the gate with a quality drubbing of AJS 30-14 on the back fields at Disney. Then they moved to the stadium and beat Sinister 17-10, which set up their semi-final matchup with Team Combat. In the Combat game, Aubreys opened the door by putting up a zero in the 6th but Combat returned the favor by making three costly errors in the 7th allowing 6 runs and Aubreys held on to win 32-29.
In the winner's bracket championship, Aubreys laid an egg offensively against GTL and lost 29-15 in a game where they fought to keep from getting run ruled most of the game. On Sunday morning Aubreys was no match for Team Combat's 4 and 5 run innings and succumbed 21-14. It felt as though many of the Aubreys players were having "mini-slumps" during the tournament.
I always like Taylormade teams on the baseball sized fields so their season is far from over. Kevin Rye was playing first base towards the end, maybe he is nursing an injury? Chad McClamb and Brian Justice were tough outs, and center fielder Brian Logan? made the game saving catch of the season against Team Combat when he grabbed the final out on a long (fast) run to the left center gap and a full out dive. I think that was the game also where Corey Boothe in right field made a leaping rob of a homer over the temporary fence.
Leadoff man Chad McLamb is having another all conference season
Brian Justice locking down the hot corner for Aubrey's
Aubrey's pitcher Stacy Bolton climbs the ladder for the out against AJS
Aubrey's first baseman Brian Floyd and son
---
4th Suncoast / Reebok
Conf 'A' from Florida, 4-2 Record
A good 'A' team in a close game is supposed to make a couple of great defensive plays down the stretch, add 3 to 5 runs to their score in both the 6th and 7th inning and finish off their allowable homer's late in the game even if they are solo's. This and a great roster is how you play winning Conference 'A' ball and Suncoast did just that to finish 4th. Shortstop Luis Reyna is my pick for tournament defensive MVP as he made a number of great plays back on the hard infields in the quadplex. Suncoast was finishing games for the first time all season.
Suncoast came firing out of the gate with a 34-18 drubbing of East Coast. Looked like batting practice. In their second game on Saturday morning they put up 11 in the first and held on to beat NW Combat 27-24. In the afternoon they were soundly dropped to the loser's bracket by a GTL team on cruise control 29-8. Ouch. Late Saturday night they used a Scott King walk off homer to beat NW Combat (again) 23-22 to gain a Sunday finish. In the morning they were unable to keep pace offensively with Team Combat and was run ruled 30-15.
I think Suncoast will make the World Series because of teams dropping out? Should be interesting. Jason Branch, Luis Reyna, maybe even Dustin Roberts and Dan Dillingham all deserved all tournament. Hopefully Dillingham didn't hurt any little leaguers when he hit those bombs into the little league diamond but I guess thats why we all sign the waiver…
Suncoast SS Luis Reyna is my pick for defensive MVP
C
Suncoast RF Scott King hit a walk off HR later into the night against NW Combat
Suncoast LF Dustin Roberts tracks down a long fly
---
Tied 5th Logo Express
Conf 'B' from , 4-2 Record
Logo Express lost their first and last games to Combat/Laser Vision. The second they had a good chance to win. In between they won 4 straight in the loser's bracket and sent home Conference 'B' rivals EWS and AJS. Logo will be one of the top ranked teams at the 'B' worlds and have played great softball ever since the beginning of the year.
Logo outfielder Matt Bunn (i think)
Logo's 3B Frank Yielding is batting .638
---
Tied 5th Northwest Combat
Conf 'A' from WA, 4-2 Record
NW Combat's tournament reads similar to Logo's. They lost their first and last games to Suncoast. The second on a walk off hr. In between they sent half of Floridas 'C' teams packing and squashed the Shoppe 19-8.
NW Combat first baseman Matt Albert and second baseman Jeff Gare
NW Combat manager George Philips was looking to make another long run through a world tournament
NW Combat in the field and up big on Jean Shoppe late Saturday night.
---
Tied 7th AJS/Easton/Supreme/Mike Foulks/Mojo
Conf 'B' from FL, 3-2 Record
AJS began the tournament on Saturday morning with a recent rival Aubrey's team. Aubrey's got the better of this one with some big innings 30-14. AJS recovered to knock off some local 'C' teams and had a nice win over Wood Law 24-16 before Logo run ruled them. AJS will be the 4th best team in the 'B' Worlds with a good shot at making a run.
AJS finishes off Wiley's Supreme
AJS pitcher TJ Thompson looks like he was throwing a spit ball it was so hot and humid
---
Tied 7th Jean Shoppe-Easton-Down2EarthSports
Conf 'A' from TN, 3-2 Record
This was Jean Shoppe's tournament to salvage the season, much like GTL did a year ago. The roster has been there all year, the talent and Championship experience speak for itself and they are led by a manager and sponsor that have been there and done that. But it just didn't happen. Shoppe got beat in their first game against Wood Law early Saturday morning when they left Scott Nastally in the game too long and gave up a grand slam to Preston Spurlin. It isn't like Shoppe is a one pitcher team with Cheese Spicer and Dan Bean available? Then Shoppe only managed one quality win in the loser's bracket (Sinister) before dropping out ugly to NW Combat 19-8.
Shoppe never impresses on the baseball fields but then again they are always playing the Conference Championships and Major World Series after an emotional ride to the 'A' title or runner up. It would definitely be fun to see some "genuine" fire – out of this – still capable TEAM.
---
Tied 9th Marty's Boys
'C' from FL, 2-2 Record
Marty's Boys who finished 0-2 at their own 'C' State tournament a few weeks ago was the only local team that actually pulled off an upset early in the tournament. They knocked off conference teams ATS 25-20 and Albicocco (an 'A' team) 20-19 when they gave up an HRO to end the game. They then dropped two in a row to the Combat teams but finish as the highest non-conference team and played all 28 innings.
Marty's Boys is a hard hitting team with a few guys that can wheel the bases as well. I don't think they have the stamina to make a run at the 'C' worlds though.
Marty's Boys knocks off a stunned Albicocco team in the second round on Friday night
---
Tied 9th Wood Law/Miken
Conf 'A' from TX, 1-2 Record
Wood Law had a tough draw opening up against Jean Shoppe early Saturday morning on the back fields but came to play and used a Preston Spurlin grand slam to lead them to a 28-22 victory. In their second game they met GTL on the stadium field and never really got things going and lost 24-10. In the loser's bracket they were handled by AJS on the show field 24-16.
Wood Law had Mooch pitching, Shrum at SS, and Chris Larsen at 3B to name a few key spots. Right now with the baseball field tournaments coming up, I feel Wood Law is a solid 'A' team with a shot at every game they play, but I don't think the Conference teams fear them in any way. More energy and self motivation needed here. They remind me of Johnny Blaze from a year ago.
Wood Law's Preston Spurlin pounds a grand slam to help sink Shoppe
Wood Law's John Dutch aims for the grassy knoll
---
Tied 9th EWS/Shirts and Logos
Conf 'B' from IL, 1-2 Record
EWS hit too many solo's and have negative momentum going into the last month of the season. Turn it around and remember what got you here.
EWS middle infielder Travis Clark, unhappy about being taken out by Suncoasts Marty Malloy. Suncoast #1 Dustin Roberts getting ready to take care of this…
Chris Geron another one of those EWS 16 inch softball players
EWS hitter Keith Anderson gets the picture in the recap because of the towel
---
Tied 9th Sinister/Line Drive/SSS/Worth/Mojo
Conf 'A' from MI, 1-2 Record
Sinister put down a very good and talented Wiley's Supreme 'C' team 21-20 late Friday night to open the tournament then dropped a pair to Aubreys and Jean Shoppe on Saturday while only mustering a total of 24 runs in the two losses? Sinister will should go into the Conference championships realizing those are the fields they played their best softball of this season and try for a repeat performance. Sinister needs to think defense 24/7 because they aren't outscoring anyone in a shootout.
Todd Joerling at 3B, Jeff McGavin at SS, and Willie Allen up the middle for Sinister
---
---
A big thanks to my sponsor's – USSSA, Down2EarthSports.com, GameTimeSupply.com, and MojoSportsGear.com
As always send corrections, comments, and softball chatter to dw@softballcenter.com
I will be in Kissimmee for the Conference championships Labor Day Weekend.
Link to the rest of my 'A' World pictures
Link to the 'A' World Bracket/Stats
Link to the USSSA Point Standings and Stats
Here are some other pics from the 'A' World:
Former GTL middle infielder Brian Blount was picked up by Albicocco
100% bat testing was in effect
'A' Worlds were umpired by an exclusive group of Conference umpires
More Conference talent at the 'A' Worlds playing for Wiley Supreme
Bestway first baseman Ron Pearce? was the best non-conference player in the tournament
Behind every Cartel there are good women
Suncoast CF Jason Branch just misses the homerun rob
The 'A' Worlds was so important that President Obama came to sub for Marty's Boys
Boys baseball was being played all over the Disney park
Kids trying to find the last homerun ball
This site uses Akismet to reduce spam. Learn how your comment data is processed.