Resmondo wins USSSA Major World Series in 9 innings!
2013 USSSA Major World Series
Championship Game recap!
Resmondo 33 Laservision 31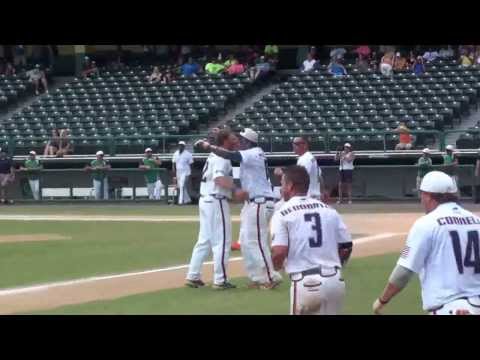 Resmondo-Specialty Tank/Worth outfielder Ronald "Bubba" Mack hit a walk off 3 run homer into left center field in the bottom of the 9th inning to defeat Laservision/Desert Falls/Boombah/Easton 33-31 for the USSSA Major World Series Championship! The two teams battled late in the game with Laservision out scoring Resmondo 17-9 in the last two innings of regulation. Both teams would go scoreless in the 8th inning and Bubba Mack who was 2-2 in the game with 2 homer's and 7 rbi was the hero.
A full report of the Major World Series, pictures, video clips and statistics coming soon here at SoftballCenter.com!
2013 USSSA Major World Series Bracket Link
One response to "Resmondo wins USSSA Major World Series in 9 innings!"