2010 USSSA Hall of Fame Classic Recap Page 1
2010 Conference USSSA

Hall of Fame Classic

Kissimmee, Florida

April 15-18
Osceola County Stadium, home of the Hall of Fame Classic
The 2010 Conference USSSA season opened with upsets, some cinderella teams, and all around great action. For the second straight season the HOF Classic was a "Double NIT" where one double elimination tournament was played on Thursday and finished Friday night and the second double elim was played Saturday and finished Sunday afternoon. Both tournaments placed the same 18 teams (17 from the Conference) into the bracket and were played at the Osceola County Stadium and adjacent baseball fields as well as the Fortune Road softball complex around the corner from the USSSA offices and Hall of Fame.
The first tournament featured Dan Smith/Menosse/Chaney as they went 5-0 and captured the tourny with an 18-11 victory over Sinister/Worth/Mojo out of Michigan in the finals. Dan Smith's only stumble in their 5-0 sweep was a 25-24 victory in the quarterfinals over Suncoast/Reebok based out of Florida. In the championship game Dan Smith separated from Sinister when pitcher Scott Brown hit a big 3 run homer which was followed by 3 consecutive homer's including an inside the park HR. The championship game was well played as both teams scored runs in most every inning.
Team Dan Smith after winning the first Hall of Fame Tournament!
In the second tournament Resmondo/Specialty Tank/Phonemasters ran the table 5-0 and defeated the upset minded Logo Express out of Georgia in the championship 21-3. Resmondo also survived a 2nd round shootout with Wood Law/Miken out of Texas and a 27-23 win over runner up Logo Express in the third round to win.
Resmondo after defeating Logo Express in the 2nd tournament!
The tournament play was the best and most competitive top to bottom of any regular season upper level tourny I have been to in the last 10 years. 'B' classed teams were consistently beating 'A' and Major teams.
The upsets started early as EWS/Shirts and Logos out of Chicago, IL went toe to toe with Resmondo on Thursday night in the first tournament. Matching Resmondo's early and consistent scoring, EWS found themselves down 21-20 with two out in the botoom of the 7th. EWS C/1B Dustin Palm came to plate and fouled off an Andy Purcell pitch down the left field line. With two strikes Dustin Palm lined a walk-off two run homer to left field between the 330 and 390 marks and EWS became the first 'B' team to beat Resmondo in 28 games going back to their loss to Columbus Pipe in St Louis in 2008!
The MojoSportsGear.com Homerun of the tournament!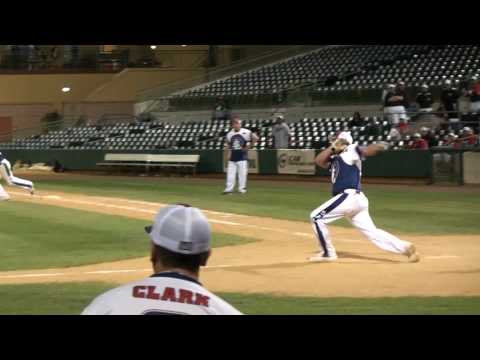 EWS slugger Dustin Palm hits the HR heard round the softball world!
In one of the wildest games in Conference tourny history Logo Express on the verge of being run ruled by Dan Smith 17-4, came from behind to post 35 runs over 3 innings and run ruled Smith 39-24. This was on diamond #1 at Osceola which is the most difficult place to hit a homerun in softball today with its 30 foot high fence in LF and LC and 330-410 dimensions. Logo Express went on to place 2nd after winning two more in the loser's bracket Sunday morning.
Logo Express overcame a rash of injuries to pull off an incredible 2nd place finish!
In another game between AJS/Easton/Supreme/Mike Foulks/Mojo (B Team from FL) and Dan Smith, AJS scored 16 runs in the top of the 7th and held on defensively to beat Smith 24-22. Most of the runs were with two outs. A true testament to what a real team effort, momentum/adrenaline, and a "never say die" attitude can do for a team. AJS went on to finish 4th.
This never give up spirit was prevalent through most of the tourny with EWS, Wood Law, Logo Express, Detroit's Own and more.
AJS had a team full of heroes after defeating Dan Smith!

The weather was perfect for softball all 4 days!

Osceola County Stadium Complex
The ball used for the larger fields was the Dudley Thunder ZN and it flew pretty good and was perfect for the baseball fields. Maybe a little scary for the softball fields at Fortune Road?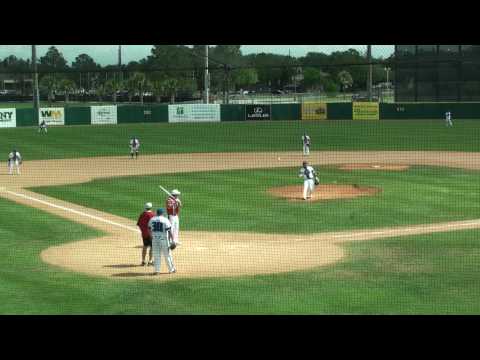 All bats at the Stadium field were tested plus homeruns and middle shots on the back fields
Hall of Fame Classic Tournament #1 Results
2010 HOF Classic #1 Awards:
Hall of Fame Classic Tournament #2 Results
2010 HOF Classic #2 Awards:
Team by team notes: (no particular order)
---
Dan Smith/Menosse/Chaney Major from California, 8-2 HOF Record
The Dan Smith team started the season winning the first of two Hall of Fame Classic tournaments by going 5-0. The pitching of Scott Brown was fine. Dan Smith defeated Detroit's Own, Wood Law, and Sinister all by the run rule and held all 3 teams under 10 runs. Their only threat was there 25-24 win over Suncoast which went extra innings.
In tourny #2 Smith hammered Rogue 20-0 early Saturday morning then lost to an AJS team that poured 16 on them in the top of the 7th. In the loser's bracket Dan Smith run ruled Albicocco and beat NW Combat before blowing a 17-4 lead to Logo who scored 35 on them in 3 innings to run rule them 39-24.
The Dan Smith team looks pretty good offensively. Scott Kirby is coming back from elbow surgery and Scott Brown looked to have an injured knee in the second tournament. Smith showed enough to let us know they will be a team capable of earning a #1 rank and earn the most Conference points in 2010.
Dan Smith's Dal Beggs celebrates a homer
Common Lineup:
LF Brian Wegman
C Brett Helmer
P Scott Brown
MI JD Genter
CF Rick Baker
EH Denny Crine
3B Dal Beggs
2B Jeremy Isenhower
1B Ryan Thiede
RF Chris Greinert
SS Brett McCollum
Jeremy Isenhower has joined the Long Haul Bomber's Stadium Tour
---
Resmondo Specialty Tank Phonemasters Major from Florida, 7-2 HOF Record
Resmondo lost their first game to EWS as was documented earlier. In the loser's bracket they beat FBI 28-16 and Suncoast 31-18 before dropping to NW Combat 25-22. First time we have watched Resmondo play outside of the main Stadium fields at Osceola maybe ever?
In the second tournament Resmondo cruised 5-0 to the title. They knocked off Logo Express twice, Woodlaw, and Aubreys.
Resmondo bounced back after the first tournament and should win the majority of tournaments they play in this season. Greg Hartwick who was used sparingly hit two mammouth home runs off the center field batter's eye on the stadium field over 410 feet away. They also experimented with Vernard Morency in center field as well as Scott Striebel. I'm not sure they would say the experiments went well. Resmondo did use a smothering defense in the championship game to clinch it. Greg Connell has taken over the two spot in the lineup and was smashing the ball all weekend long.
Top of the lineup
Don Dedonatis Jr.
Greg Connell
Jeff Wallace
Bryson Baker
Resmondo made a rare appearance at the Fortune Road fields
---
Sinister/Worth/Mojo 'A' from Michigan, 4-4 HOF Record
Sinister is the old Bud Light team. They are led by free agent LF Rick Sedlacek who is a real workhorse in the leadoff role and "Sed" and Jeff McGavin made a nice one/two punch at the top of the lineup. Sinister also received a great contribution from 1B/RF Casey Rogowski who was doing a nice job of hitting for power when needed and lacing linedrives all over the park.
In the first tournament Sinister used an early 23 run inning to put away Fowl Ball Sports. Then they run ruled Albicocco and handled EWS. In the winner's final Friday night Sinister played Dan Smith and lost 24-9. In the loser's bracket they beat Woodlaw and played Dan Smith even in the Championship until the 6th but ended up losing 18-11.
In the second tourny Sinister left 4 homer's on the table in a 36-29 shootout vs FBI then dropped a 26-25 to DO on Charlie Anderson's 3 run homer.
Sinister is a top tier 'A' team. As I've said before they need to think defense first.
Casey Rogowski, Sinister's new Left Handed weapon! Offensive MVP of Tourny #1!
Common Lineup:
LF Rick Sedlacek
SS Jeff McGavin
EH Brian Puckett
1B Casey Rogowski
MI Chris Kirian/Willie Allen
C Kevin Filby
RF Nick Musselman
P Billy Barrett/Graus
2B Jason Crain
3B Josh Frank
CF Dillon
---
Wood Law/Miken 'A' from Texas 5-4 HOF Record
Wood Law has 5 shortstops playing infield. Mitch Mabe can't hang on to the errant throw
Wood Law opened up Thursday with wins over Delaware Hitmen and NW Combat then was run ruled by Dan Smith 17-2 in the quarter finals. In the loser's bracket they held off Albicocco 12-9 and beat EWS on the stadium field in extra innings 26-16 with a 10 run 8th. In the loser's bracket championship they lost to Sinister 19-7.
In the second tournament early Saturday morning Wood Law held off Albicocco over at Fortune Road in the opener 27-26 in a marathon game and then went to the stadium to play Resmondo. Resmondo scored 9 in the first and it looked like Wood Law would fold up but they didn't. They played Resmondo tough and at times it looked like they might just pull of the upset victory. In the end they lost 45-30 in the highest scoring game of the tourny. Mark Dennis displaying some good power.
This team has a T&R Stucco type toughness to it and is a vastly improved team over the 2009 version. Of course this team was put together with the 'A' division in mind. Mabe, Dutch, Mattox, Martin, and Poplin all come over from the T&R 2009 team and Wood has Derek Perkins setting the table at the top. This team is better than I originally thought. They did let up 88 runs in their last two games though?
Common Lineup
C #13 Derek Perkins
1B #16 Mitch Mabe
3B #12 Dennis Shrum
LF #37 John Dutch
SS #22 Tim Mattox
2B #18 Randall Poplin
EH #33 Mark Dennis
RF #11 Justin Valenti
P #24 Kirk Stafford
CF #19 Matt Arlett
MI # 1 Mike Martin
Manager Lewis
Player/Sponsor Doug Wood
Wood Law finishes off Albicocco
---
EWS/SHIRTS and LOGOS 'B' from Illinois, 8-4 HOF Record

EWS Brandon Riese (batting) and Dustin Palm (on deck) steered the EWS offense
EWS had one of the best Conference tournaments any 'B' team has had in a long time. They share the "Cinderella" slipper with Logo Express. EWS rarely left the field for 3 1/2 days. On Thursday they opened with a solid but unimpressive 14-5 victory over Art Explosion. Then they moved over to the stadium field and won the previously documented thriller against Resmondo 22-21. Having already played two games, they then beat Aubreys 21-15. On Friday didn't do the little things needed and lost to Sinister 19-9. In the loser's bracket they knocked off NW Combat 19-13 and lost to Wood Law in extra innings 26-16. Quite a run and 4 of their win's were true wars where EWS never gave up and proved they made the right choice in joining the Conference.
In the second tourny EWS was dead tired and were hammered Saturday morning at 8 AM by a fresh AJS team 31-5. Looking like they were pull an 0-2, EWS somehow mustered the strength to run off victories over Fowl Ball Sports 25-8, Wood Law 43-17, Detroit's Own 22-7, and AJS 19-6 to make the final 4 again! WTH? On Sunday morning in the final 4 they again put up a battle but fell short 20-16 to the other Cinerella, Logo Express.
The tournament run EWS made should be a memory these players will cherish for years to come. A truly remarkable performance by a young team. These two 4th place finishes in tournaments with 17 Conference teams present will give EWS the necessary points to set them up for a run at a World Series berth. Congratulations to Manager Todd Ankney and Sponsor Eric Weller and their hard work and vision to put this team into position for success.
Common Lineup
3B # 8 Travis Clark
SS #21 Mike Umschied
RF #00 Brandon Riese
C #99 Dustin Palm
2B #20 Justin Wicinski
P #18 Andy Vitcak
LF #33 Gary Lofton
1B #20 Mark Holstein (injured)
MI # 6 Tim Nielson
CF # 3 Brad Lunda
Manager/Player #10 Todd Ankney
Sponsor #27 Eric Weller
---
Northwest Combat/ CJ Financial 'A' from Washington, 5-4 HOF Record

NW Combat defeated Logo at Fortune 20-16, then were run ruled by Wood Law 21-6. On Friday morning they used a 4 run bottom of the 7th to beat AJS 23-22 then shocked Resmondo 25-22 on a 3 run game breaking homer from Oscar Shipley. They bowed out of the first tournament with a 19-13 loss to EWS.
In the second tourny they lost to Elite 28-25 when Elite hit 4 homer's in the top of the 7th. In the loser's bracket NW Combat dropped Suncoast 11-5 and FBI 9-6 on the difficult to score on diamond #1. They were then knocked out by Dan Smith 25-14.
The "new" NW Combat is led by SS Jon Oram and the "Canadien Connection" IF Jeff Gare, C Franck Henry, and IF Ryan Caley. They also have a nice duo at pitcher with Derek Warren and Oscar Shipley. The team is rounded out by veterans Kyle Decker, Scott Lydy, Sal Formosa, and Joey Smith. NW is better than I thought and give themselves a chance to win against most teams.
Top of the lineup
Jon Oram
Kyle Decker
Jeff Gare
Franck Henry
NW Combat's Ryan Caley hits a liner
---
This site uses Akismet to reduce spam. Learn how your comment data is processed.