2010 USSSA Conference Cincinnati Major Recap
2010 Conference USSSA

"11th Annual Cincinnati Men's Major"
Mid America Ballyard

July 16-18
The "11th Annual" Cincinnati Mens Major was held at the Mid America Ballyard this past weekend. The weather was hot and humid and the teams dodged area rain showers most of the tournament. With Dan Smith/Menosse cancelling their trip to Cincy, the tournament was wide open for any 'A' or 'B' team to sneak in and win. The field included top teams in each division – 4 'A', 10 'B', 19 'C', and 1 'D'.
The tournament favorite and highest ranked 'A' team in the country GTL Cartel/Worth from Othello, Washington ran the table 6-0 and beat Albicocco/The Scene/Worth in the finals 12-7. GTL middle infielder Matt Pesso was crowned defensive player of the tournament and his season long play on that side of the ball has rubbed off on the entire GTL team. GTL made a Resmondo like run through the tournament as they were never really seriously threatened and run their record to 39-17 overall and win their first Conference tournament of the year. Albicocco made an impressive late Saturday and Sunday run to the finals and for the second week in a row they beat a string of top Conference teams. This week they really did it with great defensive plays led by 2nd baseman Rhodney Donaldson and middle infielder Tony Mack.

GTL 3B Jimmy Salas

The tournament is played amongst the picturesque trees throughout the park along the Miami river in southern Ohio. The games were well played and wins were hard fought throughout the tournament. The local 'C' teams in Cincy attempted to pull off rare upsets. In the end the Conference teams grabbed 7 of the top 8 spots with Bestrans the only Non-Conference team to place.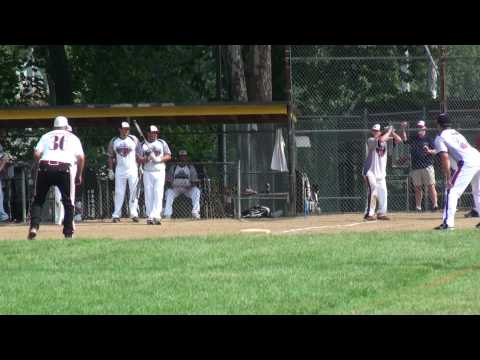 There was a lot of talk about the borderline A/B teams like FBI, Pipac, EWS, Logo, and AJS being moved up to 'A' this week by the utrip home office. I say they should all stay where they are at, and be moved up in 2011 with a closer eye on rosters BEFORE the season starts going forward.
FBI 4-6 vs 'A' 14-3 vs 'B'
Pipac 5-4 vs 'A' 8-3 vs 'B'
EWS 8-4 vs 'A' 12-10 vs 'B'
Logo 8-5 vs 'A' 8-2 vs 'B'
AJS 6-8 vs 'A' 7-6 vs 'B'

Local 'C' Teams played hard
GTL pitcher and MVP Lloyd Watson
The short 270 field in the back by the river
Peak Contracting/TLG came all the way from Colorado
Cincinnati Tournament Awards and Final Standings:
Team by team notes brought to you by:
---
1st GTGG GTL Cartel/Worth
Conf 'A' from Washington, 6-0 Record

GTL played without center fielder Tyler Beurlein and right fielder Mike Bowlin but didn't miss a beat as Don Rogers took over 2nd, Cordova moved to right, and center field was anchored by 2008 GTL outfielder Bubba Mack who played great. They cruised past the veteran Cronin Ford team, crushed a good Columbus 'C' team called Bears Boyz, and pounded Pipac 30-8. Late on Saturday they overcame an early deficit to AJS to win 35-18. On Sunday in the winner's final they separated late to beat Sinister 22-16 and beat Albicocco in the final with defense 12-7.

GTL now sits atop the 'A' division and the great defense, timely hitting and power they have shown reminds one of Resmondo when they play on the 300 foot fences. Salas, Dress, Lopez all made some great plays and have really picked up the D.

Lineup:
MI Matt Pesso
RF Victor Cordova
LF Donovan Pokraka
1B Sam Lopez
3B Jim "mini Lopez" Salas
2B Don Rogers
C Don Wilson
P Lloyd Watson/Chad Munger
SS Anthony Dress
CF Bubba Mack

Right fielder Victor Cordova and the GTL defense is so good they start each play with their gloves on their heads
Bubba Mack in center field went a LONG way for this ball in the gap. This guy needs to be playing Conference ball.
Matt Pesso was moved to leadoff and still got the defensive MVP again!
---
2nd GTGG Albicocco's/The Scene/Worth
Conf 'A' from New York, 7-2 Record
Albicocco is on a roll! Another Sunday finish and a long run through the loser's bracket. There are only positive things to say about this team as they are peaking at the right time of the season. Randall Boone apparently has retired? So they played without him, shortstop Brad Stillwell, and left fielder Chris Wilson, none of which seemed to matter as the chemistry has all come together for this group. Some great defense by outfielder Steven Lloyd, center fielder Denarra Jackson, middle infielder Tony Mack, and some spectacular plays by second baseman Rhodney Donaldson led the way to their finals appearance. The whole group was impressive and the offense has been consistent enough to maintain leads in most of their games. Albicocco moves to 7th in the computer rankings and 5th place in the Conference point standings. Nice. The whole team hit the ball and did the right things in the right situations. They "played the game".
Albicocco survived an opening round 28-26 win over Goodfellows on Friday night. On Saturday they run ruled DJ Fly and was run ruled themselves by Jean Shoppe. In the loser's bracket they won over Midwest Coast when a middle war went bad and MWC forfeited after a bench clearing shoving match. Then they knocked off Blitz, AJS, Pipac, and Sinister all with solid all around play. In the finals against GTL they ran out of gas and lost 12-7.
Lineup:
1B Gulash
2B Donaldson
C Moyer
SS Mack
LF Lloyd
CF Jackson
3B Roberts
RF Griffin
SS Green?
EH S Wilson
P Sills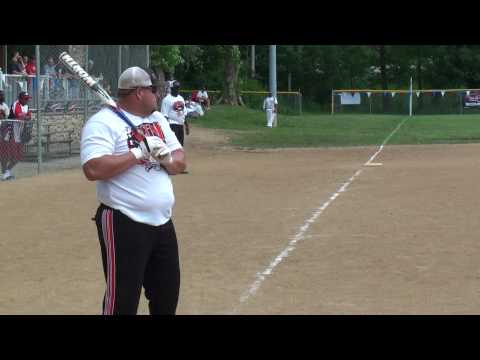 Offensive MVP Steve Wilson hits a walk off homer after being iced by Sinister with two outs in the bottom of the 7th
Albicocco team leader Rich Gulash takes on Scott Nastally of Shoppe
Albicocco's Kyle Moyer is my pick for Offensive Player of the Tournament
Albicocco right fielder Brent Griffin
---
3rd Sinister/Line Drive/SSS/Worth/Mojo
Conf 'A' from Michigan, 4-2 Record
Sinister won their second round game over Pure Romance with a marathon 20 something run inning early on. Then in the quarterfinals they knocked off Blitz by one on a Chris Kirian walk off hit as I recall. In the semi finals they gave Shoppe a "wake up call" type BEATING before losing to GTL on Sunday morning. In the loser's bracket championship they dropped a heart breaker to Albicocco on a walk off homer.
Sinister had some trouble defensively in right field but otherwise played a solid tournament and score another big points weekend. The defense of Willie Allen in the middle was spectacular and he should have been named defensive mvp (although I know thats reserved for the top two teams).
Lineup:
SS McGavin
LF Sedlacek
EH Filby
3B Joerling
RF Rogowski
C Puckett
1B Kirian
CF Dillon
2B Shanyfelt
MI Allen
P Barrett/Graus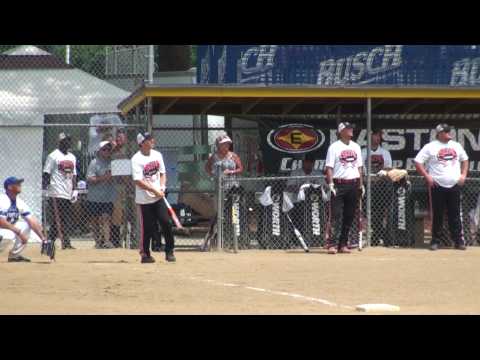 Sinister CF Brandon Dillon climbs the fence and then thinks better of it in their game against Albicocco
Sinister shortstop Jeff McGavin has been a machine at leadoff
Sinister middle man was playing a tremendous wheel
---
4th Pipac/TCP/Easton
Conf 'B' from Iowa, 5-2 Record
Pipac gets their 4th Sunday finish of the year. They did so with a highlite Sunday morning win over Jean Shoppe 20-19 and were led by the play of yet another great middle infielder Scott Roen and outfielder Brian Zirkle. Pipac who I often call TCP (sorry) was missing 1B Andy Shiltz but were bolstered on offense by 2B Brian Barnett who has returned from injury. Barnett looked good at the top of the lineup and could probably push Zirkle for the leadoff spot. Either way he extends an already deep batting order.
Lineup:
CF Zirkle
2B Barnett
1B Fields
C Staats
P White
3B Johnson
SS Middendorf
LF Irvine
RF Dubois
MI Roen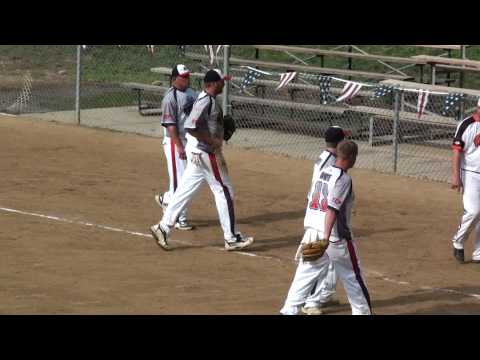 The game winning defensive play by Scott Roen on Shoppe
Pipac 2B Brian Barnett is one of the better right handed hitter's in the Conference
Pipac RF Buddy Dubois turned in some good defensive plays
Pipac pitcher Lossen White is the best fielding pitcher in softball today
---
Tied 5th Jean Shoppe/Easton/Down2EarthSports
Conf 'A' from Tennessee, 3-2 Record
Jean Shoppe was cruising through the tournament like the Shoppe of old as they had run rule victories over their first 3 opponents including Albicocco. Then late on Saturday night they ran into a buzzsaw in Sinister and could not muster any type of comeback or offense for that matter as they lost 29-8. With their road to meet GTL wrecked, and a good tongue lashing by their sponsor, they showed up Sunday morning and couldn't produce in the clutch against Pipac and lost by one.
I'm not sure anyone has a good answer as to what has gone wrong. The Shoppe players are all great and will look to get it going at the Last Chance in Michigan. I know they have made a lot of changes to lineups etc but I would change the whole thing up. Cowart to CF, King to LF, Sedlacek to RF. Maybe rotate them with Reckart to keep everyone fresh. Start Bean at pitcher, change pitchers as often as the opponent gets 3 batters on in a row. Maybe try Bryant at the middle, Milky at 3B, Lane at SS. Rotate the infielders. What do you have to lose? Go back to a staggered lineup, tell guys to hit solos if they make two outs in a row to get them going. Maybe go with a straight 12 or 13 man rotation regardless of how important one game is compared to another. Heck, add in the NSA 'A' to the schedule at the end of July. Maybe a change of scenery and some meat balls will get the team jump started. Maybe make a midseason trade? Is that unheard of? Trade someone to Smith and get Kirby. Or package a deal for Garris and Branch. Maybe both teams would benefit…ok I'll shut up now.
Lineup used:
RF Cowart
1B Thompson
C Cocco
EH Hatfield
3B Powers
SS Bryant
CF King
MI McDonald
2B Lane
P Nastally
Reckart was in there somewhere.
Shoppe's Shane Hatfield is from the Cincy area
Shoppe pitcher Scott Nastallyy
Benches clear between Shoppe and Pipac after a collision at the plate
---
Tied 5th AJS/Easton/Supreme/Mike Foulks/Mojo
Conf 'B' from Florida, 3-2 Record
AJS knocked off a couple of good local 'C' teams before winning a 28-27 victory over EWS. AJS then dropped two in a row to the championship teams GTL and Albicocco, squandering an early big lead against GTL. AJS picked up former WCS and FamousSports hitter Jason Kreider to add another stick to the lineup. Their starting pitcher TJ Thompson was missing from the lineup on Sunday morning against Albicocco and may have made a difference…possibly.
Lineup:
C Moore
MI Rosenbalm
CF Rockoff
3B Zaciewski
2B Garcia
RF Kessler
1B Yerkes
EH Kreider
SS Mazur
LF Blake
P Thompson
AJS 3rd baseman Scott Zaciewski is one of the top 5 hitter's in the Conference and was 20-22 on the weekend
Local Cincy talent David Kessler played right field for AJS and has had a solid year
Another local, Nick Masur plays shortstop for AJS
---
Tied 7th Bestrans
'B' from Maryland, 4-2 Record
I thought Bestrans had joined the Conference but they actually have not. They are definitely good enough to do so and with some additions from the defunct Tri-State team they had some nice wins over PBSI, D&S, and their big upset over EWS 18-16. Congratulations to Bestrans who will be a tough out for Conference teams at the 'B' World come September.

Bestrans could be a tough out at the 'B' worlds
---
Tied 7th Blitz/Watanabe/Weller/Minges/Easton
Conf 'B' from Ohio, 3-2 Record
Blitz handled all three of their 'C' opponents but lost to both Sinister and Albicocco. The Sinister game was real close and they lost on a walkoff hit by Chris Kirian. I am not "feeling it" from Blitz this year but I suppose they can still turn it around with the 'B' worlds still 2 months away.
Blitz celebrates a big homer in the Sinister game
It was good to see Jon Jamison back at the field
---
---
A big thanks to my sponsor's – USSSA, Down2EarthSports.com, GameTimeSupply.com, and MojoSportsGear.com
A special thanks to MAB for their support.
As always send corrections and comments to dw@softballcenter.com
Link to the rest of my Cincinnati pictures
Link to the Cincinnati Bracket/Stats
Link to the tournament in Colorado when ready
Link to the tournament in North Carolina when ready
Link to the USSSA Point Standings and Stats
Here are some other pics from Cincinnati: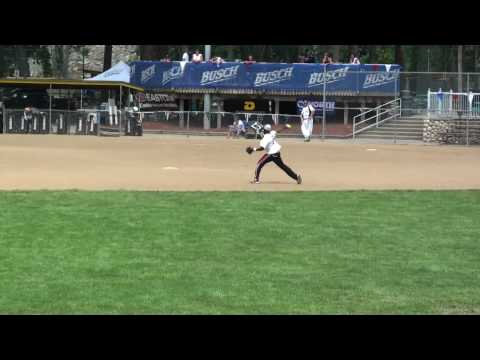 Albicocco takes on GTL in the championship game
It was good to see Columbus Pipe competing in Conference play again
The "Dancing Bear" Roger Bias has all the moves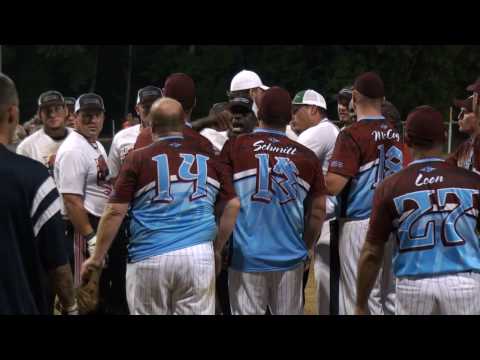 Tempers flared when a middle war broke out in the Albicocco vs MidwestCoast game. The Dancing Bear was egging on the Albicocco team who blasted 3 consecutive shots up the box. On the third shot the Bear shot back and threw the ball at the runner (I think it was Steve Wilson) and hit him clearing the benches and ending the game.
Former Hague legend Kevin Birkofer is player/manager for EAP
Is this Brian Alexander formerly of Blitz? Probably not.
EWS middle man Mike Umshied decided to wear the helmet. I don't blame him.
What you looking at?
Steve Schon of EAP
The owner's of Mid America Ballyard Brett Helmer and Brian Wegman are in there somewhere
This site uses Akismet to reduce spam. Learn how your comment data is processed.