2010 USSSA Conference Chicago Recap
2010 Conference USSSA

"The Windy City Classic"
"Busch Light MajorNIT"
June 11-13
Resmondo takes on Dan Smith in the winner's bracket final on Saturday night

The 3rd Annual "Windy City Classic" was held at the Joliet Inwood Sports Complex outside of Chicago this past weekend. The tournament featured 2 Major Teams, 3 'A' Teams, 8 'B' Teams, and 22 local 'C' and 'D' Teams. 13 of the 35 were from Conference USSSA and that made for a big points weekend.
Resmondo/SpecialtyTank/Phonemasters, the top Major team in the nation ran the table 6-0 and won the tournament easily. They run ruled all of their oppenents including their Major rival Dan Smith/Menosse/Chaney in the winner's bracket final 33-18 and a surprise championship opponent GTL/Cartel/Worth based out of Seattle, Washington 37-19 in the final game. GTL had won 5 straight in the loser's bracket and knocked off Dan Smith 42-25 to make it to the finals after being down 18 in the top of the 1st. So Dan Smith finished 3rd and Pipac/TCP/Easton out of Iowa finished 4th.

The Conference teams quickly weeded out the local teams on Friday night and Saturday morning, although Paul Davis Restoration a local 'D' team scored a double figure 7th inning to upset Darkside/TYJA, a Conference 'B' team 19-18 in the opening round. Non-Conference teams though were just 3 wins and 24 losses vs Conference teams in the tournament overall. Once the 2nd round began the remainder of the winner's bracket basically became a Conference team only tournament and there were great matchups all over the 6 field complex for the rest of the weekend.

The wind was not as much of a factor as in past years as it had to be maybe 5-8 mph and actually blew in at times on the show field. The teams also played through two thunderstorms which kept the normally "concrete like" infields very wet and sandy.
Blitz and AJS battle through less than perfect field conditions after a second thunder storm

As I followed the action throughout the tournament, quite a few players, sponsors, and managers shared the same concerns with me. Those concerns were that there was absolutely no bat testing and the fact that the Concord and Houston tournaments last week had no Conference umpires or bat testing. The issue with not having Conference umpires is more an issue of an inconsistent strike zone and controlling the teams on the field and not letting things get out of hand. Other tournaments throughout the country are having 100% bat testing with as many as 100 teams present, so it can be done.

Heroes West was another sponsor of the tournament. If you ever come to Joliet, there are a bunch of hotels right next to this great sports bar which had live music. In the back of the establishment Andy Purcell was pitching cornhole. I wonder if he could beat a pro cornhole player?

"Windy City" Tournament Awards and Final Standings:
Team by team notes brought to you by:
---
1st GTGG ResmondoSpecialtyTankPhonemasters
Conf 'M' from Florida, 6-0 Chicago Record
Resmondo takes a nice lead in the point standings, computer rankings, and RPI with a dominating performance. The return of Bobby Hughes in center field was a success, although Dennis Rulli is now out with an achilles problem. Resmondo was led by co-mvp's Brian Rainwater and Andy Purcell and defensive MVP Don Dedonatis Jr.

Resmondo was never seriously challenged late in any game in this tournament and took care of business in a professional workman like manner.

Greg Connell hit the longest homer onto the football field that I witnessed

Bobby Hughes return to the Resmondo outfield was a success

---
2nd GTGG GTL CARTEL/WORTH
Conf 'A' out of Washington, 7-2 Chicago Record

GTL finishes runner up for the 2nd week in a row and look to be turning things around. They were confident going into the Dan Smith loser's bracket championship and finish the weekend having only been beaten by Major teams. They knocked off Sinister, EWS, and held Pipac to 4 runs after being sent to the loser's bracket 26-25 against Dan Smith. In their rematch against Dan Smith to go to the championship they answered Smith's 18 run first inning and ended up run ruling them 42-25! WOW! GTL even hung in the game against
Resmondo until the 5th when they trailed 21-19 and actually led 8-2 early on.
GTL was led by the stellar defense of pitcher Chad Munger, middle infielder Matt Pesso (who should have been at least co-defensive MVP), and 3B Jimmy Salas who was also the tournaments offensive MVP.
The offense for GTL was unstoppable for most of Saturday night and Sunday morning as they outscored their last 4 wins 145-70! GTL did all of this without Jeff Hall and in my opinion they have jumped up to the top of the 'A' ranks although Computer Rankings and RPI are going to show they still have a long way to go.
GTL and there new found offense powered to another 2nd place finish

Chad Munger and Matt Pesso shut down Pipac
LC "Cowboy" Watson was All Tournament for GTL
RF Mike Bowlin
2B Victor Cordova
LF Donavan Pokraka
3B Sam Lopez
CF Tyler Beuerlein
3B Jimmy Salas
C Rogers
EH LC Watson
SS Anthony Dress
P Chad Munger
SS Matt Pesso

---
Conf 'M' out of California, 4-2 Chicago Record
Dan Smith returned injured player's Scott Kirby (elbow) and Scott Brown (knee). I didn't see Brown playing much as they are probably bringing him along slowly. Kirby was hitting it pretty good but was pulled late for a tender elbow.
Dan Smith's struggles/battles with GTL the last two weekends have shown some holes in their defense. Their 18-0 start in the loser's final and only scoring 7 runs in their last innings before being run ruled by GTL shows some complacency. This team should be fine as they work out some lineup and defensive issues. It will be interesting to see them at the Smoky where their superior power has a chance to dominate with the unlimited homer rule.
The Dan Smith team slipped past GTL 26-25 and then went down big in the winner's final against Resmondo and never recovered as they spent some long innings in the field.
Geno Buck remained the starting pitcher for Dan Smith
Top of Lineup:
Brian Wegman
Brett Helmer
Rick Baker
---
4th Pipac/TCP/Easton
Conf 'B' from Iowa, 5-2 Chicago Record
Pipac gets an impressive 4th place finish and some big points in the Championship standings. Pipac knocked off Hubs Pub in a tight one when Ron Fields hit a 2 out single and error to score two and win the game 23-22. After a subpar performance and loss to Resmondo, Pipac knocked off Jean Shoppe 28-27 when they got a HR for an out to end the game. They followed this with a quality comeback win against Blitz 24-17 and a slugfest win over Midwest Swing 29-25. Sunday morning Pipac never really got started as GTL handed them their hats 22-4.
Pipac has learned how to fight for 7 innings and win in USSSA and should be here to stay. They have fought through some injuries and missing player's to become a viable 'A' caliber team.
Pipac wins another close one. This time they beat Shoppe

Pipac SS Aaron Middendorf
Pipac manager Rob Humphrey deserves some serious credit for returning to the Conference and currently has a top 5 ranked team!
Pipac pitcher Lossen White has some big wins in 2010. I still think his pitches are a little too high.
Top of Lineup
CF Brian Zirkle
P Lossen White
C Ron Fields
DH Chad Johnson
1B Andy Schiltz
---
Tied 5th EWS/SHIRTS and LOGOS
Conf 'B' from Illinois, 3-2 Chicago Record
EWS was playing on their home turf which usually means some big wins. EWS used a nice high seed in this tourny to get a 3rd round matchup with rival 'B' team AJS. They weathered a couple of big innings from AJS and pulled out a 21-19 win. Then, primed for a challenge, they got smoked by Resmondo midway through the game and lost 37-12. Then in a late Saturday shootout they allowed 24 runs to GTL in the first inning and never recovered and went home with a 3 and 2 record.
The halo surrounding EWS faded as they finished on Saturday for the first time all season
EWS had 20 players present for their hometown Major

Left handed slugger Mark Holstein returned to the EWS lineup
---
Tied 5th MidWest Swing
Conf 'B' from Indiana, 3-2 Chicago Record
Midwest Swing finally broke through with a nice tournament. They began with a solid, if not spectacular, win over Jean Shoppe 29-26. They controlled the game from the beginning, maintaining about a 9 run lead most of the game and made enough of the tough defensive plays down the stretch to pull out the upset. Midwest has the talent to be right there with EWS or Pipac, they just have to continue to progress. I think this team is at least one full year away, but I'm sure their player's are thinking there is no better time than now. They backed up their win over Shoppe with another 29-27 win over Sinister who had there chance in the 7th. After their two huge victories they dropped quickly to Dan Smith 34-7 and again in a late Saturday slugfest with Pipac 29-25. In one game, 1st baseman Andrew Mazzier hit a long homer onto
the backside of the storage building in left center field, a BOMB that was being talked about throughout the rest of the tournament.
Midwest Swing beat Jean Shoppe in a pumpkin fest game

Andrew Mazzier hit a bomb over on diamond #6 to the backside of the storage garage

Former Hubs outfielder Evan Gallmeier play's with Midwest Swing

---
Tied 7th Blitz/Watanabe/Weller/Minges/Easton
Conf 'B' from Ohio, 4-2 Chicago Record
Blitz has a pulse! Blitz didn't match energy with GTL early in the tournament but recovered to win 3 in the loser's bracket with a key victory
over AJS 21-17. Then in their next game against Pipac they used the "lets blow out our homer's early and see if they go away approach" which looked like it backfired when Pipac methodically came back and beat them 24-17. It doesn't look like Blitz will be getting that number one seed they needed for the 'B' worlds if they seed it like 2009 based on Conference points. Standing pat on offseason roster moves is hurting this team.
Jayson "Red" Scott sets the table for the meat of the Blitz order

Jason Roesch celebrates a big homer to give Blitz the lead over AJS

---
Tied 7th Sinister/Line Drive/SSS/Worth/Mojo
Conf 'A' from Michigan, 3-2 Chicago Record
Sinister used their nice seeding to get to their third round game against Midwest Swing where they were upset 29-27. They had a chance to win defensively and offensively late. In the loser's bracket they battled Darkside into extra innings and won on a walk-off hit by pitcher Jeff Graus 23-22. Then they ran into the rejuvenated GTL offensive machine and lost 43-23 in a game in which their player's looked to be shell shocked afterwards.
Sinister had new 3B Todd Joerling who seemed to be slicing some nice hits all over the park. Newly signed middle infielder Doug Shanyfelt replaced the missing Willie Allen.
Veteran 3B Todd Joerling and former Dan Smith SS Jeff McGavin lock down the left side of the Sinister defense

Sinister leadoff man Rick Sedlacek with the high leg kick

---
AJS CF Adam Rockoff leads the nation in onbase percentage at .822 with 33 HR and 95 RBI !

Jean Shoppe's Tim Cocco leads the nation in HR Frequency at 2.63
---
The Rest
Jean Shoppe is scratching their heads a little bit this year trying to figure out whats wrong

Hubs Pub dropped two – one run games to Conference opponents

The best non-conference team was P & P 333/Larry's Tire/CMT, a 'C' team out
of Lansing, Michigan that went 3-2

---
A big thank you to Brenda Paulson (tournament director) for the sponsorship and birthday cake!
Also a thank you to all my sponsor's – USSSA, Down2EarthSports.com, GameTimeSupply.com, and MojoSportsGear.com
---
As of this report, I do not have a plane ticket to get to the Dudley from Cleveland. This is because I couldn't commit to this trip until last week because of work and my new job. I since have been able to get Friday off if anyone has some airline miles they want to use on me. I can fly out anytime on Friday but would have to fly home early Sunday and miss the last 4 games because of father's day. So maybe it isn't worth it?
---
As always if you see error's in the report or just want to talk softball, hit me up at dw@softballcenter.com
Link to the rest of my Chicago pictures
Link to the Chicago Bracket/Stats
Link to the tournament in Minnesota "The Dudley" when ready
Link to the USSSA Point Standings and Stats
Here are some other pics from Chicago:
The merger between Mike Foulks (left) and Pete Campbell seems to be working out just fine

Local 'C' team Precision played Resmondo close for 5 innings

Full Tilt played Sinister to a 17-17 tie in the 5th before losing
My only picture of the storage building that Midwest Swings Andrew Mazzier hit the backside of

This swing by Jean Shoppe's Kyle Cowart ended the game because it went out of the park for an HRO (Homerun Out). Nothing against Kyle who is a great player but swings like this should not be travelling over 300 feet. Today's composite bats need toned way down.
Darkside turns two on Sinister

Darkside's Neil Haglund boasts a .758 onbase percentage and a 2.89 HRF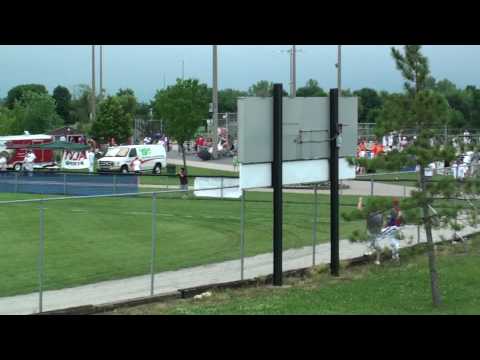 Video of the main 2 diamonds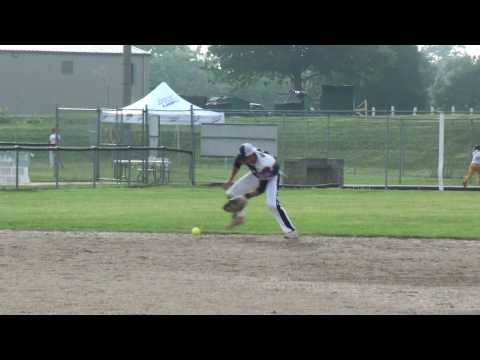 EWS shortstop Tim Nielson making a great recovery against Resmondo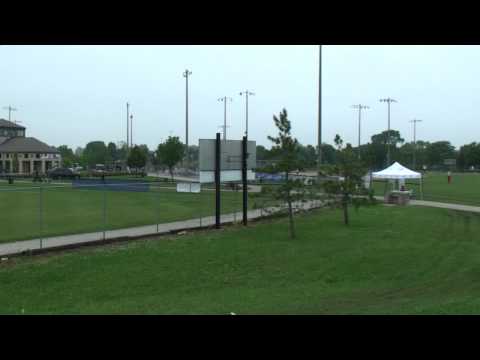 GTL taking on Pipac Sunday morning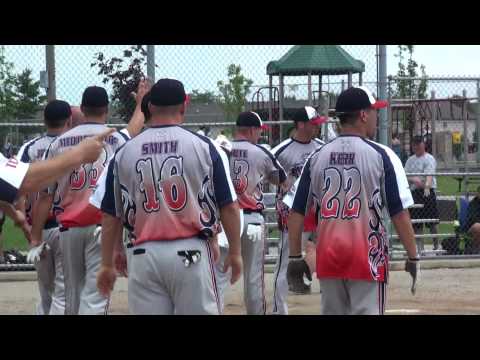 Some really bad video of Pipac's game winning hit over Hub's Pub

According to the oldscout posts, this guy doesn't umpire anymore USSSA. I guess the oldscout posts are wrong. This guy should be the next conference umpire if you ask me.

Former Mountain Top player Joel Craig who always lets me use his great pictures for the Chicago recap

This site uses Akismet to reduce spam. Learn how your comment data is processed.