2010 USSSA Conference Texas Legends Recap
2010 Conference USSSA

"Texas Legends"
Euless, Texas

May 8-10
Softball World in Euless, Texas – Color Station vs Resmondo
"THE MIDDLE IS OPEN" in Texas! The lonestar state and Softball World in Euless, Texas played host to Conference tournament #6 this past weekend. Dan Smith/Menosse/Chaney redeemed their Kansas City losses to Resmondo from a week ago with a dominating performance in Texas as they went 5-0 to win their 2nd tournament of the season. They dropped Resmondo into the loser's bracket with an impressive 29-12 run rule Saturday night and followed up with a 39-38 walk-off victory in the bottom of the 7th in a game which featured a multitude of hard middle shots. The walk off hit was provided by Brett McCollum who hit a line shot to the gap which scored Jeremy Isenhower from first base. In the chip, Dan Smith batted around early and used their homerun's to put Resmondo in run rule jeopardy. Then they used some timely double plays to withstand a Resmondo comeback and survived with a 1 run win.
Dan Smith evened up the season series between them and Resmondo and showed that this could be the start of a truly even rivalry that should heat up as the summer goes.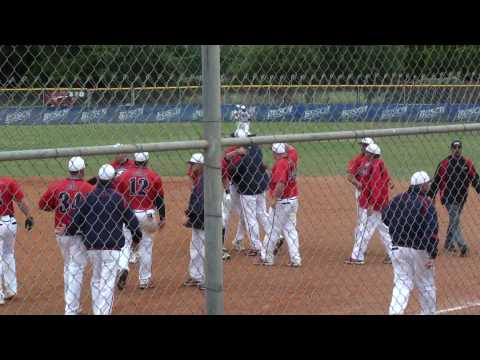 Dan Smith's Jeremy Isenhower scores the championship winning run on Brett McCollum's gapper (Sorry I missed the hit}
Team Dan Smith celebrates a well deserved Texas Legends victory
Overall the tournament was well played and the Conference teams dominated. Conference teams were 16-1 vs non-Conference teams in this tournament. Elite's victory over Dish Network being the only loss.
The weather in Euless was ok. Cool evenings, a hard ball, and windy conditions led to some long games. Infields were hard but played fairly well. Conference 'B' team FBI made a nice run to finish 3rd and local Texas based Conference 'A' team Wood Law won 3 – one run games to finish 4th.
The ball used for a majority of the tournament was the Dudley Classic M which is a .40 core 325 compression rock which everyone I spoke to thought was too good a ball for Conference play. Sunday morning when the ball supply was low, a synthetic cover Dudley SX ball was used and seemed like a much more fair ball for the conditions. For the Championship game they returned to the Classic M ball.
Wind was blowing straight in from RF on the main diamond most of the weekend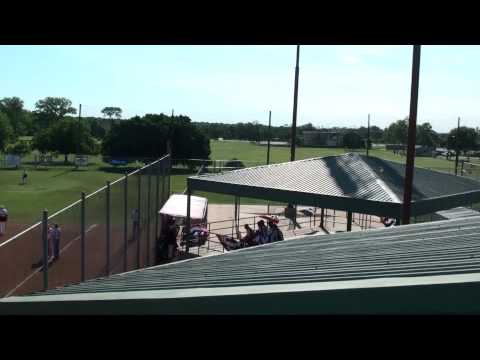 The main field at Softball World in Euless, Texas – Zamora's takes on FBI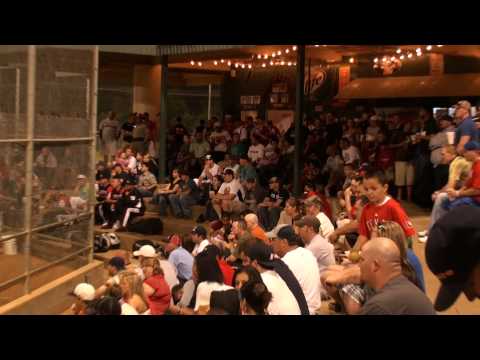 Friday night crowd drinking a lot of beer!
Bats were tested before the game and put in a garbage can behind homeplate for the last 7 games
The Dudley Thunder SX which was used in the loser's bracket only on Sunday morning and seemed to be the perfect ball for the conditions

The bat tester found some local Texas teams with some ridiculously hot sticks
"Texas Legends" Tournament Awards and Final Standings:
| | | |
| --- | --- | --- |
| Player Tournament Awards | Players Name | Plays For |
| Tournament MVP | Geno Buck | Dan Smith/Menosse/Chaney |
| Offensive Tournament MVP | Don DeDonatis III | ResmondoSpecialtyTankPhoneMasters |
| Defensive Tournament CO-MVP | Rick Baker | Dan Smith/Menosse/Chaney |
| All Tournament Team | Dennis Rulli | ResmondoSpecialtyTankPhoneMasters |
| All Tournament Team | Brent Gigerich | Fence Brokers/Gametime Supply/Worth |
| All Tournament Team | Brett Helmer | Dan Smith/Menosse/Chaney |
| All Tournament Team | Dal Beggs | Dan Smith/Menosse/Chaney |
| All Tournament Team | JD Genter | Dan Smith/Menosse/Chaney |
| All Tournament Team | Mitch Mabe | Wood Law/Miken |
| All Tournament Team | Bryson Baker | ResmondoSpecialtyTankPhoneMasters |
| All Tournament Team | Denny Crine | Dan Smith/Menosse/Chaney |
| All Tournament Team | Brett McCollum | Dan Smith/Menosse/Chaney |
| All Tournament Team | Zach Keene | Fence Brokers/Gametime Supply/Worth |
| All Tournament Team | Howie Krause | ResmondoSpecialtyTankPhoneMasters |
| All Tournament Team | John Glidewell | Fence Brokers/Gametime Supply/Worth |
| All Tournament Team | RYAN THIEDE | Dan Smith/Menosse/Chaney |
| All Tournament Team | Andrew Purcell | ResmondoSpecialtyTankPhoneMasters |
Team by team notes brought to you by:
---
1st Place Dan Smith/Menosse/Chaney
Conf 'M' from Washington, 5-0 Euless Record
Dan Smith goes undefeated in the tournament with newly signed pitcher Geno Buck doing most of the work on the mound and their normal pitcher, Scott Brown, recovering from knee surgery. The Dan Smith team looks more like the 2009 Long Haul team than the 2009 Smith team. As I looked around the infield they had JD Genter at 3B, Brett McCollum at SS, Jeremy Isenhower at 2B, Ryan Thiede at 1B, and Geno Buck on the mound. All of these players and RF Ryan Robbins are from last year's Long Haul team. Dal Beggs at MI, Brian Wegman in LF, Rick Baker in CF, and C Brett Helmer are all from the Dan Smith team from a year ago. Basically they have picked the best of the best from both teams. They also have Denny Crine who last played with Long Haul in 2008. All these new pieces came together this weekend and this could be real bad news for the rest of the Conference.
This team has as much power as any Major team since homerun rules were put into place. It seems as though half the team participates in the Long Haul Bomber stadium tour. But much like a loaded gun, they will need to be careful how they use it.

Top of the lineup: Wegman, Helmer, Baker
The team chemistry on Dan Smith could not have been better
Geno Buck was doing a nice job pitching
The wind wasn't affecting Denny Crines effortless Long Haul bomber swing
Dan Smith and Team USA manager Pat Dalsander's
Brett Helmer is looking lean and mean this year
Rick Baker is the best center fielder in the game today
---
2nd GTGG resmondospecialtytankphonemasters
Conf 'M' from Florida, 4-2 Euless Record
Resmondo struggled offensively most of the weekend and in the championship game they fought back twice when it looked like they were done. They left 1 homerun on the table late when they needed them. Defensively in the games I watched, Jr and Purcell were stabbing the tough line drives and the team played good enough D to win this weekend. On offense the team struggled in the final game and struggled to score against Dan Smith on Saturday night as well.
Resmondo made short work of Color Station and Wood Law in the winner's bracket Friday and Saturday. In the game against Color Station they scored 40 runs before their first out and 44 overall in the first inning to win 50-1. They did play a 7 inning game against Famous in the quarterfinals, winning 37-24.

Resmondo's Howie Krause (in his 17th year of upper level ball) hits a grand slam

Top of the lineup
Don Dedonatis Jr
Greg Connell
Dennis Rulli
Jeff Wallace
Resmondo Middle Infielder Bryson Baker was all tournament
---
3rd fence brokers/gametime supply/worth
Conf 'B' from Arkansas, 5-2 Euless Record
FBI hammered an 'E' team from their home state Arkansas in their opener, then made quick work of Zamora's 27-3 when Zamora's pitcher was taken out of his game by arguing balls and strikes. In their third game, which they were using as a measuring stick to see how good they are, they knocked off GTL 24-23. In the winner's semi-final they put up a couple zeroes after hanging tough against Dan Smith and got run ruled 29-12. In the loser's bracket they rebounded to send a hot hitting AJS team home and held Wood Law at bay Sunday morning before their loser's championship matchup with Resmondo. In the Resmondo game, FBI was holding serve until late, when their cf misjudged a ball and middle infielder booted one on consecutive plays to open the door for a huge Resmondo inning that FBI would not recover from.
FBI is now the most dangerous team in the 'B' division. On any given weekend they can break through and win a Conference event. They have speed, D, pitching, and more than enough power. This team is set for a great season and I think will make the top 10 in the computer rankings.
Common Lineup
CF Tim Howard
2B Raul Cardenas
3B John Glidewell
1B Zach Keene
P Perry Hensley
C Brent Gigerich
EH Tim Bowser
and then the 3 little speedy guys…something like that
FBI finishes 3rd
Conference newcomer Raul Cardenas locks down 2B and bats in the two hole for FBI
FBI defeats GTL by 1
FBI leadoff man Tim Howard can make the game look real easy
Fence Broker's played as well as their GameTimeSupply.com uniform's looked
---
4th Wood Law/Miken
'A' from Texas, 3-2 Euless Record
Wood Law squeaked by local 'C' team Letha Assault 18-17 in their opener and had to use a walkoff homer by Mark Dennis to knock off AJS 25-23. In their 3rd game they never showed up against Resmondo and lost 27-10. In the loser's bracket Wood Law needed all of their big lead against GTL to win by 1 late Saturday night and was hanging in against FBI but ended up losing 20-14 on Sunday morning.
Wood Law tried out a new pitcher from California named Greg Smith who did a great job in a bunch of close games and helped himself out with some timely hitting. This kid? looks like he could have a real future in Conference ball.
Common Lineup
C Derek Perkins (injured his shoulder in Sunday morning game with FBI)
1B Mitch Mabe
3B Dennis Shrum (hit rocket shots all weekend)
SS Tim Mattox
LF John Dutch
CF Justin Valenti
EH Mark Dennis (Long Haul tour power?)
Dennis Shrum hit some ridiculous ropes
Wood Law brought in Greg Smith from California to pitch
Leadoff hitter Derek Perkins may have a separated shoulder
Mark Dennis who hit the walkoff against AJS
---
Tied 5th GTL CARTEL/WORTH
'A' from Washington, 3-2 Euless Record
GTL lost their 2nd game of the tournament by 1 to FBI and attempted a long run through the loser's bracket in true GTL style. They crushed a tired Arkansas Sports team 21-0, then survived a one run win against a good SaveSecond.com team. Late Saturday with all of their homer's used they fell short of a comeback against Wood Law and bowed out of the tournament with a 3-2 record.
I am now sure this team will improve as the season wears on. This is because they are young, but from the outside, it looks like the chemistry is their as well as the leadership. Lets remember that outside of Donovan Pokraka, Jeff Hall, Don Wilson, Chad Munger, and Victor Cordova, I think every one of their other players were all playing 'B' 3 years ago or less. The defense of middle infielder Matt Pesso was incredible yet again. Matt helped to give GTL a chance to win in all of their games with his great linedrive stabs and he started a couple of quick double plays.

GTL's Donovan Pokraka sets the table for Jeff Hall's walkoff hit
Jeff Hall hits a walkoff gapper to beat SaveSecond
Loyd Watson pitching for GTL at his home fields
GTL's Loyd Watson stabs Mike Lowrey in a close game against FBI
---
Tied 5th ajs/easton/supreme/mike foulks/mojo
Conf 'B' from Florida, 4-2 Euless Record
AJS is a team full of gamer's. These guy's played some long games and their swings never seemed to tire and they never gave up. They have a lot of versatility in their defense with Adam Rockoff being able to play any spot on the field. Pete continues to "pack winning cooler's" and AJS moves into the very top among 'B' teams. Team chemistry seems to be great, TJ Thompson made his AJS debut at pitcher, and Nick Masur made a great debut at shortstop. Rich Mueller is unfortunately retiring and Jose Santiago was playing through a pulled muscle of some sort.
The whole lineup was hitting but the top is Billy Moore, Terry Rosenbalm, Adam Rockoff, and Kyle Yerkes. These guys were on it all weekend long.
AJS survived the wrath of a local 'E' team called Righteous 28-23 in their first round game. In the second round AJS beat a very good Arkansas Sportswear team 34-31 and then lost a heart breaker to Wood Law 25-23 when they let up a walk off homer to Mark Dennis. In the loser's bracket they outlasted a comeback by DFW 24-18 and battled Conference 'B' rival Famous to a 26-22 win. In their final game, FBI had too much for them and they fell 39-29. I don't have stats on how many innings they scored runs, but it seemed like AJS was sending 7-9 guys to the plate every inning.
AJS posted their stats quick enough on the USSSA website to make the recap, and I was so impressed with their offensive production that I'm going to post them here. Keep in mind Jose was hurting, Joel wasn't getting consistent AB's and TJ getting on .529 is a winning formula for AJS because he is a very good defensive pitcher.
AJS had a new shortstop, Nick Masur from Cincinnati. Speed, D, and some nice numbers offensively
---
Tied 7th savesecond.com/elite/combat
Conf 'B' from Texas, 4-2 Euless Record
Savesecond is a new Conference 'B' team for 2010 with a Wood Law look and feel as they have Kevin Ballard, Preston Spurlin and Steve Whaley playing prominent roles. I was most impressed with left hand hitting left fielder Clay Smitherman who I think we last watched on the Major scene playing with Pace? This team is young and talented and I am going to move them into the discussion when we talk about the top 5 'B' teams in the country.
Savesecond failed to defend their home turf losing their 2nd round game 19-14 to Famous. Then they run ruled a couple of local teams and upset Albicocco 34-26 before dropping a game against GTL 28-27. In the GTL game a controversial play at the plate changed the complexion of the game late when a SaveSecond runner appeared to have slid around and under the GTL tag.
I was impressed with the offense of Clay Smitherman for SaveSecond.com
SaveSecond had a lot of player's named "Fight" on their team
Greg Collette played 2nd and batted 2nd for SaveSecond.com
---
Tied 7th FamousSports.com/Easton
'B' from California, 3-2 Euless Record
Famous is still learning to win but gaining extremely valuable Conference experience. This team had the toughest draw of any Conference team and handled it well defeating Texas Regulator's late Friday night by a 34-23 margin. Player/sponsor John Gilmore may have hit the hardest linedrive of the entire tournament when he hit a seed past the Regulator's right fielder. In their second game they used the pitching of Danny Lopez to hold down and beat SaveSecond.com 19-14. With two big wins under their belt they could have rolled over against Resmondo like the other non-major teams did, but instead Famous battled all 7 innings to a 37-24 loss. Great effort and learning experience for this team! In the loser's bracket they run ruled a hot Elite team 24-4 before dropping a close one to AJS on Saturday night 26-22.
Famous takes another step forward and climbs the ladder into the top 10 of 'B' teams nationally. This team has no depth however and will need to stay healthy. Famous could use another stick like maybe a Jason Stephenson?
Famous has been getting their money's worth playing in the Conference. They even lasted 7 innings against Resmondo
Shimels, Dondo, Liriano, Kreider, Boldt, Gilmore – production is looking better
---
Tied 9th albicocco's/the scene/worth
'A' from New York, 2-2 Euless Record
Albicocco played some long games in the winner's bracket Saturday when they knocked off fellow Conference team Dish Network 34-26 and then put Dan Smith on the ropes late. I believe the game was tied at 37-37 at one point before Dan Smith separated and scored the 50-43 victory. In the loser's bracket Albicocco failed to increase their points paying position as they dropped to Savesecond 34-26.
Albicocco is no longer being managed by Doug Reed. The player's "running the asylum" seem to think the team chemistry is better and they did show some good teamwork in fighting through mistakes in their games against Dish and Dan Smith. Overall this team has a great defense and capable offense. At 3B they have GTL vet Robin Roberts, at SS they have Brad Stillwell who always makes highlite reel plays. In the middle they have Tony Mack who's throwing arm is second to none. On the mound they have veteran Rick Sills, and at 1B player manager? Rich Gulash. In centerfield they have an up and coming softball star Steven Loyd who reminds me of a young Scott Kirby. Offensively Steve seems to fall into the age old problem that most young players fall into, the belief that they can hit any pitch – anywhere. Hitting good pitches will get Steve Loyd 100+ points on the onbase. The rest of the tools are there.
At the end of the season if not before then, this team would benefit greatly from a field manager. I doubt Strojan Kennison or Danny Kwilas can be dragged off the golf course but it would be worth a phone call.
Albicocco leadoff man Rhodney Donaldson makes this double look easy
The inmates were running the Asylum at Albicocco. It will be interesting to see if this experiment works
Top of the lineup
Rhodney Donaldson, Chris Wilson, Rich Gulash
---
Tied 9th elite sports/tx smoke/gkitravel.com
'D' from Texas, 3-2 Euless Record
Elite should be one of the top 'D' teams in the country. No fear and some good talent.
This 'D' team out of Texas had a nice loser's bracket victory over Dish Network Express 19-18.
Elite was holding their own
---
Tied 9th DFW Warriors/Miken
'C' from Texas, 2-2 Euless Record
DFW run ruled Mayhem in a first round battle of Texas 'C' teams for the right to play GTL. In their game against GTL they hit the ball early and often and hung in until mid-game but fell 36-17. In the loser's bracket they used a forfeit and a great 9 inning win over Zamora's to 33-32 to finish in a tie for 9th.
DFW had some veteran softball hitter's, but their 4 man outfield was picked apart and they didn't finish play's defensively. This team is fun to watch and competes well with the Conference teams. Their constant worry about the bat testing and which team had more bats confiscated for testing distracted this teams focus on winning.
DFW beats Zamora's on a walkoff infield single in the 9th inning
DFW fans know how to cheer their team to victory
---
Tied 9th Arkansas Sportswear
'C' from Arkansas, 3-2 Euless Record
Arkansas Sportswear is a team termed "FBI's farm club" by one opponent. This comment comes from the fact that the Ark Spts roster is loaded with ex-FBI, Arkansas Reebok, and 365 Fitness players. Some common names do appear on the roster like Jason Anderson, Brandon Bates (not sure he was playing though), Daniel Beasley, Jason Bridges, Gary McVay, Steve York, Robert Smith, and the hard hitting pitcher Lance Smith. This team is defintely pushing the envelope playing 'C'.
Ark Sportswear run ruled Elite 'D' team, then played a long battle to a loss with AJS 34-31. In the loser's bracket they had to come from behind to beat Escobar 35-26, then they knocked off Lethal 23-19 before running on empty and getting crushed by GTL 21-0. I did not see it, but I believe the Ark Spts pitcher was hit and from what I understand broke his arm. Best of luck on your recovery. Arkansas Sportswear can make a legitimate run at the 'C' Worlds, however they may be more suited to Conference competition and the 'B' division.
Former FBI player Chris Wilson was pitching for Arkansas Sportswear
---
---
A big thanks to my sponsor's – USSSA, Down2EarthSports.com, GameTimeSupply.com, and MojoSportsGear.com
I will be in Indiana this Saturday for the next tournament.
Link to the rest of my Euless pictures
Link to the Euless Bracket/Stats
Link to the tournament in Columbus, Indiana
Link to the USSSA Point Standings and Stats
Here are some other pics from Dallas:
The always dangerous Texas Regulators have picked up Charles Key (pictured) and Billy Dudek from Hubs Pub
Righteous is easily the best 'E' team I've ever watched play in a Conference tournament. Step up to 'D' boys, maybe even 'C'
Brandon Goodwin is free swinging with the Regulator's this year
Zamora's Allout beat themselves mentally
Dish Network and pitcher Ray Gurley Jr are a nice addition to Conference USSSA
The other Chris Wilson playing for Albicocco. I know the career stats still have the Wilson's merged together
Future FBI slugger
This site uses Akismet to reduce spam. Learn how your comment data is processed.