A salute to softball veterans!
It is Veterans Day! I would like to keep our past article on softball veterans going by including any upper level softball players (past and present) names that we don't already have on the page. This includes Sponsors, Managers, Umpires, and Directors. Email me at DW@softballcenter.com to add a name or picture.
Also at the bottom of this page you can add in the comment section to list any upper level softball players that have a spouse, grandson, son, or parent that is a veteran.
Veteran's Day!
Thank you for your service!
A big thank you from SoftballCenter.com to all the military veteran's past and present that served our country.
This page salutes our upper level softball player's that have served our country.
Please send me names of the upper level softball player's that have served and I will add them to the page (dw@softballcenter.com or add their name to the comments section at the bottom of the page. Thanks.
---
2019 USSSA Military Champions and Major World Series team Militia/Treedem/Riot/Vetsports
Gene Somers was a shortstop on the 1975 All-Marine Softball team and All-Interservice Team pictured here. The team came from the WesPac and most of the guys came the Hawaii HQ.
2018 All Armed Forces team
Military Veterans Tre' Campbell and Johnny Bailey
2017 All Armed Forces team
2017 All Armed Forces team
2017 KLUTCH/Bull Dawg Trucking/SEMPER won the Varsity 'A' division
2017 VETSports/Militia finished 2nd at the Varsity 'A'
2017 4 The Fallen/CAGear/All American Athletics 3rd at the Varsity 'A'
2017 Legends Sports finished 4th at the Varsity 'A' division
2017 Heath/OA Apparel won the Varsity 'B' division
2017 Varsity 'B' 3rd Place – New Breed/FBT
2017 JK Inc – Over 40 Champs
2017 Over 40 2nd Place – Air Force Alumni
2017 Over 40 3rd Place – Outkast
2017 Sandlot from Illinois won the Men's Intramural division
2017 2nd Place Intramural – Bama Heat
2017 Women's 2nd Place – Kentucky Ballers
Militia/4TheFallen family of teams
2016 USSSA Military World tournament report
Anthony Mastrogiovanni
2005-2015 Army and National Guard – Multiple combat deployments and Bronze Star recipient
Women's Armed Forces ASA 'Open' National Champions!
All Air Force at the ASA 'B'
All Army at the ASA 'B'
4 The Fallen JTF Hawaii at the USSSA Major World Series with the umpires
Rob Schlemmer (right) is an Air Force veteran
Greg Jones US ARMY Ft Hood 1989-1994 Played on Docs/Easton in 2003
Bob Ellis was Army and his father USMC Sgt Major
Alfredo "DJ" DeJesus from the Killeen/Ft Hood Area and his brother MSG DeJesus
Dominic Fielder – SSG – U.S. Army
Tre Campbell
Len Anderson
Joey Paulk
Bengie Ramos – Nightmare/Louisville Slugger
Al Kennon- Nightmare/Louisville Slugger
David Jones- Nightmare/Louisville Slugger
Dustin Doty – Combat Rockstar
Brandon Gooding – 4 The Fallen
Jim Kulovitz – OC Swats
---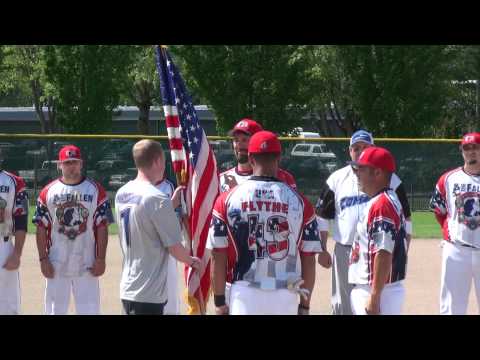 All Armed Forces Softball Team
2011 All Armed Forces Men's Team
All Armed Forces
Washington, D.C.
Anthony Bartolini NOMI DET NAMI
Chase Sims MCB Quantico, VA
Chris Markey Osan AFB, Korea
Christopher Stevens Okinawa, Japan
Clayton Shaw Fort Campbell, KY
Danny Rogers Camp Walker, Korea
Dexter High Nellis AFB, NV
Kevin Cox Fighter Squadron 106
Lee Diaz Tampa, FL
Leonard Myers Nellis AFB, NV
Lester Daniels Fort Gordon, GA
Melvin DeRolf Fort Gordon, GA
Richard Burley Lackland AFB, TX
Robert Chastain Aviano AFB, Italy
Todd Duncan Shaw AFB, SC
Stephen Shortland Randolph AFB, TX
Scott Feterl Fort Bragg, NC
Zac Turissini
Josh Wiggs
Nelly McLeod
Rob Darhower
Clint Hiller
Elmer Mason
Albert Kemp
Walt Reaves
Clay Bazile
Chief Watts
Cheyron Mcrae
Rob Darhower
Michael Melton
Nelly McLeod
Tom Atha
Chris Williams
Dale Back
Tony Patrick
Kirby Puckett
Scott Harris
Tony Madden
Drew Pearson
John Heller
David Lewis
Dennis Davison – US Army (Primetime)
Jim Pressley
Reggie Myers
Kirby Murphy US Marines played for RAC, Magic
Eddie Rivera
Kirk Myers
Jerry Wieland
Dustin Kentzell
Cornelio Escobedo played for R&D Easton – US Army
Dennis Emhoff – Navy
Dave Willams
Dan" DR" Rotenberry
Hal Koudelka "KUJO"
USMC Ronnie Demari
All Armed Forces Women's Team
Mike Turney – US Marines – 20yrs
O.C. Swats 1985-1992
All-Marine Team
All Inter-Service Team
Camp Pendleton Marine Team
Mike was a Master Gunnery Sergeant in the Marines and was heavily involved in the Marine softball team as a player and manager before a 6 year stint in promotions at Worth sporting goods company. Mike was 52 years old when he passed away from a brain tumor in 2007 and had 30 years with the Marine Corp. We thank Mike (posthumously) and his family for his dedicated service and sacrifices made for our country.
Matt Hunt
Dexter Avery
Josh Wiggs
Darwin Vinson – Air Force veteran
Charlie Brown
Pat Dalsanders
Adam Belding From TYJA US Army
Warren Bellm (Dudley director) – 4 years Air Force 1965-1969
Steven Morris
John Beasley – former Bell Corp player
Mike Cervantes from Miken Mafia/ASPnation US ARMY 97-04
Diane Cervantes from Cajan Chaos US Navy 01-09
---
Players with family members that are veterans:
SSgt Carrie Hickerson is in the Air Force and has served in Iraq and Afghanistan – Chris Hoshaw's wife
LTC L. W. Tanner -father of Alan Tanner
Jerry Bowser Sr.
---
Send me more names so I can add them to the list, thanks. DW@softballcenter.com
26 responses to "A salute to softball veterans!"
This site uses Akismet to reduce spam. Learn how your comment data is processed.