Nic Santana
Nick Santana
Major Player
2013 Interview
Why do you like the game of softball?
I just like to play ball
Who is the best softball player you have ever seen play?
All around talent – Steven Lloyd he is the Unicorn of softball
Knowledge – Harry Noga, Chris Wilson (we like to call him DAD-he spits knowledge) Dave Moore he is never nervous.
Hitter – Adam (Cow Dung) Rockoff – man can straight mash!
Who is the best up and coming player in softball and why?
Andrew Collins – my boy can drop bombs with the best of them they call him DDD
Orlando Castillo – kid can straight glove it and hits it. He Impressive!!
Chitty Baggs – Smoothest left handed swing on the east coast. He's a legend around his parts.
Brad Marlette – Great All around player can do it all!
Mike (dancing machine) Wrenn – Not only does he have moves hes got skills too! One of the best and smartest teammates you could have!
What is your height and weight?
6ft 205
Where do you call home?
Orlando, FL
What's your favorite way to spend an off weekend?
To tell the truth I just like to hang out with my friends most the time I end up hitting Bp.
Did you play sports in High School / College / Pro?
Baseball in high school. Played fall ball at community college and quit after that I had enough.
How did you get your start in softball and how did you get to the upper level?
Helped a buddy out when they were short in a Friday night league, hooked ever since. Played a few local D tourneys then got picked up by Russell's Paint & Body for a few C tournaments. I played with Mike west in the C division with Dave's Place then left for a year played D ball again and then Mike asked me back when they formed Demarini/Dirty.
What was the best advice you were ever given?
Never Give Up
What advice can you give a young player trying to break into the upper level?
Hard work pays off.
What position do you play?
Outfield but mainly Centerfield. Infield if needed but i'd rather stay in the outfield its safer :
What batting grip do you use?
Golf grip inter lock pinky and index finger- Tony Mack showed me this at league and it stuck.
What ounce bat do you use?
26oz
What do you do in the offseason to prepare for the next softball season?
Cross fit/Olympic lifting and a lot of batting practice!
What is your favorite sports team?
Boston Red Sox, Baltimore Ravens, Orlando Magic
What is your favorite sport other than softball?
I like them all
Do you have any superstitions and if so, what are they?
Don't step on the foul line
What is your most memorable softball moment?
Playing with Demarini/Dirty all last season to many moments to name.
What is your favorite non-World tournament?
Smokys
What is the best softball field you have played at and why?
Disney/Astros Spring Training Complex
Where is the best place to eat on the road after a game?
Most the time it's McDonalds because that's all that's open late.
What is the funniest thing you have ever seen on a softball field?
My good friend Mike Wrenn dancing on the ball field, always keeping the team loose.
---
---
---
---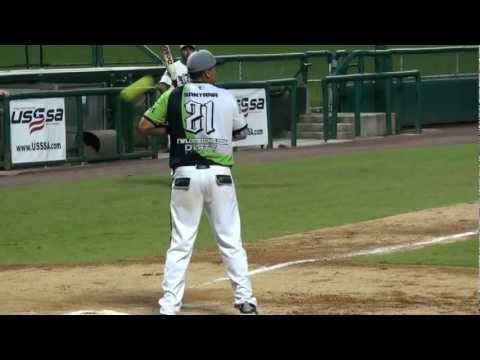 This site uses Akismet to reduce spam. Learn how your comment data is processed.