An interview with Baughford/Doerflinger/National Pawn/Easton's Kyle Pearson!
Kyle Pearson
Who are you playing with in 2014?
Baughford/Doerflinger/National Pawn/Easton
What positions do you play and what is your best position?
Both infield and outfield
Who is the best softball player you have ever seen play?
Wegman Helmer Connell
Why do you like the game of softball?
It's fun and competitive. Hang out with the boys. It's fast paced game that tons of people play. Visit different parts of the country.
Who is the best up and coming player in softball and why?
Couple come to mind – Bazat. Large. Just to name a couple but know lots of guys that are gonna make this game fun for a long time
What is your nickname in softball and how did you get it?
KP. A coach called me that when I was 14 and it stuck
What is your height and weight?
6'1". 205 lbs
Where do you call home?
Panama City, FL
What's your favorite way to spend an off weekend?
With the family. I have 3 beautiful daughters and they take a lot of my time. I like to hunt and fish.
What do you do for a living?
I work for a floor covering company….Carpet Connection
Did you play sports in High School / College / Pro?
I played football and baseball in high school. Played 6 years pro ball. Pittsburgh Pirates 2003-2008 and Detroit Tigers 2008-2009
How did you get your start in softball and how did you get to the upper level?
I started playing in the local league with a couple of buddies. Played 2 years with a local D team before I played with Baugh Ford a C team at the time. Then we moved up to B conference.
What was the most surprising difference between Conference play and non-Conference play when you made the jump?
The pace of the game was the first thing. The way the game is played and the talent is pretty good as well.
Is there a player that you would compare your game to?
I try to compare with Wegman. Hits it, gloves it, and hustles. Like his game.
In your career was there a single person (player/manager/coach) who had the most significant impact on your approach to the game? Why?
I haven't played this game very long but a couple guys have helped me a lot Bazat, Rusty, Genter, Bisbee, Milky. They teach me how the game is played. Oh yea my boy Rob Humphrey has helped out a lot also.
What advice can you give a young player trying to break into the upper level?
Hustle. Play hard. Work your game. Be a team player.
What type of batting grip do you use and what ounce bat?
Standard with pinky drop
What do you do in the offseason to prepare for the next softball season?
Weights are heavy lol. Run and hit mostly. I get to play year round in Florida.
What is your favorite sports team and your favorite sport other than softball?
Florida State and Football
Do you have any superstitions and if so, what are they?
Nothing really. Not very superstitious.
What would be your "at bat" music selection?
Bon Jovi – Wanted dead or alive
What is your favorite non-World tournament and why?
Smoky. Let it eat.
What is the best softball field/complex you have played at and why?
Big League Dreams in Las Vegas and Houston
Where is the best place to eat on the road after a game?
BWW. Taco Bell. Wendy's
What is the funniest thing you have ever seen on a softball field?
Squirrel – Enough said lol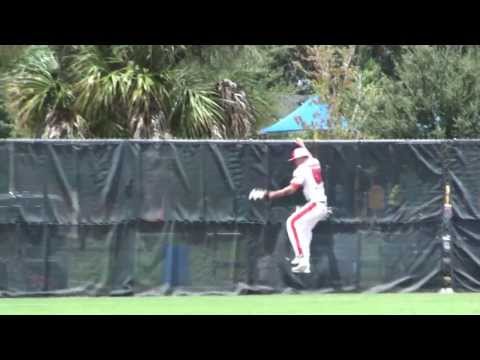 ---
6 responses to "An interview with Baughford/Doerflinger/National Pawn/Easton's Kyle Pearson!"
This site uses Akismet to reduce spam. Learn how your comment data is processed.