2015 Free Agent Keith Anderson
Keith Anderson
Who are you playing with in 2015?
Free Agent – Voltage118@gmail.com
What positions do you play and what is your best position?
Catch, EH, and a little pitching and 1st
Who is the best softball player you have ever seen play?
Jeff Hall, the man could do anything he wanted at the plate. One of the best hitters of all time in my eyes.
Why do you like the game of softball?
Meeting new people and making life long friends, I would have never had a chance to meet.
Who is the best up and coming player in softball and why?
Travis Clark and Mike Umschied, both Kenosha guys. Watched them come up the whole way, both of them are very desiring of all they have received from the game!! Very proud of these two.
What is your nickname in softball and how did you get it?
Dad… My daughter Sydney (my oldest), was screaming it in a tourney a couple of years ago. Everyone was screaming and it was dead quiet, and all anyone had heard was "Come on Dad", and that was it!!!
The very next weekend I got the other one… My man Ferg called me "The Keith", and I kept on feeding it every time I could… "My Man"
What is your height and weight?
6'2" , 240
Where do you call home?
Kenosha, WI
What's your favorite way to spend an off weekend?
With my kids doing whatever they want!!! They are amazing kids, and enjoy everyday with them I get. After that I like to do things around the house with Miranda, we always are doing things to the house.
What do you do for a living?
Project Manager for a large Construction Company in Milwaukee.
How did you get your start in softball and how did you get to the upper level?
Eric Weller and EWS. Travis Clark, asked me to play and it was all over. Very thankful for all they have ever done for me.
What was the most surprising difference between Conference play and non-Conference play when you made the jump?
The umpires… I thought they would be better…. The jokes, size, and conversations, I thought they would be better. They all know what I am talking about.
Is there a player that you would compare your game to?
Babe Ruth
What would you say is your career highlight to this point? Maybe one play or game that sticks out to you in particular?
2012 USSSA A Worlds… I had planned a pregame speech, and I stayed up all night thinking and planning what I would say to get things across to all the guys. I had some personal things going on at that time, and to achieve this ring with those guys and the people in my life!!! The best thing ever!!
In your career was there a single person (player/manager/coach) who had the most significant impact on your approach to the game? Why?
Rob Humphrey. The man gave me a second chance, and put up with a lot of my crap. I still don't know how to this day he did not cut me, he has become one of my best friends from this game we play. He is one of the best coaches in the game, say what you will but when he assembles a team they will get it done!! Proof is in the pudding.
What advice can you give a young player trying to break into the upper level?
Work, and watch out for politics!!
What do you do in the offseason to prepare for the next softball season?
Weights and more weights. Throw in some running at the first of the year.
Do you have any superstitions and if so, what are they?
Shoes… I carry a bunch of shoes, and change them on the regular. Always have.
What would be your "at bat" music selection?
Anything my daughters are listening too… Call Me Maybe.
What is your favorite non-World tournament and why?
The Duel, getting out of the winter and seeing everyone. Good times and stories.
What is the funniest thing you have ever seen on a softball field?
Ryan Robbins…. It was a couple of years ago when he played with Nordkap. We were beating them, and I had just hit a homerun against them. I was on the fence at the dugout, and he screamed across the diamond…. "HEY ANDERSON, I HAVE SEEN BETTER HEADS OF HAIR ON A BAR OF SOAP, PUT YOUR HAT ON"… Needless to say, I put my hat on and sat down in the dugout!! One of many stories I have with him, he was the best person to play with and against!!
Tell us something about you that most would never know about you?
That my tan is all natural… Yep, alot of hate out there on my tan!!!
---
---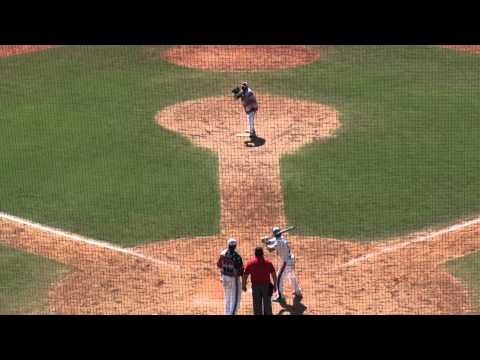 ---
2 responses to "2015 Free Agent Keith Anderson"
This site uses Akismet to reduce spam. Learn how your comment data is processed.