Jeremy Isenhower
Jeremy Isenhower
Major Player
2011 Interview
Why do you like the game of softball?
I love the competition. I love the fact that you can be humbled on every play. The excitement of getting a big hit when your team needs it is something that brings me back week in and week out.
Who is the best softball player you have ever seen play?
Coming into this game when I did I had the chance to see some of the great ones towards the end of their careers and some new ones begin. Todd Martin, Todd Joerling, Rusty, Jeff Wallace, Jr, Andy, Kendo, and some of the new ones like Connell and Thiede
Where do you call home?
I live in Olathe, Kansas now with my wife Becky, and twin 13 month old daughters Reese and Rileigh. (They are bad asses, my daughters of course not my wife)
What do you do for a living?
I work in logistics for Nationwide Transportation.
Did you play sports in High School / College / Pro?
Played highschool football, baseball and wrestled. Played college baseball at Missouri State University, and in the minor leagues with the Philadelphia Phillies.
How did you get your start in softball and how did you get to the upper level?
Started playing on local B team called Petes Inn with a guy named Mike Yancy. That winter he hooked me up with Dave Meyer from Meyers logistics and that was my first start in the conference. It was 2007.
What batting grip do you use?
I use a standard baseball grip, knuckles lined up, pinky on the bat.
What is your favorite sports team?
Kansas City Chiefs, Philadelphia Phillies.
What is your favorite sport other than softball?
Baseball and Football. If that was all that was on TV it would be fine with me.
Do you have any superstitions and if so, what are they?
I have so many its hard to name them all. They start from doing the same thing in bp to chewing the same kind of gum for all games. I'm a wierd-o about these things.
What is your most memorable softball moment?
Playing for team USA was a honor that will always be towards the top of memorable moments, another was winning asa A world in 2009. We had a team that was not suppose to win it and we run ruled our way through the tourny.
Is slowpitch softball a sport or a game?
Both – If it wasn't a sport we wouldn't train so hard and take it so seriously every weekend. But at the end of the day every sport is a game.
What is the best improvement upper level softball could make?
I would love to see the bat issue come to a end. Not sure how this could be solved but it sure would be nice that when you hit a bomb guys tip there cap to another man, rather than calling them a cheater for hitting one further than they did.
What is your favorite non-World tournament?
My favorite is the dudley. The weather is great, the atmosphere is great and the best teams in the world are playing for the drivers seat heading down the stretch of the season.
---
---
---
---
---
---
---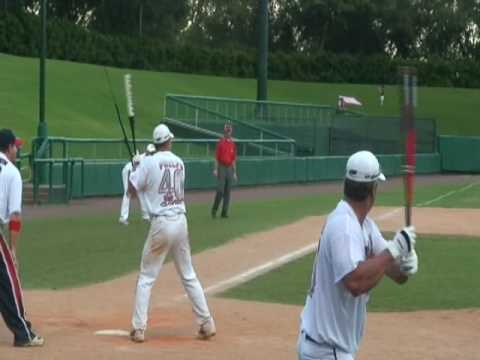 ---
This site uses Akismet to reduce spam. Learn how your comment data is processed.