Andy Purcell
Andy Purcell
Major Player
2010 Interview
Why do you like the game of softball?
I love the competition and being part of a team. It's a great feeling when every weekend your playing something you love with 12 other guys who feel the same way.
Who is the best softball player you have ever seen play?
Very tough question! Ive played with and against some of the best ever but its hard to narrow it down. Best SS is jr, Helmer and Wallace have to go down as a couple of the best hitters ever, Connell hits it as far or farther then anyone I've ever seen and today is one of the best hitters. Todd Martin is probably the best overall, he played outfield and infield and hit for average and power with anyone. I cant leave out Kendrick, Rusty, Bryson and Bobby Hughes either.
Where do you call home?
I have a house in Naples, FL with my wife Nikki and my daughter Brianna.
What do you do for a living?
I work for USSSA
Did you play sports in High School / College / Pro?
I played baseball all through high school and then played 2 yrs at De Anza Jr College and 2 yrs at Lewis-Clark State
How did you get your start in softball and how did you get to the upper level?
I just started playing softball with friends after baseball was over and loved it. I started playing tournaments at the D level and was fortunate to get on a team that traveled and kept moving up in levels. Eventually we were playing all the top teams and lucky for me I got a call to play for TPS top team and ive been playing since.
What batting grip do you use?
I hold the bat with 2 finger from my bottom hand and 2 fingers with my top hand and overlap my ring finger and pinky.
What is your favorite sports team?
Oklahoma Sooners and the 49ers
What is your favorite sport other than softball?
I would have to say football
Do you have any superstitions and if so, what are they?
During tournaments before every BP I have either a mt dew slurpee or mt dew. There are many more but that's probably the main one.
What is your most memorable softball moment?
There are so many moments I will never forget but anytime you win the major world series its hard to top that feeling.
Is slowpitch softball a sport or a game?
I think it's a sport. Anytime you have to train and practice to get better and succeed at it I think its a sport.
What is your favorite non-World tournament?
I would have to say the Dudley and the Smoky.
What is the best improvement upper level softball could make?
I think the bats in the bucket is the best thing going right now. As far as limiting the major players per team, there are pros and cons, but I think the main con is without more sponsors, there is a strong possibility that there could be alot of guys left out with nowhere to play and that would really suck. Sponsors are great people and hard to find, I dont think they will just appear all of the sudden.

---
---
---
---
---
---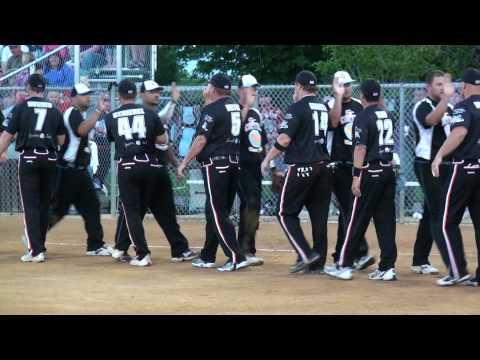 ---
3 responses to "Andy Purcell"
This site uses Akismet to reduce spam. Learn how your comment data is processed.