2014 Nationwide Conference USSSA – Las Vegas Major tournament report!
2014 Nationwide Conference USSSA
"Sin City" Classic
Las Vegas, NV
April 4-6
Laservision middle infielder and Defensive MVP Kevin Bazat dives for a grounder in the championship game
Link to the Softballcenter.com picture album of the Las Vegas Major
USSSA tournament info and bracket link
The 2014 Nationwide Conference USSSA season is underway! One of the big stories of the weekend was Baugh Ford/Doerflinger/National Pawn/Klutch Brand/Easton the 8th ranked team in the nation, as they won their first 5 games, 3 of which were against Conference opponents OC Swats 21-19, Laservision 31-29, and a run rule of Team Combat in the winner's bracket championship game 37-22. In the Swats and Laservision games the infield defense of JD Genter, Brad Reckart, and Jeff Flood was a big part of it. And Baugh Ford did better than the major teams at base hitting and home run management.
However, Laservision "did work" in the loser's bracket by taking their frustration out on H. Auto LLC/Easton/Hooters when they scored 26 runs before the first out was made in the top of the 1st inning and were winning 35-0 after the top half. Laservision made quick work of H. Auto 49-10. You might remember it was H. Auto that shocked the softball world a year ago by knocking off Laservision at the 2013 Hall of Fame Classic. And to add to the intrigue, Bob Hortenbach is a sponsor on both teams. Pay back?
Laservision then made quick work of a feisty Classic Glass/Easton team 24-9 late on Saturday night to set up a potential run for the championship on Sunday. On Sunday the first Major vs Major team matchup of the season started at 9 AM when #2 ranked Laservision met Team Combat/Softball.com, the #4 ranked Major team in the nation. Combat jumped out to a big 17-1 lead after 1.5 innings on the strength of 8 Home Runs (Greinert (2), Graus (2), and Cox, Rogowski, and Bilardello all chipped in 1 each). Can you feel the "but" coming? But Laservision hung tough like a big time team should and scored the next 27 runs of the game in the bottom of the 2nd and 3rd inning. Steven Lloyd, Mike Umschied, Travis Clark, Brett Helmer, Dale Brungardt, and Umschied again all hit homers in the 2nd to close the gap to 17-13. Then in the words of one Laservision player "there's the bagel that we needed", as Laservision shut down Team Combat in the top of the 3rd inning and came in and used yet another Mike Umschied homer, this time a grand slam with two outs to tie the game at 17-17. The slam was followed by a Helmer bases loaded 3 run double followed by a Brungardt 3 run homer and the next thing you knew Laservision had a 15 run 3rd and a 28-17 lead. In the top of the 4th Laservision middle infielder Kevin Bazat playing up close to the second base bag with runners on 1st and 2nd and no outs, fielded a hard grounder – reached out and nearly tagged the runner going to third but missed, then stepped on the bag at second and threw to first for the DP. The wind was now out of the Team Combat sails and they put up a second "bagel" and Laservision ended it in the bottom of the 5th on a Travis Clark walk off run rule homer.
Laservisions Kevin Filby bats against Combat pitcher Jeff Graus in the loser's final
That pushed Laservision to the championship game against Baugh Ford who they would have to beat twice. Laservision did look fresh even though they were playing their 8th game of the tournament. Baugh Ford came out in the top of the first and picked up where they left off on Saturday by scoring 6 runs on just one homer (Kyle Pearson). In the bottom of the 1st Brett Helmer hit a high fly to right field by the fence that Brad Blankenship lost in the sun (which was really bad) and it hit him in the head. Luckily Brad was alright but came out of the game. That "double off the dome" led to a 4 run inning after a Dale Brungardt 2 run homer and a Steven Lloyd solo. In the top of the 2nd Jeff Flood soloed for Baugh Ford before Laservision turned a Brungardt-Bazat-Baker "around the horn" double play to keep the Laservision deficit at 3. In the bottom of the 2nd Umschied soloed, Reyna and Clark got hits, and Brett Helmer who was on fire on Sunday hit a home run. Lloyd then doubled and Dillon hit a 3 run homer later in the inning to give Laservision a 14-7 lead. In the 3rd inning McDonald, Pearson, and Payton had rbi hits to close the gap to 14-12 for Baugh Ford, but Laservision scored the last 18 runs and again won on a Travis Clark walk off run rule homer 32-12 to force an "if" necessary game.
In the final game Baugh Ford again lost the coin toss but came out firing with 7 runs in the first on a bomb over the net by Donovan Pokraka and a Brad Blankenship line drive homer. In the bottom of the inning Helmer homered, Kevin Bazat hit a grand slam, and Laservision tied it at 7-7 on a bases loaded triple by Brian Wegman. In the 3rd inning Kyle Pearson, Billy Barrett, and Chris Larsen hit multi run homers to give Baugh Ford an 18-15 lead. The inning was cut short when Laservision pitcher Travis Clark got drilled by a line drive but had the presence of mind to stay with the ricochet and get a big out. The momentum shifted for good for Laservision when Brett Helmer hit a grand slam in the bottom of the 3rd inning giving them a 24-18 lead. Baugh got 2 runs in the top of the 4th but Laservision smelled blood and a run rule in the bottom half. They got a grand slam from Travis Clark, a 2 run homer from Helmer, a 3 run homer from Dillon, and a walk off 2 run double by Bryson Baker to win it 36-20!
Travis Clark hits a 3 run homer, Kevin Bazat a grand slam for Laservision
The tournament began on Friday night with most of the favorites winning both of their games in the 32 team field. Tats N Bats a 'C' team out of southern California knocked off CSC 21-19 then left home runs on the table against Team Combat in a close 33-29 loss. TAC/TWC from northern California knocked off the new JTF/Louisville Slugger Conference team 26-20. In the second round, Sonny's knocked off AZM 32-26, 4 The Fallen struggled some but won a matchup with a local 'D' team called Infamous 32-26, H. Auto beat fellow Conference 'B' team Midwest Hearing 25-10, and OC Swats, Baugh Ford, Classic Glass, and Laservision all moved on without incident.
In the final 8, Sonny's got off to a 5-0 lead in the top of the first inning on 4 The Fallen but incredibly Sonny's made a rash of defensive errors and Fallen took advantage of that and scored the last 26 runs of the game to win 26-5. Team Combat over powered H. Auto 36-18 although H. Auto played fairly well. Baugh Ford left the door open against OC Swats but Swats came up short 21-19 in the bottom of the 7th. And Laservision 20 run ruled Classic Glass.
In the final 4, Baugh Ford beat Laservision as discussed with the wind gusting out over on the Anaheim field 31-29. And Team Combat run ruled 4 The Fallen 31-16.
In the loser's bracket Conference teams AZM, Midwest Hearing, and JTF/Louisville Slugger could not muster a quality win. West Coast Newbreed/Worth ran off 3 straight before losing to Sonny's. OC Swats jumped out to a huge lead on TAC/TWC using up all of their homer's and TAC came back and sent home OC Swats 28-26 on a Rick Cornu? walk off homer. Classic Glass knocked off MyAutoJack.com, TAC/TWC, and crushed 4 The Fallen 28-5? before losing to Laservision late Saturday night. And H. Auto came from 7 runs down in the bottom of the 7th with 2 homers left and scored 8 runs without recording an out. The final 3 on a walk off homer by Brandon Newman!
The tournament was played in near perfect weather and the winds were blowing in on all of the main fields except for Anaheim where the scores and games were taking longer to play due to the strong wind going out. There was full bat bucket testing (a record number of bats failed on Friday). Bats were retested if they hit a pitcher and the conference Dudley Classic M-ZN ball was used. There were 32 teams total from 12 different states and there were 11 Conference teams in attendance. This was also a "4 point" event when it comes to totaling Conference points. There were 3 Conference umpires and some experienced locals working the games that did a nice job.
I want to give a shout out to west coast lower division teams – TAC's, MyAutoJack, and Tats n Bats all of whom played hard entertaining line drive softball!
Here are the last 3 games of the tournament livestreamed.
This is a big file, it may still be loading to youtube.
We finished off two major teams, lets go try our luck at the casino
There were some smaller crowds for the big winner's bracket games
Team Combat's Brian Lipman tees off against 4 The Fallen
Laservision knocks off Classic Glass late Saturday night at Fenway
---
Video Highlites brought to you by: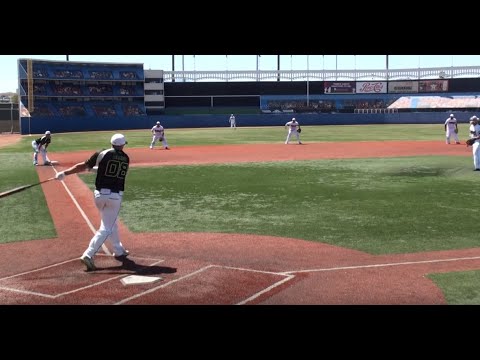 ---
Long Bombers of the Week
One of Chris Greinerts (Combat) long bomb was talked about all around the park
and the crowd actually gasped "holy sh!t"
Filip Washington from Classic Glass hit one Friday that one person claims "hasn't landed yet"
OC Swats Mike Brambilla might be the longest home run hitter in the 'B' division and he hit a creature in the Baugh Ford game
---
Major Awards and Final Standings
| | | |
| --- | --- | --- |
| Player Tournament Awards | Players Name | Plays For |
| Tournament CO-MVP | Travis Clark | Laservision/H.Auto/JJ's/Easton |
| Tournament CO-MVP | Steven Lloyd | Laservision/H.Auto/JJ's/Easton |
| Offensive Tournament MVP | Sean McDonald | Baugh Doerflinger Nat-Pawn/Easton |
| Defensive Tournament MVP | Kevin Bazat | Laservision/H.Auto/JJ's/Easton |
| All Tournament Team | Brad Reckart | Baugh Doerflinger Nat-Pawn/Easton |
| All Tournament Team | Chad Munger | Team Combat/Softball.com |
| All Tournament Team | JD Genter | Baugh Doerflinger Nat-Pawn/Easton |
| All Tournament Team | Donovan Pokraka | Baugh Doerflinger Nat-Pawn/Easton |
| All Tournament Team | Chris Greinert | Team Combat/Softball.com |
| All Tournament Team | Johnny McCraw | Team Combat/Softball.com |
| All Tournament Team | Jason Romero | Classic Glass/Easton |
| All Tournament Team | Brian Wegman | Laservision/H.Auto/JJ's/Easton |
| All Tournament Team | Bryson Baker | Laservision/H.Auto/JJ's/Easton |
| All Tournament Team | Cameron Cox | Team Combat/Softball.com |
| All Tournament Team | Chris Larsen | Baugh Doerflinger Nat-Pawn/Easton |
| All Tournament Team | Filip Washington | Classic Glass/Easton |
| All Tournament Team | Donald Hollingsworth Jr. | Classic Glass/Easton |
| All Tournament Team | Dale Brungardt | Laservision/H.Auto/JJ's/Easton |
| All Tournament Team | Jeff Flood | Baugh Doerflinger Nat-Pawn/Easton |
| All Tournament Team | Mike Umscheid | Laservision/H.Auto/JJ's/Easton |
| All Tournament Team | Luis Reyna | Laservision/H.Auto/JJ's/Easton |
Laservision pitcher Travis Clark was co-MVP
Baugh Ford 1st baseman Sean McDonald was Offensive MVP
---
Team by team notes brought to you by:
1st Place – Laservision/H. Auto/JJ's/Easton
Conf 'M' from NY 8-1 Record
Laservision outscored their opponents 309-130 (scoring 34.3 runs per game!), and only lost a game on a short field with the wind gusting out. While that game was their first real test of the season and they came up short, they did re-focus and take care of business in impressive fashion run ruling their last 5 opponents. Travis Clark was a warrior on the mound and got off to a good start with the stick. He is at his best offensively when he is running for extra bases and hitting timely homers. Mike Umschied did a great job in RF filling in for the injured Scott Kirby who pulled an Oblique muscle in batting practice.
Helmer, Wegman, and Bryson Baker look like they are in midseason form, and Kevin Filby was striking it as good as anyone in the game.
The team showed some heart, improved defense, and the new "young guns" Dale Brungardt, Luis Reyna, Kevin Bazat, and Steven Lloyd showed the talent that gave them this great opportunity. The word is still out on how this team stacks up against Resmondo, but even if it's a "Robin" to Resmondo's "Batman" situation it will be fun to see as the fresh legs, great defensive range, and raw power of these guys is entertaining. Manager Billy Messina has some "interchangeable parts" and some flexibility with this team when healthy.
Look for Laservision to have someone that leads the league in homers and rbi this season as they play 13 regular season tournaments to Resmondo's 11 and Laservision will probably play more games in the loser's bracket.
Trending…Slightly up.
Sunday Lineup
1B Bryson Baker
LF Brian Wegman
EH Kevin Filby
C Brett Helmer
3B Dale Brungardt
2B Steven Lloyd
CF Brandon Dillon
RF Mike Umschied
MI Kevin Bazat
SS Luis Reyna
P Travis Clark
Travis Clark ended a number of games with walk off "mercy rule" homers
Laservisions Mike Umschied put a nail in the Combat coffin with this grand slam!
The new kids on the block. Dale Brungardt and Luis Reyna above
Steven Lloyd and Brandon Dillon below
Stats are in and Steven Lloyd had a .925 onbase percentage (37-40 with 7 HR)…wow
Lloyd was named co-MVP
This was the Laservision lead on H. Auto on Saturday night after a half inning!
---
2nd Place – Baugh Ford/Doerflinger/National Pawn/Klutch/Easton
Conf 'A' from AL 5-2 Record
Baugh Ford looked good. Better than their 8th place in the pre-season rankings? … YES! Power, willingness to do the right thing, base hitting, and defense all looked good. Brad Reckart at SS made all the routine plays and then some, Jeff Flood looked good as mentioned covering the middle, and JD Genter kept making great diving backhands on the line at 3rd but should have used the turf to bounce the ball quicker over to first like Brian Blount was doing at the GSL a couple of weeks ago. Brian Zirkle was covering some ground in center field and the pitching was more like 65/35 between Barrett and Baugh when Tommie struggled some with the wind. Larsen looks like his achilles troubles may be a thing of the past, Pearson looked good re-aclimating himself to the infield at second base, and the veteran Sean McDonald who announced he is retiring at the end of the season was offensive MVP. Jeff Payton and Brad Blankenship platooned some in right field and Donovan Pokraka played left. Vince Bisbee can still hit it at catcher.
A good start for Baugh who beat a good OC Swats team and then the two major teams back to back.
Trending…UP
Sunday Lineup
CF Brian Zirkle
3B JD Genter
C Chris Larsen
SS Brad Reckart
LF Donovan Pokraka
EH Vince Bisbee
1B Sean McDonald
2B Kyle Pearson
RF Brad Blankenship/Jeff Payton
MI Jeff Flood
P Tommie Baugh/Billy Barrett
At least two teams had the numbers on the jerseys outlined by the state the player was from
Brad Reckart at SS and JD Genter at 3rd Base
Baugh Ford middle infielder Jeff Flood could have been named Defensive MVP
Easton bats got it done for the top for 4 of the top 6 teams
---
3rd Place – Team Combat/Softball.com
Conf 'M' from WA 4-2 Record
A little bit of an up and down weekend for Team Combat. They struggled with Tats n Bats on Friday night but hung on to win. They out powered but not necessarily out played H. Auto. They did handle 4 The Fallen pretty impressively though and found themselves in the winner's final right where everyone would want to be. In that game though they were out hit and out played by Baugh Ford 37-22. In the loser's bracket they jumped out to that impressive 17-1 lead on Laservision before being outscored 27-6 down the stretch. So they even had up and down stretches within a couple of the games.
Jeff Graus and Chad Munger shared the mound. Joey Gordon played 3rd for Frank Yielding who was home tending to his sick grandmother (we are thinking of you Frank). And then Joey came down with a 102 temperature and Munger had to play 3rd base on Sunday. In right field apparently Bryce Oliviera was also under the weather and had to play first base while Casey Rogowski played right.
Brian Lipman played second and moved to leadoff on Sunday. Greinert was making the BLD (Big League Dreams) replica stadiums look like t-ball fields, and overall the team looked ok with an eye towards getting better. Johnny McCraw was batting I believe 4th before he came out of left field after diving for a ball and he didn't play on Sunday. Rusty played Friday before I got there but just pinch hit the rest of the weekend.
A slow start for Combat but hopefully they get everyone in place, "put in the work" as manager Jeff Wallace said in his post tournament meeting, and get after it at the Hall of Fame Classic in two weeks.
Trending…even
Sunday Lineup
2B Brian Lipman
RF Casey Rogowski
C Chris Greinert
1B Bryce Oliveira
LF Davis Bilardello
SS Jeff Mcgavin
3B Chad Munger
P Jeff Graus
CF Sid Stephany
MI Cameron Cox
Middle infielder Cameron Cox and 2nd baseman Brian Lipman
---
4th Place – Classic Glass/Easton
Conf 'B' from CA 5-2 Record
Classic Glass has re-tooled with some smaller faster players that hit line drives and put on a show. They played 7 games and only lost to Laservision (twice). They knocked off 4 D/C teams and beat 4 The Fallen by the 20 run rule. Classic probably isn't going to impress anyone on the baseball fields in Kissimmee, but will be a tough draw on any 300 foot fenced field.
Tyson Steele pitches and will be counted on to provide a lot of power. The team is almost all new for 2014 and looked and played great.
Trending…up!
Lineup
MI Dameon Smith
RF Donald Hollingsworth
1B Steven Lopez
2B Jason Romero
LF Filip Washington
P Tyson Steele
CF Tyler Espland
3B Rego Nieto
C Kenneth Paysinger
EH Brandon Traylor
SS Adam Alva
Classic Glass two hitter Donald Hollingsworth
Some of the Classic Glass infield SS Adam Alva, MI Dameon Smith, 2B Jason Romero, and 1B Steven Lopez
Laservision manager Billy Messina mentioned that he played against Tom Formosa (above) in 1988
Classic pitcher Tyson Steele
---
Tied 5th Place – H. Auto LLC/Easton/Hooters MOA
Conf 'B' from MN 4-2 Record
H. Auto tied for 5th which is pretty amazing knowing they can't get outside in Minnesota with the brutal winter they have had to practice. They beat Midwest Hearing and had the dramatic bottom of the 7th inning 8 run comeback capped by a Brandon Newman walk off homer to beat Sonny's 32-31. There only losses were to the two major teams.
Trending…up!
Ryan Allanson
Alan Ouellette pitcher for H. Auto
---
Tied 5th Place – 4 The Fallen/Miken/Evo9x
Conf 'A' from AZ 3-2 Record
4 The Fallen may have wasted a points weekend by finishing 5th. It would be hard to believe they would score enough points to count towards a world series berth and they are looking into adding Maryland to the schedule. Geno Buck and Denny Crine are intimidating leaders, and Isaac Gonazalez seemed to be hitting it pretty well. The teams is solid in the 'A' division, maybe lacking some defense. There is some potential here. Fallen played without Jason Baxter who we hope gets well soon and gets back to the field.

Geno Buck is a manacing presence on the mound
4 The Fallen powered by Dustin Roberts!
4 The Fallen center fielder Nick Sansone fights the wind for a diving catch
4 The Fallen middle infielder Isaac Gonzalez
More pictures below
---
Other top finishing teams and Conference teams
Jason Kreider and Nick Price
Tied 7th WY Sonny's 'B' 3-2 – Sonny's lost to 4 The Fallen by the run rule 26-5 after leading 5-0 in the first inning, and then they were sent home by H. Auto after entering the bottom of the 7th with a 7 run lead. Tough breaks for Sonny's but I enjoyed seeing the new players like pitcher Jonathan Wheeler, left fielder Nick Price, and right fielder Chris Terry who came over from Classic Glass.
---

Tied 7th CA TAC / TWC 'C' 4-2 – TAC's came from 14 down to walk off OC Swats and send them home. Maybe they just played really well but they are the best 'C' team we've seen so far early in the season.
---

Tied 9th (WA) West Coast Newbreed/Worth 'B' 3-2 – Newbreed is a bunch of young Seattle players combined with the Texas connection SS and leadoff man Marcus Thornton and slugger Clay Smitherman. They also have Sean Boldt from Famous and infielder Chris Arredondo from Swats and recently picked up MI Nick Utley who used to play with Taylormade. They just came off of winning the King of the Northwest tournament last weekend and I thought they would do better. But I did see some great play by some young up and coming players and they have the kings of talent evaluation and game management Jose Sanchez and Kermit Stricklin running the show. Those guys of course won 2 'A' Worlds with GTL.
---

Tied 9th (CA) oc swats/miken/premier athletics (B) 2-2 – Swats lost to Baugh Ford with the bats in their hands. Then squandered a 14 run lead against TAC's. A disapointing weekend and possibly a throw away for them points wise. Eli hit 4 homer's in the game against Baugh Ford.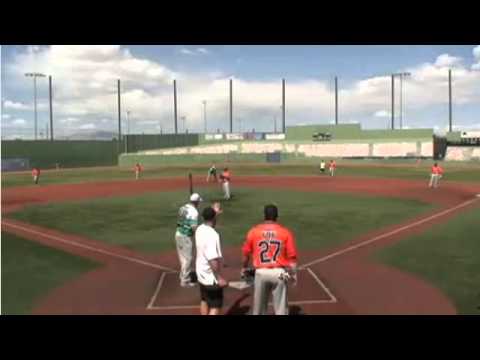 Robert Sena defending the middle video
---

Tied 13th (AZ) azm/3n2/easton/classick sports (B) 2-2 – Needs to do better and has the talent to do so. Lost to a 'D' team?
---

Tied 13th (KS) Midwest Hearing/Easton (B) 1-2 – Lost to two new fellow 'B' teams. Rough start.
---

Tied 13th (KY) JTF/ Louisville Slugger (C) 1-2 – Lost to two west coast 'C' teams. Also a rough start.
---
---
Hot Links section brought to you by:
I would like to thank all of my sponsors, USSSA, the SoftballCenter and Oldscout advertisers!
Some of the archived games from the Major can be found here at Livestream/Softballcenter1
USSSA Las Vegas tournament link
Link to Softballcenter.com pictures of the Las Vegas Major
Send corrections to dw@softballcenter.com
Link to the SoftballCenter.com Youtube channel
Link to the 2014 Tournament Reports
Link to the 2013 Tournament Reports
Link to the 2012 Tournament Reports
Nationwide Conference USSSA Points Link
---
Close Calls brought to you buy
Clark was called out correctly by first base ump George Blue
Isaac Gonzalez was safe. Again they made the correct call.
---
Some more pictures for you:
Derby Girls takes on Sure Clean in the championship of the women's open
Sure Clean won the women's open
Women's 'A' Division Bracket Link
Derby Girls
This guy should have played for Tats n Bats
Doc and Tony back at it for another year!
Davis Bilardello shows off the new Combat VTS Survivor!
Get the brand new, just released VTS Combat Survivor
My view with the livestream going
These were the Baugh Ford fans you all heard on the livestream! 🙂
The walls go 30 feet high with a 40 foot net on top of that but the HR fence whas the lower blue 6 foot height at Yankee field
The view from inside the restaurants
I was told this is the best score keeper in the game
4 responses to "2014 Nationwide Conference USSSA – Las Vegas Major tournament report!"
This site uses Akismet to reduce spam. Learn how your comment data is processed.