2013 USSSA "Space City Classic" – Houston Major tournament report
2013 Nationwide Conference USSSA
"Space City Classic"
Houston, TX
April 12-14
Link to Softballcenter.com picture album of the Houston Major
USSSA Houston tournament info and bracket link
USSSA Houston tournament archived games link
Livestream Note: it has come to our attention that there were some fans sitting close to the broadcast microphone at the Buzini vs ASPnation winner's bracket finals game on Saturday night during the Lonestarsoftball broadcast. I would like to apologize on behalf of Lonestarsoftball for the inappropriate things which were said. This should not reflect poorly on Lonestarsoftball or Softballcenter and we will make every attempt to keep this from happening in the future. Thank you.
The 7th annual "Space City" Classic featured 64 teams, 7 from the Nationwide Conference USSSA, and was won by ASPNation.com/Easton, a 'C' team out of Dallas, Texas. This is the first time a 'C' team has won a Nationwide Conference event that was not rain shortened with "Co-Champions". ASPNation did so in dominating fashion as they made quick work of a tired Baugh Ford/Mojo/Louisville Slugger team in the Championship game 24-4.
The tournament nearly took a drastic turn on Saturday night in the winner's bracket final between ASPNation and Buzini/BuffaloWildWings/Worth, when ASPnation blew a double digit lead. Buzini scored 15 runs in the top of the 7th to take a 4 run lead and then a rash of infield mistakes let ASPnation tie the game at 22-22 in the bottom half of the 7th. In extra innings Buzini put up a zero and ASPNation got an inside the park home run from the speedy Ben Dunn on a base hit with two outs that deflected off the glove of the diving right fielder. This wild 7th and 8th inning truly determined the outcome of this tournament and ASPNation made the most of it and came out firing on Sunday in the Championship game.
Congratulations to Lyf Nimmo, his staff, and the players of ASPNation for an exciting brand of softball and on being a first time Nationwide Conference USSSA tournament champion!
One of the great things about Nationwide Conference softball is the variety of competition that we see. We use different balls at different parks. We see games on softball fields and baseball fields. We have Major vs Major games and we have just as hotly contested games with B and C teams. Every team is fighting for every point and they all have a different agenda. But in the end it is the best slowpitch softball on the planet.
The tournament began early on Friday night on all 6 fields at the League City BLD. The near perfect weather, artificial turf infields, and scenic replica MLB stadiums coupled with the more even competition of the 'B' and lower field of teams made for a solid tournament. There were very few upsets throughout the tournament however and they did use the "wall ball" rules after the tournament director asked the 7 Nationwide Conference teams to vote on it. (6 teams said yes). I would say most teams did not use their 8 home runs in a given game and the "wall ball" didn't really get too much out of hand. The wind blowing in on 3 of the fields may have had something to do with the reasonable scores during the "meat" of the tournament on Saturday.
Random News and Notes:
There were no Nationwide Conference USSSA umpires in attendance and although each team had their beef with a few close calls, the video shows that most of these were actually very close plays and almost impossible to get right in slow motion let alone real game speed in the heat of the moment in close games. Teams needed to adjust to various strike zones, but they did seem consistent, once learned.
They tested bats for the final 16 teams.
The center fielder for Golds Gym Luke Morgan showed some great range.
Dennis Shrum had the best diving play on a grounder in the hole at shortstop and subsequent throw out at first base for Vivid.
Pitcher Tommie Baugh took a line shot off the helmet in the Baugh Ford vs Buzini game. I hope to have that highlight as well as a number of the many close plays on a video post later in the week.
I am not sure who had the longest homer but I'll give it to big Shannon Smith of Buzini. With the softer 52 core ball being used there were many home runs where you needed to wait and make sure to see if they were going to go out or hit the wall. Shannon hit a couple that were "no doubters". Clay Smitherman and Davis Bilardello from Baugh Ford also crushed a few but Shannons was probably longer.
I did not see any bad bounces as I walked around from field to field yet there were many infield errors. Too many for playing on such nice turf.
South Texas Posse veteran Will Oneal was called out for a half swing. His claim was that there was no such rule in the USSSA rule book. Anyone know the answer?
Also the Vivid infield was impressive with Donte Lapoint at 2B, Shrum at SS, and the rest of the infield was making nice plays as well (at least when I was watching).
Saturday crowd above, Sunday crowd below
Yankee Stadium was the main field. Baugh Fords Eric Byrum pitches in the championship game
Crosley Field
Ebbets Field
Sportsmans Park
Mike Wrenn takes aim in Wrigley Field
Fenway Park
---
Video Highlites brought to you by: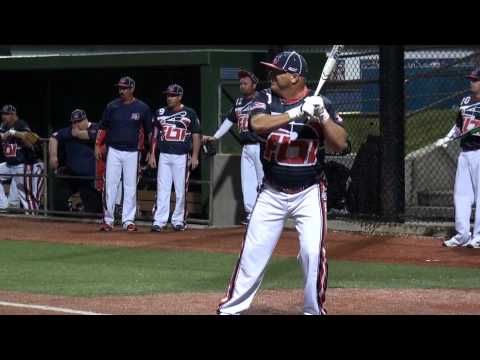 Houston Major video clips
---
The "Miken Masher" of the week is Claude Simoneaux!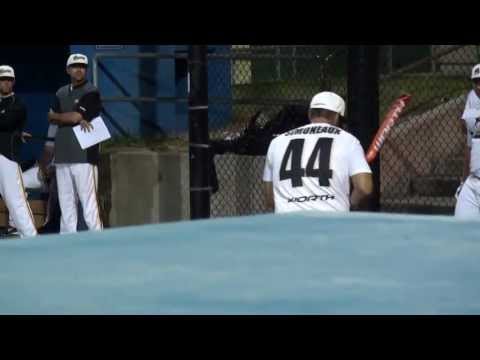 Pinch hitter extraordinaire! Seemed like every game he was up in a clutch situation as a pinch hitter he did his job.
---
Houston Major Final Standings & Awards
ASPNations MVP pitcher Chris Lopez slides in for a big run
Baugh Ford SS Shaun Bridger was Offensive MVP (I probably shouldn't have left him off the prospect list)
ASPNation CF Ben Dunn was defensive MVP
I know that the winning team gets 2 special awards like MVP and Defensive MVP and the 2nd place team gets 1 award (usually the offensive MVP) but I like to pick my own awards when I have time or feel a player deserves some press.
Although you can't disagree with Ben Dunn the centerfielder for ASPnation getting the defensive MVP, my pick is Robert Hendren of BaughFord. He showed great range and an uncanny ability to complete throws from all different angles.
Also the Vivid infield was impressive with Donte Lapoint at 2B, Shrum at SS, and the rest were making nice plays as well (at least when I was watching).
I agree pick for Offensive MVP being BaughFord leadoff man Shaun Bridger who did not make many outs and had a consistent line drive swing most of the weekend. I even mentioned on the broadcast on Saturday that Shaun was working on an offensive MVP weekend if the team could make it to the championship game. Chris Potts the five hitter for ASPNation also could have probably received the offensive MVP. Without looking at stats, it always seemed like ASP's Chris Potts was in the thick of any big offensive rallies or needed clutch hits.
No one can argue with the MVP selection of ASPNation pitcher Chris Lopez. He worked hard on the mound, was a tough out at the plate, and held the 7 opponents to less than 10 runs a game on average.
---
Team by team notes brought to you by:
---
1st Place – ASPNation.com/Easton
Conf 'C' from Dallas, TX 7-0 Record
ASPNation has a young, fast, defensive minded team that will challenge most teams on the 300 foot fields. They ran the table in Houston and one has to be impressed with this team. It was truly a team effort as the middle of the lineup struggled at times. ASPNation blew a big lead in the winners bracket championship but found a way to win the game. Then trounced Baugh Ford in the finals by the 20 run rule. ASPNation pushed their 2013 record to 26-3 and have a goal to compete at the Dual and avenge last years poor double tournament.
ASPNation third baseman Mike Cervantes was among the leading hitters
ASPNation gets off to a big start for 2013
Champions collage
Only 9% picked ASPNation to win
---
2nd Place – Baugh Ford/MOJO/Louisville Slugger
Conf 'B' from Clanton, AL 7-2 Record
Baugh Ford won their first 4 games including a 15-7 victory over South Texas Posse with the wind blowing in hard. Then they came from a 14-6 deficit to score 8 runs on two outs in the 5th inning against Buzini in the semi-finals to tie the game but put up zeroes in the 6th and 7th and lost 29-14.
Baugh then ran the losers bracket with a late night win over FBI 29-24 in a game that finished around 2 AM. In the morning at 8 AM they beat Sportscenter 23-19 and avenged their earlier loss to Buzini 27-22 before taking a dive in the championship game against ASPNation.
Baugh showed some real toughness, at times an impressive offense, and they have enough power to compete on the baseball fields in Florida.
Baughs Clay Smitherman hit some long homers
Tommie congratulates "Bob"
Tommie Baugh goes between the legs and gets the called strikeout
---
3rd Place – Buzini/BuffaloWildWings/Worth
Conf 'B' from Jackson, MS 5-2 Record
Buzini won their first 5 games. In their 3rd game against a very good Slapaho team they found themselves trailing by two going into the bottom of the 6th but scored 17 runs and left Slapaho on the field. Then in the semi-finals they used a Shannon Smith grand slam to take a 14-4 lead on Baugh Ford. But Baugh came back scoring 8 runs with 2 outs in the 5th but Buzini held Baugh scoreless in the 6th and 7th while scoring 15 runs themselves and won 29-14 to advance to the winner's bracket championship.
In the winner's final they trailed ASPNation 18-8 before scoring an amazing 14 runs in the top of the 7th to take a 4 run lead. Then Buzini misplayed a couple of infield grounders any one of which would have ended the game and ASPNation used the opportunity to force extra innings where they ASP won by a run.
In the loser's championship on Sunday morning, Buzini was unable to keep pace with Baugh Ford and finished a disappointing 3rd.
Buzini is built well for the 300 foot fields with lots of role players and a good mix of young talent and veteran leadership.
Buzini teammates congratulate Kelly Hartman on another homer
Buzini lineup
---
4th Place – Sportscenter/MS Storm/Worth
Conf 'C' from Booneville, MS 5-2 Record
I have been pretty hard on Sportscenter for awhile now. But I have to say this team is much improved over 2012 and are much more scrappy this year. Sportscenter beat very good Omito Heat and Arkansas Mayhem teams. Then they blew away FBI 23-3 to set up their biggest game of their Nationwide Conference existence, a semi-final against ASPNation. Unfortunately the offense disappeared in the wind in a 13-8 loss.
Late on Saturday night they beat a very good Old School team 19-17 but dropped a 23-19 game to Baugh Ford in the loser's semi-final on Sunday morning in a game they always seemed to be playing catch up. Sportscenter scored their first top 4 finish, played 7 innings in every game they didn't win by the run rule and scored at least 19 runs in every game they played except the game against ASPNation, and let's face it ASP was shutting down a lot of teams. So offensive improvement, defensive improvement, and some confidence for Sportscenter to start the season. All good things. Let's not get too excited about their chances at the Dual however… 🙂
---
Tied 5th Place – Old School/Elite
Conf 'C' from Spring, TX 5-2 Record
Old School/Elite was a game away from making the final 4. They smashed LA Classic 34-3 late on Saturday and lost in the tournament to two Nationwide Conference teams – Buzini and Sportscenter. The team outscored their opponents 176-76 in 7 games…WOW!
---
Tied 5th Place – Fence Brokers/Hubs Pub/GTS/Worth
Conf 'B' from Bryant, AR 5-2 Record
FBI beats Vivid on a Bowser walk off single
FBI is off to a lackluster start as a 'D' team called South Texas Legacy had them on the ropes in the 7th before FBI snatched a 14-12 victory. They then beat a solid young LA Classic team before Sportscenter hammered them 23-3? FBi recovered a little by beating Vivid 23-22 on a walk off single by Tim Bowser in a game that could easily have gone either way. Late on Saturday night, FBI tried to salvage their tournament and get a Sunday finish but came up short against Baugh Ford 29-24 in a game that ended close to 2 AM.
FBI needs to get some more enthusiasm and play with more fire. This team will have to scratch and claw to beat the 'A' teams. Look for FBI to struggle on the big fields at the Hall of Fame Classic.
FBI's Dustin Boone
The "Hubs" in Hubs Pub, SS Scott Hubbard, and middle infielder Brandon Hubbard
---
The rest of the Houston Nationwide Conference teams:
Tied for 9th – Vivid / Softballmix.com / TYJA – TX-B – Vivid was upset late on Friday night by a Texas 'D' team named Call Your Shot 23-17. Then they ran off 4 straight in the loser's bracket before dropping to FBI by one run 23-22 in a game they could have easily won. Vivid as mentioned before has a B+ level infield defense and a top of the lineup that can carry the team through a few quality wins each weekend. A work in progress…
Tied for 9th – South Texas Posse – TX-B – Won their first 3 games in total blowouts then dropped two straight. They lost to Baugh Ford 15-7 with the wind blowing straight in hard on Crosley field. Then dropped 18-17 to LA Classic. I wouldn't consider the last game against LA Classic a very big upset. South Texas Posse brought in former Dirty players Tony Elrod to pitch, and Mike Wrenn to play center field. They also have veterans Mark Dennis and left fielder Will Oneal.
More pictures below
---
Hot Links section brought to you by:
I would like to thank all of my sponsors, USSSA, the SoftballCenter and Oldscout advertisers, and Elliot Clark from Arizona USSSA!
Some of the archived games from the Las Vegas Major can be found here
USSSA Las Vegas tournament link
Link to Softballcenter.com pictures of the Las Vegas Major
Send corrections to dw@softballcenter.com
Link to the SoftballCenter.com Youtube channel
Link to the 2013 Tournament Reports
Link to the 2012 Tournament Reports
Tournament director Greg Huchingson and USSSAToday's Stafford Connor
---
Some more pictures for you:
LA Classic/Easton, the top of the nations 'D' division. LA's masher below.
Golds Gym had a nice team
Softball Guys of the week
Close Plays
'
Bridger was out
Looks like the ball (the yellow thing in picture #3 in front of #66's face) came loose?
This was big play in the Buzini vs ASP game
I think on the dropped ball on the turn at second, Mays probably picked it up in time
Childress was out at 2nd
This was a virtual tie in the Golds Gym game
Bascle – safe or out? I'm not sure
Wilks was safe
5 responses to "2013 USSSA "Space City Classic" – Houston Major tournament report"
This site uses Akismet to reduce spam. Learn how your comment data is processed.