2013 USSSA Cincinnati Major Tournament Report!
2013 Nationwide Conference USSSA
"14th Annual"
Cincinnati Major
Mid America Ballyard
July 19-21
Laservision and Resmondo in the finals again
Big crowds for the Cincinnati Major
Link to the Softballcenter.com picture album of the Cincy Major
USSSA Cincy tournament info and bracket link
The 14th Annual Cincinnati Major was played in its entirety through a nasty rain forecast with just a 2 hour delay on Friday night, and a 45 minute lightning delay on Saturday. The tournament had 38 teams including 28 from the Nationwide Conference USSSA.
The tournament began on Friday night with four "play in" games which were delayed towards the end by a massive rainstorm. After the rain delay, there were some great games and the matchups with so many Conference teams was possibly the best of the year. After the play in games finished Reds Astros knocked off OC Swats 18-17 on a Cody Gilbert walk off homer. Reds would later lose to Demarini 22-17. Precision beat 'B' rival P&P 333 19-18 with some late clutch hitting. Taylormade scored 3 in the bottom of the 7th to beat Famous 32-31 after Famous led big early on. DEI/S&S beat hometown Pure Romance 22-19. Cash House (C team) hung on to beat GTL (A Team) 17-15, I believe Cash House was up 17-6 at one point? But that wasn't the only huge upset on Friday night as Trust/Detroit Elite (C team) knocked off Baugh Ford (A team) 24-7 and then beat Fence Brokers (B team) 20-5. Also local Nationwide Conference 'B' team 3rd Street beat Team Combat 28-21 in a game that finished after 3 AM, and in other Friday action 4 The Fallen jumped out to a big lead and beat Headhunters 27-20… Also Albicocco trailed most of the way but knocked off Buzini 25-19 and in one of the best games of the night, non-conference 'C' team KBI from Chicago led #1 Resmondo by 8 runs in the 5th inning. Resmondo then put up a big inning in the 6th and held off KBI who had a lot of home runs left 35-27. KBI played a near perfect game for 5 innings and I believe, had they won, they would have been the first 'C' team to have ever beaten Resmondo in Nationwide Conference play? The rest of the Major and 'A' team favorites survived their Friday games fairly easily.
On Saturday play began at 8 AM with Laservision over Precision big, Line Drive over Taylormade big, and Shoppe by 10 over DEI/S&S. Also 4 The Fallen lasted 7 innings with Resmondo before losing 33-20 and 3rd Street pushed Nordkap but Kap won 25-21. And in a near upset Cash House led most of the way against Albicocco before Dan Sanchez hit a walk off homer for Albicocco to win 16-15.
In the quarter finals Saturday afternoon, Demarini jumped out to a 16-0 lead on Laservision but following a 45 minute lightning delay came up short for the second week in a row against Laservision in a 34-31 loss. Resmondo beat a feisty Trust team 30-15. Nordkap/Suncoast Reebok pulled off a 26-25 win over Albicocco in extra innings as they tied the game in the bottom of the 7th with clutch two out hitting. Then in the top of the 8th Kap middle infielder Matt Crawford turned a barehanded double play to hold Albicocco to zero runs. In the bottom of the 8th, Jason Baxter hit a game winning gap shot. Also in the best game of the tournament Shoppe fought back against Line Drive to win 37-36. In a controversial possible double play that Line Drive turned on Shoppe in the bottom of the 7th, the runner was called safe at first when first baseman Jason Ferguson couldn't quite keep his foot on the base. Following the play Shoppe got homer's from Tim Cocco, Robert Blackburn, and a walk off homer by Neil Haglund to win 37-36!
Saturday night in the semi-finals Laservision rolled through Shoppe 31-9 but Resmondo struggled mightily with Nordkap. Going into the 7th Nordkap had a nice lead but put up a zero in the top half. Then Resmondo scored I believe it was 8 runs in the bottom of the 7th, the last run coming on a bases loaded walk to BJ Fulk for a "walk off walk". Definitely not the way the large crowd gathered wanted to see the game finish.
The winner's bracket championship then started after midnight Saturday and finished around 4 AM. Laservision held a huge lead mid way through the game. They got the lead all the way up to 18 runs in the top of the 6th but Resmondo who is unfazed by any deficit showed amazing focus so late into the night and scored 22 runs in the bottom of the 6th and went on to win the game 51-49!
Meanwhile in the losers bracket Albicocco knocked off OC Swats 28-26. Swats had a chance to win with 2 outs in the bottom of the 7th but a nice play by third baseman Chris Moon sealed the game for Albicocco. They then knocked off Team Combat 39-17, Shoppe 35-25 well after midnight, and got up early Sunday morning to beat arch rival Demarini/Dirty 27-24 before chasing but losing to Laservision 32-20 in the losers championship game.
Laservision moved into the championship and jumped out to another huge lead on Resmondo mid way through the game but just couldn't get the gloves cleanly on the ball and Resmondo fought back once again to a 48-42 championship win. Resmondo came back to win from big deficits in 4 of their 6 games, including the last 3.
The tournament had some real defensive highlights as well. Shoppe outfielder Dave Kessler climbed the fence and waited for a home run which he robbed. Laservision center fielder Brian Rainwater is on the video clip robbing a homer at the fence with some good timing. There was quite possibly the catch of the year when 3rd Street right fielder Drew Thieken made a full speed all out dive against Cash House late in the game to help preserve a 19-18 win. Words can't really describe how fast and how prone he was on the dive when he caught the ball. A truly spectacular catch. One of the best, if not the best of the season. There were not as many infield highlights throughout the weekend but Resmondo third baseman Jimmy Salas put on a show again with a full out dive toward shortstop and subsequent throw out, and then again on a Wegman line drive he leapt toward the third base line and got a piece of a liner and in one quick cat like motion grabbed the ball in foul territory and still managed to get the force play at second base on a long throw. Salas will most likely earn defensive MVP of the tournament.
Again in 2013 the local Cincinnati teams played up a level like they always seem to do on their home fields as 3rd Street and Pure Romance each pulled off some nice wins.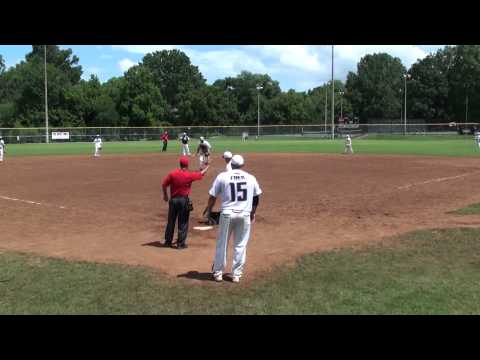 Some Resmondo and Laservision video clips
(looks like I accidently attached some Smoky clips onto the end of this video…oops)
Laservision finishes off Albicocco in the loser's bracket championship game on Sunday morning
Rumors/Tid Bits:
– Laservisions Mike Umschied had his left wrist sprained on a swing on an inside pitch.
– Brandon Jonas the pitcher for DEI/S&S was not injured on Friday night. The poster on the chat room and oldscout may have mistaken Jonas for the pitcher of S&S Pools who was hit.
– GTL first baseman Sean McDonald was hit by a bad hop in the face against PRI and came out of the game. Rumors of a tooth getting knocked out are not true.
– Former Reds Astros outfielder Brian Farrar is now with Pure Romance.
– Rumors of Buzini's demise were cleared up as they not only played in Cincinnati but will complete the season in its entirety. And they are playing pretty well and will be a Sunday threat at the 'B' World.
– Albicocco finished an amazing 3rd even with all of the roster changes and negative publicity. It is my understanding they will release those players like Chris Wilson, John Robinson, Eric Beattie, Faniglula, and Tapley. All of whom can help a team needing some great players. They did pick up infielder Ryan Goodman.
– Let me know if any of this is incorrect and I will post fixes.
– FBI is going to the major. This is a correction to the rumor they were not.
The atmosphere at Mid America Ballyard was first rate. The grounds crew did a nice job getting the fields ready after the rains. The umpires were experienced and put in some very very long days and deserve a break on some of the close calls. Some umpires like Bob travelled 14 hours by car and then was on the field well after midnight both nights. The picture I am trying to paint is that this was an incredible event, with long hard fought games, with very few run rule victories which made for some tense moments game after game. This led to tired players who then began to complain about the ever diminishing and disappearing strike zone that the conference has created. The small zones pushed many games well over the two hour mark and the complaining about the strike zone by pitchers, managers, and batters needs to be met with warnings, ejections, and simply awarding strike and ball penalties against said player. It definitely got a little ugly with all of the delays. A pitcher should not be allowed to turn his back on home plate in protest of a pitch call or walk around the infield in protest. This is quite frankly a waste of everyone's time, especially the fans that were sticking it out at 3 AM in the morning. Both of the top teams were doing this but only one of the top teams pitchers were ejected which will only fuel the perception of favoritism. Unfortunately I think it was Cincinnati in 2012 where this same topic of lack of warnings and ejections was talked about and here we are a year later with the same issue.
David Kessler and Kyle Cowart playing defense late into the night
---
Video Highlites brought to you by: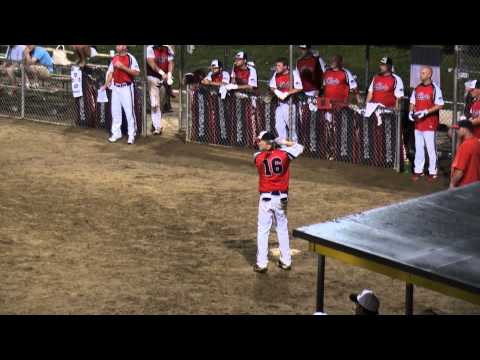 ---
Wegman worked his fields after the rain
---
Cincinnati Major Final Standings & Awards
Awards haven't been listed yet on the USSSA website
My pick for MVP is Resmondo DH BJ Fulk
My pick for offensive MVP is Laservisions Scott Kirby
Resmondo third baseman was playing both defense and offense as good as anyone in the game.
Lets give him Cincy Defensive MVP for those two spectacular plays at third base!
---
Team by team notes brought to you by:
1st Place – Resmondo-Specialty Tank/Worth
Conf 'M' from FL 6-0 Record
Resmondo played well in the second half of all of their games. They got off to unusually slow starts but where other teams fold to big leads, Resmondo's mental toughness and confidence shine through and they never give up. Down 18 in the winners bracket championship in the 6th inning at 3 AM in the morning is a tough spot. To have the stamina and focus to then put up 22 runs in one inning, every player has to contribute, and they did. I think they are the only team that truly values rest and knew they had to win at all costs Saturday night/Sunday morning in order to be able to finish Sunday with a tournament win. Resmondo's defense continues to play solid, their offense goes on huge runs when they need it, and they continue to amaze in new ways each weekend.
Connell hammers another bomb
Loyd Watson needs to exhale
---
2nd Place – Laservision/DesertFalls/Boombah/Easton
Conf 'M' from NY 5-2 Record
So close again. Laservisions number has been had by Resmondo. It doesn't matter how big the lead is, how many pitchers they throw at it, or who plays what position. The result, lately has been the same…2nd place. But the games, when not delayed by complaints about umpiring have been fairly entertaining and the Laservision offense has been about the best in softball. The defense just needs to finish plays that they get leather on and the result will be first place. 250 runs in 7 games, nice. It looked like Bryson Baker tweaked a muscle and was moved to second base. The good news is the team is fairly healthy for the stretch run.
Brian Wegman and Brett Helmer own the Mid America Ballyard
---
3rd Place – Albicocco/The Scene/Easton
Conf 'A' from NY 6-2 Record
This team came out of nowhere to beat Buzini, Cash House, OC Swats, and Demarini/Dirty all by 3 runs or less. They also knocked off 2 Major teams in Team Combat and Shoppe by 10+ runs each. The team fought hard and long all weekend, scored huge points in the Nationwide Conference standings and should jump in the computer rankings as well. Not many would have ever thought with all of the roster changes that this team could pull off a 3rd place in such a deep field of teams. Fun to see with everyone contributing.
---
4th Place – Demarini/Dirty/XtremeAthletics
Conf 'A' from FL 5-2 Record
Demarini survived Reds Astros on Friday night, blew a 16-0 lead against Laservision Saturday afternoon after the lightning delay, and had impressive wins over PRI, Line Drive, and Nordkap before losing to rival Albicocco on Sunday morning.
---
Tied 5th Place – Shoppe/TYJA/Louisville Slugger
Conf 'A' from TN 3-2 Record
Shoppe won their first three games including a come from behind 7th inning win over Line Drive 37-36 when Tim Cocco, Robert Blackburn, and Neil Haglund all hit homers. Then Laservision smoked them 31-9 and Albicocco beat them 35-25 late on Saturday night.
Rogowski, McCollum, Cordova on Shoppes right side
Neil Haglunds game winning homer against Line Drive. I think Tony Q is praying…
Shoppe left side – Lee Powers, Chente Granados, and Victor Cordova
---
Tied 5th Place – Nordkap/Suncoast Reebok
Conf 'A' from 3-2 Record
Nordkap struggled past a good Players Warehouse team 32-26 in their opener. Then they pulled one out against 3rd Street 25-21, and beat Albicocco 26-25 with some late inning heroics with the gloves and the bats. Then they jumped out to a big lead on Resmondo but failed to score in the top of the 7th and Resmondo scored 8 to beat them in the bottom of the 7th. In the loser's bracket they lost to Demarini/Dirty 31-27 very late on Saturday night/Sunday morning.
Get these sweet shoes at SuncoastSports.net
---
The Rest of the Nationwide Conference USSSA teams!
7 WA – Team Combat/LBG/Derby Boys
Team Combat lost their opener to 3rd Street 28-21 and then ran off 5 straight in the loser's bracket including winning on a walk off homer over Reds Astros 21-18 and beating upstart Trust/Detroit Elite 31-30 with some good defense late. They were knocked out by 22 runs against Albicocco.
Team Combat still doesn't have the 1,000 points that I thought would be needed to win a berth to the World Series but there are rumors that Sonny's is not going so Combat should be in with the 990 points that they have currently.
Combat was using a lot of their new additions like pitcher Alex Henry picked up from Rhino and Jared Goetz a middle infielder from the North West.
---
7 MI – Line Drive Sportz/SSS/Miken
Line Drive beat RSC and Taylormade by a combined score of 47-8. Then they had Shoppe on the ropes in the 7th. But Shoppe had 3 homers left and used them wisely to beat Line Drive 37-36. In the loser's bracket Line Drive sent 3rd Street home but their usual Sunday finish was halted late Friday when Demarini/Dirty knocked them out 32-20. Jason Ferguson sprained an ankle and the team still needs that backup pitcher but Line Drive played pretty well over all.
---
9 OH – Pure Romance/Chic's/Insanity/Easton
PRI played their best ball of the season after losing their Friday opener to DEI/S&S 22-19. They sent a couple of local 'C' teams home then beat 4 The Fallen 23-22 and upset GTL Doerflinger 25-23 before Dirty dropped them. PRI picked up outfielder Brian Farrar, Roger "Bear" Bias to help with the pitching, and also have Will Tollison (maybe they've had him, not sure). The team is looking to make a top 4 run at 'B' Worlds and they might just do it.
---
9 CA – OC SWATS/EASTON
Swats came all the way from California and drew a tough first game with Reds Astros who always play well in Cincinnati. Swats played ok but lost on a walk off homer 18-17. In the losers bracket they beat DEI/Scotts 35-34, and upset Taylormade 29-15, before dropping a close one to Albicocco with 2 on and 2 out, down 28-26 with a homer left. Ouch. The experience of playing so many close games could pay off. They need another pitcher, so if you are out there and want to step into a competitive 'B' team, apply now.
---
9 OH – 3rd Street/Louisville Slugger
3rd Street knocked off Team Combat in their opener 28-21, played Nordkap close in a 4 run loss, and beat a pair of tough 'C+' teams in KBI and Cash House. Then Line Drive sent them home 19-4 as they seemed a little out of gas.
Get your Louisville Slugger gear from 3rd Streets Robert Mahaffey
---
9 MI – Trust/ detroit elite/ easton/ mojo
Trust opened with a shocking win over Baugh Ford 24-7 and crushed an undermanned FBI team 20-5. Then they battled Resmondo but lost 30-15 and had Team Combat on the ropes in the bottom of the 7th but couldn't come through in a 31-30 loss. They had 2 on and no outs down one run with homers to spare. But they grounded into a double play and then flew out to CF. This shouldn't take away from their best weekend this year but their young team should be even hungrier now for what lies ahead in their future.
---
13 MS – Buzini/buffalowildwings/worth
Buzini is alive and well and ready to finish the season strong. They lost to Albicocco 25-19 in their Friday opener after leading most of the game. Then they beat two local 'C' teams and beat 'B' peer Precision 13-11 on Saturday morning before Team Combat run ruled them. Buzini is a little light on the offense and was missing their pitcher and a few players they cut but should still be a tough out at the 'B' Worlds.
---
13 OH – Cash house atm / louisville slugger
Beat GTL for their first "signature win" of the season. Then they almost backed that up with a win over Albicocco before allowing a walk off homer in the bottom of the 7th to lose 16-15. In the loser's bracket they sent TG Brand home on the show field before 3rd Street "Thiekened" them 19-18. This is another good 'C' team poised to turn the corner.
---
13 IA – GTL doerflinger r&m/easton
Not the weekend GTL was looking for. Upset by 'C' team Cash House, beat Famous and FBI. Lost to PRI. Sean McDonald was hit in the face by a bad hop but will be ok. Rumors he lost a tooth are false.
---
13 VA – Taylormade/tm sports/mizuno
Beat Famous 32-31 getting 3 runs in the bottom of the 7th. Then lost to Line Drive, beat Headhunters, and lost to OC Swats. Somehow Taylormade has played the points system well and has over 1,000 points?
---
17 GA – Head hunters / oi livingston / mwa
Didn't beat anyone. 2nd baseman is a beast (Ponder?).
---
17 AR – Fence brokers/hubs pub/gts/worth
Played without 5 starters. That didn't work.
---
17 AZ – 4 The Fallen/ Miken
Jumped on Headhunters and put them away. Went 7 innings with Resmondo. Dale Roe played.
---
17 MA – DEI/S&S/Scott's/Easton
Beat PRI and lost to OC Swats by a run. Brandon Jonas is a difference maker on this team.
---
17 IN – Red's astros/slugger/stucco/dirty
Beat Swats on walk off by Gilbert. Lost a big Friday night battle with Demarini. Lost to Team Combat on a walk off homer. Could have been a very different weekend with a little luck.
---
17 IL – Precision/hang rite athletics
Tony Elrod pitched for Precision. They squeaked out a win over P&P. Lost to Laservision and went home when Buzini beat them 13-11 early Saturday.
---
17 MI – TG Brand.MOJO.Easton
Some tight games were won and lost. Beat Baugh Ford 26-25. That was good.
---
25 MI – P&P333/suburban/larry/mojo/easton
Another tough weekend for P&P. But Puckett played well. 🙂
---
25 CA – Famous/Premier/Easton
Lost heartbreaker to Taylormade after leading the whole game. Won by forfeit then lost to GTL. Bad luck this weekend for a good team. Famous wore their Adam Elliot tribute shirts.
---
25 AL – Baugh Ford/mojo/louisville slugger
0-2 Ouch. Hit reset, rewind, skip, whatever you need to do and forget about this one.
Tommie Baugh with the old hold the ball outside the back of the glove trick – that is old school
---
25 OH – S&S pools/tpe/sportsco/easton
0-10 in Conference but 32nd in the points??? Sorry fellas but I had to say it to help spur some point system changes. There is some good talent on this team.
---
33 WI – WSC/Cazzi/Miken
Outscored 52-18…
More pictures below
---
Hot Links section brought to you by:
I would like to thank all of my sponsors, USSSA, the SoftballCenter and Oldscout advertisers!
A special thanks to Brian Wegman and Dave Maury for their hospitality.
Some of the archived games from the Cincinnati Major can be found here
USSSA Cincinnati tournament link
Link to Softballcenter.com pictures of the Cincinnati Major
Send corrections to dw@softballcenter.com
Link to the SoftballCenter.com Youtube channel
Link to the 2013 Tournament Reports
Link to the 2012 Tournament Reports
Nationwide Conference USSSA Points Link
SoftballCenter.com Computer Rankings Link
---
Some more pictures for you:
Defense Collage
KBI had Resmondo by 8 in the 5th inning!
Red's Astros leadoff man Doug Martin is one of the leagues leadin hitter's
Benches clear in the PRI vs GTL game. Talk of elbows and jawing.
All I know is my boy Rob ended up on the ground which means people had to be ejected.
The video was inconclusive on whether Ferguson held the bag or not
Mychael Evans has an interesting knuckle ball grip
Combats Hector Pagan bear hugs Buzinis Kelly Hartman. The ump tells the Buzini Steve Gentry he isn't getting involved. 🙂
Looks like Line Drive's Sal Fomosa beats this one barely. Hank Basset looks on.
Old GTL teammates Doug Reed and Victor Cordova
Sean Ballard of Albicocco played a little guitar in the bar
Playing a little corn hole in the bar
Bellas shared their beer. Thanks!
Softball Guys of the week
WTH?
32% were right
One response to "2013 USSSA Cincinnati Major Tournament Report!"
This site uses Akismet to reduce spam. Learn how your comment data is processed.