2013 USSSA 'B' World Tournament Report!
---
2013 USSSA 'B' World Tournament
Kissimmee, FL
September 13-15
Clint Harris hits a home run in the championship game for Chaps!
Link to the Softballcenter picture album of the 'B' World
USSSA 'B' World tournament info and bracket link
The USSSA 'B' World Tournament is in the books and it was Chaps/BWW/Worth/Buzini from Mississippi taking the title as they went an undefeated 6-0 to with the prestigious title. They beat Team Adiktiv/Dynasty/D2E/LS/TYJA 32-24 in the winner's final and surprising B&B/Sears/BMW Insulation/Easton 25-16 in the finals. Chaps averaged a tournament best 22.6 runs per game in the heat and humidity that kept scores down. 31 teams took to the fields, 25 were 'B' teams, 6 were 'C' teams, and 19 of them were from the Nationwide Conference USSSA. The teams travelled from 18 different states!
The tournament started on Friday afternoon with a big upset as Bella's/MOJO/Miken a 'C' team out of Ohio upset highly ranked Famous/Premier/Easton in a come from behind win 26-21. Also Valley Motors/Reebok/Easton/VTS from Rhode Island smoked Head Hunters/OI Livingston/MWA 20-2 and then beat ASPNation.com/Easton 11-9 on a 2 out bottom of the 7th walk off homer by player/sponsor John Redihan.
Also on Friday night, #1 seed Pure Romance trailed B&B/Sears 16-13 in the 5th inning when they got a couple of nice defensive stops and a fight broke out which shifted the momentum and the game in favor of B&B/Sears 25-10.
The action was fast and furious as many of the top teams hopes of winning the 'B' World went up in smoke in the Florida heat on Saturday. FBI, Precision, Famous, and OC Swats among others knocked each other out of the double elimination tournament. When the sun finally went down it was Chaps and Team Adiktiv in the winner's bracket championship game where Chaps won by 8 as both teams traded 3 and 4 run homers. On Sunday morning in the final 4 B&B/Sears used a huge last inning to beat Valley Motors after the score was tied going into the 7th. Then B&B/Sears upset big favorite Team Adiktiv in the loser's bracket championship with constant offensive pressure. In the championship B&B ran out of gas and Chaps took home the big hardware. All of the top teams seemed to be healthy coming in and had their entire rosters which made for some great matchups.
The celebration is on for Chaps!
Interesting that only 6% picked Chaps to win. I actually picked Chaps to win and Adiktiv to play in the winner's final but then I didn't have Adiktiv in the my final 5 which obviously can't happen.
---
Games from the 'B' Worlds: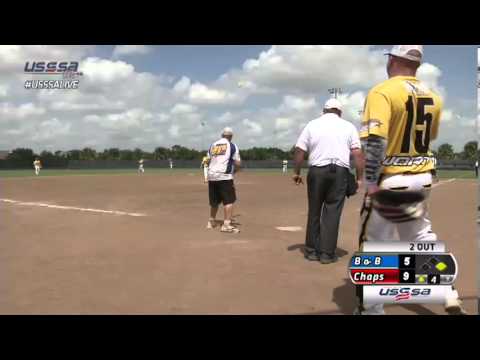 Chaps/BWW/Worth/Buzini vs B&B/Sears/BMW Insulation/Easton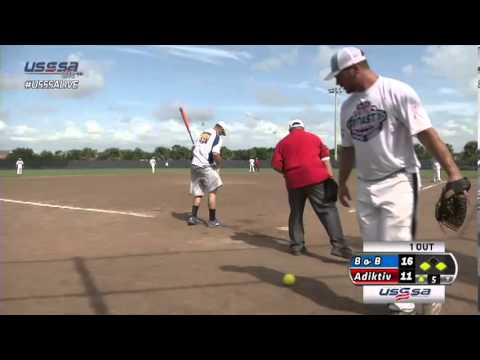 B&B/Sears/BMW Insulation/Easton vs Team Adiktiv/Dynasty/D2E/LS/TYJA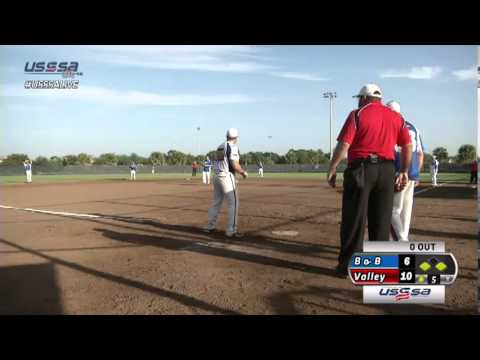 Valley Motors/Reebok/Easton/VTS vs B&B/Sears/BMW Insulation/Easton
---
Action from the championship. Maggard hits one to the fence against B&B Sears
Pure Romance pitcher Roger Drake against B&B
All of the games were streamed on USSSALive.com and the big games had a full film crew
Bellas Doug Shanyfelt pitches to Famous batter Clif Williamson.
The umpiring crew discusses an illegal re-entry of the OC Swats pitcher after two conferences the previous inning.
Conference Dudley ZN Classic M's of course
The small crowds were actually a little bigger than most 'B' Worlds.
---
Video Highlites brought to you by: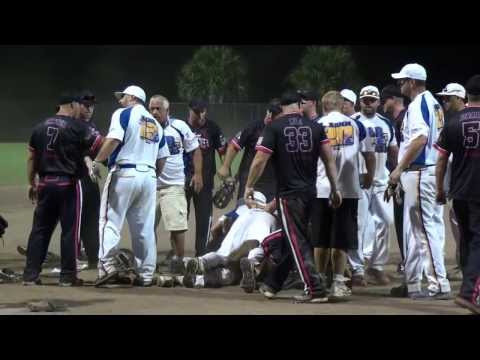 Bench clearing brawl at the 'B'
The fight video actually made it to CBSSports somehow but I accidently deleted it and re-loaded it on youtube.
Link to CBSSports article on the fight
Also some funny comments on Deadspin here
Some more comments on another site here
---
USSSA 'B' World Awards and Final Standings
| | | |
| --- | --- | --- |
| Player Tournament Awards | Players Name | Plays For |
| Tournament MVP | Billy Maggard | Chaps/BWW/Worth/Buzini |
| Defensive Tournament MVP | CHAD LOUDON | Chaps/BWW/Worth/Buzini |
| Defensive Tournament CO-MVP | DONALD PLAISANCE | Chaps/BWW/Worth/Buzini |
| All Tournament Team | MICHAEL CRAVEN | B&B/Sears/BMW Insulation/Easton |
| All Tournament Team | Steve McLin | Chaps/BWW/Worth/Buzini |
| All Tournament Team | JASON WILLIAMS | Chaps/BWW/Worth/Buzini |
| All Tournament Team | Paul Winner | B&B/Sears/BMW Insulation/Easton |
| All Tournament Team | Jason Gilfillan | Team Adiktiv/Dynasty/D2E/LS/YTJA |
| All Tournament Team | Joshua Wiggs | Team Adiktiv/Dynasty/D2E/LS/YTJA |
| All Tournament Team | Jason Magnum | Team Adiktiv/Dynasty/D2E/LS/YTJA |
| All Tournament Team | Chris Smith | Chaps/BWW/Worth/Buzini |
| All Tournament Team | Brady Bascle | Chaps/BWW/Worth/Buzini |
| All Tournament Team | Mitch Chappell | Chaps/BWW/Worth/Buzini |
| All Tournament Team | Kyle Wilks | Chaps/BWW/Worth/Buzini |
| All Tournament Team | Edmund Locklear | B&B/Sears/BMW Insulation/Easton |
| All Tournament Team | John Redihan | Valley Motors/Reebok/Easton/VTS |
| All Tournament Team | mike mcgoogan | Valley Motors/Reebok/Easton/VTS |
Most Valuable Player went to one of the hardest hitters in the game
Chaps infielder Billy Maggard
Offensive MVP was B&B/Sears SS and 11 hitter Willis James!
Chaps relief pitcher Chad Loudon scored Co-Defensive MVP with starter Donald Plaisance below
All Tournament for Chaps/BWW/Worth – Chad Loudon, Jason Williams, Donald Plaisance, Kyle WIlks, Steve McLin,
Brady Bascle, Chris Smith, Billy Maggard, and Mitch Chappell
All Tournament for B&B Sears – 3rd baseman Ed Locklear
All Tournament pitcher for B&B Sears Paul Winner
All Tournament – B&B's Jess Maloney who was one of the few players that were hitting consistent home runs in the heat on the big fields
All Tournament Mike Craven. I might not have a picture of big Mike, I think he was DH

All Tournament – Josh Wiggs (Left) and Jason Magnum (right) have provided the power all year long for Adiktiv
All Tournament for Adiktiv – RF Jason GIlfillan
All tournament for Valley Motors – pitcher Mike McGoogan and catcher John Redihan
---
Team by team notes brought to you by:
1st Place – Chaps/BWW/Buzini
Conf 'B' from MS 6-0 Record
Chaps win was a true team effort as all 18 players contributed. Chaps has offensive specialists, defensive specialists, and pitching specialists but they all chipped in and they all chipped in on both sides of the ball. To single out names seems a little silly when everyone played their role to perfection all weekend long and manager Steven Gentry ended the championship game in true team fashion by getting every player into the game.
Chaps is sponsored by Jarvis Chappell who has been around the game a long time and really stepped in to help this team finish the season. He was rewarded by a great effort and a World Title!
Congratulations to the entire Chaps team. It really didn't seem to matter who went into the game, they played for the team, and they are World 'B' Champs!
Kyle Wilks
Billy Maggard
Chad Loudon
Kyle Pearson
Jason Williams
Justin Stuart
Clint "Screech" Harris
Brady Bascle
Steve McLin
Mitch Chappell
Donald Plaisance
Chris Smith
Shane Pullen
Jake Mays
Brent Chappell
Cody Childress
Kelly Hartman
Claude Simoneaux
Professional hitters Kyle Wilks and Kelly Hartman both contributed but were hobbled by leg injuries
Clint "Screech" Harris and "the other" Kyle Pearson
Jason Williams and Justin Stuart
Brady Bascle and Steve McLin
SS Chris Smith
Mitch Chappell (with sponsor dad Jarvis in background) and Cody Childress
Jake Mays and Claude Simoneaux
Brent Chappell
Manager Steve Gentry handled a football team sized roster with class
---
2nd Place – B&B/Sears/BMW Insulation/Easton
Conf 'B' from NC 7-2 Record
B&B/Sears came out of nowhere to claim 2nd place. All year you could count the quality wins that they had in Conference play on one hand! But this goes to show you never give up. This team drove to Florida for the 'B' Worlds. They won 7 games against top 'B' opponents and they did so with 12 players. Another great effort and it just goes to show you how evenly matched this tournament was from team #1 to team #25. The B&B offense never gave up and in a few games the defense shut down opponents to single digits.
They were led by 3rd baseman Ed Locklear who was making backhand plays on the chalk and gunning runners from the grass as well as diving plays in the hole and popping to his feet to get an out, all while holding down the 2 spot in the lineup. Bill Rhew was working on an MVP weekend with the glove and the bat. They were tough up the middle with Rhew at MI, Matt Bunn a new player in CF different from the Baugh Ford Matt Bunn, and new pitcher Paul Winner who did a workhorse job on the mound.
Franklin
Locklear
Rhew
Mickey
Maloney
Winner
Craven
Walker
Matt Bunn
Eric Bunn
James
MI Bill Rhew was working on an MVP had B&B won two more games. Slugger Tim Mickey adjusted to the heat with some backside base hits.
Lefties Cory Franklin and center fielder Matt Bunn
---
3rd Place – Team Adiktiv/Dynasty/D2E/LS/TYJA
Conf 'B' from GA 4-2 Record
Team Adiktiv won their first four games against a variety of opponents from all over the country. But the best offensive 'B' team in the country got slowed down in both the winner's final against Chaps and in the loser's final against B&B/Sears. This was still a great team and a great effort as Cam Byars has really stepped up his game at pitcher and lead off, Tommy Melton made 2 or 3 of the most spectacular diving plays of the tournament, and Josh Wiggs, Jason Gilfillan, and Jason Magnum powered the team offensively. There was a nice assist by Gilfillan, a spectacular fence robbing homer by CF Matt Rando, and some hard picks and clutch hits by 3rd baseman Drew Pinkney.
This team needs to really bring it this week at the Major as they are one of the more entertaining teams in the nation with a lot of up and coming talent.
Hats off to manager Donnie Munford and sponsor Greg Millsaps for putting together a great group of players that were somewhat under the radar.
Cam Byars
Tommy Melton
Josh Wiggs
Jason Gilfillan
Jason Magnum
Ron Pearce
Matt Rando
Drew Pinkney
KR Eaton
Vincent Raley
Adam Barberie
Team Adiktiv manager Donald Munsford has done a terrific job assembling and tweaking this team
Cam Byars is the pitcher and lead off hitter and has stepped up his game big time. Middle infielder Tommie Melton was working on an offensive or defensive MVP if Adiktiv had won.
Adiktiv has a contingent of ex-Headhunters players Ron Pearce (below), and KR Eaton, Raley Vincent (above)
Sponsor Greg Millsaps comes through with a clutch two out hit in the bottom of the 7th
---
4th Place – Valley Motors/Reebok/Easton/VTS
'B' from RI 4-2 Record
Valley Motors got off to the great start crushing Head Hunters and hitting a walk off HR to beat ASPNation on Friday night. But the non-conference team from Rhode Island wasn't done or satisfied with that as they went on Saturday to beat B&B/Sears 17-14, lost to Team Adiktiv by just 2 runs, then beat Precision late on Saturday night to make it to Sunday. On Sunday they jumped out to a nice lead against B&B/Sears but couldn't hold on as B&B had a late surge and beat them 24-19.
Valley Motors has some veteran players like Lou Mongelli of ABS fame (among other teams), and a great nucleus of hard nosed softball players like Mike McGoogan (an underrated pitcher and great hitter), John Redihan, and Kirby Murphy. They pieced together a nice team with clutch hitters and some speed and ball blocking defense in the right spots. Valley Motors looks to play Nationwide Conference ball in 2014 and we the fans look forward to seeing it.
Brian Lang
Joe Arraiol
John Redihan
Mike McGoogan
Lou Mongelli
Matt Howard
Rob Nash
Kirby Murphy
Brad Yankee
Wes Schofield
Drew Devalles
Tyler Wilkins
Valley Motors takes on B&B Sears early Sunday morning
Veteran's Lou Mongelli and Kirby Murphy provided some good offense for Valley.
Lou won the 'B' World in 2006 with ABS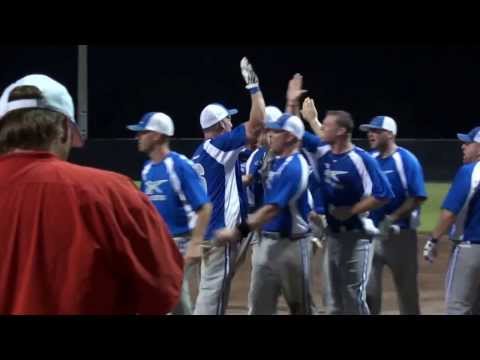 John Redihan hits a walk off homer for Valley Motors!
---
Tied 5th Place – Precision/Hangrite/Athletics
Conf 'B' from IL 5-2 Record
Precision opened with a late inning come back and walk off hit to beat Doc's Softball Club 12-11. Then they lost an extra innings game to OC Swats 16-15. In the loser's bracket on Saturday they impressively sent home 4 Conference 'B' opponents before losing to Valley Motors by 10. Precision made the World Series so it will be fun to get to see some of these players play on the big stage and they have positioned themselves, if they take the next step, as one of the top 'B' teams going into 2014 where the expectations will be much greater.
Precision takes on OC Swats in extra innings
Precision's Mark Holstein was back healthy and took a crack at the fence here
---
Tied 5th Place – Xtreme/Miken
Conf 'B' from MN 3-2 Record
Xtreme had 3 great wins to start, all of which were still in question late in the game. The fairy tale ride ended with a 4 run loss to Chaps in the semi-finals and a late night Saturday two run loss to B&B Sears. Xtreme has a nice mix of veterans like Kyle Decker and Dustin Palm at the top of the lineup and some younger up and coming players like Dan Skelly, Bremmer, and the O'Connell brothers contributing. This was a fun team to see have some success after a tough season in the Conference. They also play a little bit "old school" with a veteran management staff and a vocal roster of players that get into the game and support each other.
Skelly and Bremer
The rest of the 'B' World teams:
---
7th OH – Pure romance/chic's/insanity/easton 3-2 – PRI lost a hard fought game to B&B Sears in their opener 25-20. With the score at a 16-13 deficit for PRI, their pitcher Roger Bias instigated a bench clearing brawl that swung the momentum and the game over to B&B. The blame for the fight goes squarely to the "Bear" and B&B and the rest of the PRI team did nothing wrong in my opinion. In the future the umpires should probably just toss the instigator in this situation because allowing him to continue could only result in a fight. After consecutive great defensive plays by the PRI defense, their pitcher went over to the B&B sidelines and attempted to "intimidate" them with words as well as flagrant arm gestures. Finally the B&B managers had had enough and attacked Bear in a swarm which at one point laying on top of him under a pile of players. It is one thing to get fired up, it is completely another thing to get fired up and belittle your opponent 15 feet from their dugout…twice.
Enough said on the fight. Bear and one of the B&B managers were tossed and play resumed, no one was worse for the wear. Back in 2011 there was a bench clearing fight between Laservision and GTL and nothing came of it. I expect nothing else will come of this, and it should not. PRI regrouped to win 3 hard fought games in the loser's bracket before losing late Saturday to Precision 20-18 in a game either team could have won.
---
7th CA – OC SWATS/EASTON 3-2 – Swats played a lot of close games. They had an extra innings win against Precision and had a chance to beat Team Adiktiv but lost by 3. In the loser's bracket they beat Bella's before B&B Sears shut them down.
---
9th CA – Famous/Premier/Easton 3-2 – Famous scored 9 runs in the first inning of their opener including a pinch hit grand slam homer with two outs against Bella's. But they never did put Bella's away and ended up losing 26-21 in the most entertaining of the early Friday games. They did win 3 games in the loser's bracket before B&B Sears shut them down. For a while there I thought Famous might pull out a Sunday finish even after losing their first game.
---
9th AR – Fence brokers/hubs pub/gts/worth 2-2 – FBI beat their first two opponents 52-11 and had their eye on the prize. But they couldn't get past that 3 PM "heat of the day" game and lost two in a row. They had the bats in their hands with the winning run at the plate in the Xtreme quarter final game but came up short. FBI actually has a losing record against 'B' teams this year which is hard to believe. Maybe they can upset someone at the Major. They do have a great roster, each person just needs to step it up on both sides of the ball.
---
9 OH – Bellas/MOJO/Miken 3-2 – Bella's was one of the surprise teams of the tournament as they upset Famous on Friday night in a come from behind victory 26-21! After a bad loss 24-7 to 3rd Street, they knocked off YOLO and Checking before being Swatted 16-10. There is some great young talent on the Bella's team.
---
9th OH – 3rd street/louisville slugger 2-2 – 3rd Street beat their first two opponents 39-8 then the offense disapeared in two losses to top Conference 'B' teams.
---
13 TX – ASPNation.com/Easton 2-2 – ASPNation was one play away from beating Valley Motors in their second winner's game on Friday night. But the walk off homer sent them deep into the loser's bracket where they won one and lost one. ASP never had the confidence in the second half of the year that they played with in the first half.
---
13 MI – P&P 333/suburban/larry/mojo/easton 2-2 – Beat Old School and Head Hunters pretty good but didn't fair to well against Adiktiv or Precision. A frustrating year ends.
---
13th MA – DEI/S&S/Scott's/Easton 2-2 – DEI/S&S/Scott's won their opener against NE rival Checking and scored decent runs in every game they played. They also knocked off Vivid. They played much better after picking up Brandon Jonas to pitch. Probably exited a little early in a 11-10 loss to Famous.
---
13 CT – ChecKing/Worth 2-2 – Checking lost their opener to DEI/Scott's in another game that should never have been scheduled for the first round since the two teams are from the Northeast? Then they played 3 'C' teams in a row in the loser's bracket, winning two of them.
---
17th MI – Trust/ detroit elite/ easton/ mojo 1-2 – Trust beat Vivid by the run rule then had a shot late in the game against Chaps but lost 16-12 and was finished off by a veteran Checking team. Trust plays better when they play against the top teams.
---
17 TX – Vivid / softballmix.com / tyja 1-2 – Vivid was run ruled by Trust and DEI and beat a local 'C' team. Tough weekend.
---
Two and a nice view for Head Hunters (sorry couldn't resist)
17th GA – Head hunters / oi livingston / mwa 1-2 – HH scored two runs against Valley Motors? Then they beat Rochester with some good offense and was sent home by P&P 333. Bad weekend.
---

17th GA – Primetime/easton/elite/broughton rx 0-2 – Prime dropped two close ones to B&B and Precision. 0-2 after consecutive weekends scoring world titles in BSC and WSL was unexpected.
---
17th FL – YOLO/Anarchy 1-2 – Yolo won by forfeit.
---
17th TX – Old School/Elite 1-2 – This team should be commended for stepping up to 'B' this year and they did finish with a 10-9 record vs the 'B' division! They lost their opener to P&P 333 and only scored 2 runs. But they did get a quality win over Tharaldson before leaving.
---
17th FL – Doc's Softball Club 1-2 – Doc's led Precision 10-3 in the 5th inning in their opener but lost by 1 in the 7th. Then they beat AZM by a run on Saturday before being sent home by Pure Romance 14-10. Doc's still has a few remnants of the Kirby Investments team that won the 'B' Worlds in 2005.
---
17 MI – TG Brand.MOJO.Easton 0-2 – TG drew two top teams in FBI and Famous. They will dust themselves off and come back for 'C' Worlds this week.
---

25 NJ – Deluxe Bakery 0-2 – The Bakery boys weren't their usual hard nosed selves and only scored 6 runs in two games.
---

25 NY – Rochester athletic club / jammedup 0-2 – Last years 'C' World Champ dropped two to mid-level conference teams but kudos for stepping up and I hope to see this team and KBI in the Conference soon.
---

25 IL – KBI/OA Athletics 0-2 – KBI lost to Xtreme and Checking. They should fair much better this week in the 'C' World.
---
25 TX – South Texas Posse 0-2 – No showed
---
25 AZ – AZM 0-2 – AZM only scored 15 runs in two games. They had a "head scratching" draw playing OC Swats a team based very close to Arizona in the first round. I am not sure why the bracket makers continue to make mistakes like this for first round games? Tarwater? in the middle made some great plays and almost kept them in the games.
---
25th FL – Team Miken 0-2 – Went scoreless against Chaps in their opener but fought hard before losing to Vivid on Saturday morning.
---

25 ND – Tharaldsons/easton/extreme graphics 0-2 – Two and out for a very talented Tharaldson team. They fought hard on Friday to come back and tie their game against Team Adiktiv at 14-14 going to the bottom of the 7th but lost 15-14 then Old School sent them home in an upset 13-11 on Saturday. Tharaldson had some spectacular defensive plays by shortstop Scott Roen who may have been the best defensive shortstop in the tournament. With a better draw Tharaldson could have been a top 7 team.
---
Hot Links section brought to you by:
I would like to thank all of my sponsors, USSSA, and the SoftballCenter and Oldscout advertisers!
USSSA 'B' World tournament link
Link to Softballcenter.com pictures of the 'B' World
Send corrections to dw@softballcenter.com
Link to the SoftballCenter.com Youtube channel
Link to the 2013 Tournament Reports
Link to the 2012 Tournament Reports
SoftballCenter.com Computer Rankings Link
---
Some more pictures for you:
Ex-Softball Kingdom crew Jesse Hernandez and Kevin Bush playing for Doc's Softball Club
Fill in the caption here ____
FBI cracked out some new uniforms (GameTimeSupply.com)
One of the best in the game, Ken Hawk on the dish for the chip
All Tournament base coaches Kelly Hartman and Cody Childress
Softball Guy picture of the week because the dancing bear in a dress picture was just not acceptable viewing material
Kristen from the USSSALive crew would like to thank the players of Cheba Hut who helped her out when she passed out from the heat over at the USSSA 'D' Worlds
This site uses Akismet to reduce spam. Learn how your comment data is processed.