2013 USSSA 'A' World Tournament Report!
2013 USSSA 'A' World Tournament
Kissimmee, FL
Aug 16-18
USSSA 'A' World finals is under way with Nordkap pitching to Reds Astros!
Link to the Softballcenter.com picture album of the A World
USSSA A World tournament info and bracket link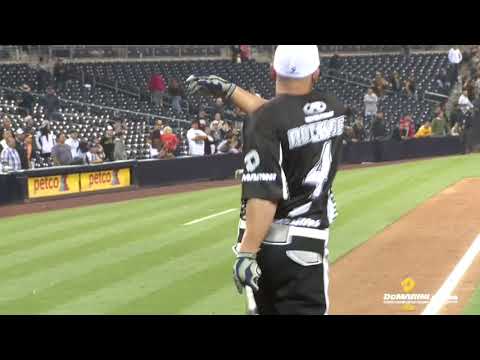 Championship Game #1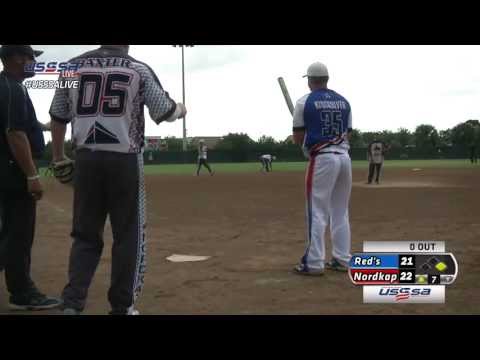 Championship "if" game
Nordkaps Chris Greinert gets one past Albicocco pitcher Dan Sanchez
Benches clear in the first game Sunday morning between Nordkap and Line Drive Sportz
MVP Scott Zaciewski hammers another nail in the Reds coffin!
Nordkap/Suncoast Reebok celebrates the final out!
Nordkap/Suncoast Reebok is your 'A' World Champion as they navigated a field of 9 stacked but evenly matched 'A' teams to win the tournament. Nordkap lost in the winner's bracket semi-finals 29-25 to Red's Astros before making a 5 game run to the title including wins over Sonnys, Line Drive, Albicocco, and Reds Astros twice! Red's looked to be in the driver's seat after besting third place Albicocco in the winner's bracket championship in extra innings 27-23 but were unable to score when needed in the top of the 7th of the "if" game against Nordkap and lost the championship 22-21.
A great weekend of softball started on Friday night and under the threat of rain all 3 days. A few showers here and there delayed the tournament but all games were played in full in 90 degree heat and humidity on the bigger than normal 310-325-325-325-310 fenced fields. The wind blew in on diamonds #2 and #3 and blew out on field #1 and #4 consistently most of the weekend.
After Friday's games all 9 'A' teams remained undefeated as the lower class 'B' and 'C' teams fell to the loser's bracket. On Saturday starting at 11 AM the heavy weight battles 'A' vs 'A' battles began as Albicocco beat GTL by one in a great game on the show field, Demarini won a low scoring 10-9 game over Sonnys with the wind blowing in, Red's Astros jumped out to an 11-2 lead on Line Drive and held on 20-13, and Nordkap crushed Baugh Ford 27-9. In the semi-finals Albicocco's Dan Sanchez hit a walk off homer to beat Demarini 29-27 and Red's Astros beat Nordkap 29-24 in a spirited game with plenty of action and big home runs.
Then Red's pulled off some huge defensive plays in the last two innings to beat Albicocco in the winner's bracket championship 27-23 and Nordkap came through the loser's bracket to meet Red's again and pull off the impressive "double dip" with some aggressive offense scoring near double figure innings in all 4 of their Sunday wins.
The tournament featured a full set of Nationwide Conference USSSA umpires and used the Dudley ZN Classic M ball.
Final game highlites:
– Grand Slam by Nordkaps Jason Baxter bottom of the 1st. 6-1 Nordkap lead.
– Travis Dale 3 run HR top 2. Kingsolver 2 run homer 8-6 Reds lead. Nordkaps Brian Zirkle great catch.
– NordKap puts up a zero in bottom of 2nd.
– Ryan Joiner 2 run homer 10-8 Reds top 3rd.
– TJ Thompson rbi single for Nordkap ties at 10-10.
– Scott Zaciewski 3 run knuckleball bomb! 13-10 Kap.
– Reyna rbi triple 14-10 Kap.
– Top 4 Reds Chad Mullins 2 run HR 14-13.
– Bottom of 4th Brian Zirkle and and Andrew Collins rbi doubles 17-13.
– Scott Zaciewski rbi single 18-13. Travis Dale great play in the hole at SS.
– Chris Greinert 2 run HR 20-13. Reds Krider upended at 2B.
– Top 5th
– RBI Doug Martin
– Sac Travis Dale 20-15
– Sac Chad Mullins 20-16 Reds trailing.
– Bot 5th
– Ryan Joiner backhand play at pitcher.
– Andrew Collins 2 run HR, Kap up 22-16.
– Top 6th
– Justin Aldora RBI double
– Sacrifice fly by Ryan Joiner. 18-22
– Krider 2 run triple. 20-22
– Travis Dale RBI single 21-22.
– Bot 6th
– Diver by Travis at SS
– Top 7th double play by Reyna at SS ends it.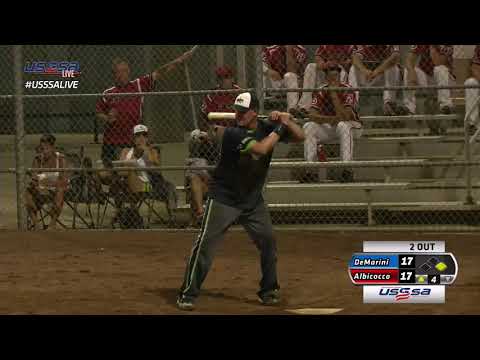 Albicocco vs Demarin winners semi-final game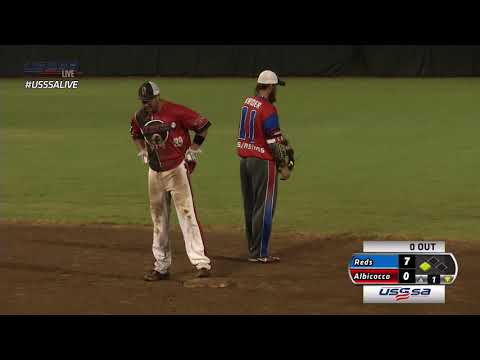 Winner's final – Red's Astros vs Albicocco
More games coming (I hope) on USSSA Today youtube channel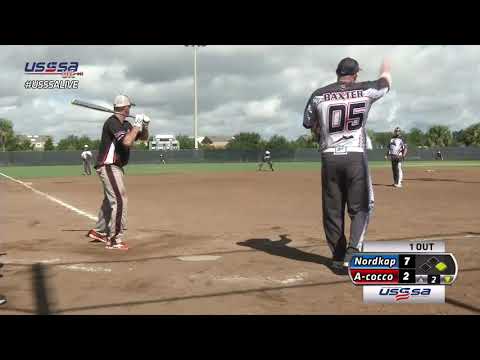 Nordkap vs Albicocco (loser's final)
Red's Astros middle infielder Troy Krider has turned a ton of double plays the last two weekends.
The "if" game of the Championship is under way with TJ Thompson pitching to Red's lead off man Travis Dale!
It was the same scene Saturday night in the semi finals with Thompson pitching to Dale
Fortune Road Park
---
Video Highlites brought to you by: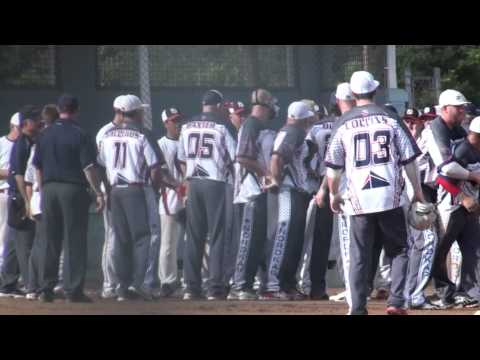 ---
---
USSSA 'A' World Final Standings & Awards
Nordkap/Suncoat Reebok MVP Scott Zaciewski was seeing the ball well
Red's Astros Co-Offensive MVP Chad Mullins
Red's Astros Co-Offensive MVP was their last batter Troy Krider
Co-Defensive MVP – Nordkap pitcher TJ Thompson
Co-Defensive MVP – Nordkap center fielder Brian Zirkle who made one
of the best catches of the season in the championship game!
---
Team by team notes brought to you by:
1st Place – Nordkap/Suncoast Reebok
Conf 'A' from MN 7-1 Record
Nordkap wins the men's A World Tournament with true grit and determination in the Florida heat and humidity. Nordkap opened Friday night with a tough Valley Motors team that had them tied at 11-11 on the show field mid way through the game. Then Kap caught fire and homered their way to a 29-11 run rule win. On Saturday Kap crushed Baugh Ford 27-9 Saturday around 11 AM and then was upset by Reds Astros 29-24 on Saturday night. In the losers bracket they won an amazing 5 straight games, including 4 in a row on Sunday, vs the top 'A' teams in the country and won the title.
On Sunday they beat Line Drive and Albicocco by the run rule and then broke open a close game in the first game of the championship against Red's to win 36-20. In the second game the defense came alive late and a couple of great stops by infielder Luis Reyna on both sides of the diamond gave Nordkap a 21-20 win and they didn't have to bat in the bottom of the 7th!
From the consistent line drive hitting of MVP third baseman Scott Zaciewski, to the raw power of their twin monsters Chris Greinert and Jason Baxter, the timely pinch hit homers of Cory Boothe, the shut down relief pitching and timely hitting of TJ Thompson, and the extra base hitting of Brian Zirkle, Luis Reyna, and Jason Branch it was a true display of team work on both sides of the ball. Also it was a testament to good hydration and experience playing in the Florida heat on the big fields. Nordkap played mostly with a 10 man lineup as catcher Dustin Roberts was knocked out of Friday nights game and most of the weekend with a dislocated toe on a play at the plate. Matt Crawford was turning the DP's, Anthony Dress was steady at 2B, and Andrew Collins kept the team fired up with some big homers. A great comeback story and a well earned 'A' World Title. It's unfortunate they didn't get to celebrate a whole lot because of a rain storm that came through right after the game ended. Nordkap averaged an impressive 25.6 runs per game.
Nordkap/Suncoast Reebok "powered by" Chris Greinert!
Lead off hitter Scott Zaciewski and Jason Branch
Jason Baxter and Luis Reyna
Matt Crawford and Andrew Collins
Brian Zirkle
Brian Higginbotham and Cory Boothe
Johnny Gallegos
Chris Greinert 1B, Anthony Dress 2B, Matt Crawford MI
The Olsons celebrating their 'A' World Championship!
---
2nd Place – Red's Astros/Slugger/Stucco/Dirty
Conf 'A' from IN 4-2 Record
Red's won their first three games, a 40 minute game 18-2 over S2S scoring big in the first inning. An impressive 20-13 win over Line Drive as they scored 11 runs in the first inning. And a 29-24 win over Nordkap, again scoring big in the first inning. Then in the winner's bracket championship they kept an 17-17 tie in the bottom of the 7th when they held Albicocco scoreless because of a line out/throw em out double play caught by 2nd baseman Fred Lawson. In the top of the 8th they scored an amazing 10 runs and held on to win by 4.
Needing to be beaten twice in the finals on Sunday, they came out and played a close game with Nordkap until Kap separated late in the game and won big 36-20. Then in the "if" game the Red's squandered multiple bases loaded situations but still had a chance in the top of the 7th needing just one run to tie but grounded into an out and a double play to end it. Red's was the "feel good" story of the tournament and came up just short of a story book ending. Reds has no players on the Major list while Nordkap has 4 or 5. But you would not have known it if you watched the 3 games that the two teams played.
Reds showed some great heart and talent and should be a top 'A' team for years to come after being bumped to the 'A' division earlier this season. Reds have been playing their best ball the last two weeks and its been fun to see. Also impressive has been the power displayed by pitcher Ryan Joiner who had some big homer's in this tournament.
Travis Dale and Rob Roop
Sponsor Herb Price and his wife celebrated their 45th wedding anniversary with a winner's bracket championship!
Red's gets the double play in the bottom of the 7th all tied up
---
3rd Place – Albicocco/The Scene/Easton
Conf 'A' from NY 3-2 Record
Albicocco trailed 17-16 to 4 The Fallen in their Friday opener when Fallen hit a bunch of home runs in the bottom of the 6th to take the lead. Then Albicocco rallied in the top of the 7th with a couple of homers and held Fallen scoreless in the bottom of the inning to win 21-17. In their second game which was on Saturday Albicocco was down 16-12 to GTL, but scored 9 runs in the bottom of the 6th and won 21-20. Dirty Sanchez, Steve Allen, and Kevin Ballard had some big homers and the left side of the Albicocco defense made the tough plays that the GTL team did not. On Saturday night after the rain delay, Albicocco beat Demarini/Dirty 29-27 on a walk off homer by pitcher Dan Sanchez which sent them to the winner's bracket championship game. In the winners final Albicocco was the home team and in the driver's seat when they held Red's scoreless in the top of the 7th and went into the bottom half tied at 17-17. Albicocco used a couple of all out diving plays by SS Robert Knoblauch and middle infielder Tony Mack to hold down Red's. Needing just one run to win it, they got a runner on and one out and hit a low liner towards second base that was caught just above the ground and was used to double off the runner at first base for the third out. In extra innings, Reds beat Albicocco 10-6 and Albicocco dropped to the loser's bracket. On Sunday in the loser's bracket they just never could match Nordkaps offensive performance and lost 25-9.
Albicocco let a golden opportunity and probably an 'A' World title get away from them late in that winner's final.
Chris Moon, Robert Knoblauch, and Tony Mack all made some incredible plays during the weekend
Mack tries to improvise
The "16" on the sleeve is in remembrance of Ryan "Psycho" Robbins
who recently passed away and was going to play with Albicocco in 2013.
Albicocco center fielder Evan Gallmeier climbs the fence yet again
---
4th Place – Line Drive Sportz/SSS/Miken
Conf 'A' from MI 4-2 Record
Line Drive put on a hitting clinic which impressed the USSSA leader Don Dedonatis Sr who was in attendance all weekend. They painted the lines and the gaps to a 29-13 win over Head Hunters on Friday night. In their second game against Red's Astros they let up 11 runs in the first and made one comeback run at Reds, closing the gap to 14-11 before losing 20-13. Line Drive showed some "humanness" in the loss as they struggled offensively against an inbound wind on a big field. In the loser's bracket Line Drive found a soft spot as they beat Headbangers and 3rd Street by a combined 45-15 and then out hit Demarini 28-25 in an entertaining game to make it to Sunday. On Sunday they did what most of the Sunday finishers did against Nordkap and just plain got beat 25-5 after scoring the first 5 runs in the top of the first inning? Line Drive played without outfielder Dan Hall.
Tarz Nation tries to get it going in the loser's bracket against Demarini
Line Drive's Jason Ferguson on Sunday morning
---
Tied 5th Place – Sonnys
Conf 'A' from WY 3-2 Record
Aaron Martinez and Brian Faria
Sonnys beat Adiktiv 20-10 in a game which had a quick start but only Sonnys continued the scoring. Then Sonny's let their tournament slip away when they went into the bottom of the 7th needing just 3 runs against Demarini/Dirty and left the tying run on 2nd or 3rd base and the winning run at the plate twice. In the loser's bracket they dispatched of Head Hunters 15-7 and jumped out to a lead and held on to beat GTL 17-14 before Nordkap sent them home 17-13. Pesso played SS which moved Martinez over to 2B. And they played without infielder Manny Liriano.
Sonny's picked up SS Matt Pesso
Tyson Steele pitched most of the innings for Sonny's
---
Tied 5th Place – Demarini/Dirty/ExtremeAthletics
Conf 'A' from FL 2-2 Record
Demarini/Dirty run ruled the Headbangers 20-4 on Friday night when Larsen and Brungardt were trying to see who could hit the ball the furthest (just kidding). On Saturday they held onto a 10-9 win over Sonny's when Sonny's had two shots to hit walk offs. Good pitching by Shawn Jones. Then in the winner's bracket semi-finals they let up a walk off homer to Albicocco in a 29-27 loss, and went home late on Saturday night when Line Drive outslugged them 28-25. Dirty had all of their players and were so close to that Sunday finish. They could still be a dangerous team at the Major where the softball world needs some of these top 'A' teams to gang up on the Major teams and give them a run.
Left Side 3rd Baseman Dale Brungardt and SS Orlando Castillo
---
The rest of the Conference Teams:
Tied 7th OH – 3rd street/louisville slugger – 3rd Street was the highest finishing 'B' team at the 'A' Worlds as they lost their opener 20-19 to a local 'C' team S2S on Friday. Then in the loser's bracket they scored some of their biggest wins of the season as they beat 4 The Fallen by the run rule 32-17, Primetime 10-5 in a wind blowing in game, and sent Baugh Ford home by the run rule 22-7. I didn't see a lot of 3rd Streets games but whenever I did stop by they were trotting into second base with doubles. 3rd Street positions themselves as one of the 'B' teams that could win the Conference qualifier and or make a Sunday finish at the 'B' Worlds. 3rd Street continues to trend up. I enjoyed the veteran Bobby Noeths late night story telling by the pool. I hear he played in the first ever Smoky Mountain Classic. And there is no way he can retire or else the back up pitcher they call "walk off" would have to pitch… 🙂 And I don't think Thieken is as fast as Usane Boldt's kid although it would have been fun to find out. Oh and finally, Columbus Pipe was not the last 'B' team to beat Resmondo on a 300 foot field when they did it back in St Louis in 2008. Reds Astros is the last team to do it and that was in 2012 in Chicago.
---
Tied 7th – IA – GTL Doerflinger R&M/easton – GTL run ruled Primetime in their opening game on Friday night. On Saturday at noon they gave one away to Albicocco who outplayed them on defense. It was a good game which featured two clutch 3-run homers by GTL's Kyle Pearson and a big pinch hit homer by Vince Bisbee, but the team was unable to overcome 12 unearned runs in a 21-20 loss. In the loser's bracket GTL made quick work of Valley Motors 21-1 before Sonnys jumped on them early and GTL wasn't able to make a full comeback and lost 17-14. A tough weekend for GTL as they think of what could have been. Hopefully GTL can be one of the teams who can upset some of the majors in the coming weeks.
---
Head Hunters picked up infielder Scotty King
Tied 9th GA – Head Hunters / oi livingston / mwa – Head Hunters won a solid opening game over API 15-10 on Friday night but lost to Line Drive when they were flip flopped an hour later 29-13. In the loser's bracket they outpowered Shockers 19-7 before Sonnys sent them home 15-7. Head Hunters will be a long shot to win either the Conference Qualifier or the 'B' Worlds but should go down swinging in both.
---
Tied 9th – RI – Valley Motors/reebok/easton/vts – Valley Motors is a prospective 2014 Nationwide Conference team and they trailed their opener on Friday night by 10 runs to Miami Blitz before making a big comeback and winning on a walk off homer by lead off hitter Jay Arraiol. In the second round Friday night they had Nordkap all tied up at 11-11 in the 4th inning before Kap scored the last 18 runs of the game and Valley lost 29-11. In the loser's bracket Valley Motors fought Taylormade in the rain to a 14-11 victory but lost to GTL 21-1. Valley Motors looked good, competed in all but the last game, and gained some experience at Fortune Road for the upcoming 'B' Worlds. Conference veteran Brad Barnowsky was picked up to do the pitching and they played without Canadian Jeff Gare and without Jeff Wallace who is now on Team Combats roster.
---
It looks like Baugh pitcher Eric Byrum is actually still touching the rubber when he releases the pitch eventhough Nordkap complained he was not.
Tied 9th – AL – Baugh Ford/mojo/louisville slugger – Baugh Ford out slugged Taylormade in their opener at 8 AM on Saturday morning 31-19. Then in their second game they jumped out to a 4-1 lead on Nordkap before the offense disappeared and the wheels came off as Nordkap took advantage of every little Baugh Ford mistake and sent Baugh to the loser's bracket 27-9. The Baugh offense continued to sputter in the loser's bracket as 3rd Steet sent them home 22-7. Baugh did have all of their players as Bridger and Hendren were able to make the tournament after all. Baugh Ford has two tournaments left, the Conference finals and the Major World Series.
---
Tied 13th GA – Primetime/easton/elite/broughton rx – Primetime beat the local Shockers 'C' team 17-8 in their opener on Friday night after the game was tied at 8-8 after 7 complete innings. Some base running errors really hurt Primetime. Then in extra innings Dennis Davison hit a big homer and Primetime scored 9 runs in the top of the 8th inning to win it 17-8. In their second game GTL run ruled them 25-8. In the loser's bracket Primetime took care of API 17-7 in a game they led the whole way but then lost a low scoring and very quick game to 3rd Street 10-5 over on field #2 with the wind blowing in. Primetime had all of their players and will have one last shot to make the Major at the Conference last chance qualifying tournament and will hope to fair better at the 'B' Worlds in September.
---
Tied 13th VA – Taylormade/tm sports/mizuno – Outslugged by Baugh Ford 31-19 early Saturday morning in their opener. Won by forfeit over STP and then was upset by a very good non-conference 'B' team Valley Motors 14-11. TMade was missing their player/sponsor/leader Brian Floyd.
---
Tied 17th AZ – 4 The Fallen/ Miken – 4 The Fallen led Albicocco 17-16 at the end of 6 full innings of play as they hit a bunch of home runs led by Denny Crine and Dale Roe in the bottom of the 6th. Then Albicocco rallied in the top of the 7th with a couple of homers and held Fallen scoreless in the bottom of the inning to win 21-17. Fallen then got hammered by Conference 'B' team 3rd Street 32-17. Fallen looked to have all of their players and their USSSA season has unfortunately come to an early end.
---
Tied 17th GA – Team Adiktiv/dynasty/d2e/ls/tyja – The Adiktiv offense wilted in the Florida heat as Sonnys separated from them in the middle innings and beat them 20-10. In the loser's bracket Adiktiv let up 14 runs in the first inning to a feisty Miami Blitz team and lost 21-17.
---
TX – South Texas Posse – STP was a no show?
---
The middle infielder and big SS for API made some nice diving stops
---
More pictures below
---
Hot Links section brought to you by:
I would like to thank all of my sponsors, USSSA, and the SoftballCenter and Oldscout advertisers!
Link to Softballcenter.com pictures of the A World
Send corrections to dw@softballcenter.com
Link to the SoftballCenter.com Youtube channel
Link to the 2013 Tournament Reports
Link to the 2012 Tournament Reports
SoftballCenter.com Computer Rankings Link
---
Some more pictures for you:
Nordkaps Matt Crawford hits one through the legs of Reds pitcher Ryan Joiner
Scott Zaciewski didn't slide on this dive
A select group of the top Nationwide Conference umpires came in to do the 'A'
"Cheese" and his legion of softball super fans!
Softball Guy picture of the week is between Josh Olson (above) coaching the bases with batting gloves on 🙂
and this Demarini Headbangers players who hit with his grandmas gardening gloves on?
Laservision's Kevin Kennington watched a few games and is recovering from a broken ankle
Albicocco's Ryan Goodman helps the grounds crew
These two Norkap fans were doing the heavy lifting
Rachel from USSSA is leaving. We wish her the best of luck in the future.
The lone ranger heads for his horse!
One response to "2013 USSSA 'A' World Tournament Report!"
This site uses Akismet to reduce spam. Learn how your comment data is processed.