2013 Nationwide Conference USSSA Dudley tournament report!
2013 Nationwide Conference USSSA
"31st Annual"
Dudley/Budweiser/Easton Major
Brooklyn Center, MN
June 21-23
Resmondo right fielder Jeremy Isenhower robs Laservisions Kevin Filby of a first inning homer!
Resmondo celebrates an Andy Purcell homer in the first inning of the championship game!
Resmondo-Specialty Tank/Worth defeated Laservision/Desert Falls/Boombah/Easton by the run rule in the championship game of the 31st annual Dudley. The tournament was shortened by a massive rain and wind storm that hit hard on Friday night and flooded the main fields at Central Park when the river it is located next to overflowed. The main 2 fields were rendered unplayable for the weekend. The backup fields at Evergreen park were also deemed unplayable for the weekend by the Brooklyn City grounds crew and it was only through the hard work of 30+ year veteran director Warren Bellm that the tournament was played at all. Warren used his connections with a neighboring city to secure two fields at Becker Park for 6 hours on Saturday. With only 6 hours to get the tournament in, Warren decided to play a Nationwide Conference team only single elimination tournament with 5 inning games.
So the "new" 7 team tournament started on Saturday morning at 10 AM and finished at 3:30 PM with Resmondo winning. Unfortunately 17 of the non-conference teams were unable to participate and one team – Syndicate out of Missouri who was picked to finish 4th in the event was sent home with a 2-0 Friday night record before the storm hit. There were tough decisions that had to be made in a short period of time and the tournaments hands were tied by city officials that said the Evergreen park was unplayable.
Video of the Championship Game brought to you by: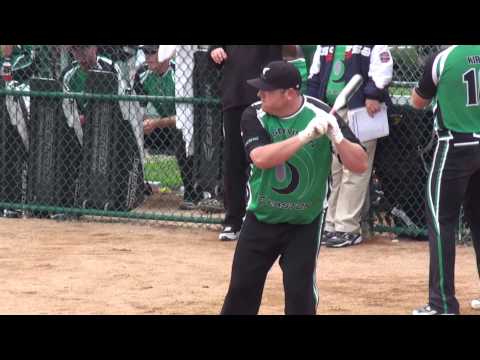 Resmondo vs Laservision first two innings of the championship
Note: you can increase the quality of the video by selecting the icon that looks like a "gear" and picking a different pixel setting.
The higher the better even HD. Youtube seems to be having problems with the default pixel settings right now.
Game #1 – Shoppe knocked off WSC by the run rule after WSC hung around down 12-8 halfway through the game.
Game #2 – Xtreme/Miken knocked off Hortenbach Auto/Easton in a Minnesota grudge match by 5 runs.
Game #3 – Laservision made quick work of Team Stoop.
Game #4 – Resmondo jumped out to a 21-1 lead but Xtreme fought back before losing by 15 (I think it was).
Game #5 – Laservision put up a huge inning and run ruled Shoppe by 20 (I think).
Game #6 – Resmondo takes on Laservision in the Championship game of the Dudley
Becker Park was scenic
The dark clouds rolled in on Friday night
Central Park main fields were flooded and unplayable. The storm even knocked over some grand stands.
My windshield looked like this on Friday night during the storm
The fans were enjoying themselves til the storm came
Some fans found Becker park and enjoyed the finals.
---
USSSA's Hank Bassett and director Warren Bellm saved the day by finding a place to at least play a few games.
---
Major Final Standings & Awards
Team by team notes brought to you by:
1st Place – Resmondo-Specialty Tank/WorthAn
Conf 'M' from Florida 2-0 Record
---
2nd Place – Laservision/DesertFalls/Boombah/Easton
Conf 'M' from New York 2-1 Record
Kevin "male model" Kennington (nickname is an inside joke)
Geno Buck playing in front of hometown fans
---
Tied 3rd Place – Shoppe/TYJA/Louisville Slugger
Conf 'M' from Tennessee 1-1 Record
"E"
---
Tied 3rd Place – Xtreme/Miken
Conf 'B' from MN 1-1 Record
---
Tied 4th Place – H. Auto/Easton/Hooters/MOA
Conf 'C' from MN 0-1 Record
---
Tied 4th Place – WSC/Cazzi/Miken
Conf 'C' from WI 0-1 Record
---
Tied 4th Place – Team Stoop/Alt Analysis/Miken
Conf 'C' from MN 0-1 Record
DEI

More pictures below
---
Hot Links section brought to you by:
I would like to thank all of my sponsors, USSSA, the SoftballCenter and Oldscout advertisers and the hospitality of Warren Bellam and Bob Hortenbach!
Send corrections to dw@softballcenter.com
Link to the SoftballCenter.com Youtube channel
Link to the 2013 Tournament Reports
Link to the 2012 Tournament Reports
Nationwide Conference USSSA Points Link
SoftballCenter.com Computer Rankings Link
---
Some more pictures for you:
Evergreen fields that were deemed unplayable by the city. Photo at 10 AM Saturday morning.
This site uses Akismet to reduce spam. Learn how your comment data is processed.