2012 Nationwide Conference USSSA Championships report!
2012 Nationwide Conference
USSSA Championships
Kissimmee, FL
August 30 – September 2
R&M's Kyle Yerkes tags out TYJA's Neil Haglund at the plate in the Conference Championship game
The Conference Championships are broken up into 3 brackets. The top 16 teams in the Conference regardless of team classification start in the "Open" division on Friday night at the Osceola County Stadium and surrounding baseball fields in Kissimmee, Florida. Seeds 9-16 begin in round 1. The 4 winners move on to round 2 to face seeds 5-8. The 4 winners of round 2 move on to face seeds 1-4. The loser's of round 1 and 2 drop into the "Lower" bracket and start a new double elimination tournament of their own over at the Fortune Road softball complex on Saturday. The top 4 seeds in the "Open" division and the 4 teams that win their way into the "Open" division final 8, square off in a double elimination tournament to determine the Conference Champion! The third bracket is the 'B' Conference Championship and that consisted of 5 'B' teams squaring off in a 3 game guarantee bracket at Fortune Road.
The weekend was hot and humid but never did have any rain. The ball used on the baseball fields was the stadium zn and it was not flying all that well on the stadium or on field #1 with the wind blowing in. It flew a little better and scores were higher on field #2. On Friday night the upsets were early and often as 3 major teams all lost their first game. Combat, Resmondo, and Laservision all lost and Nordkap/Desert Falls pulled out a late inning win against Team 454.
It quickly became evident that infield defense was the key to winning and one team stood out in that category – TYJA-Suncoast Reebok. With Dennis Rulli at third, Luis "the acrobat" Reyna at short, Matt Crawford up the middle, Victor Cordova at second base, and Jason Baxter at first, they were holding teams to less than 10 runs on a regular basis. The pitching combo of TJ Thompson and Perry Hensley along with their 3 left handed and fast outfielders David Kessler, Michael Stephany, and Neil Haglund chipped in to hold their opponents to just 58 runs over 6 games. Less than 10 runs a game!
When the games finished on Saturday night Nordkap/Desert Falls was the only top 4 seed left in the winner's bracket and they were joined by the 3 hottest 'A' teams in the game TYJA-Suncoast Reebok, R&M Metals who recently won the 'A' Worlds, and Shoppe.
On Saturday morning TYJA and Nordkap both advanced behind some big defensive plays and TYJA came out in the winner's bracket finals and beat Nordkap 27-16 to be the undefeated team.
Meanwhile R&M Metals ran the losers bracket and held off Nordkap 27-22 to make it to the championship where they scored 3 runs in the top of the 7th and held TYJA scoreless to force an "if" game 9-8.
In the final game, R&M Metals scored on a 2 run homer by Keith Anderson in the first inning and a 2 run homer by Reggie Schulte in the 2nd to take a 4-3 lead. Then TYJA was sparked by run scoring triples by Neil Haglund and Michael Stephany which led to a 9 run bottom of the 2nd and a 12-5 lead. David Kessler then hit a home run in the bottom of the 4th for TYJA which led to a 6 run 4th and TYJA went on to win the Conference Championships by the run rule over R&M Metals!
TYJA-Suncoast Reebok becomes the first 'A' team to win the Conference Championships in its 7 year history:
2012 TYJA-Suncoast Reebok
2011 Resmondo-Specialty Tank / Worth
2010 Dan Smith/Menosse
2009 Resmondo/Specialty Tank/Worth
2008 Resmondo/Specialty Tank/Worth
2007 Resmondo Softball
2006 Bell Corp/Taylor/Belcher/Easton
Meanwhile in the "Lower" bracket Linedrive Sportz/SSS Softball out of Michigan beat Down2EarthSports, Buzinisports, and Reds Astros to make it to the Championship game undefeated. Reds Astros came out of the losers bracket and beat Linedrive on Sunday morning to force an "if" game where Linedrive won the Championship of the "Lower" bracket 15-9.
In the 'B' Division Magic/S&S/TYJA/Easton defeated B&B/Sears/N&N Finishing 24-13 in the "if" game to win it. I wasn't able to make it over to the 'B' division so I am not sure exactly how everything went there. My apologies to those 'B' division teams, I will try and get you some extra coverage next weekend at the USSSA 'B' World Tournament!
Some interesting notes:
– The visiting team in each game was automatically the lower ranked team in conference points.
– 85% of the wins on the stadium field were upsets.
– We had 2 'A' teams in the Championship of the "Open" bracket and 3 'A' teams in the top 4 Sunday finishers.
– Major teams were 2-9 on the weekend.
– We had 2 'B' teams in the finals of the "Lower" bracket.
– There were only 4 run rules in 38 games of the "Open" and "Lower" brackets.
The weekend had some great softball. The umpiring by a full contingent of Conference umpires was very good.
And now the table is set for the Major World Series:
– Can Resmondo rebound and continue their perfect streak of run rule victories at the show? Or will the top Conference 'A' teams help crown a new champion by upsetting the perennial favorite? There are rumors of some chemistry issues on the Resmondo roster after their 0-2 weekend.
– Can Laservision, who put all of their eggs in the Major basket, pull off a one time spectacular run?
– Can a team like Combat built with left handed power step up to the next level?
– Can Team 454 who has double dipped two Major teams this year break through and pull it off?
– Can upstart Demarini/Dirty use their youthful enthusiasm to shock the softball community? Or has the shine been taken off this team by late season injuries during a grueling 2012 season?
– Or can Shoppe, TYJA, or R&M Metals use their late season momentum to become the first 'A' team in history to win the show?
The last couple of years we have seen T&R Stucco, FBI, and Taylormade come out of nowhere to push the favorites to the limit at the World Series. It can, and will happen at some point.
TUNE IN to USSSALive, SoftballCenter, and ESPN3 for all of the ACTION and DRAMA!
TYJA – Suncoast Reebok wins the 2012 Conference Championships!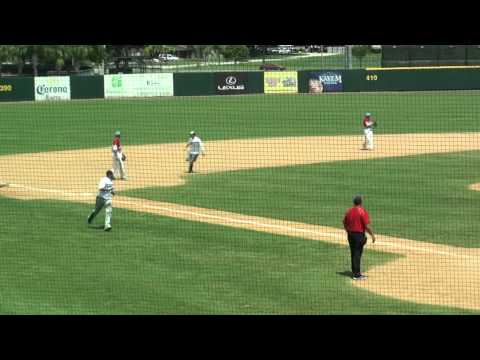 Championship game highlites
Suncoast Reebok sponsor Lee Trotter and TYJA sponsor Mark Weber with the Championship trophy
R&M Metals manager Rob Humphrey and TYJA manager Mark Weber for the coin flip with a full compliment of the best Conference umpires
After a couple of middle shots hit pitchers in the Championship, the benches cleared
TYJA's Victor Cordova paints the left field line for a triple in the Championship game
TYJA – Suncoast Reebok celebrates the final winning run
Team 454 Worth put up 12 runs in the first inning and beat Resmondo
https://lh5.googleusercontent.com/-obxevNK2YAk/UESodhMWCII/AAAAAAAASVY/XhtVBbism6k/s800/20120902081504%25281%2529.JPG
Linedrive Sportz/SSS Softball's Cory Large hits against Red's Astros in the championship game of the "Lower" bracket
Stadium Field archived games done by USSSA Live can be found here when available
All of the archived games on Field 1 can be found here
Conference Championship tournament information
2012 Nationwide Insurance Conference Schedule
Link to some additional pictures that USSSA has taken
---
Video Highlites brought to you by: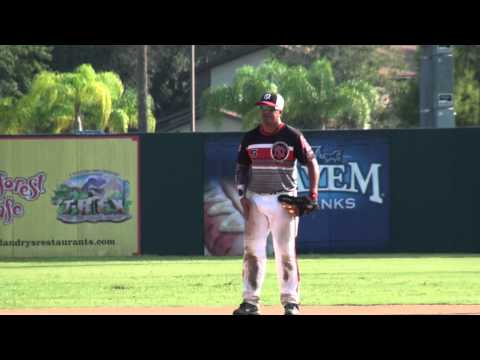 Conference Championship highlites
---
The "Mojo Masher" of the week is:
R&M Metals/Troupe/Pipac/S&R/Easton's Keith Anderson
AND
Linedrive Sportz/SSS Softball's Thomas Luna!
Keith Anderson has been MASHING all year long for R&M who really needed a power hitter to step up in the absence of the injured Ron Fields and the offseason loss of Chris Greinert. Keith has done that to the tune of .685 with 40 home runs!
Luna carried a .690 onbase percentage and had some key home runs in both Linedrive's 'A' World run and at the Conference Championships!
---
Conference Championships Tournament Awards and Final Standings:
Open Division
Team
Class

Runs
Scored

Runs
Allow

Avg
Runs

Avg
Allow

Avg
Diff

Max
Runs
Lower Division
Place

State

Team

Team
Class

Wins

Loses

Ties

Runs
Scored

Runs
Allow

Avg
Runs

Avg
Allow

Avg
Diff

Max
Runs

1

MI

SPMensB

5

2

0

121

95

17.2

13.5

3.71

23

300

2

IN

SPMensB

5

3

0

141

101

17.6

12.6

5

26

225

3

CAS

SPMensA

3

3

0

69

86

11.5

14.3

-2.8

18

200

4

GA

down2earthsports.com/sbc/worth Qualified

SPMensB

2

3

0

56

80

11.2

16

-4.8

20

175

5

VA

SPMensA

2

3

0

68

76

13.6

15.2

-1.6

20

155

5

MS

SPMensB

1

3

0

40

47

10

11.7

-1.7

23

155

7

GA

SPMensB

1

3

0

47

59

11.7

14.7

-3

15

130

7

WA

SPMensMajor

0

3

0

37

52

12.3

17.3

-5

14

130
'B'Division
Place

State

Team

Team
Class

Wins

Loses

Ties

Runs
Scored

Runs
Allow

Avg
Runs

Avg
Allow

Avg
Diff

Max
Runs

1

MA

SPMensB

3

1

0

59

33

14.7

8.25

6.5

24

600

2

NC

SPMensB

4

2

0

76

68

12.6

11.3

1.33

17

225

3

AL

SPMensB

1

4

0

25

60

5

12

-7

7

200

4

FL

SPMensB

2

2

0

44

21

11

5.25

5.75

22

175

5

MI

SPMensB

1

2

0

19

41

6.33

13.6

-7.3

14

155
---
Team by team notes brought to you by:
---
1st Place – TYJA – Suncoast ReebokNolkjdsa;lkajsdlkgajaljnresmondo-specialty tank worthresmondo-specialty tank worth
Conf 'A' from Great Neck, NY 5-1 Record
TYJA handled the red hot Reds Astros 21-13 in their opener then shut down Laservision 13-7 and Shoppe 15-4 with some great infield defense. In the winner's bracket championship they used the offense to win 27-16. On Sunday in the finals they led R&M 8-6 going into the 7th but gave up 3 runs and were unable to score in the bottom of the 7th with runners on and had to play the "if" game.
In that final game, a Neil Haglund triple and a Sid Stephany triple sparked a 9 run bottom of the second and TYJA rolled to a run rule victory. The Conference Championship marks TYJA's 2nd tournament win of the season and their team speed and defense make them a real threat to be the first 'A' team to have a legitimate shot at winning the Major World Series. They also have the league's leading on base man Dennis Rulli playing third base. Rulli and Jimmy Salas of Resmondo are difference makers. With the teams so closely matched this season in the conference, a standout defensive third baseman is a big advantage.
Dennis Rulli with a post game speech. Awesome to see a player in his mid 40's still have the excitement about the game we all love.
---
2nd Place – R&M Metals/Troupe/Pipac/S&R/Easton
Conf 'A' from Waterloo, IA 6-2 Record
R&M Metals just got by Primetime 8-6 late in the game then shocked Resmondo 18-10 in a game they led the whole way! In the semi-finals of the open bracket Nordkap knocked them off 12-7. In the loser's bracket they sent home Demarini/Dirty, Shoppe when Schulte hit a big 3 run homer, and outslugged Nordkap 27-22. In the Nordkap game R&M scored 12 in the first and overcame Nordkaps 10 run 4th and 10 run 7th to make it to the finals. In the first championship game against TYJA, R&M trailed the whole game then Brendt Newbill tripled to tie the game at 8-8 and a sac fly gave them the lead in the top of the 7th and they held TYJA scoreless in the bottom to force an "if" game!
In the championship R&M came out firing with home runs by Keith Anderson and Reggie Schulte but couldn't hold off a TYJA offensive onslaught and lost by the run rule.
I don't think any team wants to see #8 seed R&M on their side of the bracket at the major!
R&M Metals celebrate another great defensive play and big win
---
3rd Place – Nordkap/Desert Falls/Easton
Conf 'M' from Riverton, UT 2-2 Record
Nordkap/Desert Falls slipped past Team 454 in their opener after a nice run late in the game 18-15. Then they looked to be in the driver's seat as all of the other major teams lost in their first round. "Kap", as they are known, then put R&M Metals in the loser's bracket when Anthony Dress made two great defensive plays to hold them down 12-7. In the winner's bracket championship Nordkap/Desert Falls fell to an offensive onslaught by TYJA 27-16.
In the loser's bracket on Sunday morning Nordkap/Desert Falls let up 12 runs in the first to R&M Metals but tried to come back with a 10 run 4th and 10 run 7th but lost the shootout 27-22.
Nordkap let one get away as this was their weekend to shine. Ryan Robbins is back and healthy and moved into the 4 hole late in the tournament. He came through big with a grand slam after R&M walked Kevin Filby. This team never really found its identity or had the killer instinct needed to win the Major but may be a darkhorse in a couple weeks at the show, if they can get some more help and don't have to face Resmondo.
Ryan Robbins hits a grand slam after an intentional walk to Kevin Filby
---
4th Place – Shoppe / Team TPS / Elite
Conf 'A' from McKenzie, TN 3-2 Record
Shoppe opened with a pair of Friday night wins over 'A' peers Taylormade 12-8 (winning late) and their nemesis Demarini/Dirty 33-20. Then on Saturday morning TYJA used some stifling infield defense to beat them 15-4. In the loser's bracket Shoppe annihilated Team 454 22-0. A Tim Cocco 3 run homer in the first inning was all that was needed. This put Shoppe in the loser's semi-final against R&M on the stadium where they lost 14-7.
This was Shoppes weekend to sbreak through and win one with infield defense and timely homer's playing a key role in winning. But it wasn't meant to be and Shoppe has just one shot left to win a tournament this year. You never know.
Shoppe's Tim Cocco hits a 3 run homer in the first inning against Team 454
Chente Granados "Intimidates at the plate!" with a home run on the stadium field!
Shoppe left fielder Steve Allen makes a nice play at the fence
---
Tied 5th Place – Demarini/Dirty/3n2/ATWLdesigns
Conf 'A' from Orlando, FL 1-2 Record
Dirty lost their opener to Shoppe 33-20 late on Friday night. Dirty showed some heart by keeping the game going the full 7 innings while facing the run rule most of the way. In the loser's bracket on Saturday morning they had a nice 17-7 win over Laservision before R&M Metals sent them home 10-6.
Andrew Collins was back although not 100%. Their other injured outfielders Nick Santanna and Chris Wilson are also healing from injury. The 3 of them should be at full go for the Major World Series where they will need a spark from "Mr. Demarini" Chris Larsen if they hope to shock the softball world one more time.
Dirty left fielder Andrew Collins makes a home run robbing attempt
---
Tied 5th Place – Team 454/Emerald/WorthGTGG
Conf 'A' from Glen Allen, VA 2-2 Record
454 played some good ball on Friday night in a win over Linedrive 23-20 and had the lead most of the way against Nordkap before falling late 18-15. In the lower bracket they scored 12 runs in the first to beat Resmondo 25-22 in the battle of Worth teams back on field #2. Then they laid an egg against Shoppe in a 22-0 loss?
454 has had inconsistencies most of the season but has positioned themselves in the 6 seed for the Major where they could play Nordkap to go to the final 4. They are 3-1 against Nordkap this season. 454 played with Chad Durick at third base and Bill Rhew at shortstop. Bill had a nice inside the park homer at one point.
Bryce Oliviera slides in to score against Resmondo
454's Rusty Bumgardner takes aim at the tall field #2 fence
---
Tied 7th Place – Resmondo-Specialty Tank Worth
Conf 'M' from Winter Haven, FL 0-2 Record
Resmondo dropped their opener to R&M Metals 18-10 and trailed the entire game. In the loser's bracket Team 454 put up a 12 run first inning on them and Resmondo never fully recovered back on field #2, losing 25-22. An 0-2 weekend is unprecedented in Resmondo history as far as I can remember. This will either light a fire under Resmondo, the likes of which none of their opponents ever want to see, or it spells the beginning of some big changes in the Resmondo roster makeup?
Andy Purcell and Jimmy Salas won Co-MVP of the Conference season at the awards banquet
Don Dedonatis Jr was named Defensive player of the year
---
Tied 7th Place – Laservision/Annihilation/Supreme/D2E/Easton
Conf 'M' from Cicero, NY 0-2 Record
Laservision was seeded #2 and will maintain that seed for the Major even though they went 0-2. TYJA dropped them to the loser's bracket 13-7 where Demarini/Dirty finished them 17-7. 14 runs in two games on baseball fields and a 3-4 record against Demarini/Dirty on the year are stats that do not make things look very good for Laservision going into the Major.
---
The Rest of the Conference Championship Teams G
#9 Line Drive Sportz/SSS Softball 5-2 – Line Drive out powered West Coast Doerflinger in their opener, hitting 7 home runs. Cory Large hit an rbi triple and Matt Rear hit a home run in the 6th to put WCD away 23-16. In their second game on Friday night Team 454 knocked them into the "Lower" Division bracket with a tough 23-20 loss.
In the lower bracket which started on Saturday morning over at the Fortune Road complex, Linedrive knocked off 'B' peers D2E 19-0, and Buzini 12-7 to make it to the winner's final where they beat Red's Astros 18-14. In the championship game back at the Stadium on Sunday morning, Linedrive led 7-6 after the first inning against Reds. In the 3rd inning Cory Large added a big 3 run homer but then the Reds offense came alive and Linedrive couldn't keep up and lost 26-14. The "if" game of the championship was back on field #1 and Linedrive led most of the way in a 15-9 clincher.
Linedrive has proven they can win against all Conference opponents on baseball fields or softball fields. They have pitching, defensive specialists, quality players off the bench, and some young stars. Linedrive is your favorite to win 'B' Worlds in two weeks.
Linedrive third baseman Matt Rear
---
#9 Reds Astros/TPS/Sports Den 5-3 – For most of the Reds team this was their first Conference event in Florida and first time playing on the big baseball fields. As has been the case all year with the Reds, it doesn't matter who they play, what field or ball is used, or what the conditions are. This team competes for 7 innings every time out. This past weekend was no different. Reds came out of the gate with a solid 16-11 win over D2E on Friday night in the Stadium. Then back on field #2 they lost to eventual Conference Champ TYJA 21-13.
In the lower bracket at Fortune Road, Reds handled Doerflinger 25-13, and Taylormade 25-7 before losing to Linedrive Sportz in the winner's final 18-14. Those 25 run games back to back are impressive, considering very few teams at the 'A' World were scoring that much a couple of weeks ago on those fields and 25 was the highest score in the "Lower" bracket this year. In the loser's bracket Reds beat Doerflinger again 13-2 to make it to the championship game back on the Stadium on Sunday morning.
That first game of the finals against Linedrive was quite possibly the most entertaining game of the weekend as both of the teams scored in almost every inning. Linedrive led 7-6 after the first inning. Then Chad Mullins and Steve Kingsolver both knocked in 2 runs with some clutch hitting in the 3rd which set up a huge Jake Stambazze 3 run homer. Reds added 9 more runs in the 4th. Then in the bottom of the 6th Red's flashed some leather when left fielder Doug Martin came up with a nice sliding catch and then a long running catch in the left center gap to hold Linedrives comeback attempt down. In the top of the 7th, Reds left nothing to chance as Chad Mullins crushed an inside the park home run followed by 4 consecutive doubles en route to a 26-14 win.
The win forced an "if" game back on field #1 where both teams came out scoring in the first, but Reds ran out of gas and came up short 15-9.
Reds used the versatile Travis Dale in center field, as Brian Farrar played catcher battling a pulled muscle. Chad Mullins continues to lead the offense and the lineup is set up nicely with the big rbi hitters staggered every couple of batters. Reds, Linedrive, and SBS have to be the favorites going into the big 'B' World tournament in two weeks.
Red's pulls for each other at all times
Doug Martin makes a huge sliding catch in the first game of the championship
Reds hitter Tony Henry
---
#9 West Coast Doerflinger – Easton 3-3 – WCD was overpowered in their opener against Linedrive 23-16. In the lower bracket they proceeded to lose their opener on Saturday morning to Reds 25-13. In the loser's bracket they made a nice run beating Combat, Buzini, and D2E before Reds got them again. WCD played with a minimum of 10 players including backup pitcher PJ Garcia who had to play second base and pitcher Pat Paschal who they picked up from the disbanded Demarini/Famous team.
WCD will have their entire squad in three weeks at the Major World Series and are confident they will have a strong showing. WCD will be back in 2013 as well, contrary to the oldscout rumors made by someone who started the rumors so they could pick up some of the WCD talent. NOT!
---
#9 Down2Earthsports.com/SBC/Worth 2-3 – D2E lost their opener to Reds in the stadium Friday night. In the lower bracket on Saturday morning they lost to Linedrive 19-0. Then in the losers bracket they knocked off Primetime and Taylormade before WCD knocked them out. I didn't see much of the D2E games but that 19-0 loss to Linedrive, a team they are trying to compete with for 'B' Worlds, looks real bad. They did show some fight in beating Taylormade though and D2E's roller coaster season continues.
---
#13 Taylormade/TM Sports/Mizuno 2-3 – Taylormade out "small balled" Buzini in their opener on Friday 14-5 with a bunch of extra base hits early on. In the second round, again on the low scoring field #1, Shoppe dropped them to the "lower" bracket 12-8 with a late home run. Taylormade beat Combat before being run ruled by Reds on Saturday morning in the "lower". Then in the loser's bracket D2E knocked them out 20-19.
---
#13 Buzinisports.com/BWW/Worth 1-3 – Buzini players had to drive 10+ hours to make it to the tournament when a number of their flights were cancelled due to the hurricane that went through their home state. With players arriving at game time after a long drive, they just were not able to get anything going offensively and lost to Taylormade in their opener Friday night 14-5. In the "lower" bracket on Saturday morning they had a nice 23-15 win over Primetime before Linedrive beat them 12-7 and West Coast beat them 6-5? Looks like Buzini is struggling to score on the big Fortune Road fields which drops them out of the top contender list and puts them in the "darkhorse" roll for the 'B' World. They did play without one of their better hitters Kyle Wilks.
---
#13 Primetime/Easton 1-3 – Primetime opened the tournament with a nice win on the stadium field over Team Combat 14-13. Keyma Wright and Earl Bryant coming up with some big hits and the team overcame two outfield drops and multiple players playing out of position. In their second game they had plenty of chances to knock off R&M and make it into the final 8 but came up short 8-6. In the "lower" bracket Primetime lost two straight to 'B' peers Buzini and D2E. That isn't a good sign of things to come.
If Primetime shows at the 'B' World with all of their players healthy and in position, they have a shot at a late Saturday game to make it to the Sunday final 4. A long shot.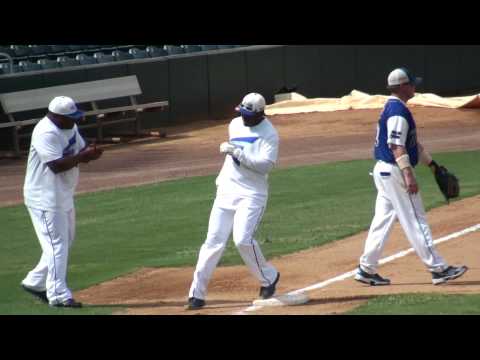 Keyma Wright with a triple
---
#13 Team Combat/Pacific Headwear 0-3 – Team Combat is like a rudderless boat. For some reason the vibe seems to be that they have nothing to play for because they are a Major team that isn't playing good ball and maybe they feel like they should have been at the 'A' Worlds? Anyways, a team that is already down on themselves learns before they take the field that Scott Brown their best hitter was rushed to the hospital for emergency gall bladder surgery. Get well soon Scott! Combat doesn't take advantage of some Primetime errors and loses their opener. Then in the "lower" division which they should compete for the championship in, they go 0-2? If this team played like Reds or Linedrive they could win 2 or 3 games at the Major. You have to play every pitch of every inning in the conference or 0-3 weekends will occur and they did. Daily bp on baseball fields, practice turning dp's and throws on the longer bases, and watching some video tape of successful teams should be a routine the next 2 weeks and you could shock someone. I'm rooting for this team!
---
More pictures below
---
Hot Links section brought to you by:
I would like to thank all of my sponsors for their support, especially USSSA!
I will be at the USSSA 'B' Worlds September 14-16!
Send corrections to dw@softballcenter.com
Link to all the photos from the Conference Championships
Link to SoftballCenter.com broadcast archive 1
Link to SoftballCenter.com broadcast archive 2
(support the amateur broadcasts by paypal dale_weiser@yahoo.com or email for an address)
Link to the SoftballCenter.com Youtube channel
2012 Conference USSSA Schedule
Link to the 2012 Tournament Reports
---
Some more pictures for you:
West Coast brought in Pat Paschal to pitch
USSSA UIC Rick Robertson get tossed
Joel Ramos of Linedrive runs down the Reds Astros runner in the championship game
Mike Umschied can't quite get to this home run ball
Suncoast leads the crowd in the wave
Dennis Rulli's son Easton has the consistent swing and a great future in baseball
This site uses Akismet to reduce spam. Learn how your comment data is processed.