2012 "Texas Legends" tournament report
2012 "Texas Legends"
Euless, Texas
May 4-6
Team 454/Emerald/Worth won the 12th Annual Texas Legends Men's Major NIT by going an incredible 8-1 and "double dipping" Nordkap/Desert Falls/Easton 19-18 and 32-17. Team 454 stumbled early when Conference 'B' team BuziniSports.com/BWW/Worth upset them 28-17 in the quarter finals of the 25 team tournament. In the loser's bracket Team 454 rattled off 3 straight wins on Saturday night including an 11-5 defensive struggle against Resmondo. Then on Sunday starting at 8 AM Team 454 knocked off Team All Out/DaBomb/Miken, SBS/Combat, and Nordkap/Desert Falls twice to take the tournament title.
The tournament began on Friday night with the Houston based All Out/DaBomb/Miken team knocking off Resmondo 17-10 in front of a fair sized softball crowd. All Out won the game by getting out to an early lead, fielding the hard shot grounders, and by showing some great range in the outfield. As the wind blowing in from left field became stiffer, All Out adjusted their swings to hit to the right side while Resmondo continued to try and power the ball out of left to no avail. This is the first time any of us can remember Resmondo losing their first game of a Conference double elimination tournament. This was also the first time I believe they have been beaten by a non-conference 'B' team and the first 'B' team to beat Resmondo on a non-baseball field since 2008 when Columbus Pipe beat them in St Louis.
All Out bats against hometown Dallas native Loyd Watson and Resmondo
The upsets continued on Saturday morning when Monster Softball, a 'C' team out of Arkansas hit a 3 run walk off homer to beat Fence Broker's 11-8.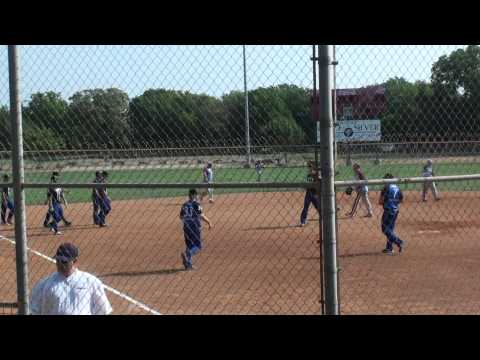 Monster Softball beats FBI on a walk off homer Saturday morning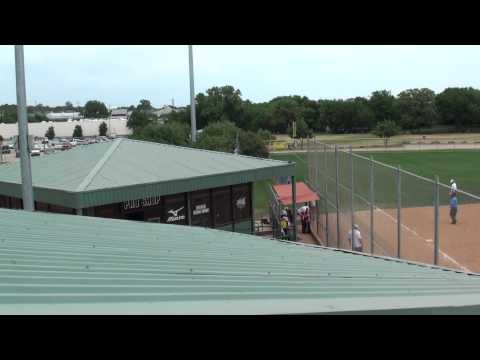 Video clips from the top teams
Then Sagnasty/Worth/Prototype beat Team All Out 25-16 and BuziniSports.com shocked Team 454. Meanwhile Nordkap/Desert Falls and SBS/Combat were cruising through their first 3 games each on their way to meeting in a memorable winner's bracket championship game. In that game Nordkap/Desert Falls led big early looking to force another mercy rule win but SBS/Combat never gave up and pushed the game into the 7th inning tied 30-30. Nordkap batting in the top half of the 7th could only muster 1 run and SBS/Combat had two shots to win the game with a homer but came up empty in a devastating 31-30 loss.
Link to the game of the week – Nordkap/Desert Falls vs SBS/Combat – Winners final
Then Team 454 made their Sunday drive to the title winning 4 straight. The first game of the Championship was hard fought down to the end but low scoring as the wind kept the ball in the park. Nordkap came up in the top of the 7th needing just 1 run to tie. A great catch of a pop up in right field by Jesse Harrison, a hard grounder stab by pitcher Andy Vitcak, and a nice play by shortstop Kevin Bazat gave Team 454 a 1-2-3 7th and a 19-18 victory.
Link to the first game of the championship
In the dreaded "if" game, Team 454 tried to give it away early with some ugly defense but grabbed the momentum when Rusty Bumgardner hit a grand slam homer to tie the game at 14. 454 went on a 26-3 run to end the game and won in the 6th by the mercy rule 32-17 to cap an incredible tournament.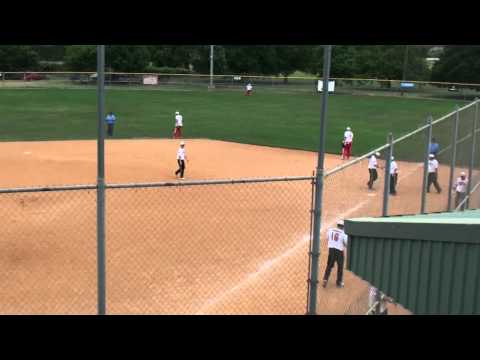 Rusty's grand slam to tie the game at 14-14
Link to the second game of the championship
With Team 454 winning, Nordkap stumbling just slightly, and Resmondo and Laser Vision looking a little more "human" than expected this year, we now sort of have a 4 team race for #1. The parity we have seen in 2012 continued with the non 'A' teams like SBS, Buzini, and Team All Out competing toe to toe with the best in the game. This will get real interesting when Conference events are seeded by this years points come June 3rd.
2012 Nationwide Insurance Conference Schedule

Team 454's pitcher Andy Vitcak throws in the championship against Nordkap
Nordkap/Desert Falls pitcher Chad Munger and defense
Prototype batting against TPS/Sports Center
---
Remember to email pictures or scans of your stat sheets to dw@softballcenter.com for posting in a picture album and to be used to verify totals. Stats without pictures/scans of each score sheet will be removed from the USSSA site.
---
---
Video Highlites brought to you by: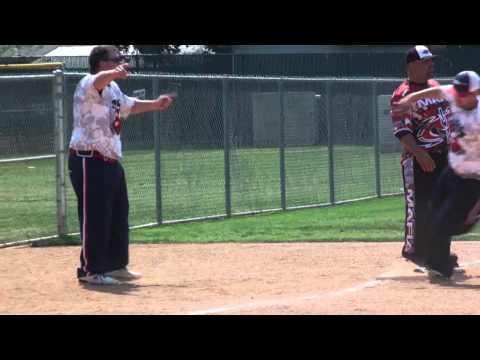 ---
7th Inning Comeback of the week brought to you by:
The comeback of the week is quite simply Team 454 winning 7 straight in the loser's bracket including 3 wins over Major teams. Congratulations.
---
The Mojo Masher of the week conference "newbie" is Shannon Smith
Shannon Smith gets the masher of the week for his 450 foot shot to left center field in the winner's bracket championship game
19-23 onbase .826, 6 HR, 16 RBI
---
"Texas Legends" Tournament Awards and Final Standings:
| | | |
| --- | --- | --- |
| | | |
| | | |
| Offensive Tournament CO-MVP | | Nordkap/Desert Falls/Easton |
| Offensive Tournament CO-MVP | | Nordkap/Desert Falls/Easton |
| | | |
| | | Nordkap/Desert Falls/Easton |
| | | |
| | | Nordkap/Desert Falls/Easton |
| | | |
| | | |
| | | |
| | | Nordkap/Desert Falls/Easton |
| | | |
| | | |
| | | Team All-Out / DaBomb / Miken |
| | | |
| | | |
| | | Nordkap/Desert Falls/Easton |
| | | Team All-Out / DaBomb / Miken |
| | | |
Team
Class

Runs
Scored

Runs
Allow

Avg
Runs

Avg
Allow

Avg
Diff

Max
Runs
Team 454's Mitch Mabe earned MVP honors with his consistent line drive hitting
454's Bill Rhew earned defensive MVP again
---
Team by team notes brought to you by:
---
1st Place – Team 454/Emerald/Worth GTGGNo Nolkjdsa;lkajsdlkgajaljn
Conf 'A' from Glen Allen, VA 8-1 Record
Team 454 breaks through with a tournament win for the first time this season. They do so while making a few mistakes but winning as a team and sticking together through some poor defensive plays and offensive inconsistencies. This team showed a champions heart and at times also made some incredible defensive plays. They flashed the leather in the Resmondo game holding them to just 5 runs. Andy Vitcak pitched most of the last 6 games and stabbed a number of hard shots up the middle. Left fielder Chad Durick made some great catches in the Resmondo game and third baseman Bill Rhew was named defensive mvp and started an incredible 5-4-3 triple play.
Team 454 will jump up big in the rankings, conference points, and more importantly in team chemistry and confidence.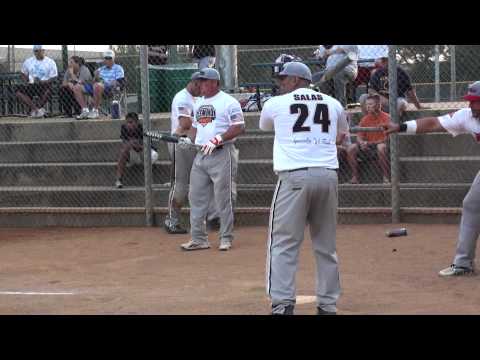 Team 454 takes on Resmondo
454's LF Chad Durick picks one off the fence
454 masher Kyle Moyer sporting the "chick playing baseball" tattoo
---
2nd Place – Nordkap/Desert Falls/Easton GTGG
Conf 'M' from Riverton, UT 4-2 Record
Nordkap/Desert Falls gave one away. In the top of the 7th only needing a couple runs with homer's left in the first championship game to put the pressure on 454, they went down 1-2-3. Until that game they were the class of the field and surprisingly were pushed deep into the 7th inning by SBS who played great ball. Nordkap/Desert Falls could have solidified the #1 ranking and top points spot and still could have a shot come June 3rd but this was a bit of a wake up call that you can't take anything for grant it. You have to give 454 some credit here also for playing great ball when it counted.
Offensive MVP went to Kevin Filby who was lacing line drive homer's over the fence like they were singles and Joey Formosa who continues to have a red hot season with the stick and made some great plays at first base as well.
Nordkap SS Anthony Dress was selling out on some hard smashes. Definitely could have been defensive MVP of this tournament
---
---
3rd Place – SBS/Combat GTGG
Conf 'B' from Santa Clara, CA 3-2 Record
SBS/Combat based out of Northern California cruised through their first 3 games and gave Nordkap everything they could handle in the winner's bracket championship. They were literally one swing away from a trip to the championship needing to get beat twice. It could have been the most impressive 'B' team Conference tournament win in history. SBS has had some ups and downs this season but they have a great mix of veterans like Brian Fong, Chris Hoshaw, pitcher Josh Pack, and Brian Higginbotham to mix with new players like center fielder Joe Yusko, right fielder Prentiss Knight, SS Clif Williamson, and left fielder Shawn Pederson. A few of these new guys can really motor around the bases and cover the gaps as well.
SBS puts themselves in the running as one of the top 'B' teams in the country. They told me they were, but I didn't believe them until now.
SBS congratulates Shawn Pederson on a home run
SBS middle infielder Jon Gibbens would have been defensive MVP had they scored 2 more runs Saturday night
---
4th Place – Team All-Out/DaBomb/Miken GTGG
'B' from Houston, TX 4-2 Record
Team All Out shocked the world with their win over Resmondo. The entire team played a near perfect game turning some hot smashes into double plays, and covering the gaps with some diving catches. They followed up the decisive win with a come back in the loser's bracket to finish 4th, ahead of a lot of solid Conference teams.
All Out joins my non-conference rankings this week and it will be fun to see if they can knock off some of the 'B' favorites at worlds or make a run at the Houston major next month.
Team All Out outfielders showed some incredible range in that win over Resmondo
---
Tied 5th – BuziniSports.com/BWW/Worth GTGG
Conf 'B' from Jackson, MS 2-2 Record
BuziniSports.com picked up shortstop Chris Smith and catcher and Major list player Kelly Hartman. Two more pieces to the 'B' world picture puzzle. With the veteran leadership of pitcher Donald Plaisance, the consistent offense of lead off hitter Kyle Wilks and some good talented players like Justin Stuart and Brady Bascle, this team was able to upset Team 454 and they beat Nordkap earlier in the year. So they won't be sneaking up on anyone anymore.
Buzini pitcher Donald Plaisance knocks down a hard liner and gets the out
Buzini middle infielder Clint Harris was flashing the leather
---
Tied 5th – Sagnasty/Worth/Prototype Gear GTGG
Conf 'C' from Saginaw, TX 2-2 Record
Sagnasty put a whoopin on TPS/Sportscenter 19-1 and knocked off the still euphoric Team All Out before only putting up 11 runs in their two losses to SBS and Team 454. Sagnasty moves into the running for my top 'C' team in the country as they show some good spirit and have a lot of talent and youth. The no names on the jerseys hurts my ability to call players by name but they seem to win and lose as a team.
---
Tied 7th – Resmondo-Specialty Tank-Worth GTGGied 7th
Conf 'M' from Winter Haven, FL 3-2 Record
Yes, Resmondo lost to a 'B' team and only scored 5 runs against Team 454. The wind was blowing in strong and the team needs to adjust better to the conditions. Both games though I give the credit to their opponents and although the moral on Resmondo cannot be good, I don't think Andy Purcell is that far away from a return and this team can flip the switch to the old Resmondo pretty quick with a couple of wins. Winning solves all problems in softball.
The new players have shown they belong and the chemistry can only get better from here. I wouldn't push the panic button…
Resmondo's new pitcher Loyd Watson (until Andy comes back)
Jr wasn't at full strength, trying to come back too early from injury
Webb and Rector trying to figure it out
---
Tied 7th – Miken Mafia /ASPNation.com GTGG
Conf 'C' from Rowlett, TX 2-2 Record
Mafia is 25-5 against their 'C' divsision teams this year and didn't pull off any signature wins this weekend. I am sure they were looking for a better result. The team has some good pieces and are taking their lumps in Conference play. Look for a good run in Houston out of this team.
Mafia's Charles Key
---
The Rest of the Conference Teams:
Tied for 13th – Fence Brokers/GameTimeSupply/Worth finished 1-2. They lost their opener on a walk off homer to Monster Softball from their home state of Arkansas 11-8. Then in the losers bracket they accidently put a warm up bat in the bucket and lost by forfeit. I didn't see anything positive cooking with FBI. They played without Greg Hartwick who they need to hold together their offense.
FBI pitcher Jason Bridges
Tied for 13th – TPS/Sports Center didn't compete with Sagnasty's or Resmondo and take one on the chin in their first Conference event. It happens to the best of them.
TPS/Sports Center has an "old school" team
---
More pictures below
---
Hot Links section brought to you by:
I would like to thank all of my sponsors for their support, USSSA, and the tournament directors as well!
I will be in Columbus, Indiana Saturday only for the Major there. I will be spending Sunday at home for mother's day!
Send corrections to dw@softballcenter.com
Link to all the photos from Texas
Link to SoftballCenter.com broadcast archive (support the amateur broadcasts by paypal dale_weiser@yahoo.com or email for an address)
Link to the SoftballCenter.com Youtube channel
Texas Legends tournament info and bracket link
2012 Conference USSSA Schedule
Link to the 2012 Tournament Reports
As always send dw@softballcenter.com any errors you see in the report or links that do not work. Thanks.
---
---
Some more pictures for you:
Monster Softball and Arkansas Mayhem were two solid 'C' teams
Game winning homer, Monster over FBI
Arkansas Mayhem
My video broadcast setup with the dreaded air conditioners messing up the audio
Umpiring was an A+ with a Conference umpire presence at all 4 fields, although Mabe was safe. lol. in real speed you can't tell though 🙂
First class umpiring this weekend with a tight but consistent strike zone.
Mayhem runner was out against Buzini
Jeremy Moreau from Buzini/BWW hit the taco sign
This site uses Akismet to reduce spam. Learn how your comment data is processed.