2012 Combat Major – Seattle report
2012 "Combat Major"
Kent, WA
June 1-3
Presented by Combat Sports
The 2012 Combat Major was marred by rain but somehow they were able to complete all of the games and boy were there some good ones. The first tournament of the "dual" was delayed 2 hours at the start, and the first couple of rounds were played in thick mud. 23 teams from 6 different states and one from British Columbia took to the fields.
They used the 52 core 300 compression Classic Plus ball and with the cool temperatures it flew hard and fast making for some long and high scoring games. The name of the tournament probably could have been "Combatfest" as it seemed half of the teams were sponsored by the bat manufacturing giant.
In the round of 16 all of the favorite teams won their games except #24 ranked SBS/Combat knocked off #3 ranked Sonny's 19-10. Only 1 of the 8 winners was not a conference team and that was Xtreme/Combat a non-conference 'B' team from Minnesota who beat OC Swats 32-16.
In the round of 8 Team Combat came from behind to beat Xtreme/Combat, Monster/Energy upset 4 The Fallen 20-17, West Coast Doerflinger used a game winning hit by manager Strojan Kennison to beat SBS/Combat 30-29 after he was forced into the game when two players were ejected. And finally Nordkap/Desert Falls run ruled Demarini/Famoussports.com 33-18.
In the final 4 Monster Energy/Combat, a Conference 'C' team, knocked off their sponsor Team Combat 35-34 in the game of the week by using some great defensive plays by 2nd baseman Mitchell Jump to close them out. Meanwhile Nordkap/Desert Falls cruised past West Coast Doerflinger 43-16 on Friday night.
Game of the week is Monster Energy/Combat vs Team Combat
All of the archive games can be found here for Channel 1 Field #3
Early Saturday morning the first tournament completed with West Coast knocking off Team Combat 24-18 and Monster/Combat 26-3 and forcing a re-match with Nordkap/Desert Falls in the championship. Nordkap/Desert Falls jumped out to a big lead and had multiple chances to run rule WCD but WCD hung tough and forced a full 7 innings after a "flip flop" but lost 32-26. Nordkap won their 3rd tournament of the season.
West Coast Doerflinger's Rego Nieto bats against Nordkap/Desert Falls pitcher Travis Clark in the championship game of the first dual
4 The Fallen does their flag ceremony to honor wounded soldier Specialist (SPC) John Bolan (left)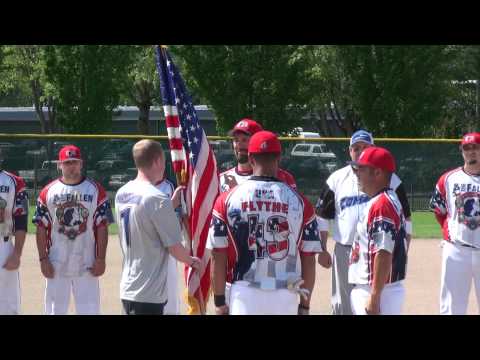 In the 2nd Dual which actually started as the championship game of the 1st dual was being played on Saturday morning, the round of 16 again had 7 winners from Conference USSSA and Xtreme/Combat who stunned a fresh Sonny's team 31-23. In the round of 8 Demarini/Famous opened up a 6 run lead on West Coast going to the 7th inning, but a tired WCD team put up an impressive 11 run inning and held on to win 35-30. SBS/Combat beat Monster 35-10. Xtreme/Combat knocked off 4 The Fallen 25-16. And Team Combat put up 17 in the first against Nordkap/Desert Falls and held them off 42-33 in a 2+ hour marathon game.
In the final 4, Team Combat put down Xtreme/Combats hot run 28-8 and SBS/Combat returned the favor of a walk-off hit to West Coast when Shawn Pederson hit a base hit down the third base line to win 23-22. Then in the winner's championship SBS/Combat shocked Team Combat 34-33 with a bottom of the 7th inning rally capped by Shannon Smiths game winning base hit.
On Sunday morning at 7 AM in the losers bracket Sonny's knocked off Xtreme/Combat 30-18 and held on to beat Nordkap/Desert Falls 38-35 to give them 6 straight wins in the losers bracket. Then they ran out of gas against Team Combat in a 31-26 loss which sent Team Combat to the championship game.
In the "chip" SBS/Combat didn't have that edge that we had seen the day before and Team Combat held small leads of 15-13 and 24-17. Then SBS tied it 24-24 in the 6th and Team Combat used a home run by Johnny McCraw to take the final lead and held on to win 27-26 to force the "if" game.
In the "if" game Team Combat led the whole way with leads of 3-0, 18-11, 31-19 and finally won the game 32-24 to become the 7th different tournament winner of 2012!
I have to say I am impressed with the warrior mentality of these teams. The top 6 teams played more than 10 games each over the 3 days and all were still giving it 100% effort and absolutely mashing the ball all the way until the end. Hats off to some seriously sore players this week on a great show with a bunch of close games and clutch performances.
Combats Johnny McCraw hits against SBS pitcher Brian Higginbotham in the Championship game of the 2nd Dual
A special thanks to Shannon Cooper, Don "Mr Combat" Cooper, and tournament director Elliot Clark for their efforts in getting this event in and their support of all of the great teams across the coutnry and especially their support of SoftballCenter.com!
The teams played through some tough field conditions early in the first dual
The fields did eventually dry out and actually became very hard
The Russell Road Complex had 4 – 300 foot softball fields and 1 baseball field that was 325 down the lines and 365 to center field. With the cool temperatures they probably could have done away with the temporary fence on the baseball field which noone liked. It is a beautiful complex though and you can see in the picture the Best Western hotel is short walk across one road to the park. The hotel has a shuttle from the airport which is only 15 minutes away so a team can get two Conference tournaments in for the price of flights and hotel and you don't need rental cars at all!
Sonny's takes on NW Cartel on the show field
Combat Dual #1 tournament bracket
Combat Dual #2 tournament bracket
2012 Nationwide Insurance Conference Schedule

There was full compression testing of bats for both tournaments. Some teams had their bats tested 4 times
The 52 core 300 compression ball played well but was a little bouncy and tough for infielders to get a read on
Crowds were small but knew their softball
---
---
Remember to email pictures or scans of your stat sheets to dw@softballcenter.com for posting in a picture album and to be used to verify totals. Stats without pictures/scans of each score sheet will be removed from the USSSA site.
---
Video Highlites brought to you by: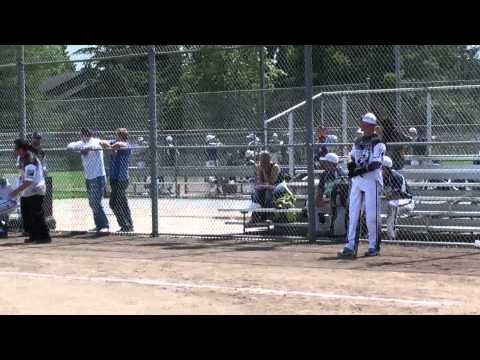 Random video highlites
---
7th Inning Comeback of the week brought to you by:
SBS/Combats 7th inning comback against Team Combat starts about the 1:58:00 minute mark
---
The Mojo Masher of the week conference "newbie" is SBS center fielder Joe Yusko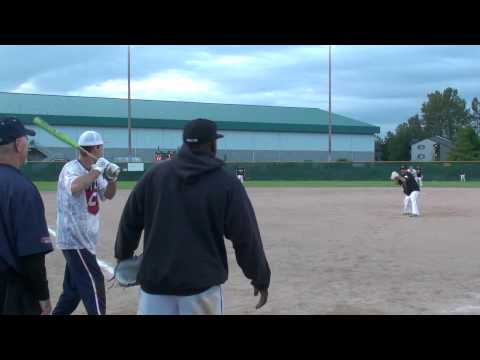 Joe Yusko has been batting 4th for SBS/Combat all year long while playing center field and carrying a .742 onbase percentage with 8 HR and 42 RBI. He also had some key hits in their back to back wins over WCD and Team Combat to win the winner's bracket finals in the 2nd dual.
---
"Combat Major" #1 Tournament Awards and Final Standings:
| | | |
| --- | --- | --- |
| | | |
| | | Nordkap/Desert Falls/Easton |
| Offensive Tournament CO-MVP | | West Coast Doerflinger – Easton |
| Offensive Tournament CO-MVP | | Nordkap/Desert Falls/Easton |
| Offensive Tournament CO-MVP | | Nordkap/Desert Falls/Easton |
| | | Nordkap/Desert Falls/Easton |
| | | West Coast Doerflinger – Easton |
| | | Monster Energy/Team Combat |
| | | Nordkap/Desert Falls/Easton |
| | | Nordkap/Desert Falls/Easton |
| | | Team Combat/Pacific Headwear |
| | | Monster Energy/Team Combat |
| | | Nordkap/Desert Falls/Easton |
| | | Team Combat/Pacific Headwear |
| | | Monster Energy/Team Combat |
| | | Nordkap/Desert Falls/Easton |
| | | West Coast Doerflinger – Easton |
| | | West Coast Doerflinger – Easton |
| | | West Coast Doerflinger – Easton |
Team
Class

Runs
Scored

Runs
Allow

Avg
Runs

Avg
Allow

Avg
Diff

Max
Runs
Dual #1 Tournament MVP was Nordkap/Desert Falls pitcher Travis Clark
Nordkap/Desert Falls Tyson Steele was in a home run hitting groove in the first dual and earned Offensive MVP
West Coast Doerflingers Julio Salazar was also named Offensive MVP
Kevin Filby was also named Offensive MVP
---
"Combat Major" #2 Tournament Awards and Final Standings:
Team Combat/Pacific Headwear

Team Combat/Pacific Headwear

Team Combat/Pacific Headwear

Team Combat/Pacific Headwear

Team Combat/Pacific Headwear

Sonny's / Louisville Slugger

Team Combat/Pacific Headwear

Sonny's / Louisville Slugger

Nordkap/Desert Falls/Easton

Team Combat/Pacific Headwear

Nordkap/Desert Falls/Easton

Sonny's / Louisville Slugger
Team
Class

Runs
Scored

Runs
Allow

Avg
Runs

Avg
Allow

Avg
Diff

Max
Runs
Combat 2B Franck Henry has been working on his defense and it shows with the Defensive MVP of the 2nd Dual
On a weekend where infielders had a tough time playing the hard grounders, Combat shortstop Jeff McGavin was my pick for Defensive MVP. He did end up with the Dual #2 Tournament MVP
Combat's Casey Rogowski fast become one of the top first baseman in the game and won Co-MVP of tournament #2
Offensive MVP for Dual #2 was SBS shortstop Clif Williamson who was mashing gap to gap all weekend
---
Team by team notes brought to you by:
---
Nordkap/Desert Falls/EastonGTGGNo Nolkjdsa;lkajsdlkgajaljn
Conf 'M' from Riverton, UT 9-2 Record
Nordkap/Desert Falls won their first 6 games of the weekend and won Dual #1 in impressive fashion which was their 3rd tournament win of the season. They were not really challenged in that first tournament except for their first game against Combat/Rockstar who was actually beating them half way through the game. In the 2nd tournament Nordkap/Desert Falls ran into a hot Team Combat and dug a hole down 17-0 and never could make it all the way back, losing 42-33. That loss seemed to take a lot out of Nordkap and although they rolled through their next 3 lower level opponents, when they got to Sunday morning they got beat by an equally tired Sonny's team 38-35.
Nordkap/Desert Falls has moved Travis Clark into the starting pitching role and picked up Brian Justice to play third base. They will also have Mike Rhines at second base this coming weekend in Chicago.
Nordkap/Desert Falls now moves into a tie with Resmondo for the most points in the Conference. The tie breaker is classification, but since both teams are major they go by USSSA Power Ranking which because Resmondo is 5-2 against Major teams and Nordkap is 1-1 against the major division, the tie breaker goes to Resmondo for the #1 seed. Chicagos tournament will be seeded on total conference points for each teams best 6 tournaments.
Nordkap/Desert Falls infield Joey Formosa, Anthony Dress, JD Genter, and Chris Hansen
---
Team Combat/Pacific Headwear GTGG
Conf 'M' from Kent, WA 9-3 Record
Team Combat takes another step in the right direction. Two steps forward and one step back for this team this year but looking good. In the first tournament they were upset by 'C' team Monster/Combat which will hurt their computer ranking. Then in the losers bracket they beat SBS/Combat on a walk off homer by Derek Warren before dropping a bad loss to West Coast 24-18.
In the second tournament they beat Nordkap 42-33 for their first win against a Major team this year then smoked a good Xtreme/Combat team 28-8 before SBS/Combat knocked them out in their last at bat 34-33 in the winner's final. But to Combats credit they won 3 straight on Sunday including "double dipping" SBS/Combat to win their first Major of the year!
Combats young players Davis Bilardello and Brandon Perry played better. Their veterans Johnny "quick hands" McCraw, shortstop and lead off hitter Jeff McGavin, and first baseman Casey Rogowski all seemed to get into a nice groove and they moved Mike Dill to the 4 hole which seemed to tighten up the lineup in the absence of injured Scott Brown who was reduced to pinch hitting duties. This team is now looking more and more like a major team every day.
---
---
SBS/Combat GTGG
Conf 'B' from Santa Clara, CA 7-4 Record
SBS celebrates their winner's bracket championship game win over Team Combat 34-33
SBS/Combat, what a weekend. In the first dual they start by shocking Sonny's 19-10. Then they lose on a walk off in a great game to WCD 30-29. In the loser's bracket they beat a local team and Demarini/Famous before losing again on a walk off, this time to Team Combat 24-21.
In the second dual they beat Pure Combat again and Monster/Combat then revenge their walk off losses to WCD and Team Combat from the previous tournament when they beat both of those teams on back to back on walk off hits by Shawn Pederson and Shannon Smith to win the winner's bracket finals. Then on Sunday they let the first game of the championship slip out of their hands 27-26 and lose to Team Combat in the "if" game 32-24.
This team knows how to play in close games. They may have gotten a little complacent in the championship but a successful weekend nonetheless. A productive lineup with some defensive specialists and Brian Higginbothams spectacular knuckle ball in relief make this team a player in the 'B' division. Their wins over top 'A' and 'B' teams and beating Team Combat this weekend should help their confidence and they are now in the running for a Major World Series berth.
SBS "meat of the lineup" Brian Fong and Chris Hoshaw make for a potent veteran 1-2 punch
Shawn Pedersons game winning hit vs West Coast
SBS celebrates their walk off win over West Coast in the winner's semi-finals
SBS middle infielder Jon Gibbens may be the best in the league at diving and stopping hard shots and has one of the quickest DP turns in the game
---
West Coast Doerflinger – Easton GTGGied 7th
Conf 'B' from Los Angeles, CA 7-4 Record
West Coast knocked off SBS/Combat 30-29 in the second round of the first dual when manager Strojan Kennison was forced into the game because of player ejections and hit the game winning single to right field. Then they got knocked to the losers bracket 43-16 by Nordkap and ran off 3 straight wins over Xtreme/Combat, Team Combat, and Monster/Combat before Nordkap finished them in the championship game 32-26. WCD never gave up.
In the second dual they were pretty much out of gas but did manage to get past Demarini/Famous when they were down 6 going into the top of the 7th and scored 11 runs to win it. Then SBS/Combat paid them back with a walk off win and Sunday morning early Nordkap sent them packing 29-9.
A good weekend for WCD who scored 272 runs on the weekend. Thats a lot of wear and tear. It was fun to see though as this team plays with great chemistry and good consistent ball striking.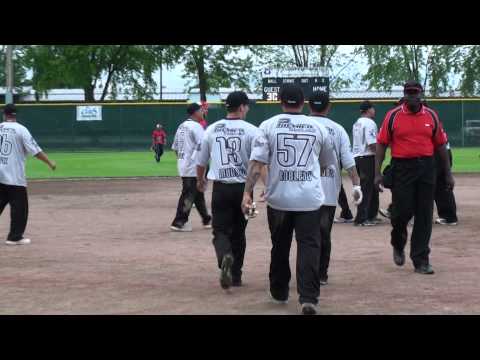 Stro wins the game for West Coast
West Coasts Cal Ford already had like a half dozen homers going into the second tournament
West Coast 2B Aaron Martinez just missed this linedrive hit by Joe Yusko of SBS with two outs or WCD would have went to the winner's final of the 2nd Dual
---
Sonny's – Louisville Slugger GTGGied 7th
Conf 'A' from Casper, WY 9-4 Record
Sonnys came up short of their goals in both tournaments and now are in jeopardy of falling out of the points race to make the Major World Series. Maybe that wasn't their goal anyways? In the first tournament they got knocked out by SBS/Combat and Xtreme/Combat, two 'B' teams. In the second tournament they lost their opener to Xtreme/Combat then sent home 6 straight in the loser's bracket including Team Demarini, Xtreme/Combat, and Nordkap/Desert Falls before losing to Team Combat 31-26.
Sonnys will drop in the points and in the rankings and would have to add some of the big tournaments to their schedule to get back to where they were. This team still has great hustle, a capable defense, and like WCD they have great ball striking. I'm not ruling them out for a darkhorse run at the 'A' World.
Maybe I have said this before but Sonny's leadoff hitter and center fielder Jeremy Davis is one of the most underrated players in the game. He is an offensive and defensive machine
Sonny's Charles Cunningham playing in his backyard
Sonny's infielder Manny Liriano (.815) was second in the league in onbase percentage behind Dennis Rulli coming into the weekend
---
XTreme/Combat GTGG
'B' from Brooklyn Center, MN 7-4 Record
XTreme/Combat is the latest non-conference team to make a splash in a big Conference event as they finish 5th in both duals. They beat OC Swats, Sonny's twice, and 4 The Fallen. Their 4 losses were to top tier teams. 2 to Team Combat, and one each to WCD and Sonnys.
They have some veteran pitching with Derek Irving and a fun mix of veteran and young fast hitters. Definitely one of your top 5 non-conference teams in the country who would be a tough draw come 'B' World time. This team has a little bit of "old school" feel to it.
XTreme celebrating their win over Sonny's to start the second dual
Xtreme Combat's veteran pitcher Derek "Goose" Irving
Xtreme Combat is powered by former Showcase stars Matt Kelsey and Dustin Palm
---
Monster Energy/Team Combat GTGGied 7th
Conf 'C' from Kent, WA 4-4 Record
Monster is a Conference 'C' team playing in their hometown of Kent, Washington. They went on a roll to start the dual beating Pure Combat, 4 The Fallen, and Team Combat to go to the winner's bracket championship where they lost to Nordkap big and then to West Coast big in the loser's bracket. That close win over Team Combat was one to remember with some great defense, some clutch hitting and was very entertaining.
In the second tournament they only managed one win over a local team before getting pounded by SBS and Sonny's.
Monster made a nice showing in that first tournament with some great defense by the middle infielders Mitchell Jump and Keola Rubin, and good hitting by the likes of Jake Wiseman and lead off hitter Brian Kruse. This team does have some onfield leadership with pitcher Earle McWright and a veteran manager in George Phillips.
Local Monster Combat shortstop Keola Rubin (left) and his brother – Demarini outfielder Kaeo Rubin (right) had an entourage of fans
---
Team Demarini/FamousSports.com GTGG
Conf 'A' from Santa Clarita, CA 5-4 Record
Team Demarini had some tough losses but overall didn't compete well with 'A' and Major teams in Seattle. I know their fire starter Bryce Oliviera was late getting to the tournament and the team never got into a good offensive rhythm in their losses.
Hopefully they are coming to the Smoky where they can free swing the whole weekend.
Demarini infielder Chris Larsen and new outfielder Adam Yeaney who won 'C' Worlds in 2009 with Casey's Bail Bonds
Demarini pitcher Brendt Newbill got his ear cut. Tournament beer garden in the back.
Dale Brungardt won the home run derby on Thursday night
---
4 The Fallen/Easton/3N2 GTGG
Conf 'B' from Anthem, AZ 3-4 Record
The Fallen fell short again this weekend on the field even with their whole team present. They played some good softball at times and have some great talent. We just still have not seen the chemistry they had back at the Toys 4 Tots tournament in December. This team needs to make something happen with their speed and defense and maybe use a staggard lineup, and each member needs to take it upon themselves to step up their game one notch and they'll be fine. A bunker mentality where you play for the next guy. We know they have it in them.
Outside of the games the cause this team plays for is second to none and the ceremony honoring wounded veterans is outstanding. And thats all that matters.
4theFallen member and friend Darwin "Pony" Vinson (pictured above) and his wife Kim Vinson lost their daughter Sydney Amaya Vinson on 30 May 2012 but gained the love of her twin brother Daniel Rashawn Vinson that same day. 4 The Fallen team members would like everyone to keep Darwin and his family in their prayers.
4 The Fallen celebrates a Dexter Avery home run
4 The Fallens outfield Matt Suder, Mike Rasso, and new and lead off Nick Sansone
---
OC Swats GTGG
Conf 'C' from Yorba Linda, CA 4-4 Record
OC Swats picked up Jay Hill and Dave Rosales. They beat the teams they were supposed to beat and nearly pulled off upsets of 4 the Fallen (30-27 loss) and Combat/Rockstar (33-32 loss).
A step in the right direction. They could have used a win in one of those upset bids. And I think they have a realization that the Conference is a big commitment and some tough competition but I hope they are not discouraged too much and come back in the future.
Jay Hill did some pitching and played infield for OC Swats
---
More pictures below
---
Hot Links section brought to you by:
I would like to thank all of my sponsors for their support, USSSA, and the tournament directors as well!
I will be in Chicago on Saturday and Sunday for the dual Majors there! Tune in!
Send corrections to dw@softballcenter.com
Link to all the photos from Seattle Major
Link to SoftballCenter.com broadcast archive
(support the amateur broadcasts by paypal dale_weiser@yahoo.com or email for an address)
Link to the SoftballCenter.com Youtube channel
2012 Conference USSSA Schedule
Link to the 2012 Tournament Reports
As always send dw@softballcenter.com any errors you see in the report or links that do not work. Thanks.
---
---
Some more pictures for you:
Things got a little heated between WCD and Demarini in a close game when some questioned calls led to the teams exchanging bat bucket bashing!
Arm Sleeve of the week
Jared Goetz of Combat Rockstar
Rockstar also had former Doerflinger player Jack Weaver
This lady cheering for SBS is challenging WCD super fan Kelly for the top spot according to viewers in the chat room
The close play of the weekend was the incredible diving stop by Mitchell Jump and throw to 2B to get Franck Henry was called an out. We will never know as video replay is inconclusive because the catch is blocked from view.
We didn't see much of previously #18 ranked Classic Glass as they went just 2-4 and went 0-3 vs Conference opponents
Broadcasting came from the air conditioned score tower
Former GTL manager Jose Sanchez is working with local NW Cartel and his women's team and having fun
Doerflinger's 'D' team had some nice uniforms
"Softball Guy" picture of the week!
Nordkap/Desert Falls fans had heaters!
Is this 2009 'B' World Champion Shane McCullough?
This site uses Akismet to reduce spam. Learn how your comment data is processed.