Major World Series countdown – #14 Red Astros/TPS/Sports Den
#14 Reds Astros/TPS/Sports Den
Indianapolis, Indiana
Reds Astros made a late season run to slip into the Major World Series field of 16. As I have said before it doesn't matter who the Reds are playing, where the game is held, what ball is used, or whether it is day or night, this team adjusts to the conditions and "plays the game". They play with a toughness that a few other teams could use. Reds finished 9th in the SoftballCenter Computer rankings and probably would have finished 9th as well in the Conference points had they played the Hall of Fame Classic tournament at the beginning of the season. Reds is 3-2 on the baseball sized fields this year. Most recently they split a pair of games with Linedrive in the "Lower" Conference Championship finals. Reds averages 19.4 runs per game on the big fields and allows 17.6.
Reds Astros is led by their SS/CF and leadoff batter Travis Dale who has shown he can hit line to line and gap to gap and has the range and arm to go with it on the defensive side. They also have Chad Mullins hitting in the 3 hole and a slew of veteran hitters staggered throughout the lineup.
Outlook: Reds has never played in the Major World Series. I am thinking outfielder Brian Farrar (former R&M Metals) is the only one with a World Series at bat? Reds may be a little beat up as they have not had many off weekends this season and the week before the Major they play the 'B' Worlds. This team finds a way to win, usually in close games and don't have any "weak" losses on their Conference resume. They have beaten the best in Resmondo (Chicago) and everyone in between, once clipping off 5 straight wins against Conference opponents in Michigan to make the show!
Player's to watch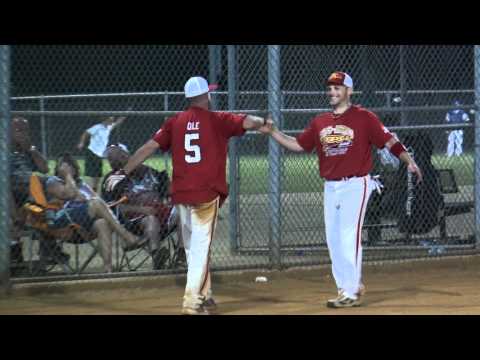 SS/CF Travis Dale
Slugger Chad Mullins
This site uses Akismet to reduce spam. Learn how your comment data is processed.