2012 Dudley Budweiser Classic tournament report!
2012 "The Dudley"
Budweiser Classic Major NIT
Brooklyn Center, MN
June 15-17
Resmondo in the winner's bracket championship against Laservision Saturday night at 5 PM
The 30th Annual Dudley Budweiser Classic started on Friday evening with a nice "4 The Fallen" flag ceremony honoring a fallen soldier as well as veterans from America's major wars. The usual Conference Friday night and Saturday morning upsets never occurred as the favored teams marched through the lighter than normal competition from the 10 Conference and 32 teams that were in the tournament.
The biggest story of the Dudley is there was no real Cinderella team. For the first time in 2012, the top 6 teams in the tournament were the last 6 teams playing on Saturday evening. The winner's championship was Resmondo and Laservision who were the top 2 seeds. Resmondo jumped on Laservision and won easily 32-17 as Laservision switched pitchers back and forth in an effort to kill Resmondos offensive onslaught. In the final losers games Team Combat held off Team Demarini and Nordkap/Desert Falls escaped with a 44-42 "game of the week" win over R&M Metals. A game that featured a hard hitting middle war.
On Sunday morning Nordkap/Desert Falls knocked off Team Combat 50-46 in a 2 hour slugfest and then ran through a visually disheartened (and banged up) Laservision with a huge first inning and won 34-13. Then in the championship Resmondo put up 8 runs in the top of the first against Nordkap but Nordkap came back to take a brief 9-8 lead before Resmondo opened up the offense and nearly "flip flopped" Nordkap before winning 38-22.
Resmondo won all 6 of their games by the run rule and truly looked like the dominating team of years past. Everyone in the starting lineup pitched in and Tim Howard led the way and was picked as MVP. The game ended just as a rain storm came in, so there was no awards ceremony or team pictures taken.
Bats were tested on Friday, Saturday afternoon, and Sunday. Conference umpires mixed with a solid local umpiring crew at the main diamonds. Crowds were down some because of the rain and early winner's bracket championship (5 PM) but the 30th Dudley did have some heavyweight battles from 3:30 PM on Saturday until the finish.
The national anthem was sung before the Championship game
Combat pitcher Derek Warren takes on R&M in a quarter final game
Laservision pitcher Geno Buck playing close to home in Minnesota
Sunday morning early, and Team Combat is batting against Nordkap/Desert Falls
The fields at the Dudley were top notch. Infields nice and groomed, outfields green and soft
All of the archived games can be found here for Channel 1
All of the archived games for Channel 2
Winners Bracket Championship score sheets
The Dudley has scorekeepers that announce the players names which is a nice touch
A special ceremony was conducted at the start of the 30th annual Dudley Budweiser Classic men's major softball tournament in Brooklyn Center. Veterans of 4 different wars were honored by the team called "4 The Fallen". Pictured from left, former BC Mayor Myrna Kragness (representing WWII veteran Ray Kramer who was ill), Mike Pratt from the Vietnam war, Leonard Jacobs from the Korean War, Mike Bloom from the Persian Gulf War. The empty chair was for Scott Modeen, who was killed in the current conflict. His honor was accepted by Scott Brown, a friend and player on Team Combat who lives in Minnesota. The 4 The Fallen softball team assists with the transition for wounded or killed service members and their families. 4TheFallen.org to support the charity and team
Crowds were down from the old days but about the same since I've been going (2008). The rain and the early 5 PM winner's final probably hurt the numbers.
2012 Nationwide Insurance Conference Schedule

---
---
Remember to email pictures or scans of your stat sheets to dw@softballcenter.com for posting in a picture album and to be used to verify totals. Stats without pictures/scans of each score sheet will be removed from the USSSA site.
---
Video Highlites brought to you by: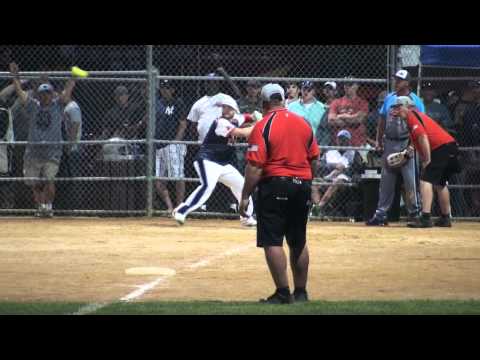 Random video highlites
---
The Mojo Masher of the week conference "newbie" is
Team Combat/Pacific Headwears Casey Rogowski
Rogowski did play Conference with Sinister in 2010 but sat out 2011 before picking up with Combat this year
---
"The Dudley" Tournament Awards and Final Standings:
| | | |
| --- | --- | --- |
| | | |
| | | Resmondo-Specialty Tank Worth |
| | | Nordkap/Desert Falls/Easton |
| Offensive Tournament CO-MVP | | Nordkap/Desert Falls/Easton |
| | | Resmondo-Specialty Tank Worth |
| | | Nordkap/Desert Falls/Easton |
| | | Nordkap/Desert Falls/Easton |
| | | Nordkap/Desert Falls/Easton |
| | | Team Combat/Pacific Headwear |
| | | Nordkap/Desert Falls/Easton |
| | | Laservision/Anni/Supr/D2/Easton |
| | | Laservision/Anni/Supr/D2/Easton |
| | | Resmondo-Specialty Tank Worth |
| | | Laservision/Anni/Supr/D2/Easton |
| | | Nordkap/Desert Falls/Easton |
| | | Team Combat/Pacific Headwear |
| | | Resmondo-Specialty Tank Worth |
| | | Laservision/Anni/Supr/D2/Easton |
| | | Resmondo-Specialty Tank Worth |
| | | Resmondo-Specialty Tank Worth |
| | | Resmondo-Specialty Tank Worth |
Team
Class

Runs
Scored

Runs
Allow

Avg
Runs

Avg
Allow

Avg
Diff

Max
Runs
MVP was Resmondo outfielder Tim Howard with an onbase percentage of .940
Looks like JD Genter and Brett McCollum were Co-Offensive MVP's
Team by team notes brought to you by:
---
1st Place – Resmondo-Specialty Tank Worth Nolkjdsa;lkajsdlkgajaljnresmondo-specialty tank worthresmondo-specialty tank worth
Conf 'M' from Winter Haven, 6-0 Record
Resmondo barely broke a sweat in their first 3 games against 2 locals and Wheelhouse. Outscoring them 91-21. Then they beat Nordkap, Laservision, and Nordkap again (3 Major wins) to take their 3rd straight Dudley championship. This is the tournament every year where Resmondo seems to flip a switch and turn their season from average to dominating. The rest of the conference has been put on notice.
Resmondos offense was in high gear and they looked to be healthy and focused. They changed the batting order, moving Jeff Hall to leadoff and Andy Purcell to the 3 hole. The defense was led by 3rd baseman Jimmy Salas, Andy did all of the pitching, and the managers rode the starting lineup just about from the beginning to the end. The result was landslide victories for what will now be the #1 ranked team in the country!
Lineup
1B Jeff Hall
2B Greg Connell
P Andy Purcell
EH BJ Fulk
MI Bubba Mack
SS Don Dedonatis Jr
3B Jimmy Salas
C Howie Krause
RF Tim Howard
CF Bobby Hughes
LF Scott Striebel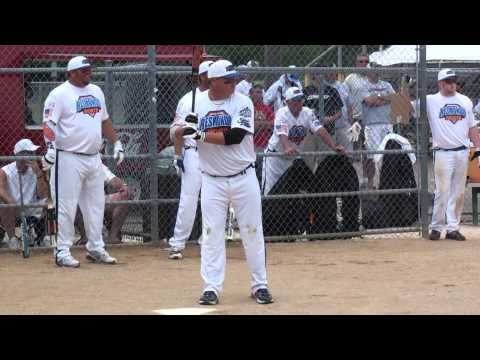 Resmondo highlites
Resmondo championship collage
How to hit like Greg Connell: Relaxed stance…medium step
Hip rotation…bat whip/contact
Follow through, now you try!
---
2nd Place – Nordkap/Desert Falls/Easton
Conf 'M' from Riverton, UT 6-2 Record
Nordkap/Desert Falls/Easton beat a local team on Friday night, smoked T's 13 22-2 on Saturday morning, then run ruled Team Demarini 36-21. In the semi-finals, their first game against Resmondo this year, they laid an egg and lost 26-6. In the loser's bracket they proceeded to send home R&M Metals 44-42 in the night cap (game of the week), then Team Combat 50-46 on Sunday morning, and finally Laservision impressively 34-13 to make it back to Resmondo in the championship. Resmondo put up 8 in the first and Nordkap answered with 9 in the bottom half but Resmondo went on to score about 25 straight runs and pulled out a 5 inning victory 38-22.
Nordkap beat 4 of the top 5 opponents in the tournament but didn't compete well with Resmondo. So they can take away the fact that they have positioned themselves to be in the running for 2nd in points, rankings, and chances to win the big one at the end of the season.
Brian Zirkle was in CF for the injured Ryan Robbins. Chris Hansen has apparently left the team. Clark and Munger shared the pitching duties and the team was impressive in their non-Resmondo games. Let's see if this team can take another step forward in either the Smoky, Cincinnati, or the "Last Chance" in Detroit.
Lineup
2B JD Genter
C Kevin Filby
LF Donovan Pokraka
1B Brett McCollum
RF Mike Bowlin
MI Travis Clark
EH Joey Formosa
P Chad Munger
3B Brian Justice
SS Anthony Dress
CF Brian Zirkle
Steele and Rhines were hitting DH until Formosa hurt his arm and had to move to DH
I'm sure the players love it when I get a picture during the national anthem 🙂
---
---
3rd Place – Laservision/Annihilation/Supreme/D2E/EastonGTGG
Conf 'M' from Cicero, NY 4-2 Record
Laservision used their #1 seed to cruise through their first 3 games easily. Then they beat a strong Team Combat 28-24 but only managed 17 runs against Resmondo in the winner's bracket championship and 13 against Nordkap/Desert Falls in the loser's bracket championship. Laservision continues to struggle with the pitching and defense. They had to put in Billy Messina in as the backup in the top of the first inning against Nordkap on Sunday because Curtiss Wilson injured a knee "walking into the dugout". Laservision gets a month off to heal, and they need it. Scott Kirby, Jason Kendrick, Curtiss Wilson, and Ryan Thiede all nursing injuries.
Laservision blew their #1 spot in the conference points and will need to dust themselves off and regroup for the stretch run – Smoky's, Cincinnati, and Detroit. I wonder what Scott Nastally is doing in August?
Lineup
SS Bryson Baker
CF Rick Baker
EH Brett Helmer
RF Brian Wegman
P/C Geno Buck
3B Sam Lopez
1B Ryan Thiede
MI Kevin Kennington
C/P Curtiss Wilson
2B Dal Beggs
LF Brian Rainwater
Bryson Baker moved to shortstop for Laservision. Kennington moved to middle infield and Sam Lopez played third base
Laservision was all set to give Resmondo a run until their wheels came off. No literally, there wheels came off as Jason Kendrick, Scott Kirby, Ryan Thiede, and Curtiss Wilson are all hurt and most of them have leg injuries (knees, pulled muscles, etc)
---
4th Place – Team Combat/Pacific Headwear
Conf 'M' from Kent, WA 4-2 Record
Team Combat won their first 3 games and for the whole tournament averaged an incredible 35.16 runs per game! They did this without the league's leading hitter Scott Brown who is still nursing a pulled hamstring. They had Laservision beat in the semi-finals and figured out a way to lose in the 7th inning. Then in the losers bracket they came back to beat Team Demarini 40-29 and went toe to toe with Nordkap in a 2 hour slugfest on Sunday morning in the loser's semi-final but lost 50-46.
The big question is whether or not Team Combat has earned the right to be put into the computer rankings as a Major team? This will be discussed on TheOldScout in the coming weeks. This team was not competing well at the beginning of the season, losing to 3 'C' teams. Now they are competing well but not closing out in the late innings. Maybe they have yet to peak? Regardless, this is a fun team to watch play softball now.
Combat middle infielder Sal Formosa and center fielder Davis Bilardello react to the ball
---
Tied 5th Place – Team Demarini/Famoussports.com
Conf 'A' from Santa Clarita, CA 4-2 Record
Team Demarini much like R&M finished where they were supposed to finish and beat the teams they were supposed to beat. They did lead Team Combat late on Saturday night but couldn't hold them off, losing 40-29. Team Demarini continues their dominance of B and C teams but is still looking to turn a corner. When they play loose they play well. There may be some "pucker" factor going on here against the bigger teams or they may just need to step up their defense a notch or two. We have seen Team Combats Franck Henry put in a tremendous amount of work on his infield defense and the improvement he has made. If I were a Team Demarini infielder, I would contact Franck and see what his defensive workout routine is and try and duplicate it. Team Demarini has the skills and if each player attacked the defensive side of the game like they do the offensive side, this team could make a huge improvement very quickly.
---
Tied 5th Place – R&M Metals/Troupe/Pipac/S&R/Easton GTGG
Conf 'A' from Waterloo, IA 4-2 Record
R&M Metals beat all of the teams they were supposed to beat and stepped up and competed with the major teams in losses to Team Combat 39-34 and a late Saturday night loss to Nordkap/Desert Falls 44-42. They played without the injured Kyle Yerkes. They moved Richard Salazar to lead off, Losson White did most of the pitching, and Keith Anderson, Reggie Schulte, and Brandon Dillon seemed to be on their game, among others.
R&M Metals center fielder Brandon Dillon is getting into mid season form after his injury to start the year
R&M's Keith Anderson would be "Mojo Masher of the Week" but he isn't a newbie
R&M moved Richard Salazar to lead off
---
Tied 7th Place – 24HR Corp/DBP/Breakaway GTGGied 7th
'C' from Brooklyn Center, MN 4-2 Record
24HR Corp/DBP/Breakaway the hometown 'C' team from Brooklyn Center, Minnesota had a great run in the loser's bracket after losing their opener to Chicago 'B' team Precision. They won 4 straight including close wins over Xtreme/Combat, T's 13, and Wheelhouse before Team Demarini ended their Cinderella run. Great job!
---
Tied 7th Place – Luther Auto/Tanel360/NSK/Protandim GTGG
'B' from Oakdale, MN 4-2 Record
Luther Auto is a very good local Minnesota 'B' team with a number of players like Seth Brown, Scott Eischens, Shawn Gallery, Brandon Krause, Cory Neugebauer, Brandon Newman, Allan Oullette, and Nick Peterson (maybe others) that have played Conference 'B' or 'A' in the past. They lost to Team Combat in the second round but recovered to send home fellow 'B' teams Precision and 4 The Fallen by the run rule before losing to a hot R&M Metals team 30-14. Luther is slated to play the USSSA 'B' Worlds which is shaping up to be a better tournament than 2011 with all of the great non-conference 'B' teams out there.
---
The Rest of the Conference Teams G
Tied 9th – Westshore Pizza/TPS, we are still waiting for these guys to produce some of the big upsets they were used to having in the offseason winter world tournaments? Westshore hasn't won more than 2 games in a row in the conference all season. At the Dudley they beat 3 locals but lost to 4 The Fallen and R&M Metals. None of their games were at Central Park on Saturday so I did not get to see them play. Sorry, no picture.
---
Tied 9th – P&P 333/Suburban/Larrys/AOS/Combat beat 3 local lower level teams and lost to Wheelhouse and Team Demarini. Their up and down season continues (growing pains) as they are just 2-5 vs the 'B' division but 3-4 vs the 'A' division. Looks like they are another team that gets up for the big games.
---
Tied 9th – Wheelhouse/Spiderz/Game time supply had their biggest win of their season when they beat P&P 333 21-15 in the second round of the winners bracket. Then they lost to Resmondo and needed one more win for a successful tournament but dropped to local 'C' team 24Hour Corp.
---
Tied 13th – 4 The Fallen/Easton/3n2 beat a local 'D' team in the first round before their flag ceremony to honor fallen soldiers and veterans from all of the major wars. Then they knocked off Westshore Pizza on Saturday morning before dropping two straight to Laservision (where they actually had a lead for an inning or two) and Luther Auto. The team parted ways with a manager and a few players and is trying to rebuild for the second half of the season.
---
More pictures below
---
Hot Links section brought to you by:
I would like to thank all of my sponsors for their support, USSSA, and the tournament directors as well!
I will be at the Arkansas Major in Little Rock July 6-8!
Send corrections to dw@softballcenter.com
Link to all the photos from Dudley Major
Link to SoftballCenter.com broadcast archive 1
Link to SoftballCenter.com broadcast archive 2
(support the amateur broadcasts by paypal dale_weiser@yahoo.com or email for an address)
Link to the SoftballCenter.com Youtube channel
2012 Conference USSSA Schedule
Link to the 2012 Tournament Reports
As always send dw@softballcenter.com any errors you see in the report or links that do not work. Thanks.
---
---
Some more pictures for you:
Dahlby who picked up with "4 The Fallen" gets the GameTimeSupply arm band of the week award
Shaul "The Jeff Hall of Aruba" Illidge is one of SoftballCenter's biggest fans and he picked up with "4 The Fallen" for the weekend and hit in the homerun derby
Shaul enjoys his fathers day in the States with his family at the Dudley!
Crowds were big by Conference standards but smaller by Dudley standards
If you need to buy a car in Minnesota, Bob Hortenbach (associate Laservision sponsor) is the guy to see
This site uses Akismet to reduce spam. Learn how your comment data is processed.