2012 Cincinnati Major tournament report
2012 "13th Annual"
Cincinnati Major NIT
Cincinnati, OH
July 20-22
A nice crowd and a good time was had at the Mid America Ballyard
The 13th Annual Cincinnati Major at the Mid America Ballyard was played in near perfect weather and had a field of top teams that rivaled the best tournaments of the season. There were 36 teams overall, 18 Conference teams, and 7 of the top 10 teams in the computer rankings playing. Resmondo-Specialty Tank Worth won their 3rd tournament in a row and 6th of the year as they used defense and base hitting to beat all 6 of their opponents. Resmondo played most of the tournament without Smoky MVP Jeff Hall who pulled a hamstring and they were only really challenged by Line Drive Sportz/SSS Softball, a 'B' team based out of Michigan in their third game, when Line Drive had a chance to win down 4 in the 7th inning.
Resmondo beat Laservision in both the winner's bracket championship on Saturday night and the championship game on Sunday.
The tournament started with festivities on Thursday as the Cincinnati All Stars took on a National All Star team in an exhibition game. The Cincy Stars came up just short with a chance to win in the bottom of the 7th.
Team Cincinnati vs. National All Stars
Bud Light National Team:
Dennis Rulli – Reebok
Johnny McCraw – Combat
Brett Helmer – Easton
Dustin Roberts – Reebok
Dal Beggs – Combat
Chris Larsen – Demarini
Kevin Filby – Demarini
Sam Lopez – Easton
Travis Clark – Easton
Geno Buck – Easton
Jason Kendrick – Combat
Team Cinci-Natti Light
Rick Baker – Combat
Brad Reckart – Watanabe/Easton
Shane Hatfield – Watanabe/Easton
Danny Tolbert – EAP/Worth
Brandon Bellamy – PRI/Easton
Brian Lakes – Sportsco/Easton
Brad Tabler – Watanabe/Easton
Jon Jamison – Watanabe/Easton
Larry Wert – 3rd Street Financial/TPS
Terry Rosenbalm – TYJA/Reebok
David Kessler – TYJA/Reebok
TJ Thompson – TYJA/Reebok
Frank Gruber – Watanabe/Easton
Brian Wegman – Easton
Then on Friday at 4 PM the tournament began with the only real upset of Friday being the Kimball/Mojo 27-22 win over Conference 'B' team Baughford as 15 of the 16 teams left in the winner's bracket after Friday were Conference teams.
On Saturday Nordkap struggled past PRI. R&M Metals, Shoppe, and Team 454 escaped with wins in close 2nd round action while the favorites continued on.
In the round of 8, TYJA came from a run down in the bottom of the 7th to beat Nordkap/Desert Falls 29-28 on a Mike Stephany walk off homer. Laservision outslugged R&M 39-20, Team 454 run ruled Shoppe, and Resmondo slipped past Line Drive 23-19 with good defense.
In the round of 4 with a sense of "upset" lingering in the air, Laservision smoked TYJA 31-21 and Resmondo run ruled Team 454 22-5 as the big boys took care of business and set up the heavyweight matchup in the finals that everyone wanted to see. Resmondo however took control of both games against Laservision and although Laservision made a nice comeback in the championship game on Sunday it was too little too late and Resmondo wins again.
Overall the umpiring had a consistent but small strike zone, the scores were low for the most part, and the tournament was well played with lots of great matchups on as many as 4 fields simultaneously.
The Conference finishes its regular season with a tournament in Maryland this coming weekend and the "Last Chance" tournament in Sterling Hts, Michigan the following weekend. The Last Chance is shaping up to be just that, as 11 teams that are still on the "bubble" attempt to secure their spot in the Major World Series!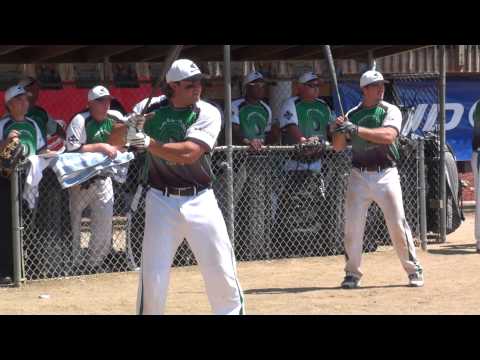 Resmondo singled Laservision to into submission
Laservision hammered TYJA-Suncoast Reebok in the loser's championship 37-17
Primetime bats against Billy Barrett and Linedrive
454 takes on Sonnys early on Saturday on field #4. If you run through the fence do you fall down the hill into the river?
As you can see putting the web camera on the backstop wasn't an option with the green screen and no power.
Field #3 – MAB is a scenic park
All of the archived games can be found here for the Smoky
2012 Nationwide Insurance Conference Schedule
Hot dots were used in the loser's bracket on some fields. The regular conference ball was used in the winner's bracket.
---
---
Remember to email pictures or scans of your stat sheets to dw@softballcenter.com for posting in a picture album and to be used to verify totals. Stats without pictures/scans of each score sheet will be removed from the USSSA site.
---
Video Highlites brought to you by: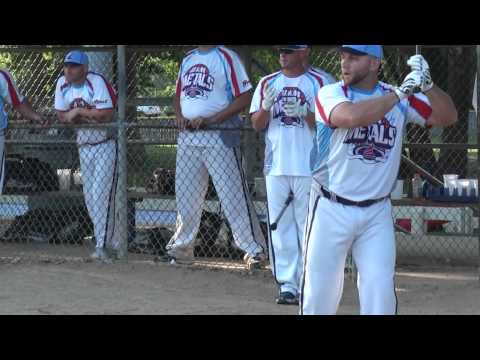 Random video highlites from the Cincinnati Major
---
The Mojo Masher of the week conference "newbie" is
Pure Romance first baseman Tom Stevens
I feel sorry for this ball, as PRI's Tom Stevens hits a homer. I believe this is Tom's first year on a Conference team, but he is anything but a "newbie" as he has mashed for years in the Cincinnati area.
---
Cincinnati Tournament Awards and Final Standings:
| | | |
| --- | --- | --- |
| | | |
| | | Resmondo-Specialty Tank Worth |
| | | Laservision/Anni/Supr/D2/Easton |
| | | Resmondo-Specialty Tank Worth |
| | | Laservision/Anni/Supr/D2/Easton |
| | | Resmondo-Specialty Tank Worth |
| | | Laservision/Anni/Supr/D2/Easton |
| | | Resmondo-Specialty Tank Worth |
| | | Laservision/Anni/Supr/D2/Easton |
| | | Resmondo-Specialty Tank Worth |
| | | Resmondo-Specialty Tank Worth |
| | | Resmondo-Specialty Tank Worth |
| | | Resmondo-Specialty Tank Worth |
| | | Laservision/Anni/Supr/D2/Easton |
Team
Class

Runs
Scored

Runs
Allow

Avg
Runs

Avg
Allow

Avg
Diff

Max
Runs
Resmondo third baseman Jimmy Salas was MVP
Brian Wegman will be offensive MVP when the awards get posted. (31-32 onbase)
Andy Purcell from Resmondo was defensive MVP holding two Conference opponents to just 5 runs each
---
---
Team by team notes brought to you by:
---
1st Place – Resmondo-Specialty Tank Worth Nolkjdsa;lkajsdlkgajaljnresmondo-specialty tank worthresmondo-specialty tank worth
Conf 'M' from Winter Haven, FL 6-0 Record
Resmondo's opponents averaged just 14 runs per game with two conference opponents scoring just 5 runs against them. The defense was stifling and led by defensive MVP pitcher Andy Purcell and the left side of the defense third baseman Jim Salas who won MVP and SS Don Dedonatis Jr. They just did not make errors and they had many tough chances.
At the Smoky last week Resmondo outpowered Laservision in the finals by hitting 14 homer's in one inning. This week they used singles in the championship game to put away Laservision in the finals. The versatility, defense, and timely homers won this tournament for Resmondo, their 6th of the season and 3rd in a row. Resmondo has locked up the #1 seed for the Conference championships which count as a 7th tournament in the point standings which will end up seeding the Major World Series. Resmondo has also won 17 of their last 18 games.
Sean McDonald started most of the weekend at first base for the injured Jeff Hall (hamstring). Howie Krause was also saved for just the big games.
The left side of the Resmondo defense with Jimmy Salas at 3B and Don Jr at SS made about 19 out of 20 plays this weekend, which for upper level softball is pretty impressive.
Resmondo dusted off their classic orange jerseys for a change of pace
Hughes takes a beating in the chat room for the high sock look. I'm not sure why its a big deal?
Say what you want about Resmondo, these two (Frank Webb and John Rector) have brought home 6 Conference tournament wins this year including 3 in a row
---
2nd Place – Laservision/Annihilation/Supreme/D2E/Easton
Conf 'M' from Cicero, NY 5-2 Record
Laservision finished 2nd without starting pitcher Geno Buck (pinched nerve in shoulder) who was sidelined unexpectedly. This week it was Helmer launching homers from the 3 spot in the lineup and Brian Wegman re-setting the table from the 4 spot that got the offense going. But Laservision self destructed with 3 double plays in the winner's bracket championship game on Saturday night and on Sunday against Resmondo in the finals they left the bases loaded in the first and second innings. In the second inning they used a pinch hitter for pitcher Billy Messina with the bases loaded and two outs and came up empty. Soon after, the Laservision defense and pretty much the entire Mid America Ballyard was lulled to sleep as Resmondo pasted single after single, mixed with an occasional home run. Then Laservision put together a late rally only to come up 3 runs short 29-26.
The good news is, Laservision has pretty well solidified the #2 seed the rest of the year and they have enough offense to win the Major. The bad news is they have only won one tournament all season and the defense, pitching, and situational hitting have not been clutch when needed. But lets not write them off yet. I always root for the underdog, which Laservision is at the moment.
Dal Beggs plays 2B for Laservision with wreckless abandon. Great effort.
Laservision middle infielder Kevin Kennington
Helmer probably led the tournament in homer's when the stats come out. Or at least he killed the most squirrels.
---
3rd Place – TYJA – Suncoast ReebokGTGG
Conf 'A' from Great Neck, NY 5-2 Record
TYJA won their first 3 games of the tournament, including a 29-28 win over Nordkap/Desert Falls in the semi-finals when Michael Stephany hit a walk off homer. After Laservision dropped them to the loser's bracket 31-21, TYJA won a game that ended after midnight against Shoppe 38-37 after trailing by 5 late in the game. On Sunday morning TYJA came from 6 down with two outs and no homers to beat Team 454 26-25!
Wow, another good weekend and some close wins for TYJA over their top 'A' peers and Nordkap. Jeff Wallace did not play (knee/elbow?) and Perry Hensley could not make the tournament (flight problems). TYJA solidified themselves in the top 10 in points and have beaten a number of top teams the last two weeks. Baxter helps extend the offense. Reyna was making some great plays at SS and the TYJA/Reebok infield is basically playing with 5 shortstops when Cordova plays first base.
Victor Cordova was TYJA-Suncoast Reeboks backup pitcher when Perry Hensley's flights got messed up
TYJA-Suncoast Reebok has 3 players that live near the Cincinnati area. LF Dave Kessler, Pitcher TJ Thompson, and infielder Terry Rosenbalm
Luis "Team USA Futures" Reyna
---
---
4th Place – Team 454/Emerald/Worth
Conf 'A' from Glen Allen, VA 4-2 Record
Team 454 knocked off Sonny's in a 2nd round matchup that could have gone either way. Then they run ruled Shoppe 34-19 before a semi-final showdown with fellow Worth team Resmondo. In that game the offense disappeared and 454 lost 22-5 in a quick game. In the loser's bracket they came from behind twice to beat Reds Astros 20-18 and then led most of the way Sunday morning against TYJA before TYJA scored 6 runs with 2 outs and no homers to beat them 26-25.
454 played without Don Rogers (back), Mitch Mabe (shoulder?), and Brent Griffin. They picked up Bryce Oliviera to play outfield. Andy Vitcak did most of the pitching and the versatile Chad Durick played SS.
I mistakenly said Bill Rhew had been playing softball for 7 or 8 years on one of my broadcasts. This is actually only his 3rd season of softball after an extensive pro baseball career.
Newly acquired Bryce Oliviera from the disbanded Demarini/Famous team was playing left field for Team 454
454 2nd baseman Phillip White is not the Phil White from Bell Corp in the 1990's (pictured below) who would be 59 years old today
---
Tied 5th Place – Red's Astros/TPS/Sports Den
Conf 'B' from Indianapolis, IN 5-2 Record
Red's Astros beat 5 Conference teams in Cincinnati. They knocked off Columbus Pipe 18-14 on Friday and then lost to Resmondo bad (23-5) on Saturday morning. In the loser's bracket they made a run for the ages as they knocked off Wheelhouse and Primetime by a combined score of 57-13. Then they sent Nordkap/Desert Falls home 37-30 for their second win against a Major team this year. Then late on Saturday they knocked out R&M Metals by an incredible score of 21-1, and had the lead multiple times against Team 454 before losing 20-18.
The great thing about Red's is that they do this with only one player with any regular Conference experience and that is left fielder Brian Farrar. The rest are softball veterans but Conference newbies. Red's is 2-3 vs the Major division, 5-6 vs the 'A' division, and 9-1 vs the 'B' division. Those are some important numbers when it comes to 'B' World title contention.
Unfortunately it looks like Red's needs to finish 3rd or 4th in Detroit to have a shot at making the Major World Series. It may be time with the expansion of the Conference to 40 teams to take a look at the points system or make the Hall of Fame tournament mandatory?
One of Red's best hitters Doug Martin was also injured (groin) during the tournament.
"Red" Moore has positioned himself to be the only team to try and make the Major World without having played the Hall of Fame Classic! But it will be an uphill battle in Detroit with a top finish needed.
---
Tied 5th Place – Shoppe/Team TPS/Elite GTGG
Conf 'A' from McKenzie, TN 4-2 Record
Shoppe pitcher Shane Spicer, 2nd baseman Jeff Payton, and right fielder Billy Moore
Shoppe got past both of their trouble spots in Cincinnati. One trouble spot for them all year is the second game of the tournament. The second trouble spot has been P&P 333 who has beaten them twice this year. So in Cincy in their second game they drew P&P and it was a great game that Shoppe pulled out in the 7th inning 23-22. Then they were run ruled by 'A' peer Team 454 34-19. In the loser's bracket they run ruled Columbus Pipe and Pure Romance before taking a 36-31 lead on TYJA late on Saturday night. TYJA grabbed a small lead in the top of the 7th and Shoppe lost with the sticks in their hands 38-37.
A solid tournament for Shoppe considering they were missing Dan Sanchez (family) their pitcher, Robert Blackburn (broken foot), and their secondbaseman Jeff Payton was hit by a bat that slipped from a teammates hand across the bridge of his nose. Also their pickup, Steve Allen, from Demarini/Dirty was not there so Shoppe played short handed but played well and they actually have a chance to finish as high as 3rd in the Conference point standings with a win in the Detroit "Last Chance" major.
Shoppe's Lee Powers batting against TYJA late on Saturday night. If anyone wants a Lee Powers end loaded Z2000, I have 3 left to sell. Email dw@softballcenter.com
---
Tied 7th Place – Pure Romance/Easton GTGG
Conf 'C' from Cincinnati, OH 4-2 Record
PRI gets their highest finish of the Conference season. They knocked off Cincinnati rival 3rd Street Financial on Friday night 32-31. Then they were facing a run rule loss on Saturday morning against Nordkap/Desert Falls before fighting all the way back to a 33-29 loss.
In the loser's bracket they knocked off two locals and had a big win over Linedrive 32-25 before Shoppe finished their run 26-11.
I am still getting to know the PRI players but they seem to have a consistent group that show up to all of their tournaments led by veteran pitcher Roger Drake and Tom Stevens their best hitter. Johnny Miller was moved to leadoff. I remember Johnny playing a nasty outfield for EMR 10 years ago along side Darrell Hall. One of my favorite 'B' teams of all time.
PRI has a deep resume of wins against all levels except for Major. But they have played the Major teams to 7 full innings almost every time out which is impressive.
---
Tied 7th Place – R&M Metals/Troupe/Pipac/S&R/Easton GTGG
Conf 'A' from Waterloo, IA 3-2 Record
R&M beat Blitz and Sonny's but lost to Laservision and Red's Astros. R&M is 6-3 against the 'A' division and played with new pickups Blake Williams and pitcher Brendt Newbill. All of the pieces are in place for an 'A' World run but their track record this year would show they are a long shot.
Newly acquired Blake Williams (formerly with The Scene) was playing for R&M
Brendt Newbill from the defunct Demarini/Famous team pitched for R&M in place of Lossen White couldn't make it.
---
The Rest of the Conference Teams G
#9 Columbus Pipe/DSS Bats/Easton 4-2 – beat a bunch of 'C' teams. DW is still a Pipe fan.
---
#9 Sonny's / Louisville Slugger 3-2 – Came up short against Team 454 early on. Beat 3rd Street and P&P in their attempt to salvage the weekend but came up short against R&M in a fun game 22-18.
---
#9 line drive sportz/sss softball 2-2 – Linedrive beat Elk n Elk then Primetime and had a shot at Resmondo in the 7th but couldn't pull it out 23-19. Gave Resmondo their best game of the tournament.
---
#9 Nordkap/Desert Falls/Easton 2-2 – Had PRI about run ruled quickly before letting them back in the game and just getting by with the win 33-29. Third game they lost on a walk off homer to TYJA in the 7th and got sent home early by Reds Astros 37-31.
---
#13 Primetime/Easton 2-2 – Beat some locals, lost to Conference peers Linedrive and Reds. Played without Earl Bryant (pulled muscle). Primetime will need help to remain in the top 16.
---
#13 P&P 333/suburban/larrys/aos/combat 2-2 – Lost to Shoppe in another close one 23-22 and then Sonny's with a couple local 'C' wins in between. P&P trying to get into the show, a long shot.
---
#17 Wheelhouse/spiderz/game time supply 2-2 – Still not scoring against Conference opponents.
---
#17 TG United 1-2 – Better than Wheelhouse but didn't finish higher
---
#17 blitz/weller/watanabe/k&g/easton 1-2 – No more excuses for Blitz. They are playing bad softball, even in Cincinnati. 🙁
---
#25 baughford.com/advantagesports/worth 0-2 – Baugh lost to two local 'C' teams before I could get a picture.
---
More pictures below
---
Hot Links section brought to you by:
I would like to thank all of my sponsors for their support as well as USSSA, Dave Maury, and Brian Wegman! Thank you for the support!
I will be at the "Last Chance" in Detroit, Michigan August 3-5!
Send corrections to dw@softballcenter.com
Link to all the photos from the Cincinnati Major
Link to SoftballCenter.com broadcast archive 1
Link to SoftballCenter.com broadcast archive 2
(support the amateur broadcasts by paypal dale_weiser@yahoo.com or email for an address)
Link to the SoftballCenter.com Youtube channel
2012 Conference USSSA Schedule
Link to the 2012 Tournament Reports
As always send dw@softballcenter.com any errors you see in the report or links that do not work. Thanks.
---
---
Some more pictures for you:
Almost. The fence knocked the ball out and Shoppe finally beat P&P 23-22
Blitz shortstop Nick Masur just misses this Elk and Elk linedrive
Elk and Elk from my hometown of Cleveland, Ohio had the biggest upset by a non-conference team when they sent Blitz home 26-24
Pineapple was running the camera for the semi-finals and finals and scouting for talent in between innings
A couple of fans had a giant travelling boom box for their tailgating party
I'm thinking having some kind of flag on the fair/foul pole is a bad idea?
BJ Fulk with the old school mound of dirt
Those guys in the back with their hands waving are either "Softball Guy" of the week or Wegman groupies!
This site uses Akismet to reduce spam. Learn how your comment data is processed.