2012 "Windy City" Classic – Chicago tournament report
2012 "Windy City"
Bud Light Major NIT
Joliet, IL
June 8-10
Laser Vision takes on Team 454 in the winner's bracket championship Saturday night
The "Windy City" Classic lived up to its name as gusting winds on Sunday for the championship games led to the highest scores of the season. Team 454/Emerald/Worth, an 'A' team out of Virginia "double dipped" Laservision/Annihilation/Supreme/D2E/Easton, a 'Major' team in the championship by a combined score of 112-65. The wind was blowing hard and straight out to center field, reducing infielders range to one step, outfielders range to 2 or 3 steps, and creating havoc on popups and pushing fly balls into home runs. Take nothing away from Team 454 though as they took advantage of the elements and persevered to their second conference tournament win of the season. Remember they also "double dipped" Nordkap/Desert Falls/Easton a month ago in Euless, Texas.
The sign behind the guy in the red in center field says 330. Players were clearing that building behind the sign with regularity
The "Windy City" Classic which is played at the Inwood Sports Complex in Joliet, Illinois began on Friday night with all but 2 of the 35 teams playing. There were no real upsets to speak of on Friday. A very good local 'B' team called Precision/Shirts and Logos beat The Scene/Easton 25-10 and PDR, a good local 'C' team that usually plays well early on in the Classic, knocked off conference 'C' team TG United 25-24.
On Saturday in the third round of the tournament, which was most of the team's second game, it was all conference teams winning, with a few upsets. P&P 333/Suburban/Larrys/AOS/Combat who upset #5 ranked Shoppe/Team TPS/Elite back at the Hall of Fame Classic to open the season, knocked them off again 32-25 with a big surge early on and then a second surge after Shoppe had tied the game. #25 ranked Line Drive Sportz out of Michigan sent #7 TYJA-Suncoast Reebok to the losers bracket by separating late in the game and winning 24-16. Also #12 R&M Metals jumped out to a huge 19-1 lead in the first on #11 Taylormade and won 28-12.
Then there was the shocking upset. Reds Astros/TPS/Sports Den a new conference 'B' team based out of Indianapolis, Indiana knocked off #2 Resmondo-Specialty Tank/Worth 36-31 in a game that Reds led basically the entire game. Resmondo had the hammer in their hands in the 7th, and after two quick outs they did close the gap to 5 before the final out. Reds Astros gave Resmondo a scare last year in Cincinnati so we know they are more than capable, but this was an impressive display of offense by Reds and they had some timely defense with double plays and line drive stabs by the pitcher to complete the win.
The third round completed with #1 Demarini/Dirty, #3 Laservision, #4 Nordkap/Desert Falls, and #10 Team 454 all winning.
In the quarter finals Team 454 struggled but beat P&P 333 23-21, Red's Astros knocked off Line Drive 25-23, and Nordkap/Desert Falls only batted twice in a 39-9 win over R&M Metals where Nordkap scored 36 runs in the second inning! Also the long awaited rematch between Demarini/Dirty and Laservision took place. Demarini/Dirty came from an early double figure deficit to take an impressive 17-14 lead in the top of the 4th. Then they got a double play on Laservision in the bottom of the 4th to gain the momentum. But in the top of the 5th Dirty put up a zero and in the bottom half of the inning, Laservision scored 22 runs to "mercy rule" a shocked Demarini team that, it seemed, never really got to answer Laservisions big inning. Home team is a huge advantage in the Conference.
In the semi-finals Team 454 separated late in the game to hand Reds Astros a 24-9 loss and Laservision took the wind out of Nordkap/Desert Falls offensive explosions with a 31-22 victory. In the winner's championship game early on Saturday night Laservision beat Team 454 38-27 like they were supposed to.
P&P beat Shoppe for the second time this year
Score book for Team 454 when they put up 62 runs!
Championship Highlites brought to you by: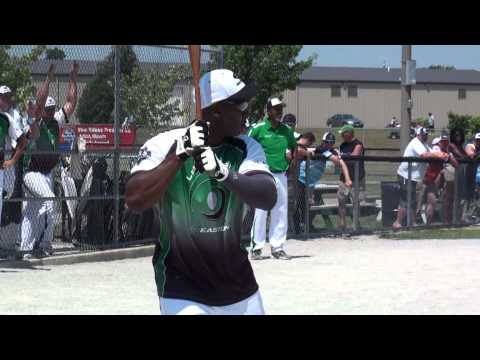 All of the archive games can be found here for Channel 1
All of the archive games for Channel 2
In the loser's bracket on Saturday it was Line Drive Sportz knocking off Pure Romance, P&P 333, and run ruling (yes I said run ruling) Nordkap/Desert Falls 20-5 to make it to Sunday. There they would play Shoppe/Team TPS/Elite who won 5 in the loser's bracket on Saturday after losing their second game of the tournament. Shoppe's last win was over Reds Astros where Shoppe trailed big most of the game but put up a huge rally in the 6th to take the game 33-31.
On Sunday Line Drive Sportz jumped out to a huge lead on Shoppe 20-0 but Shoppe would extend the game from the mercy rule twice before falling to Line Drive 23-20. In the loser's championship Team 454 won their first of 3 consecutive run rule games, beating Line Drive 31-14 then Laservision twice to win the tournament.
The weather until the wind kicked up was nearly perfect for softball. The tournament had a good group of umpires on the main fields including 4 or 5 Conference regulars. The 6 field complex allowed for the 35 teams to funnel down to an 8 PM winner's bracket championship game, which all tournaments should strive for. This allows the teams to get back to the hotels by midnight. Tournaments should be capped at the best 32 teams that they can get so that this can be done each week unless the complex has enough fields to make an 8 PM winner's championship game. The ball used was the Conference M and bat testing was in full effect.
For the first time in years, Resmondo is no longer the #1 team in the Nationwide Conference USSSA point standings. It was a great run. Laservision has a 34 point lead. If they had won Chicago it would have been a 74 point lead! Ouch!
They don't call it the "Windy City" Classic for nothing. The wind on Sunday blew straight out and it blew hard.
Teams that weren't used to being out early congregated at the beer garden
Reds Astros (in Yellow) upset Resmondo 36-31
Nordkap/Desert Falls taking on local 'B' team Precision on field #6
Team 454 middle infielder Kevin Bazat bats against Laservisions Geno Buck in the final game
Yes, bat testing and the conference M ball
2012 Nationwide Insurance Conference Schedule

---
---
Remember to email pictures or scans of your stat sheets to dw@softballcenter.com for posting in a picture album and to be used to verify totals. Stats without pictures/scans of each score sheet will be removed from the USSSA site.
---
Video Highlites brought to you by: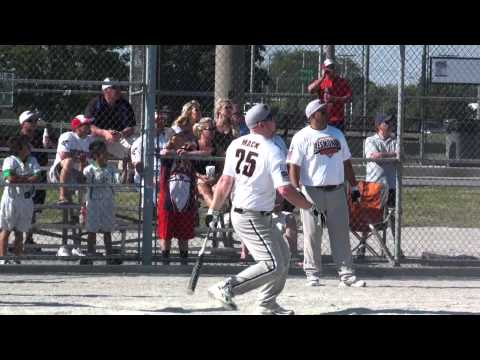 Random video highlites
---
---
The Mojo Masher of the week conference "newbie" is
Team 454 C/EH – Tim "The Lumberjack" Mickey
---
"Windy City" Tournament Awards and Final Standings:
Note: Official awards have not been listed on the USSSA site. I will update this section when they are updated.
My pick for MVP SS Chad Durick
Team 454 pitcher Andy Vitcak stabbed an untold amount of liners up the middle and pounded the gaps on the offensive side. He will be MVP or defensive MVP
Team by team notes brought to you by:
---
1st Place – Team 454/Emerald/WorthGTGGNo Nolkjdsa;lkajsdlkgajaljn
Conf 'A' from Glen Allen, VA 7-1 Record
Team 454/Emerald/Worth outscored their opponents 284-177, averaging 35.5 runs per game. They adjusted to the elements, the wind and the hard infields and just got into an offensive rhythm the likes of which we have not seen in a while. To mention individual names is probably a disservice to the "team" game that 454 played, but they were led by pitcher Andy Vitcak who's defense with his glove and ability to hold opponents to where he didn't get knocked out of the game was big, and fill in shortstop Chad Durick who hit a tournament high and conference season high 22 home runs. Also it was great to see Rusty Bumgardner come through big hitting in the 2 hole, and outfielder Jesse Harrison had a nice weekend since Durick was moved to SS. The entire team contributed to this great run and they did this without infielder Mitch Mabe, and the injured Don Rogers (back).
This was an impressive turnaround for 454 who remember won Euless with a double dip of Nordkap then went 1-2 at the Music City, and 2-2 in Atlanta.
Lineup
CF Jason Branch
1B Rusty Bumgardner
3B Bill Rhew
SS Chad Durick
LF Jesse Harrison
C Kyle Moyer
2B Phil White
RF Brent Griffin
MI Kevin Bazat
EH Tim Mickey
P Andy Vitcak
Team 454's Jason Branch working hard towards being the best hitting CF in the game
Phil White played better than an extra in the Field of Dreams movie
---
2nd Place – Laservision/Annihilation/Supreme/D2E/Easton GTGG
Conf 'M' from Cicero, NY 5-2 Record
Laservision beat Pure Romance 28-18 in the third round, then used a big first inning and 22 run 5th inning to run rule their nemesis Demarini/Dirty 36-20. In the semis and winners championship they pulled off solid wins over Nordkap/Desert Falls 31-22 and Team 454 38-27.
Sitting in the driver's seat and poised to take a huge lead in the Conference points, Laservision didn't adapt to changing winds and came up short to 454 in the finals.
Laservision has a rash of injuries. Scott Kirby (hamstring), Jason Kendrick (stomach muscle), and Bryson Baker (recovering from pulled muscle) forced new pitcher Curtiss "Wolf" Wilson and the seldom used Marty Malloy into the games. Curtiss did a nice job in his first tournament with them and I was impressed with his hitting. Laservision is frustrated by their inconsistent play and offensive outages but when the dust settles, they are where they want to be, #1 in Conference points going into the Dudley, so they control their own fate from here on. That extra 40 points they would have had if they had won just one of those last two games though, may haunt them at the end of the season.
Lineup
CF Rick Baker
EH Brett Helmer
1B Ryan Thiede
MI/RF Brian Wegman
P Geno Buck
SS Kevin Kennington
C/P Curtiss Wilson
LF Brian Rainwater
3B Sam Lopez
2B Dal Beggs
RF Jason Kendrick / SS Marty Malloy
Laservision picked up pitcher Curtiss "Wolf" Wilson who did a good job
Laservision dusted off infielder Marty Malloy after their rash of injuries
Scott Kirty, Jason Kendrick (pictured) and Bryson Baker are all still banged up
---
---
3rd Place – Line Drive Sportz/SSS Softball GTGG
Conf 'B' from Warren, MI 6-2 Record
Line Drive Sportz, wow, a third place finish at one of the biggest regular season conference events in history! The #25 ranked team in the nation finally breaks through as all Line Drive teams of the past have, and strings together a great run. After a huge upset of TYJA-Suncoast 24-16 in the second round and a heart breaking late inning loss to Reds Astros 25-23, Line Drive rattled off wins over PRI, P&P, then absolutely shut down Nordkap/Desert Falls 20-5 while holding them scoreless for the first 3 innings, and followed up with a nice 20-0 lead on Shoppe before holding on to win 23-20 and making it to the loser's bracket championship game where 454 pounded them 31-14.
The Cory Large, Matt Rear, Shannan Green, Jason Ferguson top of the order and pitcher Billy Barretts nasty knuckle ball into the wind led the way.
Lineup
LF Cory Large
3B Matt Rear
1B Shannan Green
2B Jason Ferguson
EH Clay Smitherman
SS Charlie Anderson
RF Dan Hall
C Brian Puckett
CF Brian Blay
P Billy Barrett
MI Willie Allen / Joel Ramos
Linedrive pitcher Billy Barrett held Nordkap to 5 runs!
Matt Rear hits a homer for Linedrive in the losers bracket championship game
---
4th Place – Shoppe / Team TPS / Elite GTGGied 7th
Conf 'A' from McKenzie, TN 6-2 Record
Shoppe lost early in the tournament again. This time to P&P 333 32-25. They fought back once but couldn't pull it off. In the losers bracket, where they are very comfortable, Shoppe won 5 straight including sending home R&M, TYJA, and Reds Astros. On Sunday morning though, they trailed Linedrive 20-0 and escaped the run rule in the 4th and 5th to close the gap to 23-20 with some good pitching and a big 5th inning. Linedrive won though and Shoppe gets another Sunday finish.
Shoppe is still relying on the top of their order a little too much, but it is one of the top "foursomes" in the game, no question. (Powers, Thompson, Cocco, Robo)
This team is obviously capable of stringing 4 wins together against 'A' opponents which will be needed at the 'A' Worlds and Shoppe and Team 454 are still at the head of the 'A' class.
You knew the caption before you even read it. Eric Thompson gets arm sleeve of the week. Nice color combos!
Just think how many pictures a player could get in the report if they wore a SoftballCenter.com arm sleeve?
There was a Billy Moore sighting! I think Shoppe should rotate their outfielders. I know, shut up and just report… 🙂
---
Tied 5th Place – Reds Astros/TPS/Sports Den GTGGied 7th
Conf 'B' from Indianapolis, IN 3-2 Record
Red's Astros/TPS/Sports Den reminded us why we play the games. Their upset over Resmondo was impressive and would have been more so if their defensive had come up with some big plays that they almost made. Wally Maybrier and veteran John Steele came up with some huge home runs in that 35-31 upset of Resmondo. After wins over Resmondo and a good Linedrive team, they hung in the game against Team 454 until 454 put up a big inning late. In the losers bracket they had Shoppe all but beat but didn't close the door and Shoppe came back big and beat Reds 33-31.
Red's plays better in big games and has a knack for making a big play or getting a big hit at the right time. A fun team, whose big upsets will continue.
I still don't know Reds team well enough so I made a collage of player pics!
---
Tied 5th Place – Nordkap/Desert Falls/Easton GTGG
Conf 'M' from Riverton, UT 3-2 Record
Nordkap/Desert Falls/Easton showed up with their two new major players – third baseman Brian Justice and DH Mike Rhines. They moved Joey Formosa to middle infield, JD Genter to 2nd base, and Brett McCollum to first base (where he made some nice stops). The offense clicked into high gear as they handled their first two opponents by the run rule and put up 36 runs in the second inning to beat R&M Metals 39-9. Then the offense disappeared in a 31-22 loss to Laservision and a 20-5 loss to Linedrive where Nordkap scored 0 runs through the first 3 innings after the sun went down?
Nordkaps roller coaster year continues. Will the real Nordkap please stand up?
Brian Justice played his first game with his new team Nordkap
Donovan Pokraka watches one fly deep
---
Tied 7th Place – TYJA – Suncoast Reebok GTGGied 7th
Conf 'A' from Great Neck, NY 4-2 Record
TYJA – Suncoast Reebok got flat out beat by Linedrive in the 2nd round 24-16. They dropped into a nasty part of the losers bracket and quickly ran into Resmondo. Trailing mid way, they took the lead and separated from Resmondo in the 5th I think it was and the defense held up in a 26-25 victory. A lot of teams would have called it a successful weekend defeating Resmondo the #2 team in the nation but TYJA-Suncoast had to play #1 ranked Demarini/Dirty next and they promptly sent Dirty home 25-18. Two huge wins for a team that has lacked consistency but seems to get up for the big games and play down for the not so big games. An "every game is big" approach is needed and I think you need to be able to win 4 in a row to win the 'A' worlds. TYJA was sent home by Shoppe Saturday evening 19-4. I didn't see this game, not sure what went wrong in that one?
TYJA/Reebok had their new pickups 1B Jason Baxter and middle infielder Matt Crawford (formerly with CA Sports)
TYJA pitcher Perry Hensley notched a victory over Resmondo
TYJA/Reebok works for the last out against Resmondo
---
Tied 7th Place – P&P 333/Suburban/Larry's/AOS/Combat GTGG
Conf 'B' from Lansing, MI 3-2 Record
P&P 333/Suburban/Larrys/AOS/Combat needed a walk off grand slam by player/manager Josh Onstott to beat Wizards Softball 33-29, a local 'C' team, on Friday night. Then they used two big innings to upset Shoppe 32-25. In the third round they came up short against Team 454 23-21 in a game that could have went either way. In the loser's bracket they beat Taylormade on a walk off single by Brian Baker 24-23 before Linedrive returned the favor 23-21.
I am still trying to figure out how big a "player" P&P is in the 'B' World picture? The resume shows they are 3-3 vs the 'A' division and just 2-4 vs the 'B' division. The 2011 'C' champs, you know have heart and can adjust to playing conditions and field sizes. I'd say they are still a year away…
---
The Rest of the Conference Teams G
Tied 9th – Demarini/Dirty knocked off Blitz nicely 26-11 on Saturday morning. Then they weathered a big deficit to Laservision early, came back to a 17-14 lead in the top of the 4th inning and got a double play to hold Laser to a zero in the bottom of the 4th. With a huge jolt of momentum from the double play they then put up a zero of their own in the top of the 5th and Laservision took advantage and run ruled them with a 22 run inning. In the loser's bracket Demarini ran into TYJA-Suncoast Reebok who had just come off beating Resmondo and Demarini lost 25-18. The first short weekend of the year for Demarini who came in as the #1 ranked team in the nation. They had all of their players, just they were missing it a little on offense at times and ran into some hot teams.
---
Tied 9th – Pure Romance/Easton, the top 'C' team in the nation, crushed KBI for the second time this year. Then they ran into Laservision who they had down 10-7 early and they did hang on to play a full 7 innings, losing 28-18. In the losers bracket they smoked The Scene 17-4, knocked off Blitz for the third time this season 13-11, then Linedrive sent them home 23-8. One more win against the 'B' division and one against the 'A' and 7 innings against a Major team. Not a bad weekend by any means.
---
Tied 9th – R&M Retals put up 18 in the first inning against Taylormade in a huge 28-12 second round win then Nordkap/Desert Falls hit them for a 36 run second inning and R&M dropped to the losers bracket where they fell into the path of Shoppe. Shoppe jumped out to a 9-1 lead and beat R&M 16-15. R&M was finally healthy but lost Kyle Yerkes (knee) possibly for the rest of the season pending a doctor's visit. They will need a second pitcher if this is true. Send applications to Hump…
---
Tied 13th – Resmondo had their worst finish in their storied 7 year Conference history. They trailed Reds Astros all of that game and just never could catch them and left 2 homers on the table. Then they took their anger out on TG United in a 30-0 blowout before returning to "catch up" mode late against TYJA-Suncoast Reebok and lost 26-25, leaving 4 homers on the table?
Resmondo had all of their players and were healthy probably for the first time all year. In my opinion they will be fine with the team they have and could very well run through the Dudley and turn their season around. Staggering the lineup some and letting the free swingers swing away might be a good adjustment they could make. Also just playing the game and leave the arguing with the umpires and arguing amongst themselves alone would probably be a more positive approach to these games. With the parity in the Conference this year, Resmondo is not going undefeated the rest of the way and may not go undefeated in any single tournament the rest of the way. So accepting and learning to lose may actually help them win in a strange sort of way. Resmondo is 4-4 against the 'A' division this year. That is actually a wonderful thing for competition and the growth of the Conference.
---
---
Tied 13th – Blitz did not jump on Demarini/Dirty like they needed to and the offense this team displayed in Indiana never showed up in Chicago. In the loser's bracket Blitz lost to rival Cincinnati team Pure Romance (13-11) for the 3rd straight time this year which halted the loser's bracket run that Blitz needed to turn the season around. Blitz played without center fielder Mike Rogers and slugger Jon Jamison but that is no excuse.
---
Tied 17th – The Scene/Easton picked up a bunch of Hubs Pub players and locals to be able to participate in the tournament. The results were not pretty and the future is in question.
---
Tied 17th – TG United lost their opener to a very good PDR team 25-24 on Friday night and had the unfortunate luck to fall into the path of an angry Resmondo team in the loser's bracket. The growing pains continue.
---
More pictures below
---
Hot Links section brought to you by:
I would like to thank all of my sponsors for their support, USSSA, and the tournament directors as well!
I will be at the Dudley on Saturday and Sunday for the dual Majors there! Tune in!
Send corrections to dw@softballcenter.com
Link to all the photos from Chicago Major
Link to SoftballCenter.com broadcast archive
(support the amateur broadcasts by paypal dale_weiser@yahoo.com or email for an address)
Link to the SoftballCenter.com Youtube channel
2012 Conference USSSA Schedule
Link to the 2012 Tournament Reports
As always send dw@softballcenter.com any errors you see in the report or links that do not work. Thanks.
---
---
Some more pictures for you:
"Softball Guy" picture of the week is this guy from Precision!
Who's feet?
This site uses Akismet to reduce spam. Learn how your comment data is processed.