2011 Conference USSSA Smoky Mountain Classic Recap
2011 Conference USSSA
43rd Annual Smoky Mountain Classic
Maryville, Tennessee
July 7 – 9
The prestigious 43rd Annual Smoky Mountain Classic was played this past weekend in Maryville, Tennessee and surrounding parks. The tournament featured 30 teams (4 – Major, 8 – 'A', 10 – 'B', 5 – 'C', 3 – 'D') from 19 different States and 20 of the teams were from Conference USSSA.
The Classic started on Friday night with a big crowd at the main fields at Sandy Springs Park. One official estimated the crowd to be about 3 times the size of the Dudley. I was over at Maryville College where EWS was just finishing off Wheelhouse Sports by a score of 15-11. Then I watched Taylormade hammer Down2EarthSports 29-10. Taylormade's Kevin Kennington was leading the way with a nasty homer and a couple of doubles. The way the seeding works out, the best first round match ups are usually at the College and I enjoy watching the game on a bigger baseball field. The blowout gave me a chance to talk to some locals about the history of the tournament and get their view on the changes in the tournament and size of the crowds etc. One nice lady told me she brought her son to the tournament 30 years ago and now he was out on the field umpiring at the college Friday night. She said the crowds are not what they used to be but the town still looks forward to the tournament every year. She said she could tell by where people were parking that this years Friday crowd was pretty large. She also said the little league which is huge in Maryville has a camp out on the historic Smoky main field once every year and that is a lot of fun. I asked her about the changes in the game or players and she simply said that it is better now that they don't argue so much but she also misses the teams like Howard's Furniture and the fact that Tennessee teams aren't as competitive.
The next game on the schedule was Suncoast and Primetime. Again a blowout, 19-4 as Suncoasts Terry Rosenbalm hit the longest home run I've seen at the College fields in 4 years there. This was followed with the second round matchup of Suncoast and Taylormade. The two teams played in the same game in 2010 and Suncoast beat them again this year 22-14.
For the rest of the tournament I was broadcasting and reporting from the show field #3 at Sandy Springs park where all 8 of the undefeated 2-0 teams from Friday night squared off.

Saturday "Final 8" of the winner's bracket games:
First it was Shoppe and Team Combat/Laser Vision. Brett Helmer and the "Derby Boys" from Combat came out swinging for the fences and put on the best home run show of the day as they "flip flopped" then "run ruled" Shoppe 37-14. Helmer was 5-5 with 5 homer's and 14 RBI.
In the second game at 10:30 AM GTL beat EWS 20-14. The ball definitely was beginning to fly less and less as the heat approached 90 degrees and the humidity softened the ball. GTL was led by Sean McDonald who had a pair of clutch home runs.

In the 3rd game at noon Resmondo beat Combat/Pharmapar 22-13 with a nice balance of timely defensive plays and a couple of key homer's.
In the final game of the winner's quarter finals at 1:30 the ball just would not go as Suncoast wrestled a 7-6 win away from Famous.
Final 4 of Winner's Bracket:
In the semi-finals GTL used some great pitching from Geno Buck and a smothering defense which included the first of their rare 3-6-5 double plays to completely shut down Team Combat/Laser Vision 19-2.
In the second semi, Resmondo held off Suncoast 20-14 as the ball started to fly a little bit towards the end of the game.
The winner's championship game between Resmondo and GTL began around 7:30 PM in front of the largest crowd of the day and was a great game from beginning to end. GTL held the lead much of the game but stranded 14 runner's in the first 7 innings and was unable to run rule Resmondo. Going into the top of the 7th Resmondo was down 22-16. GTL got 2 outs from the first 3 Resmondo batters and then Resmondo just refused to make the final out and put up a 7 spot to take the lead 23-22. In the bottom of the inning GTL scored 1 but left the winning run on third with 2 out and Resmondo scored 5 in the 8th to steal the victory. The game was filled with some high drama, some great defensive plays, and some long homer's.
On Sunday morning the day started at 8 AM with a rematch of the 2nd round contest between Famous and Team 454. Famous would beat 454 for the second time in the tournament by an impressive 35-17 mark and advanced to play GTL who then sent them home 34-14 in the loser's bracket championship. Ed Vega had an impressive 4 homer's in that game against 454 (if I remember correctly).
In the first game of the championship GTL hung within striking distance of Resmondo for awhile but never put up the necessary run and Resmondo run ruled them 27-12 when Scott Striebel hit a walk off homer in the bottom of the 6th inning. Resmondo wins their 4th straight Smoky Mountain Classic, their Smoky record 7th overall, and add to their 2011 trophy case with their 7th tournament win of the year.
Coin toss for the Championship game.
"First, you WILL stay in your dugout box…"
Umpires for the Championship – Doc, Tony, Duane, Patti?
GTL's Tim Howard closes the gap on Resmondo in the Championship with a homer
GTL's Kevin Filby picked up the Offensive MVP
Resmondo's Scott Striebel ended the Championship with a walk off run rule homer
Greg Connell is the best hitter in the game today and is very underrated defensively.
Greg takes home the prestigious Smoky MVP. Award given by directors Chris Clark (blue) and Joe Huff (yellow)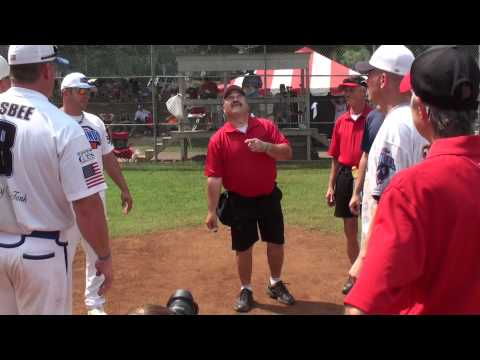 Resmondo and GTL video from Saturday and Sunday. Donnie and Jr have some fun at the coin toss
Sunday morning final 4, Famous in the white takes on Team 454

Everett Park fields 1 and 2. Gold's Gym takes on A&K Tile

The show field has a spacious outfield – 310-350-315. I know on the broadcast I kept saying 356 but that is because I can't see real well…
Field #3 Sandy Springs Park
Sandy Springs field #4

Maryville College field #5 (Day and night)
Historic Smoky Mountain Classic Winning Teams List
2011 Resmondo-Specialty Tank/Worth, Winter Haven, FL
2010 Resmondo Specialty Tank Phonemasters, Winter Haven, FL
2009 Resmondo/Specialty/Worth from Winter Haven, FL
2008 Resmondo/Specialty Tank/Worth from Winter Haven, FL
2007 Bell Corp/Belcher/TAI/Easton
2006 Resmondo/KME Softball – Winter Haven, Florida
2005 Bell Corp/Backman/Taylor/Easton – Tampa, Florida
2004 Resmondo/Hague/Taylor/Sunbelt
2003 Hague / Resmondo / Taylor Brothers
2002 Dan Smith / Backman / Menosse / Easton
2001 Long Haul / Taylor Bros. / Shen Corp. / TPS
2000 Team TPS/Louisville, KY
1999 Team TPS, Louisville, Kentucky
1998 Sierra/TPS, Reno, NV
1997 Ritch's/Superior/Tri Gems/Beloli/TPS, Windsor Locks, CT
1996 Sunbelt/Easton, Centerville, GA
1995 Ritch's/Superior/TPS, Windsor Locks, CT
1994 Ritch's/Superior/TPS, Windsor Locks, CT
1993 Ritch's/Superior, Windsor Locks, CT
1992 Bell Corp, Tampa, FL.
1991 Bell Corp, Tampa, FL.
1990 Steeles Silver Bullets, Grafton, OH
1989 Superior-Apollo, Windsor Locks, CT
1988 Starpath Systems, Monticello, KY
1987 Steeles Sports, Grafton, OH
1986 Steeles Sports, Grafton, OH
1985 Elite Coatings, Gordon, GA
1984 Elite Coatings, Gordon, GA
1983 Elite Coatings, Gordon, GA
1982 York/Ken Sanders, York, PA
1981 Howards Western Steer, Denver, NC
1980 Jerry's Caterers, Miami, FL.
1979 Campbell's Carpet, Concord, CA
1978 Dave Carroll Sports, Sherrills-Ford, NC
1977 Howards Furniture, Denver, NC
1976 Howards Furniture, Denver, NC
1975 Nelson Painting, Oklahoma City, OK
1974 Howards Furniture, Denver, NC

Random video clips from the tournament

You all know you love to see which ball was used and whether or not there was bat testing.
Dudley ZN .40 core 325 compression. Yes, full bat testing.
This was my view from the scorer's table. To the left I bungee cord strapped the camera to the fence so viewer's didn't need to look through it.
---
Smoky Mountain Tournament Awards and Final Standings:
| | | |
| --- | --- | --- |
| | | |
| | | Resmondo-Specialty Tank / Worth |
| | | |
| | | Resmondo-Specialty Tank / Worth |
| | | Famous Sports/Wood Law/Easton |
| | | Resmondo-Specialty Tank / Worth |
| | | |
| | | |
| | | Famous Sports/Wood Law/Easton |
| | | Resmondo-Specialty Tank / Worth |
| | | Resmondo-Specialty Tank / Worth |
| | | Resmondo-Specialty Tank / Worth |
| | | |
| | | Resmondo-Specialty Tank / Worth |
| | | Resmondo-Specialty Tank / Worth |
| | | |
| | | |
| | | Famous Sports/Wood Law/Easton |
| | | |
Team
Class

Runs
Scored

Runs
Allow

Avg
Runs

Avg
Allow

Avg
Diff

Max
Runs
---
Team by team notes brought to you by:
---
1st Place Resmondo-Specialty Tank / Worth GTGG
Conf 'M' from Winterhaven, FL 5-0 Record
Resmondo continues to make the defensive plays when they need to, both pitching and in the field. There roster has enough world championship player's that the last out of the game is never going to be an easy one which means they are never out of a close game.
Resmondo's SS Don Dedonatis Jr, Pitcher Andy Purcell, and 2B Greg Connell

Resmondo's sponsor's and player's. Teams are allowed outside the dugout at the Smoky in the dirt box.
Resmondo and GTL meet separately after the big Resmondo comeback
Travis Resmondo sends his kids out to get the first place trophy
---
2nd Place GTL Cartel/Demarini GTGG
Conf 'M' from Othello, WA 4-2 Record
The Cartel had Resmondo where they wanted them on Saturday night but just stranded too many runner's throughout almost every inning to put them away. GTL had 3 games in a row where they turned odd but spectacular double plays. This team has 5 infielder's that sacrifice their bodies to stop hard grounders every game and a pitcher that can shut down the best of hitter's.
Although disappointed, I think GTL is right where they want to be for the 2011 season. They have proven they can play with Resmondo on the baseball fields, the 300's, and on the biggest stage (Dudley, Smoky).
GTL's Anthony Dress in the Championship game hitting off of Purcell
Matt Pesso gives it a California flick down the right field line

---
3rd Place Famous Sports/Wood Law/Easton
Conf 'A' from Alta loma, CA 6-2 Record
Famous run ruled Team 454 on Friday night after a 20+ inning. Then they lost a "heat of the day" quarter final 7-6 against Suncoast in a game that neither team seemed to want to win. Then they ran off one of the most impressive loser's bracket streaks of the year as they beat R&M Metals, Pharmapar, scored 47 to send Laser Vision home late Saturday, then beat Team 454 a second time 35-17. WOW. Not bad for a team to be rumored to be folded for the last couple weeks.

Famous has combined with Doug Wood (Wood Law) to finish the season. Doug brough Bryan Goins, Steve Whaley, and Dennis Shrum with him and the team seemed to really gel.

Famous picked up the newly released Loyd Watson (Right) to go with his 2010 'A' World Champion teammate Chad Munger (Left)
Famous two hitter Adam Elliot
Click Wegs or Helmer for Easton equipment

Famous slugger Ed Vega was one of the few that were still hitting homer's on the show field in the heat of the day
Famous shortstop Dennis Shrum is still doing a great job at shortstop and holding down the 3 spot in the lineup
Famous players look on in their win over Laser Vision
The right side of the Famous infield was Chris Hansen at MI, Steve Whaley at 2B, and LC Watson at 1B in this game
---
4th Place Team 454 Emerald/Worth GTGG
Conf 'A' from Glen Allen, VA 6-2 Record
Team 454 has to be frustrated that they didn't revenge their second round loss to Famous on Sunday morning in the final 4 but a solid run through the loser's bracket nonetheless. They won 5 straight between Famous losses including sending home Taylormade, Shoppe, D2E, and Suncoast.
Bubba Mack and Team 454 lit up Suncoast late on Saturday to make it to the final 4

---
Tied 5th Place Suncoast Reebok GTGG
Conf 'A' from Parish, FL 3-2 Record
Suncoast had great wins over Primetime and Taylormade then stole one 7-6 against Famous. Then they showed some heart against Resmondo as they pulled close towards the end 20-14 before being pasted 41-20 late Saturday night against Team 454 when the ball started flying again.

Suncoasts Terry Rosenbalm hit the longest homerun to center field at the College that I have witnessed in 4 years
---
Tied 5th Place Team Combat/Laservision/D2E/Supreme GTGG
Conf 'M' from Kent, WA 3-2 Record
Team Combat/Laser Vision beat the non-conference 'B' teams Players Warehouse and A&K Tile on Friday night by a combined score of 56-4, WOW! Then they looked like the Major team that they want to be when they continued their offensive roll over Shoppe 37-14 on Saturday morning in the quarterfinals.
In the semi's against GTL with the ball not flying so well they put up 2 runs? Then they could not match the Famous offense late Saturday night and lost 47-29 on the smaller field #4.
Helmer's 5-5, 5 HR, 14 RBI
Next week the Conference visits Wegman's Mid America Ballyard
---
Tied 7th Place Down2EarthSports.com/Worth GTGG
Conf 'B' from Baxley, GA 4-2 Record
Down2Earth started out by getting whooped Friday night over at the college baseball field 29-10. They had no offense. Then in the loser's bracket they run ruled Primetime before beating Sinister, The Scene, and EWS in fairly close games. In their final game they had a 13 run lead early on Team 454 before falling 31-28.
D2E solidifies their top 10 ranking and gains valuable points towards a top 12 spot at the Major World Series which is where you want to be in order to avoid the Major teams early. D2E picked up veteran pitcher Chad Loudon who had 11 homer's and Sean Greer had 12 and Larkin Grant 9. But the tournament homerun championship trophy went to the hottest hitter in the tournament, Jonathan Scott who went a blistering 26-30 (2 walks) with 17 homer's. At one point he hit 11 straight!
Jonathan Scott was the home run champ with 17 HR's including an amazing 11 in row

Newly acquired Chad Loudon pitched for Down2Earth

---
Tied 7th Place Combat/Pharmapar/Transat Holiday GTGG
Conf 'M' from Seattle, WA 3-2 Record
Pharmapar had nice wins over CA Sports, Sinister, and Blitz but none of the big wins like they had at the Dudley. Thus they didn't make it to Sunday. Pharmapar did survive 7 innings against Resmondo.
---
The rest of the Conference Teams:
9th Blitz/Weller/Watanabe/MAB/Easton
Blitz couldn't score against the major teams GTL and Pharmapar but had two dominating win's "in class" against Gold's Gym and Midwest Swing.
9th R&M Metals/Troupe/TCP/Easton
R&M was out slugged 48-31 against Shoppe on Friday night, survived the ever pesky Major League and knocked off A&K Tile before a power outage loss, 11-8, to Famous on the show field Saturday afternoon.
9th Shoppe / Team TPS / D2W / Elite
Shoppe used a big 20 plus run inning to pull away from R&M on Friday night then dropped two to Laser Vision and Team 454 by the run rule…ouch
9th EWS/ShirtsandLogos/Drgraphx/Easton
EWS almost put Wheelhouse Sports on the map but held on 15-11 at the College on Friday night. Then they went over to Everett and beat Midwest 31-23. On the show field Saturday they hung around with GTL before losing 20-14 and then were sent home by Down2EarthSports 25-19.
13th The Scene/A.J.S./Easton/D2E
I heard The Scene had Resmondo down 10-8 on the show field Friday night before the defense opened the door to a 27-11 loss. They won one in the loser's bracket before D2E sent them home.
13th MidWest Swing / Miken
I did not get to see Midwest this weekend. They had a nice win over Major League and a local team


13th Taylormade/TM Sports/Mizuno
Taylormade hammered D2E in their opener Friday night at the College but failed to muster enough offense against Suncoast later that night. On Saturday it looks like they won a close one against a good CA Sports team (rumored to have picked up Brandon Murray and Ricky Haymans), before losing 11-8 to Team 454 in the heat of the day.

Note on CA Sports: They were an 'A' team in my opinion when I watched them play in Nashville. Now they pick up Haymans and Murray yet they don't have an online roster at USSSA.com but are still classified 'C'. Also I hear they are joining the Conference for 2012 so I expect to see them get bumped up soon.


17th Gold's Gym
A&K out powered Gold's 40-30 at Everett early on Friday night. Then Gold's beat Player's before being run ruled by Blitz. Unlimited homer's is not Gold's game in my opinion.
17th Sinister/Pritchard/Miken
Sinister run ruled Gas-It then dropped two in a row to Pharmapar and D2E. I did not see them play.

25th PrimeTime/Easton
Primetime did not look good scoring 4 runs against Suncoast on Friday night and then were sent home by D2E 34-18 early Saturday morning. Whatever happened to Reggie Patterson? How about some of the Pace slugger's?
25th Wheelhouse Sports / Reebok
Wheelhouse hung in the game with EWS before losing 15-11 then got washed by Major League 32-16.
25th Gas It/Easton/Lewis Lawn Care
Gas-It was run ruled by Sinister and CA Sports. I'm hearing they are done for the year. I am hoping this isn't true?

---
More Pictures Below
---
A big thanks to my sponsor's – USSSA, Down2EarthSports.com, GameTimeSupply.com, MojoSportsGear.com, TPS, Easton, DSSBats.com, SoftballToday Magazine, BatReviews.com, and BPAthletics.

A special thanks to Chris Clark and Joe Huff for their support.

I will be in Cincinnati, Ohio this Thursday (weather permitting) to broadcast the Team USA vs Cincinnati All Stars exhibition double header. Also I will be in Cincinnati on Saturday and Sunday for the Conference event.

2011 Smoky Mountain Classic pictures link
Link to the Bracket/Stats for the Smoky Mountain Classic
Link to the tournament in Cincinnati when ready
Link to the USSSA Point Standings and Stats
---
Here are some other pics from the Smoky:
Famous takes on R&M in the mid afternoon game on the show field
Crowd shots
A walk around Sandy Springs Parks main field
The one and only Chad Brown! Thanks for your help Chad.
I counted 20 feet from the home run fence to the tennis courts. Rumor has it that Helmer's homer Friday night cleared both courts
Local teams are heavily supported by the fans and that is the reason host teams get into the tournament over non-conference teams
Bobby Hughes sat out the championship after pulling a muscle on Saturday night
Plenty of media were at the tournament and there were interviews by Greg Connell and Bobby Hughes below
A local newspaper did a story on Nate Holcomb who now lives in Tennessee
Rumplestiltskins woke up to take in the 43rd annual classic

As always send question, corrections, comments, suggestions, and criticism's to
This site uses Akismet to reduce spam. Learn how your comment data is processed.