2011 Conference USSSA Championship Recap
2011 USSSA
Conference Championships
Kissimmee, Florida
September 2 – 4

The Conference Championships get under way with Sonny's pitcher Danny Lopez pitching to Doerflinger
Team Combat/Laser Vision in the field takes on GTL
Resmondo-Specialty Tank / Worth, the #1 ranked men's slow-pitch team in the nation came out of the loser's bracket and "double dipped" Team Combat/Laser Vision/D2E/Supreme, the #4 ranked team in the country for the Conference Championship title. The Championship's were held in their traditional location, the Osceola County Stadium in Kissimmee, Florida the weekend of September 2-4, 2011. Resmondo had dropped to the loser's bracket on Saturday after losing to Team Combat/Laser Vision by an astonishing score of 23-4 in the winner's bracket championship game. Then on Sunday they ran the table, winning 3 straight and picking up their 4th Conference Championship title in the 6 years the league has been in existence. Resmondo's first win Sunday was a 26-23 win over Suncoast/Reebok after they trailed 15-4 in the second inning. Then they beat Combat/Laser Vision 22-7 and finally 23-22 on a walk off bases loaded single by Jeremy Isenhower to take the title. All of the games in the Major portion of the Championships were played on baseball fields with 330-390-410-390-330 dimensions. The largest fields used in softball today.

2nd Place Team Combat/Laser Vision finally broke through with that 23-4 win over Resmondo. That was the first time Resmondo had been held under 10 runs since April of 2009 when Long Haul beat them 20-5 at the Hall of Fame Classic. This was the first time Combat has beaten Resmondo all year long. 3rd Place went to Suncoast/Reebok who knocked off Sinister, Sonny's, Team 454 and GTL to make it to the Sunday final 4. 4th place went to GTL Cartel/Demarini who has tailed off here at the end of the season but still managed to maintain their #2 ranking in the standings and Conference points.
Click HERE for all the archived video of the Conference Championship games
Resmondo's Howie Krause gets the walk off run rule hit against Combat to force the "If" game

As you can see the umpires hand is still up signalling timeout when Messina pitched the ball and Isenhower hit it. Thus, no pitch. There was some controversy on the internet message boards saying that time was not called.

Combat/Laser Vision's Brian Wegman mashes another
The tournament was played under very warm and humid weather conditions and there were very few upsets as the 5-8 seeds advanced to the Major bracket as expected.

The Championships featured a new format where the top 16 teams in Conference points faced off in the Major bracket, but the loser's in the first two rounds of games dropped down into the "Open" division and played their own double elimination tournament. The "Open" was won by the red hot R&M Metals/Troupe/TCP/Easton team based out of Waterloo, Iowa. They won the championship game in an offensive shootout 31-27 over Taylormade/TM Sports/Mizuno. R&M has a 3 tournament string of finishing at least 2nd or better in Conference and World tournament play.

There was also a 'B' Division which featured 5 teams from Conference USSSA playing in a 3 game guarantee bracket of their own. The Scene/A.J.S./Easton/D2E sponsored out of Florida and New York beat Blitz/Weller/Watanabe/MAB/Easton out of Cincinnati, Ohio 28-23 in the Championship game. The Scene went 3-0 on the weekend.

The Conference Championship weekend is highlighted by a banquet for the teams on Saturday night at the Mystic Dunes country club, and awards for "All Conference" are given out to the players along with some other special awards like the inaugural John Glidewell Sportsmanship award which was given to Team Combat/Laser Vision center fielder Rick Baker.

Team breakdown: 4 – Major, 10 – 'A', 2 – 'B'
Wood Law's Loyd Watson hits a walk off single Friday night to beat Taylormade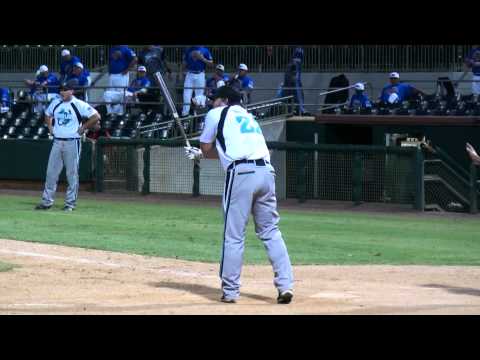 The Scene takes on Blitz for the 'B' Conference Championship
Random video clips from the tournament (sorry, youtubes video editor is having sound problems this week)
GTL's left fielder Donovan Pokraka isn't getting to this homer
Sinister playing on diamond #1 where the scores were often single digits
Diamond #2 behind Osceola County Stadium with Doerflinger taking on Sonny's
---
Conference Championships, Tournament Awards and Final Standings:
Team
Class

Runs
Scored

Runs
Allow

Avg
Runs

Avg
Allow

Avg
Diff

Max
Runs
Team
Class

Runs
Scored

Runs
Allow

Avg
Runs

Avg
Allow

Avg
Diff

Max
Runs
---
Team by team notes brought to you by:
---
1st Place Resmondo-Specialty Tank / Worth GTGG
Conf 'M' from Winterhaven, FL 5-1 Record
Resmondo-Specialty Tank / Worth won with, at times, dominating power, but mostly with just a pure "will to win". They come out of the loser's bracket and win three straight in the heat an humidity and do so by doing whatever it took to win. Resmondo was paced by Conference Co-MVP's Bryson Baker and Greg Connell on offense and a barage of two run homer's throughout the lineup. Resmondo is the clear favorite to win the Major. The team seems to be near 100% healthy and poised to continue their streak of "mercy rule" wins at the Series.

Resmondo's Bryson Baker (above) was Co-Conference MVP for 2011 (.800, 67 HR, 215 RBI)
with Greg Connell (pictured below) (.801, 111 HR, 300 RBI)
Jr is so good, sometimes he closes his eyes and sees if he can catch it!
Resmondo pitcher Andy Purcell picked up the Defensive Player of the Year award.
Purcell, Connell and the Resmondo players also earned "Arm Thingy" of the week with their custom made arm thingy's
Maybe they could sell those through a website like maybe, SoftballCenter.com!
Connell hits it 431 feet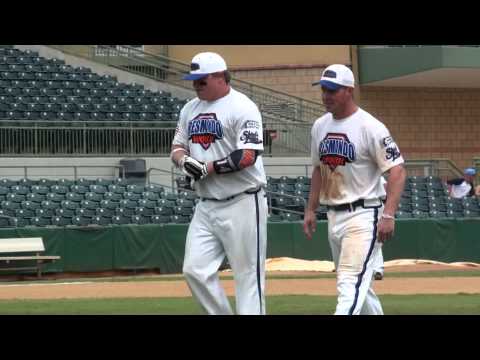 ---
2nd Place Team Combat/Laser Vision/R GTGG
Conf 'M' from Kent, WA 3-2 Record
Team Combat/Laser Vision/D2E/Supreme and their new pitching pick up, Chad Munger, scored that big 23-4 win over Resmondo but then failed to close out Resmondo in the "If" game of the championship. Munger is one of the only pitchers that has beaten Resmondo this year (twice with two different teams) besides Geno Buck of GTL who has done it 6 times.
The Co-Offensive MVP of the Conference for 2011 was Brett Helmer. .823 onbase %, 106 HR and 286 RBI. Brett was also the Batting Champion
"All Conference" selections Rick Baker, Dal Beggs, and Rusty Bumgardner celebrate
Newly aquired Combat/Laser Vision pitcher Chad Munger almost scored two wins over Resmondo

RCombat's Johnn McCraw hit this one over the 390 sign eventhough he reached for it. Wow!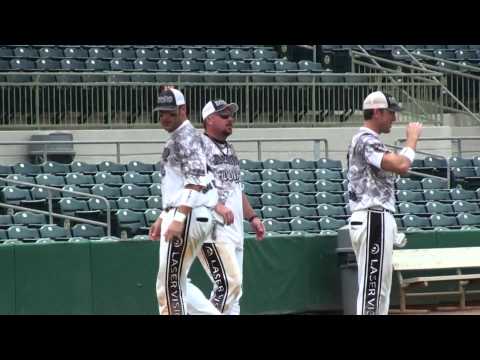 ---
3rd Place Suncoast/Reebok
Conf 'A' from Parish, FL 4-2 Record
Suncoast/Reebok scores themselves a nice weekend and broke through with 4 quality win's including beating this years 'A' World champs Team 454 and last years 'A' World champs GTL in consecutive games. Then in the loser's championship game against Resmondo they jumped out to an impressive 15-4 lead before fading to a 26-23 loss.
Suncoast left fielder Ryan Robbins goes up for a nice catch
Suncoast/Reebok knocks off Team 454 Worth
---
4th Place GTL Cartel/Demarini GTGG
Conf 'M' from Othello, WA 2-2 Record
GTL Cartel/Demarini finishes 4th in a tournament that most of us expected them to finish first or second. GTL is now just 15-10 since they won the winner's bracket championship game at the Dudley. We know they can play on the baseball fields as well as any team in recent history but you have to wonder if this team has forgotten how to win and may be more affected by the 2012 roster shuffleing than an established team like Resmondo that pretty much knows who is going to be where every year.
GTL's lefty/righty power combo of Kevin Filby and Chris Larsen give it the hat tap celebration.
Larsen also was Co-Offensive MVP with a .777 onbase percentage, 73 HR's, and 194 RBI
GTL has lost their early season momentum
GTL's Donovan Pokraka was "All Conference"
---
Tied 5th Place Shoppe / Team TPS/ D2E / Elite GTGG
Conf 'A' from McKenzie, TN 2-2 Record
Shoppe held off EWS 19-18 and beat Wood Law 18-8 early on Friday before dropping to Team 454 and GTL by run rules, only scoring 10 runs total in the two losses. Shoppe missed their power hitter Tim Cocco.
---
Tied 5th Place Team 454 Emerald/Worth GTGG
Conf 'A' from Glen Allen, VA 1-2 Record
Team 454 Emerald/Worth crushed Shoppe 18-3 on Friday night but dropped two straight on Saturday to Resmondo (only scoring 6 runs) and Suncoast. Look for Team 454 to build for the future and try to win on baseball fields with 2 wins at the Major World Series.

Mid game pep rallies didn't help Team 454 this weekend
Team 454 "All Conference" player Kevin Bazat stretches a single into a double
"All Conference" outfielder Bubba Mack free swinging

---
Tied 7th Place Wood Law/Mizuno/Famous/Easton GTGG
Conf 'A' from Dallas, TX 1-2 Record
Wood Law beat Taylormade by one on a walk off single by Loyd Watson then combined to score 10 runs in two losses to Resmondo and Shoppe. 2-2 at best at the Major, but they are hoping to be the FBI of 2011.
Wood Law's Bryan Goins made a bid for arm thingy of the week
Wood Law's Dennis Shrum was "All Conference" again
Wood Law made the Major part of the bracket but didn't do anything once they got there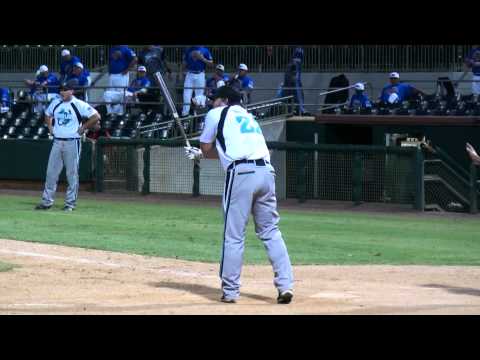 Click Wegs or Helmer for Easton equipment
---
Tied 7th Place Sonny's/Desert Falls/Elite GTGG
Conf 'A' from Casper, WY 1-2 Record
Sonny's/Desert Falls/TPS handled Doerflinger but then only managed 14 runs against Suncoast and GTL. Sonny's hopes to have a better experience at the Major where they will be at a power disadvantage the whole tournament.
Sonny's infielder Alexis Ramirez
Sonny's outfielder Mario Granados
Sonny's Tony Verdugo – has one eye on the future

---
R&M Metals "All Conference" one/two punch of Brian Zirkle and Kyle Yerkes led them to the "Open" Championship
Taylormade place #2 Kevin Rye on the "All Conference" squad and finished 2nd in the "Open" tournament
Taylormade original players. The two that started this team when they were in class 'D' – Brian Floyd and Chyenne Brooks
The Scene went 3-0 to win the 'B' Conference Championship and have some nice momentum going into worlds
Team
Class

Runs
Scored

Runs
Allow

Avg
Runs

Avg
Allow

Avg
Diff

Max
Runs
---
"All Conference" Awards
2011 Conference USSSA Banquet – Award Winner's
The 1st Annual John Glidewell Award winner Rick Baker – presented by Don Dedonatis Jr.
Highest finishing 'B' Team – D2E
Highest finishing 'A' Team – 454 Emerald/Worth
Highest finishing Major Team – Resmondo
2011 USSSA Hall of Fame Inductees
Don Cooper
Dal Beggs
Larry Quartuccio
Frank Webb
'B' All Conference Team
Midwest Swing – Cody Gilbert, Michael Noonan, Rick Potter
Blitz/Watanabe – Dave Kessler, Jon Jamison, Brad Tabler
The Scene – Matt Arlett, Kathem Martin, Blake Williams
Gas It – Blaine Bolin, Jason Gilfillan, Brad Clark
Magic – Chris Carr, John Hickey, Jeff Lahair
Manager of the year – Drew Dubberly
2nd Team All Conference
R&M Metals – Kyle Yerkes
Pharmapar – Mike Dill, Michael Taylor,
D2E – Johnathan Scott
Wood Law – Dennis Shrum
Suncoast – Brian Justice
Darkside – Charlie Baumgartner
Team 454 – Mitch Mabe
D2E – Sean Greer
Darkside – John Robinson
Team 454 – Kevin Bazat
Wood Law – Chris Hansen
Shoppe – Chad McLamb
Taylormade – Kevin Rye
Suncoast – Adam Rockoff
R&M Metals – Brian Zirkle
Wood Law – Adam Elliot
Suncoast – Ryan Robbins
Team 454 – Tiny Taylor
1st Team All Conference
P Resmondo – Andy Purcell
P GTL – Geno Buck
C Combat – Brett Helmer
C GTL – Kevin Filby
UT GTL – Chris Larsen
UT Resmondo – Jeremy Isenhower
UT Team 454 – Kyle Moyer
UT Shoppe – Tim Cocco
UT Resmondo – Vince Bisbee
UT Resmondo – Bobby Hughes
1B Shoppe – Eric Thompson
2B Combat – Rusty Bumgardner
2B Resmondo – Greg Connell
2B Combat – Dal Beggs
3B Shoppe – Lee Powers
3B Combat – Dennis Rulli
SS Resmondo – Don Dedonatis Jr
SS GTL – Anthony Dress
MI Resmondo – Bryson Baker
MI GTL – Matt Pesso
OF Combat – Rick Baker
OF Combat – Brian Wegman
OF GTL – Donovan Pokraka
OF Team 454 – Bubba Mack
OF GTL – Tim Howard
OF Resmondo – Brian Rainwater
OF Resmondo – Scott Striebel
Manager of the year – John Rector
Batting Champion – Combat/Laser Vision – Brett Helmer .823 onbase
HR Champion – Resmondo – Greg Connell – 111 Homer's
Co-Outstanding Offensive Player – Combat/Laser Vision – Brett Helmer .823 onbase, 106 HR's, 286 RBI
Co-Outstanding Offensive Player – GTL – Chris Larsen .777, 73 HR's, 194 RBI
Outstanding Defensive Player – Resmondo – Andy Purcell
Co-MVP of Conference – Resmondo – Greg Connell – .801, 111 HR, 300 RBI
Co-MVP of Conference – Resmondo – Bryson Baker – .800, 67 HR, 215 RBI

More Pictures Below
---
A big thanks to my sponsor's – USSSA, Down2EarthSports.com, GameTimeSupply.com, MojoSportsGear.com, TPS, Easton, DSSBats.com, SoftballToday Magazine, BatReviews.com, BPAthletics, TripleSSSinc.com, and QWExpress.com

I will be at the USSSA 'B' World, and the USSSA Major World Series in the upcoming weeks.
2011 Conference Championships pictures link
Link to the Bracket/Stats for the Conference Championship Major and Open Divisions
Link to the Bracket/Stats for the Conference Championship 'B' Division
Link to the 'B' World tournament bracket when ready
Link to the 'B' World Team List so far
Link to the USSSA Point Standings and Stats
---
Here are some other pics from the Conference Championships:
Doerflinger finishes off Down2EarthSports
Doerflinger's Robert Sena and the boys have their eye set on that 'B' World title in two weeks – live on SoftballCenter.com
Johnathan Scott made "All Conference" – both of the Scott twins had great years so I'll post both pics because I can't tell who is who
Sean Greer also made "All Conference" for D2E
USSSA Live was broadcasting the stadium field
Darksides John Robinson scored "All Conference"
Combat/Pharmapar took one on the chin this weekend, 0-3
Sinister has nice uniforms, but will need to win some low scoring games to advance at the Major
EWS should all put their differences aside and play hard for 5 days at the end of September and see what happens. Eric deserves that much.
This will be the view from the Fortune Roads field #1 for the 'B' World broadcast in two weeks
The dew on the field gets so thick in the morning they actually drag the outfield
If you need a team bonding experience while you are at the upcoming worlds in Kissimmee go to the "Kissimmee Go Karts and Arcade" on 192.
It is very expensive but the karts are fast and the course is a mile long…
Also the rides at Universals Islands of Adventure are top notch
---
Broadcasting update. SoftballCenter.com has received 29 broadcasting donations. Thank you VERY much for your generosity.
You can learn more about supporting the broadcasts by clicking here.
Broadcast Schedule:
USSSA 'B' Worlds – September 16-18
USSSA Major World Series loser bracket games on Friday, September 23rd and Saturday September 24th
ASA 'A' Worlds is now on the schedule. I'll take my broadcast equipment in case they are not doing their own broadcast.
Still discussing the Toys 4 Tots in December
2012 schedule to be determined
---
Check out our new sponsor's Triple SSS Sportscards by clicking the logo
and QWExpress.com
---
As always send question, corrections, comments, suggestions, and criticism's to
DW@softballcenter.com

Enrico Pallazzo did such a great job on my logo that I just had to post it. LOL!
This site uses Akismet to reduce spam. Learn how your comment data is processed.