2011 Conference USSSA Cincinnati Major Recap
2011 Conference USSSA
12th Annual Cincinnati Major
Mid America Ballyard
July 15 – 17
The 12th Annual Cincinnati Major was loaded with talented teams from top to bottom. 15 of the best B and C teams from the surrounding States of Ohio, Kentucky, and Indiana took on the 15 teams from Conference USSSA and gave them all they could handle. On Friday night the Cincinnati Seminoles held a lead on the Major team Combat/Laser Vision going into the bottom of the 7th. Laser Vision used a solo homer and then a 3 run walk off homer by Rick Baker to escape with a 34-33 win. Also on Friday Tyler Trucking from nearby Charleston, Kentucky beat Primetime 31-24 then went on to beat EWS 28-17 on Saturday afternoon. The final upset of the night, eventhough it may not really be an upset, was Creative Designs 44-30 win over Midwest Swing. Creative Design is from Joliet, Illinois and may have the best offense in the 'C' division in the country. At least when they hit the good Conference ball.
On Saturday the tournament resumed with a pair of great games. On field #2, Magic used a walk off homer by Chris Carr to beat EAP 23-22 and over on field #1 Sportsco used a walk off single by Brian Lakes? to beat Linedrive 18-17. In the 3rd round Resmondo found themselves in jeopardy against a non-conference 'B' team called Red's Astros/TPS from the KY-OH-IN tri-state area. Red's Astros had home runs to burn and just a 6 run deficit in the bottom of the 7th but couldn't pull it out and lost 34-30. A close play at 2nd base late in the game cost the Red's when one of their players didn't slide.
Then it was all conference teams left in the winner's bracket final 8 with GTL, Team Combat/Laser Vision, Resmondo and Shoppe all moving on to the final 4 easily. Basically the 4 teams that SoftballCenter.com picked pre-season to be the top 4 teams in the nation.
The final 4 festivities began late on Saturday night with a long awaited matchup between Shoppe and Resmondo that never did get to take place back in Indiana when the tournament was rained out just before the two teams were to take the field. Shoppe hung with Resmondo for most of the game and in the 7th inning they used a dramatic 3 run homer by Cory Boothe with 2 outs in the bottom half of the inning to tie the game at 33-33. For those of you who think "anyone can hit a homerun", Cory had the Resmondo bench and Bob"noxious" Hughes (as one person called him) packing his ear from about 10 feet away, had to endure the usual delay antics that the top teams use to "ice" the hitter in key situations, and oh by the way he was hitting against Andy Purcell, the best pitcher in softball. BOOM, Gone and a tie game. Resmondo then walked Tim Cocco and JD Genter and next thing they knew they had the bases loaded. With the bags juiced and 2 outs Jamie Gordon hit a sharp grounder back through the middle to the left of 2nd base and the ball hit the runner going to 3rd and ended the inning. It is possible that Bryson Baker, the Resmondo middle infielder may have had a play on it but it was looking like a game winning hit. In extra innings Resmondo put up an 8 spot and Shoppe didn't score and Resmondo slid into the winner's bracket championship with a 41-33 extra innings victory.
In the other final 4 game which lasted for what seemed like 2+ hours, Team Combat/Laser Vision and GTL traded big innings all the way until the end when Laser Vision pulled out a 46-39 victory. The key hit of the game was a two out grand slam by pitcher Billy Messina who was on in relief.
The games were so far behind (because of players that take their good ole time to get in the box) that the winner's championship started after 2 AM on Sunday morning. I left at 3:30 AM and from what I heard the games ended around 5 AM. WOW. Resmondo defeated Team Combat/Laser Vision but Laser Vision had home runs left on the table in the 39-33 final. Also Shoppe run ruled Sinister in the loser's bracket to make it to Sunday and GTL run ruled R&M Metals in the wee hours of the morning Sunday to set up a Sunday run.
Just a few hours after Saturday's games ended, the players were back at the field as GTL needed a come from behind walk off homer by Chris Larsen to finish Shoppe and they held off a late run by Team Combat/Laser Vision 37-33 to go to the championship game against Resmondo where whatever gas they had left in the tank was quickly removed by a Resmondo team that put up a double digit first inning and went on to flip flop GTL. They would then beat GTL in the 4th inning 35-6.
A hot and humid weekend of great softball was played with some good games, a great atmosphere, but in the end it was the 3 Major teams that finished 1 through 3. Each of them had to play hard every inning of every game to make it so.
Team breakdown: 3 – Major, 6 – 'A', 10 – 'B', 12 – 'C', 8 – 'D', 1 – 'E',
There were 15 Conference USSSA teams
13 different States were represented!
Resmondos Howie Krause, Greg Connell, and Bryson Baker play late on Saturday night into Sunday morning

GTL gets ready for the Championship game

The show field, diamond #1 at Mid America Ballyard

Field #2

Field #3 (above and below)

Field #4 above and below

SoftballCenter.com broadcasts from the balcony. Above is the guys from Tilton Trucking who did some broadcasting and helped me.
Below is Taylormades Tom Eller who broadcast the semi-finals and the winner's bracket championship game. Thank you to Tilton and Tommy for the help!
Random video clips from the tournament
Rick Robertson and Larry Lofton testing bats

Cincinnati Major Awards and Tournament Results
| | | |
| --- | --- | --- |
| | | |
| | | Resmondo-Specialty Tank / Worth |
| | | Resmondo-Specialty Tank / Worth |
| | | SHOPPE / TEAM TPS / D2E / ELITE |
| | | Team Combat/LaserVision/D2E/Supreme |
| | | SHOPPE / TEAM TPS / D2E / ELITE |
| | | Team Combat/LaserVision/D2E/Supreme |
| | | Team Combat/LaserVision/D2E/Supreme |
| | | Resmondo-Specialty Tank / Worth |
| | | Resmondo-Specialty Tank / Worth |
| | | Resmondo-Specialty Tank / Worth |
| | | Resmondo-Specialty Tank / Worth |
| | | Resmondo-Specialty Tank / Worth |
| | | Resmondo-Specialty Tank / Worth |
Team
Class

Runs
Scored

Runs
Allow

Avg
Runs

Avg
Allow

Avg
Diff

Max
Runs
---
Team by team notes brought to you by:
---
1st Place Resmondo-Specialty Tank / Worth GTGG
Conf 'M' from Winterhaven, FL 6-0 Record
Resmondo wins their 8th tournament of the year (3rd in a row) and pushes their winning streak to 14 games in a row. Their only 6 losses the whole season are all against GTL with whom they now have a 9-6 record against. Resmondo has done this with some banged up players. Bobby Hughes was out with a leg injury. He may be back for the Team USA vs Canada border battle next week. Krause and Fulk have also been banged up and of course they had the recent departure of Jeff Wallace. Resmondo did fill a need at 3rd base by picking up free agent Jim Salas who baically saved them in the game against Red's Astros with 4 spectacular diving stops at 3rd base and he won the defensive MVP of the tournament award. At times they used Jeremy Isenhower in center field and Mike Rhines in right. A lot of cutting and pasting going on with the results still being the same. WINNING!
I believe Resmondo is off until the Last Chance tournament in Michigan.
Resmondo pitcher Andy Purcell still working hard at 3 AM in the morning
Resmondo loosens up before a game on Saturday

---
2nd Place GTL Cartel/Demarini GTGG
Conf 'M' from Othello, WA 6-2 Record
GTL absolutely shut down their first 3 opponents 98-19 which included Pipe and Blitz. Then in the quarter finals on Saturday night they had an epic showdown with Team Combat/Laser Vision who didn't lay down like they have done all year against the top teams. GTL couldn't quite keep up offensively and dropped 46-39 into the loser's bracket.
Early on Sunday morning in a game scheduled for 10:45 PM Saturday, they beat R&M Metals. The game ended around 4 AM. GTL was back at the field and had a great game and flashed some great leather in a 32-30 extra innings win over Shoppe. Chris Larsen hit the game winning homer. Then they jumped out ahead of Laser Vision early and held on late 37-33 but had nothing left for Resmondo (understandably) as the heat and humidity and a huge Resmondo first inning beat them down.
GTL's Jason Branch was moved to leadoff for Mike Bowlin who is injured. JB hit a homer whenever they needed one
Chris Larsen hit the walkoff homer for GTL in their win over Shoppe with 2 outs in the bottom of the 7th
GTL center fielder Tim Howard

---
3rd Place Team Combat/Laser Vision/D2E/Supreme
Conf 'M' from Kent, WA 4-2 Record
Laser Vision showed some life in Cincinnati after the Seminoles scared them straight when Rick Baker had to hit a 3 run walk off homer to beat them 34-33. After the scare, they handled Magic and hammered Sinister before their first win over the "big two" all year when they beat GTL 46-39. In that game they separated from GTL on a grand slam by an impressive 2 out grand slam by Billy Messina. Then in the championship they had a shot, much like Reds Boys to use a bunch of homer's in the 7th to beat Resmondo but couldn't do it. Then in the loser's bracket championship they lost to GTL 37-33.
Laser Vision takes a step forward in Cincinnati but still have some pitching issues and Kendrick and Beggs looked to be banged up as they didn't play much.
Helmer and Bumgardner getting ready to swing away. Helmer was 32-35 onbase with 12 HR and 31 RBI. Bumgardner 28-35 onbase with 7 HR and 23 RBI.

Combat/Laser Vision before the loser's bracket championship game against GTL
Laser Visions left side – Scott Zaciewski (3B) and Jeff McGavin (SS)


Brian Wegman owns the Mid America Ballyard, batted 3rd and played 3 exhibiton games for Team USA on Thursday night, hit in the Long Haul Bombers Tour on Friday night and played 6 games in the Major tournament for Laser Vision. WOW! And still made all tournament.

---
4th Place Shoppe/Team TPS/D2E/Elite GTGG
Conf 'A' from McKenzie, TN 4-2 Record
Shoppe had Resmondo all but beat in the bottom of the 7th when Gordon's grounder hit a runner for the 3rd out and they lost in extra innings. Then they lost the loser's semi final to GTL on a walk off homer. So they were literally one hit and one out away from beating the two best teams in the nation.
So close. Shoppe picked up Rick Sedlacek to play LF for the stretch run and I'm hearing they are rumored to also have Chente Granados from Sonny's to play SS. This should be an interesting mix. Power hitter Tim Cocco is battling an injury which he will wait until after the 'A' World to have fixed, so he will be limping around for another month. Matt King was moved to 2B and Shane Hatfield was let go. Shoppe is beginning to look like the Shoppe of old so throw their hat back in the ring for an 'A' World shot.
Cory Boothe, hits a 3 run game tying homer off of Resmondo in the bottom of the 7th with 2 out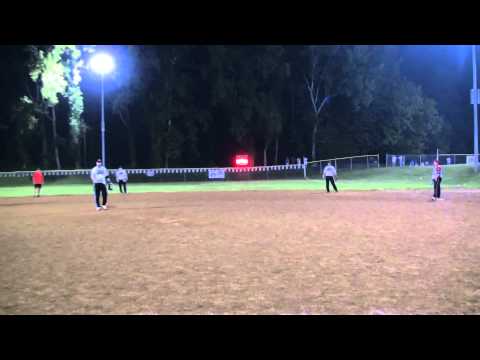 Shoppe celebrates Boothes dramatic homer
This is hard to see but the Shoppe runner got hit by the Gordon smash up the middle and it cost Shoppe a shot at the game. Of course the white blur on the left is Bryson Baker who may have made the play?
Shoppe plucked veteran LF Rick Sedlacek out of retirement for the stretch run
Matt King who is one of the best CF in the game was moved to 2B. Infield is where he started his softball career
Shoppe was one out short of a top 3 finish against GTL
---
Tied 5th Place R&M Metals/Troupe/TCP/Easton GTGG
Conf 'A' from Waterloo, IA 4-2 Record
R&M had 4 nice wins against 4 really good 'C' teams but couldn't muster 20 runs against either Resmondo or GTL. 0-7 against Major teams this year has put a damper on R&M's points total. It looked like they had all of their players which was good and 5th place ties their highest finish of the season.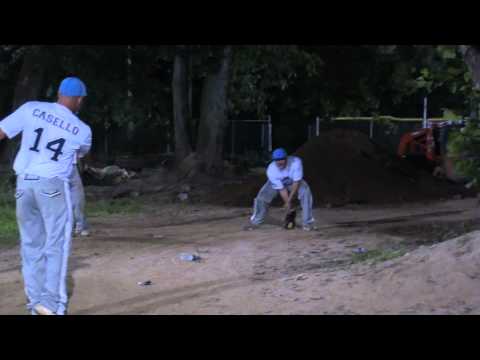 With all the broadcasting and a couple of blurred pictures in the dark I didn't get any good pictures of R&M. Here is a video of them messing around playing pepper, lol.
Click Wegs or Helmer for Easton equipment
---
Tied 5th Place Sinister/Pritchard/Miken GTGG
Conf 'A' from Livonia, MI 4-2 Record
Sinister got by some local 'C' teams in the first two rounds before getting hammered by 30 in 3 innings by Team Combat/Laser Vision. In the loser's bracket they won a spirited battle with Red's Astros 18-15. In the game, middle infielder Willie Allen egged on the Red's team to hit it past him, which they did. The back and forth jawing continued and benches cleared but no punches were thrown. Then Sinister had an impressive late night win over EWS 28-12 before dropping to Shoppe 33-18 early Sunday morning.
Sinister gains some valuable points and continues to show they have the defense to compete for a final 4 finish at the 'A' Worlds.
---
Tied 7th Place EWS/ShirtsandLogos/drgraphx/Easton GTGG
Conf 'A' from Chicago, IL 4-2 Record
EWS had poor home run management against Tyler Trucking in the second round back on the short porch field #4 and lost. In the loser's bracket they knocked off EAP, Taylormade, and Blitz all by 4 runs each before Sinister shut them down 28-12.
EWS continues to be stuck in 2nd gear and could really use a Colorado or North Carolina type tournament to break out and get some wins. All the pieces are there. I'm scratching my head on this one. See 2010 Jean Shoppe, this team reminds me of them. How about a straight stagger to the lineup. Base hitter, home run hitter, base hitter, home run hitter all the way through?
Jeff Wallace makes his much anticipated debut with EWS
EWS outfielder Michael Stephany pictured here and infielder Mike Umschied tell me they are "softball junkies". We'll have to get these two behind the microphone to do some broadcasting soon

Newly acquired infielder Johnn Gallegos played well when Tony Mack went down with a pulled muscle
---
Tied 7th Place Tyler Trucking/Miken GTGG
'C' from Charleston, KY 3-2 Record
Tyler Trucking beat Conference members Primetime and EWS before losing to Shoppe. In the loser's bracket they knocked off fellow non-conferenc 'C' team Atrium before dropping to R&M Metals by a run. I didn't get to see how this game ended so please post below in the comment section if you know.
Tyler Trucking has a lot of Conference talent and seems to really take to the 8 HR limit.
Tyler Trucking celebrates a 3-run homer
Hopefully thats a chest protector under there

---
The rest of the Conference Teams:
The Scene has picked up third baseman Charlie Case

13th – The Scene/A.J.S./Easton/D2E beat two conference peers PrimeTime and Magic. In their loss to Pure Romancethey actually scored the game winning run but the batter didn't immediately go to first base (or so the umpire thinks he didn't go directly to first base). Long after the game was over and the next team had taken the field Pure Romance complained that the hitter was "assisted" on his way to first base by players near the dugout, thus he was out. The umpires met and apparently agreed and they brought the Pure Romance team back to the field and they played the 8th inning. PRI then scored 10 in the top half and The Scene 0. I did not see the play or the argument or any part of this game but it sounds like the official rule in the rulebook is that if the teams leave the playing field a protest cannot be made. Looks like The Scene was wronged and at least deserve a panel of USSSA officials to have a conference call and discuss allowing them to at least earn the points they would have gotten for that win against PRI.
Josh Wiggs was mashin for The Scene
John Redihan has a company called Wash-Safe that gets those uniforms back to white
17th – Magic/National Gold/S&S/Tyja Sports beat EAP on a walkoff homer by Chris Carr 23-22 and then failed to score double figures against Combat or The Scene.
Magic's Chris Carr hits the game winning homer against EAP
http://www.youtube.com/watch?v=TvBuLp8bqUYhttp://www.youtube.com/watch?v=
Former AJS shortstop Nick Masur is back in the Conference with Blitz
Blitz takes on Darkside above and GTL below
9th – Blitz/Weller/Watanabe/MAB/Easton went 2-2. Beat Darkside for one of their better wins of the season.
Dirty Sanchez is back for Darkside pitching after his broken hand
17th – Darkside/TYJA/Easton beat The Scene to open the tournament and then dropped to Blitz and left a homer on the table on the short porch field down 3.
Midwest Swing and Linedrive played a good one
17th – MidWest Swing / Miken lost a Friday night shootout when the ball was flying to Creative Design 44-30 then won in extra innings against Linedrive 27-26 before being run ruled by Taylormade.
13th – Taylormade/TM Sports/Mizuno didn't play any cupcakes as they pounded PRI and Midwest but lossed to two 'A' peers Shoppe and EWS. I didn't get to see much of TMade.
Taylormade pitcher Brandon Jonas came over from Gas It
25th – Linedrive/Triple SSS Sportscards lost two good games by one run
---
More Pictures Below
A big thanks to my sponsor's – USSSA, Down2EarthSports.com, GameTimeSupply.com, MojoSportsGear.com, TPS, Easton, DSSBats.com, SoftballToday Magazine, BatReviews.com, and BPAthletics

I may be in Raleigh, NC in two weeks.
2011 Cincinnati Major pictures link
Link to the Bracket/Stats for the Cincinnati Major
Link to the tournament in Colorado when ready
Link to the USSSA Point Standings and Stats
---
Here are some other pics from the Cincy Major:
Wegman reminds Donnie Wilson who's house this is! Just kidding, thanks for the broadcast sponsorship Don!

Atrium/Shirtworks/Miller Lite finished tied for 9th
Columbus Pipe went 1-2. These guys need to rejoin the Conference to get the "edge" back

Reds Boys gave Resmondo all they could handle

Tom Stevens launches one for PRI

The Cincinnati Seminoles upset Darkside with the help of their shortstop who made a great play to start the bottom of the 7th, up 3

Sportsco takes on PRI

EAP right fielder couldn't get to this game winning homer against Magic

EAP is always a tough out on their home turf

Sportsco beats Linedrive early Saturday

EAP first basemen Kevin Birkofer makes a nice play at first

Anyone know who this man is hiding in the shadows?

As always send question, corrections, comments, suggestions, and criticism's to
DW@softballcenter.com

---
This site uses Akismet to reduce spam. Learn how your comment data is processed.