2010 USSSA Conference Dudley Recap
2010 Conference USSSA

"28th Annual Dudley Budweiser Major"
Brooklyn Center, MN

June 18 – 20
ResmondoSpecialty TankWorth wins the "28th Annual Dudley Budweiser NIT" and their 5th Conference tournament of the season by going undefeated and knocking off Dan Smith 35-25 in the championship game. Resmondo came from behind in their last 3 games against Northwest Combat 39-22, GTL 35-32 (winner's final), and Dan Smith to run their season record to 33-4. In the GTL game, Resmondo trailed the entire game and was down 4 runs going into the 7th. GTL's red hot top of the order failed to score and Resmondo used a 3 run homer by Greg Connell and a walk off homer by Andy Purcell to win it in the bottom half.
Resmondo/Specialty Tank/Worth rolls to their 5th tournament championship of the season
Resmondo's Dudley MVP – Greg Connell
Dan Smith recovered to finish 2nd at the Dudley
GTL 3rd baseman Jimmy Salas gets my vote for 3B Gold Glove

The tournament was very well played, the weather was near perfect for softball, and there were some MAJOR first round upsets. The tournament consisted of 32 teams, 2-Major, 6-'A', 9-'B', 14 'C', and 1-'D' team. 14 of the teams were from Conference USSSA including 11 of the top 12.
Jean Shoppe takes on takes on Elite at Central Park South
Local Minnesota teams held their own on Friday night when Blue Line Collision upset Aubrey's 30-29, C&A/LJ's shut down Pipac/TCP 12-9 on the show field, and Elite knocked off AJS 28-27. There were some close calls as well with EWS knocking off Armor Construction 13-12 on Tommy Thompson's walk-off pinch hit single. At least one upset continued on Saturday as C&A knocked off EWS 16-15.

The crowd on Friday night was the largest of any Conference tournament this season and the beer was flowing. Fans were able to sit and stand right next to the out of bounds lines.

The tournament was difficult to cover from the reporting side as games were played at three different locations, with each location having two fields. Outside of my 8 AM Saturday morning trip to the Evergreen fields, I basically stayed put at the main two diamonds at Central Park which for the most part had hard hitting action throughout the weekend. From 1 PM on Saturday through the end of the tournament it was one heavyweight match up of top 10 teams after another on both fields.
A little bit of chirpin going on at the winner's bracket championship game between GTL's Sam Lopez and Resmondo

The ball used throughout the tournament was the Dudley ZN Classic M and although it flew well there was not an over abundance of HRO's at the main complex. Central had 310 foot fences which were around 7 or 8 feet high. Evergreen was a beautiful park and a great place to watch softball and had 300 foot fences. Infields were watered and dragged at the main complex consistently. The bat tester was present, but used sparingly until the last 4 games when all bats were tested and put into team garbage cans behind home plate.

Bats were tested on hard shots up the box and all bats were tested in the final 4 games
Suncoast takes on GTL over at Evergreen park

We have reached the midpoint of the Conference USSSA season and in my opinion the Dudley is the first of the big 4 tournaments that the top teams feel are extra special to win. In the old days the "Grand Slam" consisted of winning the 4 Major Association's top tournaments – USSSA, ASA, NSA, and ISA. The "Modern Day Grand Slam" is The Dudley, The Smoky Mountain Classic, the Conference Championship, and the Major World Series.
The Dudley is a great place for local teams to gather and discuss their own teams with each other while taking in some upper level ball
Dudley fans and player's stressed out the beer wagon to the point it was shut down for a couple hours Saturday afternoon
My view for most of the weekend. Aubrey's takes on Crew Combat to a 27-20 victory
Good sized crowds at the Dudley on Friday and Saturday nights
"Dudley" Tournament Awards and Final Standings:
| | | |
| --- | --- | --- |
| Player Tournament Awards | Players Name | Plays For |
| Tournament MVP | Greg Connell | ResmondoSpecialtyTankPhoneMasters |
| Defensive Tournament MVP | Rick Baker | Dan Smith/Menosse/Chaney |
| All Tournament Team | Bobby Hughes | ResmondoSpecialtyTankPhoneMasters |
| All Tournament Team | Matt Pesso | GTL CARTEL/WORTH |
| All Tournament Team | Chad Munger | GTL CARTEL/WORTH |
| All Tournament Team | Victor Cordova | GTL CARTEL/WORTH |
| All Tournament Team | B J Fulk | ResmondoSpecialtyTankPhoneMasters |
| All Tournament Team | Don DeDonatis III | ResmondoSpecialtyTankPhoneMasters |
| All Tournament Team | Denny Crine | Dan Smith/Menosse/Chaney |
| All Tournament Team | Brett McCollum | Dan Smith/Menosse/Chaney |
| All Tournament Team | Howie Krause | ResmondoSpecialtyTankPhoneMasters |
| All Tournament Team | Jeremy Isenhower | Dan Smith/Menosse/Chaney |
| All Tournament Team | David Kessler | AJS/Easton/Supreme/Mike Foulks/Mojo |
| All Tournament Team | Scott Zaciewski | AJS/Easton/Supreme/Mike Foulks/Mojo |
| All Tournament Team | Andrew Purcell | ResmondoSpecialtyTankPhoneMasters |
| All Tournament Team | Brian Rainwater | ResmondoSpecialtyTankPhoneMasters |
| All Tournament Manager | Geno Buck | Dan Smith/Menosse/Chaney |
Team by team notes brought to you by:
---
1st GTGG Resmondo/SpecialtyTank/Worth
Conf 'M' from FL, 6-0 Record
Resmondo has already been discussed. I will just add that the other teams in the Conference need to sit up and take notice. Resmondo's success lies in the details. They hit strikes, they hustle, they don't take plays off on defense or offense against anyone. And to be honest there are other Conference teams which are beginning to do the same.
From the leaping line drive stabs of Bryson Baker in the middle (can that guy dunk a basketball at 5 feet whatever he is?), to the sliding stops in the hole and pop up/quick release to 2nd by Don Dedonatis, and the diving "go go gadget" like glove of Brian Rainwater, you have to give them credit for great defense to go with the clutch hitting. Oh, and how about that 4th gear rundown of a shallow fly ball that Bobby Hughes made against Desert Falls? The guy is absolutely flying in on the ball and shifts into 5th gear and makes a full out diving catch. I could go on and on…next!
Note: It doesn't look like they entered an Offensive MVP but I would think that would have to be BJ Fulk who was hitting 3-run no doubters all day Saturday after Hughes and Rainwater set the table for him.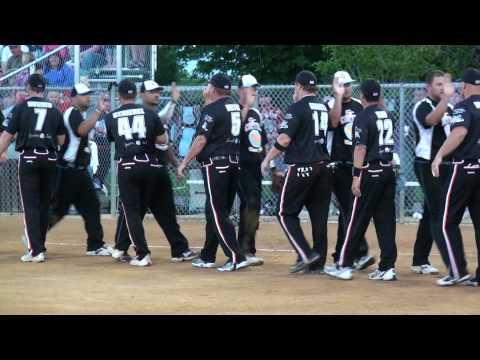 Resmondo's Andy Purcell hits the walk off homer over GTL in the winner's bracket final
Bryson Baker guns a GTL runner at 1st
Mike Rhines has been filling in for injured Dennis Rulli
---
2nd GTGG Dan Dan Smith/Menosse/Chaney
Conf 'M' from CA, 6-2 Record
From my perspective Team Dan Smith had a fun weekend of softball. Yes they were beaten by their recent nemesis GTL 37-36 and lost a lead and the first game of the Championship to Resmondo, but they played some fun games and some close games for a change. After losing to GTL on the walk off homer, Dan Smith crushed Aubrey's, squeaked by AJS 34-31, and then Sunday morning knocked off GTL 27-26. The game was tied 20-20 when I had to leave and catch my flight. Send me some details of the rest of the Dan Smith/GTL game and the championship. dw@softballcenter.com
Scott Brown playing in his home tournament got some good playing time but doesn't look ready to me. Rick Baker was named defensive MVP. Otherwise the Dan Smith team just needs some more energy in the big games and I think their power should help give them good showings at the Smoky and the Major Series.

Dan Smith CF Rick Baker was named defensive MVP
Dan Smith's Brett Helmer got to play some RF at the Dudley. "Two steps and a dive…"
---
3rd GTL/Cartel/Worth
Conf 'A' from WA, 4-2 Record
GTL gets their 3rd podium finish in as many weeks and now has a 15-6 record over that span. The Cartel hammered Suncoast 43-27 on Saturday morning and then run ruled Sinister 29-14 before meeting up with their new rival Dan Smith in the quarter finals. Pitcher Chad Munger took a line shot directly to the forehead from a Dan Smith player and dropped to the ground. Luckily his Worth pitcher's helmet performed great and Munger dusted himself off and finished the game and the tournament without injury. By the way, the bat that was used to hit Munger tested at 251 (below 200 is illegal) and returned for use. This was a hard fought game on both sides and GTL trailed 36-31 going into the bottom of the 7th. After the top of the lineup pushed GTL within striking range, Jim Salas set the table for a clutch walk off homer by former Hub's Pub slugger Don Rogers who lined it to the opposite field for the 37-36 win.
GTL used their momentum from the Smith game to take a big lead against Resmondo in the winner's bracket championship. As Resmondo came back, GTL used an incredible Matt Pesso to Victor Cordova to Sam Lopez double play and a diving stop towards the foul line in shallow left field by 3rd baseman Jim Salas and subsequent gun to 1st base for the out, to maintain a 4 run lead going into the 7th inning. In the top of the 7th, the red hot hitting top of the GTL lineup was unable to come up with separation runs and a sinking feeling of what was to come crept into the rather large beer drinking crowd that were pulling for the upset. In the bottom of the 7th Resmondo wasted no time setting the table for a 3 run game tying BOMB by tournament MVP Greg Connell and a 3 run walk off homer by pitcher Andy Purcell.
Matt Pesso or Jim Salas should have been named defensive MVP of this tournament but I know this award only goes to player's on the top 2 teams at any given tournament. GTL has had an incredible offensive run the last 3 weeks outscoring their opponents 592-413 over 21 games for a 28.1 runs per game average, but it is their defense which is separating them from the other 'A' teams in the nation and giving them a chance to beat the Major teams.

GTL and Dan Smith had very different pre-game pep speeches on Sunday morning
Chad Munger dusts off and checks his Worth pitching helmet after being hit in the forehead by a lineshot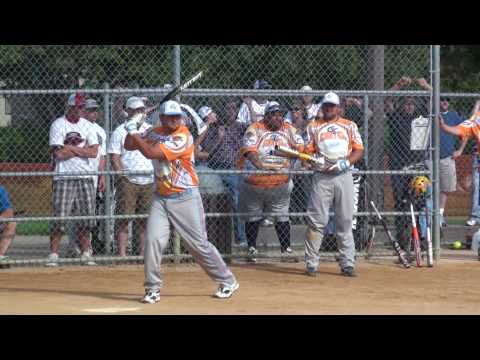 GTL's Don Rogers sends Dan Smith to the loser's bracket with a walk off homer
GTL shortstop Anthony Dress guns down a Suncoast runner
---
4th AJS/Easton/Supreme/Mike Foulks/Mojo
Conf 'B' from FL, 6-2 Record
AJS lost their opener to Elite 28-27 when they made some defensive miscues. AJS who is a very young team then recovered to make an incredible run through the loser's bracket Saturday. They knocked off Minnesota Comm 17-15 at 11 AM in the morning. Then they beat Blue Line Collision (the team that beat Aubrey's the night before) 23-8. Next they knocked off a good BBS Jonny's team 19-4. With 3 wins on the day already, they pulled into the Central Park show field and proceeded to knock off 3 – 'A' teams in a row! They crushed Sinister 37-19, handled Albicocco 25-15, and came from behind in dramatic fashion against Northwest Combat 23-22 when Blake Williams capped a big comeback with a walk off two out single to score Kyle Yerkes from 2nd base on a controversial tag/block/slide at the plate. Having played softball against some of the top teams in the country for almost 12 straight hours, AJS laced them up and took on Dan Smith in a game that went well into the night but came up short 34-31.
An impressive run to a 4th place finish and another huge points weekend for AJS who had been struggling coming into the tournament after their hot start at the HOF Classic. AJS played without their veteran leaders Joel Ramos and Jose Santiago. This team loves to bat around the order and score double figure innings and when they get into that loser's bracket and play 'C' and 'B' teams their pitching shuts those teams down.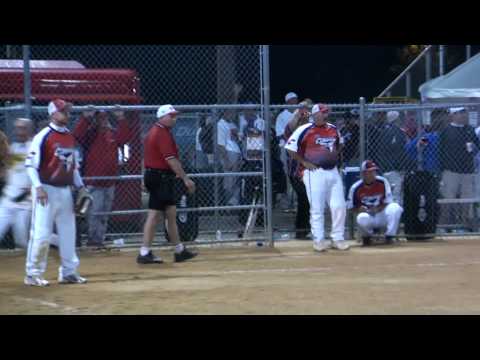 Kyle Kyle "Biggons" Yerkes ties the game against NW Combat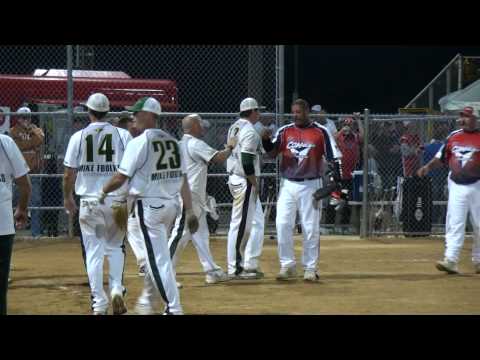 Blake Williams hits the game winner with a close play at the plate to beat NW Combat
The initial tag seems to go over top of the runner but Henry's foot seems to block the plate, or did Kyle's foot slide around back and catch the triangular backside of home plate?
---
Tied 5th Aubrey's/Taylormade/Mizuno
Conf 'A' from VA, 5-2 Record
I did not see a whole lot of Aubrey's this weekend. Like AJS, Aubrey's lost their first game in the 7th inning 30-29 to Blue Line Collision and then made a nice run in the loser's bracket defeating Crew/Combat, Elite, Desert Falls, crushed Hubs Pub, and sent home Jean Shoppe 27-25 before getting smoked by Dan Smith 32-6. They played all of these games on the satellite fields, and the only game I was witness to was the Dan Smith game where Aubrey's really never showed up. I heard they played well on Saturday leading up to that point and their 3 victories over Conference opponents shows they were. Aubrey's had a new pitcher and center fielder.
---
Tied 5th Northwest Combat/CJ Financial
Conf 'A' from WA, 3-2 Record
Northwest Combat cruised pretty solidly through their first 3 games including a run rule of Hub's Pub 25-10. In their meeting with Resmondo, NWC led 21-14 going into the bottom of the 5th and Resmondo scored 17 and never looked back. NWC had a chance to make some great plays to stop the rally but couldn't come up with the ball and lost 39-22. In the loser's bracket 4th place game they almost had AJS mercied but opened the door with some poor defense and a two out bottom of the 7th single by AJS won the game when the umpire called Biggons safe at the plate in a very close play. Franck Henry did a nice job of blocking the plate but the umpire said the
runner was under the tag.
Northwest played some great ball all weekend and continue to show that you can play 'A' ball on a low budget. NWC runs their record against 'A' teams to 6-3 and remember they are still the only non-major team to have beaten Resmondo on a non-baseball sized field this year.

Northwest Combat's hard hitting Franck Henry
NW Combat has added another Canadian, this time its third baseman and professional hockey player Kevin Bergin
NW Combat RF Joey Smith gets ready to add to the big lead over Hubs Pub
---
Tied 7th Jean Shoppe-Easton-Down2EarthSports
Conf 'A' from TN, 3-2 Record
Jean Shoppe comes away tied for 7th having not beaten a single team 'B' or higher in the tournament. They run ruled 3 'C' teams, competed with Resmondo for a few innings before being mercied and then disappeared over to the Evergreen fields to battle Aubrey's to a 27-25 loss. I'm sure that was a great game but this team is still not in sync and is playing like the 2009 GTL team as we pass the halfway point of the season. Can they turn it on and make a run at 'A' worlds like GTL did last season? I say yes. The kicker is they have all of their players and are healthy except for Jamie Gordon who they have played without for almost a year now.

---
Tied 7th Albicocco/The Scene/Worth
Conf 'A' from NY, 3-2 Record
Albicocco had a solid tournament highlighted by their 30-10 trouncing of TCP/Pipac and their 34-29 shootout win over Blue Line Collision. They score some much needed points but still need some strong finishes to get the Major World seeding that they need. Albicocco played without Tony Mack and the injured Steven Lloyd. Kyle Moyer again was hitting it well and Denarra Jackson continues to show some impressive center field range.
Albicocco picked up former Suncoast RF Brent Griffen
---
The Rest
Jean Shoppe's Dan Bean won the homerun derby Thursday night
Home Run Derby Bracket
Bart Ryan, Ryan Robbins and Mark Holstein – Mark Holstein
Matt Kelsey, Geno Burdick and Derek Warren – Geno Burdick
Aaron Lewicki, Brett McCollum and Levi Wright – Brett McCollum
Chris Bauer, Scott Brown and Justin Hall – Scott Brown
Rob Meints, Chyenne Brooks and Rich Gulash – Rich Gulash
Jay Dahlby, Denny Crine and Keith Anderson – Jay Dahlby
Derek Peterson, Brian Wegman and Chris Geron – Chris Geron
Nick Peterson, JD Genter, Chad Carson and Travis Clark – Chad Carson
Nick Pittman, Greg Connell and Andy Vitcak – Andy Vitcak
Mike Kopesky, Nate Holcomb and Dustin Palm – Dustin Palm
Jake Meyers, Dan Bean and Stacy Bolton – Dan Bean
Zach Nelson, Hank Garris and Cory Boothe – Cory Boothe
Dave Burkholder, Don DeDonatis and Kyle Decker – Don DeDonatis
Al Oulette, Chris Calcutt and Charles Cunningham – Chris Calcutt
Seth Brown, Oscar Shipley and Steve Wilson – Steve Wilson
Scott Snodie, Andy Purcell and Bryan Goins – Bryan Goins
Quaterfinals –
Geno Burdick vs. Brett McCollum – McCollum Won
Geno beat Mark Holstein and Brett beat Scott Brown
Jay Dahlby vs. Chad Carson – Dahlby Won
Jay beat Rich Gulash and Chad beat Chris Geron
Dustin Palm vs. Dan Bean – Bean Won
Dustin beat Andy Vitcak and Dan beat Cory Boothe
Chris Calcutt vs. Bryan Goins – Goins Won
Chris beat Don DeDonatis and Bryan beat Steve Wilson
Semi Finals –
Brett McCollum vs. Jay Dahlby – McCollum won
Dan Bean vs. Bryan Goins – Bean Won
Finals –
Brett McCollum vs. Dan Bean
DAN BEAN 2010 DUDLEY HR CHALLENGE CHAMPION!

Dudley tournament architect Warren Bellam
---
A big thanks to my sponsor's – USSSA, Down2EarthSports.com, GameTimeSupply.com, and MojoSportsGear.com
As always send comments and corrections to dw@softballcenter.com
To the teams that haven't turned in stats, get them into USSSA or give me copies, I'll total them for you.
My schedule looks like will take me to the Smoky, Cincinnati, and I know the tournament director in Colorado is working on sending me there. After that we'll see. July 4th weekend I have a family event I cannot miss. My apologies to Seattle and Arkansas…
Link to the rest of my Dudley pictures
Link to the Dudley Bracket/Stats
Link to the tournament in Connecticut when ready
Link to the USSSA Point Standings and Stats
Here are some other pics from :
Sinister RF and rookie slugger Casey Rogowski tore up a knee in his first game at the Dudley. We wish him a speedy recovery.
The Hubs Pub Left Fielder robs a NW Combat HR
Desert Falls has some work to do, but they will be fine in the 'B' division with or without Dirty
Eli Aguilar has joined Desert Falls as the CF and leadoff
Local Minnesota 'B' team Blueline has put together a nice squad led by Scott Snodie (former Showcase)
Suncoast wasn't able to keep up with GTL offensively and had another dismal weekend
Armor Construction gave EWS all they could handle in the opening round Friday night.
Mr. D's has a stacked team but went just 1-2
Eric Weller gives Tommy Thompson a "punch bug" before his game winning hit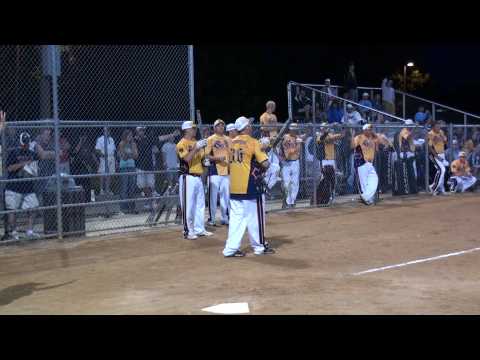 Tommy Thompson's pinch hit walkoff as EWS beats Armor Construction
The "man in black" Tony Verdugo was looking healthy
"DW your ok, but Kerm – back in the dugout"
This site uses Akismet to reduce spam. Learn how your comment data is processed.