2010 Conference USSSA Championship Recap
2010 Conference

Championships
Kissimmee, Florida

September 3-5
Dan Smith / Menosse wins the 2010 Conference Championship Major Series 3 games to 1 over Resmondo
The 2010 version of the Conference Championships was played this past weekend in Kissimmee, Florida. The tournaments were played in extreme heat except for Friday night which was pleasant. The Championships consisted of 3 tournaments:
The 1st tournament, called the 'Major' bracket was for Major teams only. Resmondo/Specialty Tank/Phonemasters took on Dan Smith/Menosse in a best of 5 series at Osceola County Stadium, which is the home of the Houston Astros spring training games, and also the USSSA offices and Hall of Fame.
Dan Smith taking on Resmondo in a best of 5 series
Game #1 (Friday night): BJ Fulk hammered 4 homer's for Resmondo as they batted around once and shut down Dan Smith late to take the first game 27-24. Game #1 video replay
Game #2 (Saturday morning): Dan Smith pounded Resmondo 30-12. Game #2 video replay
Game #3 (Saturday afternoon): Dan Smith knocks off Resmondo 15-11. Game #3 video replay
Game #4 (Sunday morning): Resmondo scored the first 7 runs of the game but failed to score the rest of the way as Dan Smith loaded the bases in the bottom of the 5th and scored with a walk-off single by Jeremy Isenhower, which gave them a run rule victory (22-7) and the Conference Championship 3 games to 1. Game #4 video replay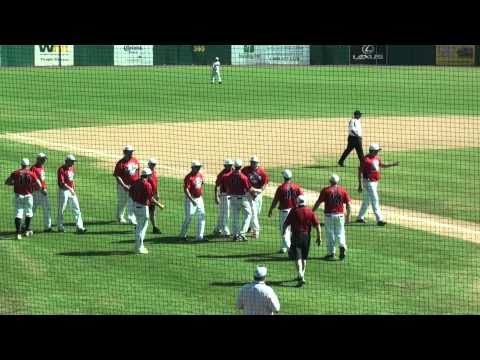 Dan Smith finishes off Resmondo
Tournament awards have not been listed as of the time of this writing, however I will go ahead and give Dan Smith's Brett Helmer the Offensive MVP as he 15-18 with 9 HR by my unofficial tally. BJ Fulk in a losing effort for Resmondo went 11-13 with 7 HR.
---
1st GTGG Dan Smith/Menosse
Conf 'M' from CA, 3-1 Record
Dan Smith wins their 2nd tournament in a row and powered their way to the Conference Championship by outscoring Resmondo 91-57. Their defense played solid and their supreme stadium power "shell shocked" Resmondo and kept them down most of the weekend.
All of the games are on archived video with the first game being the "normal" Dan Smith vs Resmondo game we come to expect. Smith becomes the favorite to win the World Series which will be played in 3 weeks, as they seemingly can do no wrong late in the season. The message sent by team Dan Smith should make for an interesting Worlds. Stay tuned.
This run down tagout and subsequent double up at 2nd base turned the momentum towards Dan Smith for good
Dan Smith's Brian Wegman played some middle infield
The versatile Brett Helmer played some right field
---
2nd GTGG Resmondo/Specialty Tank/Phonemaster's
Conf 'M' from FL, 1-3 Record
After winning the first game of the series, Resmondo was in the driver's seat and only needed to win one game per day to take the Championship. Noone could have predicted the complete offensive collapse that would ensue in the next 3 games. Resmondo is reeling now as one oldscout poster pointed out, they have lost 7 of their last 14 games and have lost 3 straight tournaments (Denver, Detroit, Conf Champ) after starting the season 48-4. Although they still hold onto the number one seed and #1 computer ranking, you would have to say that they are no longer the favorite to win the Major World Series. Resmondo has not won a tournament since the Smokies back on July 11th.
Resmondo can never be counted out, but it is difficult to find a whole lot of upside in their game right now. wwwossesmondoe
Typical Resmondo in game #1, they turned it up on both sides of the ball when needed.
The Resmondo team looked a little gassed, mentally and physically
Resmondo is down but not out of the hunt for 2010. The post game speech seemed to be geared toward "who wants to continue on?"
---
'A' Bracket (12 Teams)
The future of the 'A' division? EWS (yellow) takes on AJS (green)
The second tournament, called the 'A' bracket, was for the top 12 non-Major Conference teams and used a rather unusual double elimination – 3 game guarantee bracket. The 'A' bracket came down to two 'B' teams in the finals, as EWS outlasted AJS in 2 of 3 meetings to win the 'A' Conference Championship. The tournament was filled with spectacular catches from the likes of Brandon Riese (EWS), Ryan Parfitt (Wood Law), Gary Farrar (FBI), Adam Rockoff (AJS), Pat Hastings (EWS), David Kessler (AJS), Blake Williams (AJS), Sal Formosa (NW Combat), and those are just the ones I witnessed! If this tournament didn't "mean anything", someone forgot to tell some of these outfielders.
'B' teams finished 1st, 2nd, 5th, and 7th out of 12 teams. 'A' Champ GTL finished 0-3 and Albicocco failed to show up…literally, as they forfeited their first two games because of a lack of players.
EWS, your 2010 'A' bracket Conference Champions!
"A – Conference Championships" Final Standings:
Diamond #1 at Osceola County Stadium with its giant left field fence and 330-390-410-390-330 dimensions
Diamond #2 at Osceola County Stadium
Some video of Wood Law and Jean Shoppe over on field #2
100% pre-tournament bat testing was held at all Conference Championship tournaments and bats were stored in their teams garbage cans until they were eliminated. This is the best solution to the bat problem.
---
1st EWS/Shirts and Logos
Conf 'B' from IL, 4-1 Record
EWS started by beating a NW Combat team that had just had a big win over Team Combat. On Saturday morning they won a close one over Jean Shoppe 17-15 which setup the mid afternoon winner's final with AJS. In this game EWS and AJS swapped leads back and forth, seemingly every inning with the EWS defense being the difference 18-17. Arguably the best game of the tournament. Then on Sunday they waited for AJS to come back from the loser's bracket and both teams laid a bunch of eggs offensively in a 6-3 loss for EWS. This first championship game on Sunday was probably the worst game of the tournament with just 9 runs scored between the two teams.
EWS recovered in the "if" game to defeat AJS 15-11 as they held them off in the 7th.
I am impressed with the overall great play of the outfield. The pitching of Andy Vitcak also needs to be mentioned and the fact that he is batting 5th in a good lineup. EWS will be the 4 seed at the Major World series behind Resmondo, Dan Smith, and GTL! WOW. Playing at the 'B' World actually might be a letdown after the year EWS has had.
2B Travis Clark
1B Chris Geron
EH Dustin Palm
C Mark Holstein
P Andy Vitcak
RF Brandon Riese
MI Mike Umschied
LF Pat Hastings
SS Tim Nielson
3B Keith Anderson
CF Brad Lunda
EWS right fielder Brandon Riese was making spectacular catches all weekend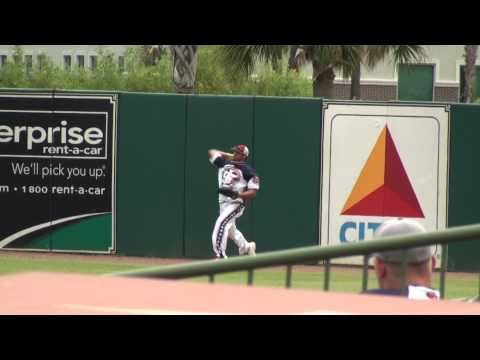 EWS gold glove shortstop Tim Nielson
Coach Todd keepin it light
EWS sponsor Eric Weller has put something special together with this team
There were a pile of lead changes in that winner's bracket final. Probably the best game of the tournament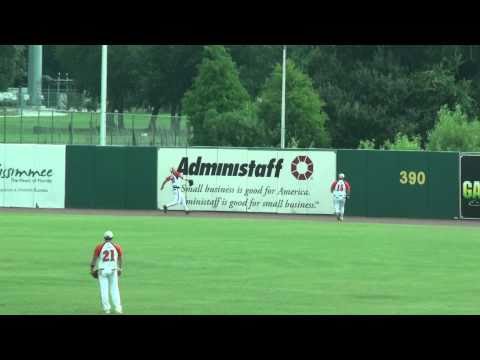 EWS slugger Mark Holstein hits a triple
EWS only made one bad move all weekend. This is a "rally" meeting late in the first game. Those are called "loser meetings" in upper level ball. The team that feels the need to have these late game motivation meetings outside the dugout, "1, 2, 3, lets go" are usually signalling to the other team they have lost. They did not score after this meeting in the first championship game.
---
32nd AJS/Easton/Supreme/Mike Foulks/Mojo
Conf 'B' from Florida, 4-2 Record
AJS improves their seed for the Major to #10 as they pull off an incredible 2nd place finish (their highest of the season). They opened Friday night with a solid 16-8 win over Logo Express and followed with a forfeit win over Albicocco. On Saturday morning they beat Wood Law 12-6 and lost the battle with EWS 18-17 in the winner's final. On Sunday they beat Wood Law quickly 20-5 and separated late from EWS in the first championship to win 6-3. In the final game they were down late and couldn't make it all the way back as the top of the lineup actually looked human for once.
AJS played without outfielder Billy Moore but the defense was in full swing as they held 4 of their 6 opponents under 10 runs! This kindof defense bodes well for them at the 'B' Worlds.
MI Terry Rosenbalm
CF Adam Rockoff
3B Scott Zaciewski
1B Jason Kreider
C Jeff Turnbow
EH Kyle Yerkes
LF Blake Williams
RF David Kessler
SS Nick Masur
P TJ Thompson
2B Joel Ramos
AJS right fielder David Kessler hits a big homer in the Championship game
AJS center fielder Adam "The Machine" Rockoff hits another liner. He also had one of the best diving catches of the tournament.
AJS third baseman Scott Zaciewski hits one off the fence
AJS EH/1B Jason Kreider was providing the stadium power. Here he breaks the 3-3 tie in the first championship game.
---
3rd Wood Law/Miken
Conf 'A' from TX, 4-2 Record
Wood Law played without their starting pitcher Justin Mucciareli. They crushed Aubrey's 28-9 in their opener, then shut down Sinister 16-8 before losing to AJS on Sunday morning 12-6. In the loser's bracket they beat Aubrey's again and outscored Shoppe 37-28 before dropping again to AJS as they were completely out of gas.
Wood Law showed some real heart. Larsen, Shrum, and Dennis had the power. Parfitt, Whaley, and Arlett had the hustle, and the rest of the veterans ran hot at times to push Wood Law to some big wins and a 12 seed at the Major.

3B Chris Larsen
1B Mitch Mabe
SS Dennis Shrum
Mark Dennis
LF John Dutch
LF Justin Valenti
2B Randall Poplin
MI Steve Whaley
EH Doug Wood
P Rodney Fail
RF Matt Arlett
Wood Law's Chris Larsen moved to lead off on the free swinging stadium fields
Wood Law reserve pitcher Rodney Fail deserves an all tournament for his pitching performance in the absence of Mooch.
Wood Law center fielder Ryan Parfitt's hustle and enthusiasm is contagious and entertaining
---
4th Jean Shoppe/Easton/Down2EarthSports
Conf 'A' from TN, 3-2 Record
Jean Shoppe knocked off FBI in their opener on the Cocco walk off homer. Then they beat GTL 18-11 in a contest which was never really close. On Saturday morning they dropped a close one to EWS 17-15 and then run ruled FBI to make it to Sunday morning. Most of the innings from the GTL game on, were pitched by Shane Spicer in relief of Scott Nastally. The team seemed to respond to the change. On Sunday morning however, "Cheese" Spicer was knocked out of the game by a Wood Law team that put up some big numbers, and Shoppe lost 37-28 in a game that lasted over 2 hours.

CF Kyle Cowart
1B Eric Thompson
EH Tim Cocco
LF Brad Reckart
MI Shane Hatfield
RF Dan Bean
MI Sean McDonald
3B Lee Powers
2B Travis Lane
P Shane Spicer
Jean Shoppe's Eric Thompson singles to set up a Tim Cocco walk off homer.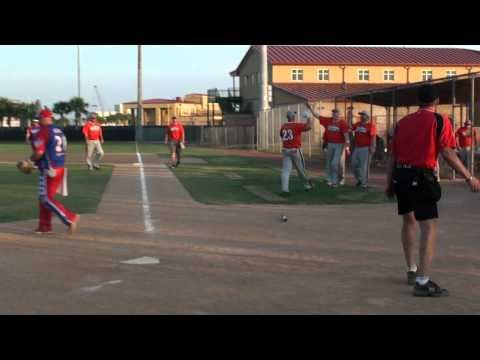 Cocco's walk off against FBI
After the walk off win over FBI and the impressive win over GTL it looked like the Q's had regained the magic touch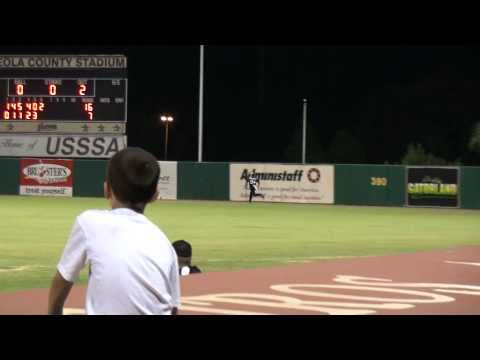 Shoppe's Dan Bean triples in the win over GTL on Friday night
---
Tied 5th Fence Brokers/Gametimesupply/Worth
Conf 'B' from AR, 3-2 Record
FBI lost a heart breaking opener to Jean Shoppe 33-31 when they decided to pitch to Tim Cocco in the first round. In the loser's bracket they won their first ever? baseball field game over NW Combat 21-14, then won an extra innings game over Albicocco 20-18 and another extra innings win over Logo Express 18-16. In the last game on Saturday they dropped by the run rule to Jean Shoppe.
FBI played some fun softball on the weekend but some team members would have preferred to have played in the 'B' bracket to get ready for worlds.
Bowser and the boys provide some big offense against Shoppe
FBI battles Shoppe to a 33-31 loss on Friday evening
Right fielder #2, Gary Farrar is congratulated after making one of the great diving catches of the year. A full speed diver with "extra" extension to save an inside the park homer in a tight game.
---
Tied 5th Aubreys/Taylormade/Mizuno
Conf 'A' from VA, 2-2 Record
A short handed Aubreys team was slammed 28-9 in their opener by a Wood Law team that proved they can play a little stadium ball. In the loser's bracket they won by forfeit over Albicocco and then knocked off NW Combat and Sinister before losing again to Wood Law. Aubrey's team speed was impressive on the longer bases and they should be a tough out at the Major as they worked their way up to the #7 seed late in the season.
LF Chad McLamb
2B Kevin Rye
3B Brian Justice
C Chris Calcutt
1B Brian Goins
P Stacy Bolton
MI Cheyenne Brooks
SS Kevin Bazat
RF Cory Boothe
CF Brian Logan
Johnny Bailey and Brian Floyd were in there somewhere
Aubrey's celebrates a Kevin Rye (right) homer
Aubrey's pitcher Stacy Bolton has done the majority of the pitching
Aubrey's SS Kevin Bazat was doing his best with an injured right hand
---
'B' Bracket (6 Teams)
The third and final tournament, called the 'B' bracket, was for the next 6 highest finishing Conference 'B' teams ordered by points. This tournament was won by Darkside/TYJA from New York as they knocked off Elite Sports/USA/Combat from California in the winner's bracket championship. Then Darkside lost to Elite in the first game of the championship but secured the title when Elite was unable to play the "if" game due to flight obligations. I have conflicting stories about what happened, but it sounds like the teams agreed on a co-championship which was then changed to a Darkside championship as Elite was headed to the airport.
The 'B' division was played at the Fortune Road complex which will host the 'B' Worlds in two weeks. The 'B' bracket teams also voted for and used the regular Conference ball instead of the stadium ZN, so they could prepare for the upcoming worlds. Blitz/Watanabe/Minges/Weller/Easton from Ohio was 3rd and Art Explosion/Drash from Florida with a pile of new faces was 4th. Because the 'B' division was at the Fortune Road complex I was only able to make it to two games. I watched Blitz go 9+ innings to knock off a tired Art Explosion team and I watched Darkside keep ahead of Elite for most of the winner's bracket championship game in a solidly played game.
1st Darkside/TYJA
Conf 'B' from NY, 3-1 Record
Darkside came from behind with no homer's left to beat Blitz 23-22 on Friday evening. On Saturday they beat Hubs Pub 23-21 and stayed ahead of and knocked off Elite 23-19 in the winner's final. On Sunday they lost to Elite in the first game of the Championship and then secured the trophy when Elite had to leave to catch flights.
Darkside solidifies themselves as a top 5 contender for the 'B' title and have the veteran leadership on both sides of the ball to bring that championship back to New York.
Darkside manager Mark Weber
One of Darksides main players is right fielder Neil Haglund
Darkside pitcher Moose White refuses to lose
---
2nd Elite Sports USA / Combat
Conf 'B' from CA, 3-1 Record
Elite Sports is now managed by player/coach Cal Ford and is a mix of veteran players like Julio Salazar, Daniel Schneider, Jay Hill, and Chuck Shimels and some younger players. They knocked off Art Explosion 28-21 in their first game, and then lost to Darkside in the winner's finals 23-19 on Saturday before the Conference banquet. On Sunday morning they run ruled Blitz, then forced an "if game" by beating Darkside 22-18. Before the "if" game there was talk of a co-championship so both teams could catch flights but in the end Elite left for the airport and Darkside was awarded the trophy. Elite has a solid 'B' team and could push for a top 8 finish at the 'B' World and possibly something to build on for 2011?
Player/Manager Cal Ford will have his hands full at the 'B' World
Elite's veteran leadoff hitter Daniel Schneider
---
3rd Blitz/Watanabe/Weller/Minges/Easton
Conf 'B' from OH, 3-2 Record
Blitz somehow lost their first game (23-22) to Darkside when they squandered a 6 run lead in the last two innings with Darkside out of homer's. They then run ruled Art Explosion, sent Desert Falls home, and won the "game noone wanted" when they beat Art Explosion in extra innings 34-33. In the loser's championship on Sunday morning they dropped to Elite 29-14.
Blitz was missing some key players. If they can get some of those guys back for the 'B' Worlds then they are at top 5 team with a very long shot at making a run at it depending on how the bracket lays out.
Blitz's Brad "Woogie" Tabler doing his best Jon Jamison impression
Blitz 1st baseman Jimmy Carter. What ever happened to the "Junkyard" nickname.
I would like to hear a post tournament preview from the oldscout poster that started the negative post about the Mystic Dunes resort. I'd be interested to see how his teams stay went. Personally I had zero complaints. First class all the way. Wife and kids only complaint was that the onsite Pizza Hut closed at 9 PM? Rooms, pool, service, bicycling, and miniature golf were all great.
---
A big thanks to my sponsor's – USSSA, Down2EarthSports.com, GameTimeSupply.com, and MojoSportsGear.com
I will be at the 'B' Worlds in two weeks.
As always send corrections, questions, and comments to dw@softballcenter.com I did not have a chance to proof read any of this report. I'm sure there are some glaring errors.
Link to the rest of my Conference Championship pictures
Link to the 'A' Conference Bracket
Link to the 'B' Conference Bracket
Link to the USSSA Point Standings and Stats
Here are some other pics from the Conference Championships:
GTL's Jimmy Salas hit 2 LONG (430 plus) bombs on Friday night and this triple.
NW Combat's Franck Henry playing RF, gets the quote of the tournament on his "oh shit" on what looked like a fairly routine (for stadiums) liner in the gap. Very funny.
Sinister is trying to hold it together for the end of the season.
Team Combat fights the heat and pulls one out against GTL
I bet thats a Bass Glove
Josh Wiggs was playing for the revamped Art Explosion/DRASH team
EWS uniforms made special for the stretch run
NW Combats Derek Warren is a warrior on the mound and a clutch hitter to boot.
Fishin for homerun balls?
NW Combat picked up a local kid, Orlando Castillo, to play 3B. The fans he brought with him doubled the total crowd for the weekend.
I'm hoping the Cartel come back stronger in the Major World series because as of now their baseball field record is 0-3
This report was late because DW headed for the Magic Kingdom and spent a couple days with the wife and kids at Seaworld, putt putt, swimming…..
This site uses Akismet to reduce spam. Learn how your comment data is processed.