2009 USSSA B World Tournament Recap Part 1
2009 USSSA Class "B" World Tournament Recap!
Orlando's Fortune Road Softball Complex
September 18-20
Click this banner to check out LinedriveSportz.com for all your Baseball and Softball equipment needs

Have COMBAT – will TRAVEL!
Northwest Combat/Trojans out of Seattle, Washington came to Florida on a MISSION. Mission Accomplished! They are your new class 'B' World Champions and they did it in a dominating fashion as they outscored their competition 91-26 in 5 games. NW Combat never allowed more than 7 runs in a game during their run and were led by tournament MVP pitcher Derek Warren.
Combat used INTENSE focus, speed, timely power, and a suffocating defense to clean house and win the rings. The Washington based club used a grand slam by veteran slugger Shane McCullough to separate from a feisty Detroit Own's team to get themselves going in their first game and never looked back as they won by the mercy rule 4 times. The only close game was a 7-5 victory over FBI in the heat of the day Saturday when the ball was not going anywhere. Combat defeated Blitz/Watanabe/Weller/Minges/Easton 18-1 on Saturday night in the winner's final and 22-6 in the final game!
Blitz from Cincinnati, Ohio finishes a solid second after making a nice run in the winner's bracket and knocking off the hot AJS team (24-6) in the semi-finals of the winner's bracket. Blitz then made it back to the championship game with a 11-10 win over WCS/LCV when they threw the tying run out at the plate for the third out.
WCS/LCV finishes third after beating FBI 25-17 early Sunday morning in a game that I felt was the best played game of the tournament. Both teams had great homerun management, clutch hitting, and it was just a hard fought game from the beginning. Congratulations to all 4 of these Sunday finishers.
2009 Class "B" World Champions – Northwest Combat/Trojans out of Seattle, Washington

Blitz/Watanabe/Weller/Minges/Easton out of Cincinnati, Ohio was your 2nd Place finisher

WCS/LCV out of Vista, California was 3rd Place

Team Breakdown: There were 30 teams from 17 different states in the tournament. 24-Class "B" teams, 4-Class "C" and 2-Class "D" teams
Some of the 'B' World hardware

Tournament Awards:
Tournament MVP Derek Warren Northwest Combat / Trojans
Offensive Tournament MVP Jason Roesch Blitz/Watanabe/Weller/Minges/Easton (not pictured yet)
Defensive Tournament MVP Jeff Gare Northwest Combat / Trojans
All Tournament Team:
Northwest Combat/Trojans
Manager George Phillips (not pictured – sorry)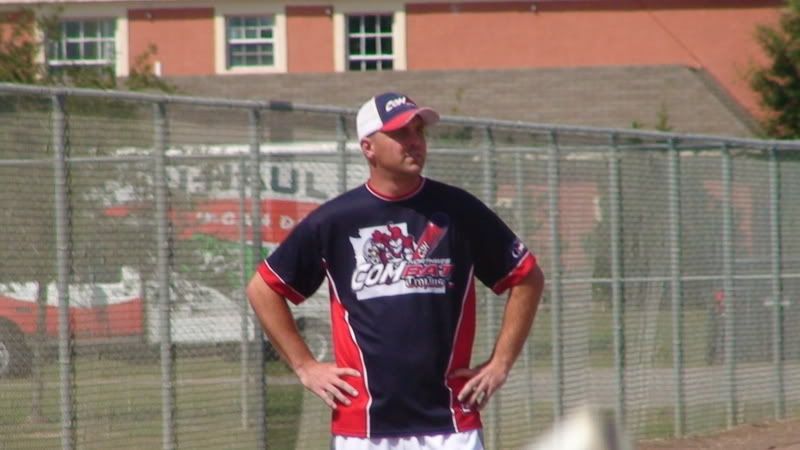 Manager Strojan Kennison


Jon Oram


Shane McCullough


Brian Plenkovich


Seth Stephens


Ryan Goodman – defensive specialist who became a tough out in the final games


Francois Henry
Blitz/Watanabe/Weller/Minges/Easton


Frank Gruber (making the game winning tag at the plate)


Rob "The Glove" Menke


Bob Noeth aka "Jamison's personal RBI"


Jon Jamison
WCS/LCV


Matt Pesso


Brendt Newbill
Ed Miller (not pictured)
Fence Brokers/Illustrated Sportswear


Perry Hensley


Tim Bowser

Fortune Road Field Notes: 4 Field wheel complex with fences set at 325 down the lines and 340 to center.
Fortune Road field #1
Related
This site uses Akismet to reduce spam. Learn how your comment data is processed.