2018 Free Agent infielder Matt Michael
Matt Michael
2017 Interview
Who are you playing with in 2018?
2017 – Hard to explain: committed to an AA team and then 2 A teams but it's all good just a curve ball was thrown
2018 Free Agent – Mmichael1313@gmail.com
What positions do you play and what is your best position?
2nd and 1st but I prefer 3rd
Who is the best softball player you have ever seen play?
Man it is to many to start making. B. Mack game is nasty and then Greg Connell wins the triple crown in consecutive seasons pretty hard to do.
Why do you like the game of softball?
It will humble you very quick. Keeps the competitive side rolling to keep working in the gym and BP
Who is the best up and coming player in softball and why?
Thats to many to look at
What is your nickname in softball and how did you get it?
BAMA from my Vegas guys Chris Hansen Adam Elliott RIP.
What is your height and weight?
6'1. 250
Where do you call home?
Lexington, Alabama. ROLL TIDE
What's your favorite way to spend an off weekend?
Anything but working
What do you do for a living?
Project manager for a roofing company
Did you play sports in High School / College / Pro?
basketball baseball and football in HS and juco college baseball and didn't really like baseball much at all
How did you get your start in softball and how did you get to the upper level?
Started playing C ball then got hooked up with Tommy Baugh and TJ Buzini with the Mississippi Chargers and then conference with Wheelhouse. Worsham ,Adiktiv
What was the most surprising difference between Conference play and non-Conference play when you made the jump?
Speed and defense
Is there a player that you would compare your game to?
No i don't think so
What would you say is your career highlight to this point? Maybe one play or game that sticks out to you in particular?
Nothing over the top. That's why I still play the game
In your career was there a single person (player/manager/coach) who had the most significant impact on your approach to the game? Why?
My DAD he has played at the highest level and knows what it took to get there tb is was a lil while back but you still have to work. He never says I sucked until I ask
What advice can you give a young player trying to break into the upper level?
Don't be content where you are always push on and move forward to get to the highest level possible.
What type of batting grip do you use and what ounce bat?
Over lap
What do you do in the offseason to prepare for the next softball season?
Gym hard and now more cardio. And since I have changed jobs I have more time to really put in the work
What is your favorite sports team and your favorite sport other than softball?
Alabama. You already know. ROLL TIDE
Do you have any superstitions and if so, what are they?
Just a little routine I do before getting in to the Box.
What would be your "at bat" music selection?
Whoop there it is. Tag team
What is the best improvement upper level softball could make?
Maybe limit the number of major players
What is your favorite non-World tournament and why?
All ways like cinn major. The toys 4 tots in Pensacola is a blast
What is the best softball field/complex you have played at and why?
Any of the BLD
Where is the best place to eat on the road after a game?
I could care less
What is the funniest thing you have ever seen on a softball field?
I will leave that 1 alone
Tell us something about you that most would never know about you?
I could stay in the woods everyday and not talk to anyone
What was your favorite sports related gift you have ever given or received?
Probably to be there when my DAD went in to the alabama sports all of Fame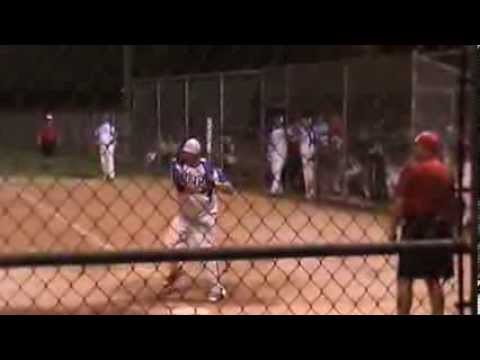 10 responses to "2018 Free Agent infielder Matt Michael"