New Team —> Killbombers/Demarinis Donovan Pokraka
Donovan Pokraka
2011 Interview
Why do you like the game of softball?
It allows me to get away from the real world, and be around people that share the same passion for the game I love to play.

What position do you play?
1B, 2B, C, OF
What is your nickname in softball?
Devo

Who is the best softball player you have ever seen play?
I don't know if I could pick just one. I have played against and with some of the best of all time. Todd Martin and Todd Joerling would be my two picks, as both could/can pick anything hit their way on defense and hit with anyone. I would also have to include Jeff Wallace and Brett Helmer as two of the best hitters I've ever seen. Both of them come to bat with the same mentality, if there isn't a hole to hit it in they make one.
Where do you call home?
Englewood, CO (Suburb of Denver)

What do you do for a living?
Warehouse Manager
Did you play sports in High School / College / Pro?
Baseball and basketball HS, played Baseball at Metro State College (Div II) in Denver

How did you get your start in softball and how did you get to the upper level?
Started playing after college with a local C team with my sisters boyfriend at the time. They needed a body to fill a spot at the time, and I still wanted to play a competitive sport. I worked my way up on a couple teams in Colorado, then was picked up by KVB Sidewinders out of Kansas City. We played B my first year then A the next, this is the team that gave me my first trip to the Major Worlds Series in '03.

What batting grip do you use?
Overlap top hand

What is your favorite sports team?
LSU – College, Avalanche – Hockey

What is your favorite sport other than softball?
College Football
Do you have any superstitions and if so, what are they?
I wouldn't consider the things I do superstition, they are more like little routines that I go through before games or at bats.

What is your most memorable softball moment?
My first hit ever at the Major World Series in '03. With most all my family in the stands, after I got to first base the announcer came on and congratulated my great aunt and uncle on their 50th wedding anniversary that was coming up that Friday. I'll never forget the smiles on their faces when I looked over into the stands.

Is slowpitch softball a sport or a game?
Checkers is a game, softball is a sport.

What is the best improvement upper level softball could make?
Going back to aluminum bats.

What is your favorite non-World tournament?
Toys for Tots in Palm Springs, CA. Great time for a great cause.

---
---
---
---
---
---
---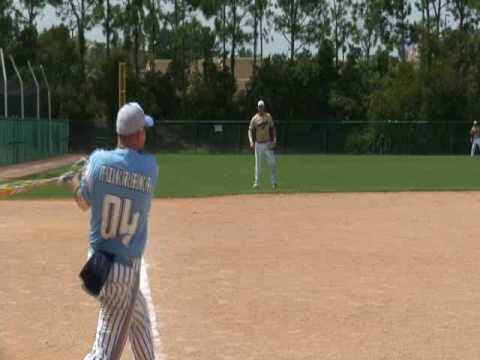 2 responses to "New Team —> Killbombers/Demarinis Donovan Pokraka"