Ronald "Bubba" Mack
Ronald Mack
2012 Interview
Why do you like the game of softball?
Softball gives me a chance to travel and see places that I never would have seen if I didn't play. Also getting to play with and against the best players in the country and to continue to play ball after baseball is great.
Who is the best softball player you have ever seen play?
Brett Helmer and Greg Connell are probably my top two. But I can't leave Dewayne Frizzell out because of watching him play as I was growing up and playing league ball with him now.
What is your nickname in softball?
I have too many to list but I think "Powder" is the most common.
Where do you call home?
Milton, Florida
What do you do for a living?
I manufacture block windows at US Block Windows
Did you play sports in High School / College / Pro?
I played baseball in high school and for a year in college.
How did you get your start in softball and how did you get to the upper level?
I started playing with a local team the beginning of 2007 and then played in the Mullet with Specialty Tank that year. KJ was playing with us in the Mullet and made the call to GTL to get me picked up with them for the Smoky
What position do you play?
Looks like I'll be playing middle infield this year but anywhere in the middle or on the left side of the field
What batting grip do you use?
Overlap
Picture of overlap grip

What ounce bat do you use?
27 endload
What do you do in the offseason to prepare for the next softball season?
I really don't have an offseason.
What is your favorite sports team?
Atlanta braves and FSU
What is your favorite sport other than softball?
Baseball
Do you have any superstitions and if so, what are they?
I dont have any
What is your most memorable softball moment?
Getting picked up to play with GTL after only 6 months of playing softball.
Also winning back to back 'A' Worlds with GTL.

Is slowpitch softball a sport or a game?
Both
What is your favorite non-World tournament?
The Smoky Mountain Classic
What is the funniest thing you have ever seen on a softball field?
JC phelps hitting a homerun and yelling at the outfielder "get off the fence Peter pan".
The late JC Phelps hitting a bomb at the Smoky in 2008
---
---
---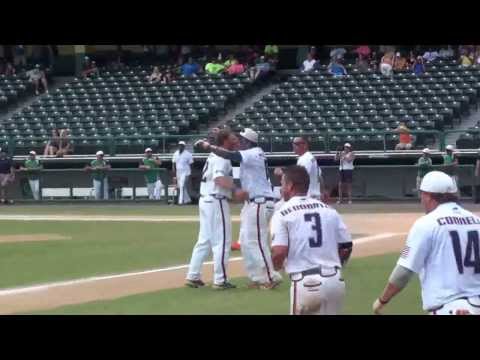 Game winning home run at the 2013 USSSA Major World Series
---
---
---
2 responses to "Ronald "Bubba" Mack"