2016 USSSA Cincinnati Major tournament preview!
17th Annual
Cincinnati Major
Nationwide Conference USSSA!
July 15-17
Tournament Preview
Preview presented by HangRiteAthletics.com
The Cincinnati Major is this Friday through Sunday at the Mid America Ballyard. The games start on Friday at 4:00 PM eastern time with two groups of "play in" games. I do not know what the livestream situation will be with the lack of internet in the past at this park which is situated at the bottom of a mountain. I will try to stream at least one field starting with the 6:30 PM game on field #1 but no guarantees. If I am able to add a second field at some point that will be a bonus. USSSA has my streaming equipment in Kansas City for a 14u fastpitch world series. 28 Conference teams (up 3 from last year) will be in attendance this weekend so some big points for teams desperate to get into the top 16 and 262 points for the winner. There should be some great softball played with what looks to be good weather. The great matchups start early in this tournament as Bay Area Legends all the way from California take on JBL/Tailgaters, both top 'A' teams at 6:30 PM. Nightmare vs Buffalo Wings and Rings also at 6:30 PM is another good 'A' vs 'A' matchup. Also TM Sports vs Above All could be a good one and Thunder vs Bad Draw at 7:45 PM are good ones on paper. On Saturday beginning at 9:30 AM through the end of the tournament it should be one great game after another until the end of the event.
Team Breakdown:
40 Teams Overall
28 Nationwide Conference USSSA Teams
4 Major Teams
9 'AA' Teams
9 'A' Teams
12 'B' Teams
6 'C' Teams
---
DW's picks!
Another star studded field of teams takes to the smaller fields in Cincinnati this weekend. Early in the season Backman won all the big field tournaments at the Hall of Fame Classic and Columbus but then Resmondo broke through in dominating fashion last weekend to win the Smoky. And Resmondo was winning most of the 300 foot field tournaments they went to like Indiana, Chattanooga, and Chicago but then the last big one at the Dudley it was Backman that won. So coming into this weekend it does feel like Resmondo has the momentum and we see in the polls they got 50% of the vote but anything can happen and the Scene is playing pretty good ball as well. Scene has to prove they can win on Sundays but are knocking on the door. Smash It Sports is ailing as Brian Wegman recovers from knee surgery and super utility man Mike Umschied is having an eye procedure (we truly wish Mike and Brian the best in their recoveries). Hopefully they will be 100% for the Major World Series. Backman did win this tournament a year ago.
My picks. I am going with Resmondo. They usually play well in Cincinnati and heat up as the summer drags on. I will take Backman 2nd, Scene 3rd, and Newbreed 4th although Newbreed will probably have to make a deep run in the loser's bracket to make it to Sunday.
R
---
The two fields in the back are 280-290 feet on the fences so homerun management is key.
The two main fields are 300 feet all the way around. It is 422 feet to the top of the hill on the main field out behind the homerun fence just for reference.
---
Weekend Weather
---
2015 Winner – Backman/Shoppe/Louisville Slugger
2015 Cincinnati tournament report link
2014 Winner – Resmondo
2014 Cincinnati tournament report link
2013 Winner – Resmondo
2013 Cincinnati tournament report link
2012 Winner – Resmondo
2012 Cincinnati tournament report link
2011 Cincinnati tournament report link
2010 Cincinnati tournament report link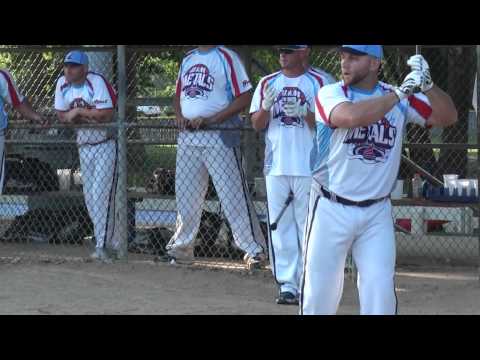 Random video clips from the 2012 Cincinnati Major
---
Past tournament results
2015 Results
1 FL-M Backman/Shoppe/Louisville Slugger
2 NY-M Resmondo-Specialty Tank Worth
3 IL-A Precision/Easton/DO
4 NY-M Smash It Sports/Compound Athletics/H Auto/Easton
2014 Results
1 FL-M Resmondo-Specialty Tank Worth
2 NY-M Laservision/H.Auto/JJ's/Easton
3 NY-A Team Albicocco/Scene/Easton/Elite
4 AL-A Baugh Doerflinger Nat-Pawn/Easton
2013 Results
1 FL-M Resmondo-Specialty Tank Worth
2 NY-M Laservision/DesertFalls/Boombah/Easton
3 NY-A Albicocco/The Scene/Easton
4 FL-A Demarini/Dirty/XtremeAthletics
2012 Results
1 FL-M Resmondo-specialty tank worth
2 NY-M Laservision/anni/supr/d2/easton
3 NY-A TYJA – Suncoast Reebok
4 VA-A Team 454/Emerald/Worth
2011 Results
1 FL-M Resmondo-specialty tank / worth
2 WA-M GTL Cartel/DeMarini
3 WA-M Team combat/laservision/d2e/supreme
4 TN-A Shoppe / team tps / d2e / elite
2010 Results
1 WA-A GTL CARTEL/WORTH
2 NY-A albicocco's/the scene/worth
3 MI-A Sinister/line drive/sss/worth/mojo
4 IA-B Pipac/TCP/Easton
2009 Results
1 TN-A Jeanshoppe/chaneys/easton/sports55
2 MI-A Bud light/tps/linedrive/sports55
3 OH-B PRI/MFAB/Insanity
4 OH-B EAP/Easton
2008 Results
1 FL-M Resmondo/specialty tank/worth
2 TN-A Jean Shoppe/Easton
3 OH-B Blitz/watanabe/bull/minges drywall
4 WA-A GTL/Creative Stucco/Worth
2007 Results
1 FL-M Resmondo Softball
2 FL-M Bellcorp/belcher/tai/backman
3 NY-A The Scene
4 WA-M Team combat/benfield/dalsanders
2006 Results
1 VA-M Benfield/reece/shade/am las vegas
2 FL-M Bell corp/taylor/belcher/easton
3 OH-A Watanabe/katt/ttp/b&a/sup/tps
4 MI-A Northwest pipe/bud light/3n2/easton