2015 Hall of Fame Classic tournament preview!
"Hall of fame Classic"
Nationwide Conference USSSA!
April 16-19
Tournament Preview
presented by BaughFord.com
It all starts with the Hall of Fame Classic!
The 2015 Nationwide Conference USSSA season kicks into high gear this coming Thursday, April 16th at 8 AM Eastern time with a 35 team double elimination tournament which will end with the championship game being played on Friday night. 35 Nationwide Conference USSSA teams from 22 different states will fight for the grand prize of 290 points to the winner! 28 of the top 30 teams in the SoftballCenter Rankings will be there. After the first tournament ends on Friday night the second one begins bright and early Saturday morning. A double tournament weekend played at the largest fields in softball, the Osceola County Stadium and surrounding fields that the Houston Astros use for spring training. A number of games will also be played at the nearby Fortune Road Softball Complex. They will play 140 games, weather permitting and everyone of them is a conference team vs conference team matchup…wow.
The loser's bracket finals and the championship game or games of the second Dual will be recorded by CBSSports cable channel and shown live on Tuesday, April 21st at 8 PM eastern time.
On the softballcenter.com homepage we will have a chat room open during the tournament for questions and updates. The chat room page also has links to the two brackets, links to the livestream page etc. With the tournament being played at Osceola County Stadium and around the corner at Fortune it will be difficult to keep up with all the games until we get down to 3 fields.
The USSSA livestreams can be found at USSSALive.com They will have multiple cameras on the Stadium field and most other fields will be covered by a single stationary camera most of the weekend.
The Home Run Derby on Wednesday night at 7 PM will also be streamed on USSSALive.com .
Team Breakdown
6 Major
12 'A'
12 'B'
5 'C'

---
OUr anonymous contributor has some excellent picks this week!
When I agreed to help Ol' DW out with the picks segment for softballcenter.com this year I never realized how hard it would be to choose between these amazing softball clubs. The talent level this year across Conference USSSA may be the most balanced yet. I'm excited to see if the early season success of A and B teams vs the Majors will continue, or were Houston and Las Vegas small blips for the big guns while they prepared for the Hall of Fame Classic Dual event? This weekend 35 teams will gun for early season conference position in the point's race, but everyone expects the 2 gunslingers to be standing toe to toe at the end. How do I see it? Let's check it out:
Dual 1:
The top half of the bracket features last season's champion Smash It Sports led by USSSA Legend Brett Helmer. Smash It Sports shouldn't have much trouble early, but its 3rd game opponent could be a bit trickier. Classic Glass is off to a hot start after a 4th place finish at Sin City and if Classic and Precision get through the first round the winner of that game could have the momentum and confidence to give Smash It Sports a run for the money. Ultimately, I think Smash It gets through and end up facing Albicocco/The Scene in the winner's bracket semi-final. Albicocco can't be happy with a 2nd straight 2nd place finish at "Space City," but the team didn't have the chance to fight for the title once the rains came. Albicocco shouldn't have much trouble until it faces 4 The Fallen at 4pm Thursday. 4 The Fallen is much improved with the additions of the Formosas, but I just think the team is a slight step behind the other Major teams at this point. I expect big things from that team this year, but at this point in the year I can't take them in the upset. Smash It Sports should get through Albicocco to complete the top half, and I am confident they will. Too much talent and a healthy Luis Reyna help Smash It Sports advance through.
The bottom half of the first bracket is going to be a dog fight. Resmondo is the favorite, but Team Combat has already shown that this just may be the year for Coop and the guys. Combat has assembled one of its best teams in memory, and the new additions that came over from Baugh Ford solidify an already talented group. I love Backman/Shoppe's draw and if everything goes according to plan the 4pm game vs Combat could be a great early season battle. Ultimately, I like Combat to get through and face Resmondo in the winner's semi-final. It's almost impossible to pick against Resmondo and Andy Purcell in Florida on a stadium, and I'm almost crazy enough to do it…Almost. Rezzy gets through and squares off vs Smash It Sports in the winner's bracket final.
Ultimately, I think Smash It vs Resmondo is great for fans. I believe in my heart of hearts that we all want to see the best vs the best. On stadium sized fields we will see it more often than not. This should be no different, and I look for them to play each other at least twice if not 3 times before the slugfest is over. I think Smash It gets through the first Dual with another tourney win here, but I expect the games to be close.
Dual 1 Results:
1. Smash It Sports
2. Resmondo
3. Combat
4. Albicocco/The Scene
Dual 2:
In general, teams that do really well in the 1st tournament don't do as well in the second. There's a lot of heat and humidity in Florida, and it takes its toll. The fun part of that is it allows for some upsets if the first tournament goes as expected. Well, I'm going to go flying way out on a limb and say that Resmondo plays Smash It Sports in the finals again and that Smash It wins the 2nd tourney just like the first. Okay I know that isn't going out on a limb. However, the baseball fields make upsets tougher vs those teams. However, I believe there will be at least 1 "A" team in the final 4 this Sunday. It's difficult to ever say Precision/Easton is "under the radar." It's a team that finished 2nd at "A" USSSA Worlds, 1st at "B" Worlds, and 4th At the Men's Major World Series. That is the best season for a "B" team in the history of the game. I think Precision gets it done in Dual 2 and will find a way to finish in the top 4. I like 4 The Fallen to make a run in the winner's bracket before losing to Smash It in the winner's semi-final Saturday night as well.
Dual 2 Results:
1. Smash It Sports
2. Resmondo
3. Precision
4. 4 The Fallen
1st Round game to watch Dual I: Pure Romance vs. Classic Glass
1st Round game to watch Dual II: Red's Astros vs TG Brand
Upset Team to watch: Deluxe Bakery – The C World Champs may be able to surprise some folks this weekend.
Houston Results:
Prediction – Albicocco, FBI, CA Sports / Buzini, TG Brand
Actual – VCH, Albicocco, CA Sports (tie 2nd), TG Brand
Upset Team To Watch Chill Sports Bar Finished 5th.
Don't forget to fill out your 'pickem' for both tournaments
---
OldScout Fan Picks!
---
Reminder that all teams need to get their team picture taken by me (DW) at some point during a day game for best results. Your cooperation is greatly appreciated.
USSSA will also be taking headshots of players for the electronic scoreboards used throughout the year. And finally remember for your stats to count and your players to be eligible for post season awards, you need to send in pictures or scans of each of your score sheets to dw@softballcenter.com for placement in a picture album so that anyone can verify they are accurate. In addition your stat totals spreadsheet goes to stacy.loving@usssa.com and if you can copy me on that as well that would be helpful. Thanks.
Stats:
– Remember that a fielders choice is scored as an out for the batter, not a single.
– Sacrifice fly's, even game winners, are scored as outs and count as a plate appearance. No exceptions.
– All outs in each game must be accounted for and visible on the scoresheets for players to be eligible for conference awards. If your team bats 6 innings, you must have 18 outs accounted for. If your team bats 7 innings you must have 21 outs accounted for.
---
Each teams first round game at a glance: (This is unofficial, teams should always check the real bracket)
---
Osceola County Stadium and surrounding fields F1-F5
Field Dimensions (using google earth)
Osceola County Stadium 336-390-410-390-330
Osceola Field #1 – 332-390-407-390-328
Osceola Field #2 – 320-385-400-380-325
Osceola Field #3 – 305-370-390-373-313
Osceola Field #4 – 330-390-406-390-330
Osceola Field #5 – 315-364-372-364-315
Fortune Road #1 – 310-325-325-325-310
Fortune Road #2 – 310-325-325-325-310
Fortune Road #3 – 310-325-325-325-310
Fortune Road #4 – 310-325-325-325-310
The Conference ZN Stadium will be used on the baseball fields.
Always check with the director for time and field assignments as well as rain delay information.
---
Kissimmee Weather
---
The fields listed FR1, FR2, FR3, FR4 on your bracket are at Fortune Road Park
---
2014 Dual #1 and #2 Winner – Laservision/H Auto/JJ's/Easton
2013 Dual #1 and #2 Winner – Resmondo-Specialty Tank Worth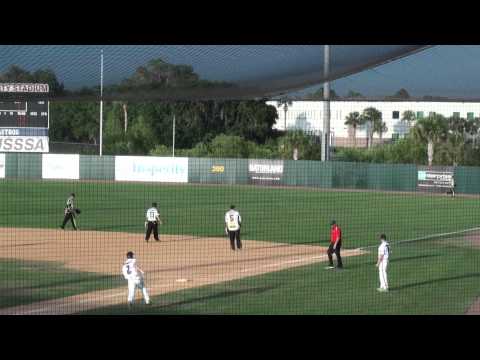 2013 Video Highlites
2012 Dual #1 Winner – Resmondo-Specialty Tank Worth
2012 Dual #2 Winner – Nordkap/Desert Falls/Easton
2014 HOF tournament report link
2013 HOF tournament report link
2012 HOF tournament report link
2011 HOF tournament report link
2010 HOF tournament report link
2009 HOF tournament report link
Past tournament results
2014 Results Dual #1
1 NY-M Laservision/H Auto/JJ's/Easton
2 FL-M Resmondo-Specialty Tank/Worth
3 AL-A Baugh Ford/Doerflinger/National Pawn/Easton
4 IN-M Backman/Shoppe/Louisville Slugger
2014 Results Dual #2
1 NY-M Laservision/H Auto/JJ's/Easton
2 FL-M Resmondo-Specialty Tank/Worth
3 AL-A Baugh Ford/Doerflinger/National Pawn/Easton
4 IN-M Backman/Shoppe/Louisville Slugger
2013 Results Dual #1
1 FL-M Resmondo – Specialty Tank / Worth
2 MN-A Nordkap/Suncoast Reebok
3 NY-M Laservision/DesertFalls/Boombah/Easton
4 TN-M Shoppe / TYJA / Louisville Slugger
2013 Results Dual #2
1 FL-M Resmondo – Specialty Tank / Worth
2 IA-A GTL Doerflinger R&M/Easton
3 MN-A Nordkap/Suncoast Reebok
4 TN-M Shoppe / TYJA / Louisville Slugger
2012 Results Dual #1
1 FL-M Resmondo-specialty tank worth
2 NY-M Laservision/anni/supr/d2/easton
3 VA-A Taylormade/tm sports/mizuno
4 VA-A Team 454/Emerald/Worth

2012 Results Dual #2
1 UT-M Nordkap/desert falls/easton
2 NY-M Laservision/anni/supr/d2/easton
3 FL-A Demarini/dirty/3n2/atwldesigns
4 NY-A TYJA – Suncoast Reebok

2011 Results Dual #1
1 WA-M GTL Cartel/DeMarini
2 FL-M Resmondo-specialty tank / worth
3 WA-M Team Combat/laservision/d2e/supreme
4 IN-B MidWest Swing / Miken

2011 Results Dual #2
1 FL-M Resmondo-specialty tank / worth
2 WA-M GTL Cartel/DeMarini
3 TN-A Shoppe / team tps / d2e / elite
4 FL-A Suncoast Reebok

2010 Results Dual #1
1 CA-M Dan Smith/Menosse
2 MI-A Sinister/line drive/sss/worth/mojo
3 TX-A Wood Law/Miken
4 IL-B EWS/SHIRTS and LOGOS

2010 Results Dual #2
1 FL-M Resmondosport/specialty/phonemaster
2 GA-B LOGO EXPRESS
3 VA-A Aubrey's/taylormade/mizuno
4 IL-B EWS/SHIRTS and LOGOS

2009 Results Dual #1
1 CA-M Dan Smith-menosse-benfield-combat
2 FL-M Resmondo-specialty tank-worth
3 FL-A T&R Stucco/Worth
4 NV-A Johnny Blaze/Combat/Elite

2009 Results Dual #2
1 CA-M Dan Smith-menosse-benfield-combat
2 MN-M Long Haul/miken/phonemasters
3 FL-M Resmondo-specialty tank-worth
4 FL-B A.J.S./Easton/3N2/Dssbats

2008 Results
1 FL-M Resmondo/specialty tank/worth
2 CA-M Dan Smith/menosse/benfield/combat
3 MN-M Long Haul/phonemasters/miken
4 FL-A Suncoast/RBK

2007 Results
1 FL-M Resmondo Softball
2 WA-M Team combat/benfield/dalsanders
3 FL-M Bellcorp/belcher/tai/backman
4 GA-A Aubrey's/elite sports/phone masters

2006 Results
1 FL-M Bell Corp/taylor/belcher/easton
2 VA-M Benfield/reece/shade/am las vegas
3 GA-A Aubrey's/MIT/Worth
4 TN-A Jean Shoppe/team mayhem/worth